When Debra Dunn opened her first Rue de la Course in 1990, the address she found in the Lower Garden District was not considered likely territory for a new espresso bar. The clientele of the day wasn't exactly primed for the approach either.
"One of the first things we had to do was show that we weren't there for bottomless cups of coffee for a dollar," Dunn said. "Cappuccino was new for a lot of people."
When Dunn started planning a new coffee house this spring, however, she knew she was the one who needed some lessons on the current pulse of coffee connoisseurship.
For help, she turned to a familiar face: one of her own former employees.
Demian Estevez used to serve coffee at the original Rue de la Course. He later turned the same location into his own Mojo Coffee House, and he has a new coffee roasting business that supplies fine beans to other local cafes. That now includes Dunn's latest project, Ignatius Espresso Bar & Café.
The upshot is that one of the cafes where New Orleans learned that coffee could stretch beyond café au lait and chicory roast has started a new chapter, revamped for modern trends in the fast-changing New Orleans coffee scene.
From coffee house to eatery and back again
In June, Dunn changed her Uptown restaurant Ignatius Eatery to Ignatius Espresso Bar & Café. The address, with its broad windows, tiled floors and dark wood paneling, had once been one of her Rue de la Course coffee shops. Its conversion to a restaurant in 2012 had pained some regulars, who through the years had variously used it as study nook, ad hoc office and neighborhood clubhouse.
"People were upset when this Rue became a restaurant," said Dunn. "Now it's a coffee house again and they're telling me they're happy and that feels good."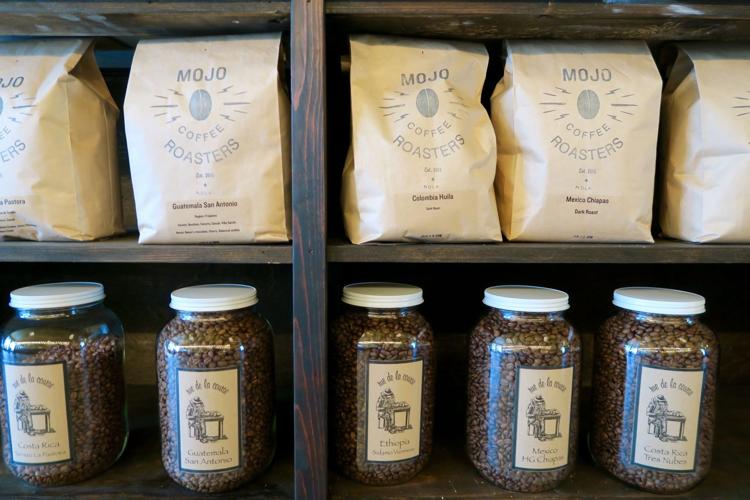 While this old-now-new-again café feels familiar from its Rue days, Ignatius Espresso Bar & Café has differences that go beyond its new name. That starts with the beans, and the beans start with Estevez and his Mojo Coffee Roasters.
"It was an ego boost for sure to have the lady who gave me my start in the coffee business turn to me for coffee," said Estevez. "I'm from New Orleans, so the Rue was a big part of my history."
Many New Orleans coffee aficionados could say the same thing.

"Big Rue, Little Rue"
Before Hurricane Katrina, Rue de la Course cafes dotted the city. It was a local chain that instilled hyper-local loyalty to its individual locations.
Some of the cafes had nicknames. The "little Rue" was the first, on Magazine Street at Race Street, which inspired the Rue de la Course name. Dunn choose the then-iffy location because the space had just been fixed up as a set for the Coen brother's gangster film "Miller's Crossing." The coffee counter was on wheels in the beginning because it had been built as a movie prop.
The second location was the "big Rue" at Magazine and Ninth streets (the current home of Rum House), and the nickname stuck when this café relocated in 2005 across the street, to the address that is now Ignatius Espresso Bar & Café.
Eventually there would be nine "Rues," including one in Covington and another on Tulane University's campus. But after Hurricane Katrina, the Rue footprint shrank to two cafes – the big Rue and a Carrollton location under the soaring ceilings of an old Canal Bank branch, which Dunn still runs.
Meanwhile, Jerry Roppolo, Dunn's business partner at the time, took the lead on developing Ignatius Eatery. The restaurant, which opened in 2006, took its name from the anti-hero of "Confederacy of Dunces" and found its menu cues in traditional New Orleans flavors like roast beef po-boys and shrimp remoulade. After losing its liquor license, Ignatius Eatery moved nine blocks down Magazine Street, taking over a former Rue de la Course location, which had a liquor license. Roppolo is no longer involved in the business, Dunn said, and her own interests shifted back to coffee.
"Running the restaurant wasn't me," she said. "This is me, coffee is my passion."
Mojo perking
Coffee had also become the passion of Estevez. A New Orleans native, and the son of two French Quarter bartenders, he got a job as a barista at the original Rue de la Course in 2001. Even after he started a computer repair business down the street he continued to pick up shifts at the café on the side.
When the old spot at Magazine and Race streets didn't return post-Katrina, he and his wife Angee Jackson leased it and in 2006 opened their first Mojo Coffee House. In 2012, they added a second location on Freret Street.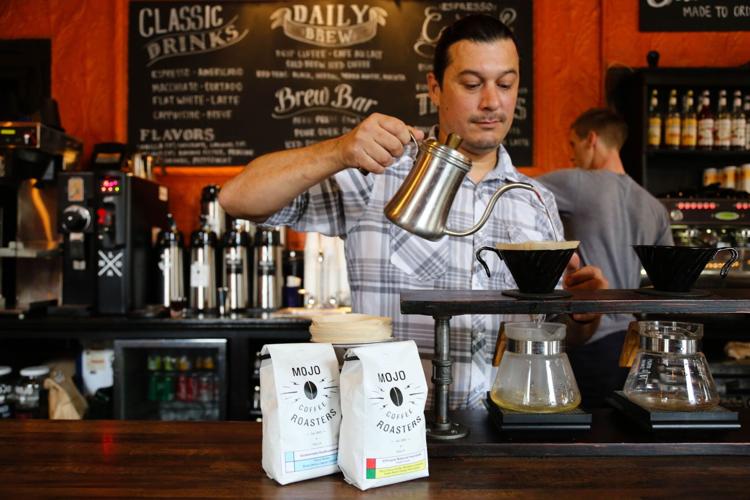 This was around the time New Orleans began seeing the advent of so-called "third wave" coffee – a trend where coffee is sourced, served and discussed as a specialty culinary product rather than a commodity cup of Joe. In 2013, Estevez attended Barista Camp, a national training program for coffee pros. He returned determined to reinvent his approach to coffee.
"Coffee is not even on the same playing field now as when I got started," Estevez said. "Some of the equipment is the same, but it's a different level of care and attention that goes into it. There's so much more finesse to develop the flavor."
Last year, Estevez and business partner Matt Cronin started Mojo Coffee Roasters, which roasts small batches of beans for the Mojo cafes and their clients.
"We want to be the type of coffee that others would be excited to carry outside New Orleans, that's our goal," said Estevez.
Beans and bourbon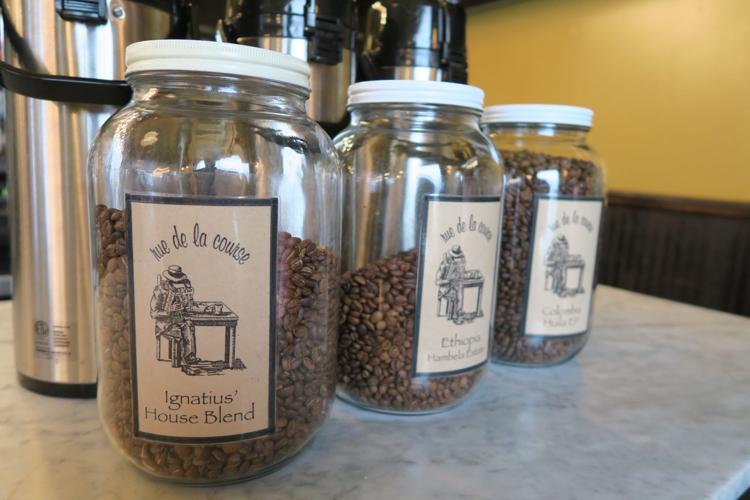 Beans from Mojo Coffee Roasters now line the shelves at Ignatius Espresso Bar & Café, both in Mojo's own branded bags and in glass jars that will be familiar to regulars of the old Rue cafes.
They share the coffee counter with pastry from Laurel Street Bakery, while the kitchen now fixes a short menu of stacked deli sandwiches and a few salads.
Ignatius still has a full liquor license but is using it in a different way from its restaurant days. The espresso machines are flanked by bottles of bourbon and grappa and liqueurs to accompany the coffee, and the baristas mix coffee cocktails, adding espresso to a mint julep or an old fashioned.
Wine is sold by the bottle only, with corkscrews provided on a self-serve shelf stacked with rocks glasses and sturdy goblets. Ignatius doesn't serve beer.
Dunn said she decided on limited service because she wants Ignatius Espresso Bar & café to feel like a coffee house, not a bar.
For coffee, Dunn she plans eventually to apply lessons learned working with Estevez and Mojo to the last Rue de la Course, the café in Carrollton.
"The coffee business is extremely different now, but these guys have stayed on top of the industry," she said. "I'm really confident having their coffee here."
Ignatius Espresso Bar & Cafe
3121 Magazine St., 504-899-0242
Mojo Coffee House
1500 Magazine St., 504-525-2244
4700 Freret St., 504-875-2243