The huge new Ruby Slipper Café that opened in December at South Broad and Banks streets looks more like a mother ship than a mom-and-pop.
Downstairs, it's a colorful, sprawling restaurant finished with fresh millwork, ruby-red paint and visions of eggs, bacon and pain perdu rendered in chalk menu boards and art glass fixtures.
Upstairs, it houses the company headquarters for a fast-growing regional brunch brand.
It all sits on a newly landscaped lot that covers more than half its Mid-City block, with a patio and walk-up bar for coffee and brunch cocktails and its own kids' play area in the works.
But then there are mom and pop — Jennifer and Erich Weishaupt, the local couple (and parents of three) who started the Ruby Slipper in an old corner grocery about a mile away in 2008. Though they started without a master plan, that first restaurant set a pattern that has come full circle in their newest location.
"For us, it means everything that we started in this neighborhood," said Erich Weishaupt. "We felt it was very important that, as this continues to grow, we're based in Mid-City, New Orleans. This is us planting our flag back where it all started."
Can't see video below? Click here. 
--
The Ruby Slipper now has eight locations, with five in New Orleans and one each in Baton Rouge; Orange Beach, Alabama; and Pensacola, Florida. A ninth is slated to open in Mobile this spring, and at least two more are on the drawing boards. From a dozen employees at the first restaurant, the company now has a staff of 350.
Through it all, the Ruby Slipper has been led by the same founders, with no other partners or investors. The epitome of independent, they have guided the company at their own pace, and what brought their latest, largest project to fruition is the same impulse that led to their first.
"In the beginning, we didn't look at it like we were going into the restaurant business; it was about neighborhood redevelopment," said Jennifer Weishaupt. "It was us asking, when our own Mid-City neighborhood was flooded and gutted, how we would attract people to come back here and rebuild. We thought a restaurant would help. Everyone wants that neighborhood breakfast place."
From grit to grits
The area where the first Ruby Slipper opened, on South Cortez Street, was hard hit by Hurricane Katrina but is now vibrant. The new location is on a stretch of Broad Street still in the midst of change.
The Weishaupts closed their original Ruby Slipper location and opened their new home base in December.
The 10,000-square-foot, two-story building dates to 1951 and was formerly a carpenters union hall. It has been empty since Katrina, however, presenting a narrow façade of plain brick and graffiti along a gritty block.
When the Weishaupts first showed it to their managers, it looked like an abandoned warehouse, with pigeons in residence and microphones for union meetings still dangling from the ceiling.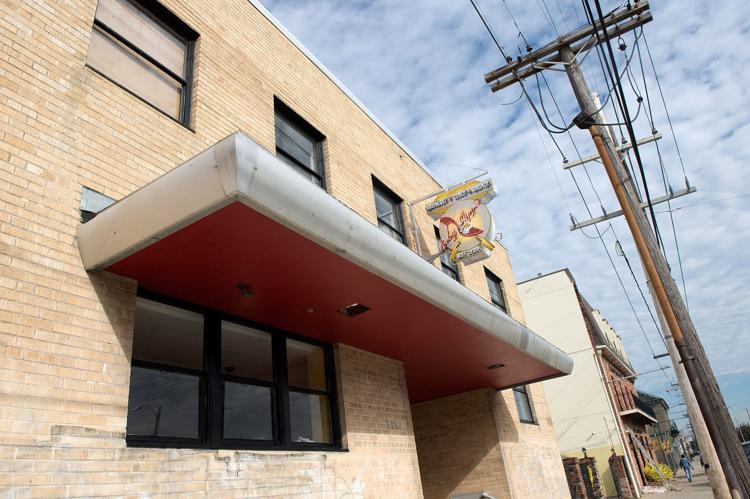 Turning it into a restaurant took more than $4 million and required an imaginative eye. New Orleans-based Studio BKA Architects & Consultants designed the project. 
While a new neon sign shines on Broad Street, the entrance is in the rear, facing Banks Street. Cars pull in from Banks onto a large lot of permeable paving, designed to improve stormwater management.
It is a significant addition to a central stretch of the city undergoing a burst of new development. While two massive new medical complexes have risen nearby, the Broad Street corridor has seen the opening of the Lafitte Greenway, the ReFresh Project built around a Whole Foods Market, a new movie theater and emerging clusters of small eateries and local companies.
Jeffrey Schwartz, executive director of Broad Community Connections, a nonprofit working to revitalize the area, said he had long assumed it would take an office project to return the old union hall to commerce, but he was thrilled by the prospect of a restaurant.
"You want to activate the street at different times of day, and that's what a breakfast and brunch place like this does," Schwartz said. "What's great about the Ruby Slipper is they make their restaurants community gathering places. It probably would have been easier for them to build something from the ground up in the suburbs, but they've been willing to take on more to get into these established neighborhoods."
Growth and expectations
The Ruby Slipper has thrived in locations where other restaurants had struggled and closed. That was the case with the first expansion at 200 Magazine St. in the CBD, which had seen a string of short-lived restaurants. It remains the Ruby Slipper's busiest location, packing in visitors from nearby hotels.
The third location came in a 1920s-era bank building just off Frenchmen Street in the Marigny, which had been empty since the demise of an earlier restaurant in 2006.
Next came the overhaul of what had once been a McCrory's department store (and the site of a 1960 civil-rights lunch counter sit-in that spurred a Supreme Court case) on Canal Street. The address had more recently seen a few restaurants come and go. Now, the queue of waiting customers on a typical weekend can make the sidewalk outside look like a block party.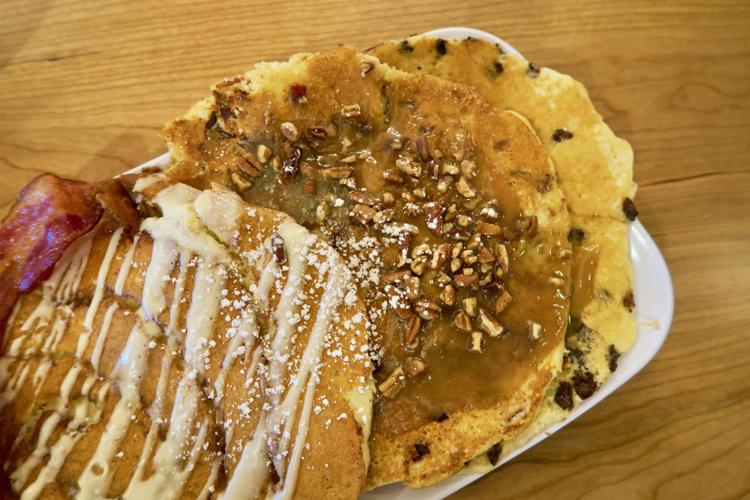 The Ruby Slipper concept is brunch all day (until 2 or 3 p.m.), every day. The menu starts with breakfast basics but extends into the seafood-centered, poached-egg, hollandaise-glazed dishes common to the city's pricier Creole brunch destinations.
The format has proven versatile enough to draw locals convening for morning business meetings and also visitors rolling slowly out of bed and into a round of bloody Marys.
Soon developers came calling, looking for brands with regional roots to work into their projects. That has fueled the company's growth along the Gulf Coast.
Still, the couple behind all this initially seemed to be unlikely candidates for the role of restaurateurs, having no hospitality industry experience beyond Jennifer's after-school jobs as a teenager.
The two describe their family backgrounds as middle- to lower-middle-class. They both earned engineering degrees and began working in the energy sector as paths to upward mobility. On the side, though, they started flipping houses.
After Katrina, with their Mid-City neighborhood in shambles, they doubled down on real estate and initially saw opening a restaurant as another tool for neighborhood revitalization.
The decision surprised some friends and advisers, including Christopher Keene, their longtime banker and now New Orleans market president for Business First Bank.
"I told them, 'Why do you want this headache of the restaurant business?' But they were all in from day one," he said. "To go from true start-up to where they are today, that's something you don't see everyday."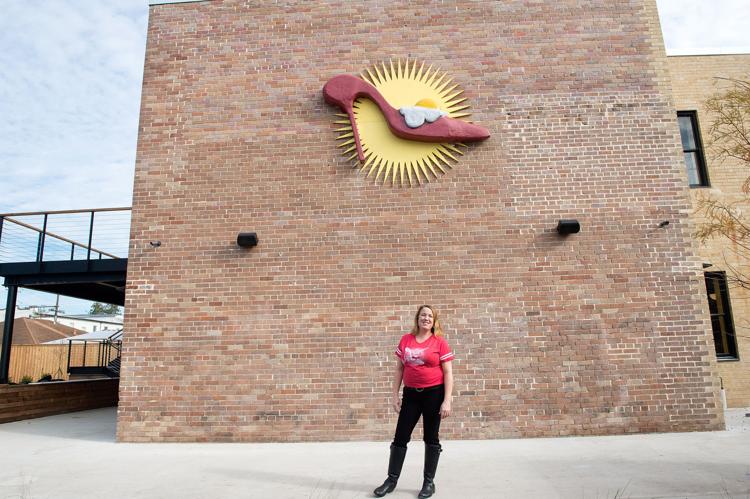 The Ruby Slipper menu has evolved — the new one adds multi-flavored pancake "flights," for instance — and the company's back office operation has grown more sophisticated. But essential, hands-on elements of the early template persist.
That's what brought Brett Jones back into the fold. He started at the Ruby Slipper as a line cook the year it opened. He later worked as operations manager for Dinner Lab, the once-pioneering food events company, and as an opening manager at the downtown Ace Hotel. He returned to the Ruby Slipper earlier this year to lead its food and beverage operations.
"It's still Jennifer and Erich. There are more moving pieces, but the expectations are the same," Jones said. "The goal is creating solid, neighborhood restaurants and really good jobs for people."
The Weishaupts themselves acknowledge that as their brand grows bigger, some of its fundamentals are still based on the mom-and-pop approach.
"Whenever people ask me when we're going to add dinner, my answer is always the same: the day after never," Jennifer Weishuapt said. "For me, as a mother of three children, the beauty of brunch is that it has a time when it closes. There is a time of the day when you're done. I think that's the reason why we're still in it."
---
For plenty of bartenders, fielding visitor questions about what else to check out in the neighborhood is part of the job. When Jon Moore is wo…
The roast beef on "the sandbag" po-boy at Avery's on Tulane is a mix of irregular strands and falling-apart bits, like it's been simmering on …
At the corner of Tulane and Broad, you can get a box of chicken wings and a bottle of pills with one stop at Best Life, a pharmacy that double…
Great food is the gift that New Orleans gives to itself, to its visitors, to anyone with an appreciative appetite. We should pursue it with a …
Any given year will bring a tally of restaurants that made their debut and a list of those that closed. But there's always more happening in a…