Hogs for the Cause has inspired another spin-off business, and this time it's a neighborhood barbecue pop-up.
Big Boyz BBQ makes its debut this Thursday, April 27, at Pearl Wine Co. (3700 Orleans Ave.), the Mid-City wine shop and wine bar (see menu and details below).
While Big Boyz BBQ is new, the man behind its smoker already has a following.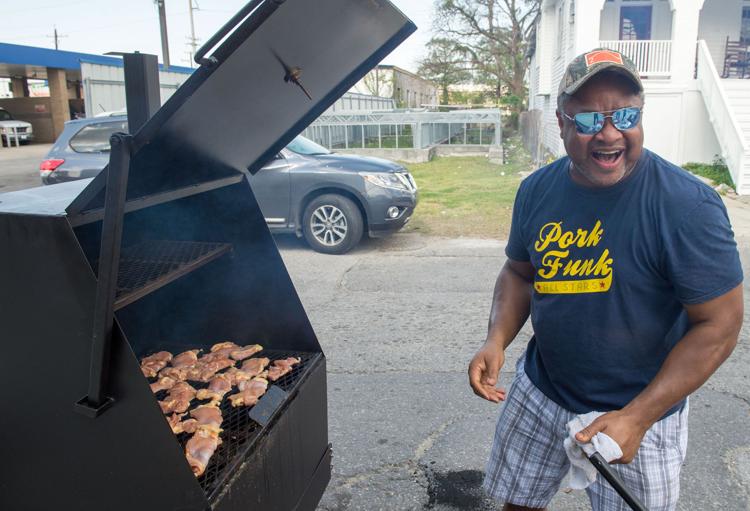 Rodney Beals is the captain of the cook-off team Pork Funk All-Stars, one of the 90 teams that compete and raise funds at Hogs for the Cause. And he's known around his Mid-City neighborhood for hosting barbecue parties of his own that verge on the size of mini festivals.
Beals is a New Orleans native who has worked for 30 years at the local Bunny Bread facility. He's been cooking backyard barbecue most of his life, though he credits Hogs for the Cause with his move to finally make a business out of it with Big Boyz BBQ.
"Hogs made me realize people really love to eat the barbecue that I cook," he said. "They're not just telling you they like it, they're paying for it. That's how Hogs gives you that confidence in what you do."
Big Boyz BBQ is the second barbecue business to emerge from Hogs for the Cause in recent months. In November, chef Ray Gruezke and his family opened Frey Smoked Meat Co., a Mid-City barbecue restaurant that sprang from their Hogs for the Cause team of the same name.
The charity cook-off Hogs for the Cause has helped fan the flames of barbecue appreciation i…
As Hogs for the Cause has developed into a potent fundraiser (it supports families dealing with pediatric brain cancer), it has also fanned the flames of barbecue appreciation in New Orleans. The city has not had a strong regional barbecue identity, but with dozens of teams large and small now active through the year, refining their techniques and hosting their own team-level events, slow and low barbecue has grown more prevalent.
Big Boyz BBQ begins as a small new addition, though Beals hope he can expand its scope.
He bought a trailer-mounted smoker for the mobile operation, which he's dubbed Grillgamesh, a play on the ancient hero Gilgamesh. He cooks over a mix of pecan and white oak wood and says his approach is influenced by Texas and Kansas City traditions.
Still, when it comes down to it, Beals' passion for barbecue comes from something more universal.
"There's no way you can cook a pork butt for 14 hours and not love doing it," he said. "The process is a love thing, and you want to share that with people."
For Thursday's Big Boyz BBQ debut, he's making smoked ribs, stuffed pulled pork sandwiches (served in a hollowed loaf, in the manner of some BBQ shrimp po-boys), crawfish pasta, barbecue beans and Asian-style slaw.
Where: Pearl Wine Co., 3700 Orleans Ave.
When: Thursday, April 27, 4-10 p.m.
The pop-up coincides with a four-year anniversary party for Pearl, with wine tastings and live music from the Grapes of Mash.
For one weekend, Hogs for the Cause transforms a green glade in City Park into something lik…
Each spring, the charity cook-off teams behind Hogs for the Cause build a temporary town of …
The natural habitat for boudin is Cajun country, and across its range, you find the deliciou…