Visions of sugar plums aren't the only things dancing through the heads of those who feel the Christmas spirit in their appetites.
In New Orleans, there's also Reveillon. Across the city this year, 48 restaurants will serve these special holiday menus, alternately drawing inspiration from French Creole tradition, contemporary styles and Christmas food motifs.
The tradition traces its roots to Christmas Eve meals served in family homes, a custom from the city's French colonial era. Today, Reveillon has been recast in New Orleans restaurants, which draw up prix fixe menus to serve throughout the holiday season.
Some are extravagant, others are designed as deals. Taken together, they've become a fixture on many local calendars as people get together for the holidays. There's also a related holiday cocktail component, called Reveillon on the Rocks, with holiday-themed drinks at 20 bars around town. 
All Reveillon menus and schedules are listed at followyourjoy.com. What follows are a few different ways to size up this year's collection.
New additions, new territory
While most Reveillon restaurants are clustered in the French Quarter and CBD, there are always examples across Uptown, in Mid-City and dotting other neighborhoods.
This year, for the first time, that includes the Lower Ninth Ward. Café Dauphine, a neighborhood Creole restaurant, marks its Reveillon debut with redfish and crabmeat, smothered pork chops or fried chicken plates alongside other New Orleans flavors (four courses, $48).
The city's oldest historic restaurants are on the Reveillon roster, including (in chronological order) Antoine's (four courses, $49), Tujague's (four courses, $54), Galatoire's (four courses, $40-$59), Arnaud's (four courses, $49) and Broussard's (four courses, $48).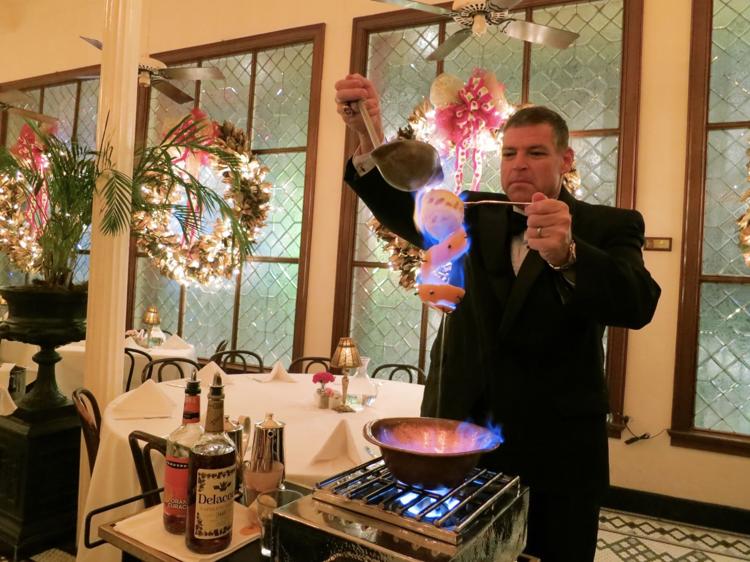 Two restaurants that just opened in the past year are taking part too: Curio (four courses, $48), open since September, and Public Service (four courses, $68), the restaurant in the NOPSI Hotel, which opened in July.
More restaurants marking their first Reveillon are the Country Club in the Bywater (five courses, $60) and BH Steak (four courses, $75), the restaurant at Harrah's Casino which until October was known as Besh Steak.
Price range: $24 to $100
Most Reveillon menus fall somewhere between $40 and $60, but there are outliers at either end (note that the listed price is the starting point, before adding drinks).
This year, the Fountain Lounge in the Roosevelt Hotel offers the lowest-priced Reveillon in recent memory, with a three-course lunch for $24. That's a deal for what is normally a very expensive restaurant (a Sazerac here will set you back $15). The Fountain Lounge opens to the Roosevelt Hotel lobby, which is a major downtown attraction in its own right for its holiday décor.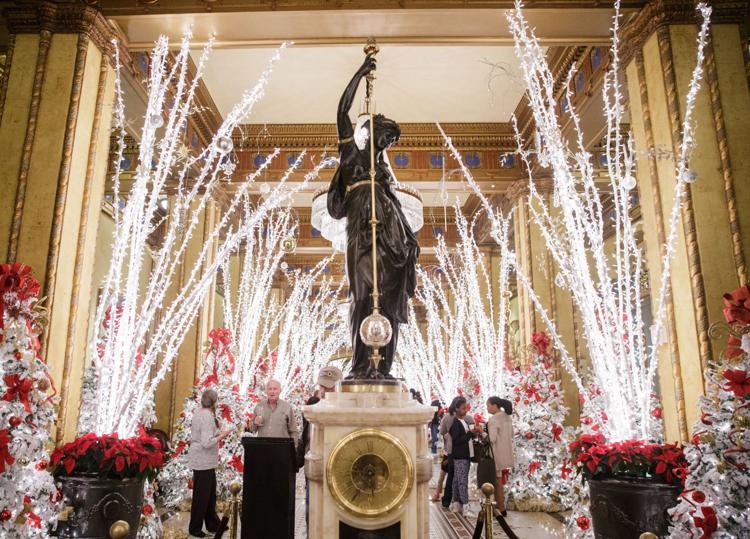 Two more menus fall under the $40 mark — the Gumbo Shop (four courses, $36,) and Royal House Oyster Bar (four courses, $39).
Across the spectrum, Commander's Palace once again this year sets the high-water mark with seven courses for $100. The Reveillon at Commander's Palace is always noteworthy for its decadence, and this year's version looks no different. It even includes a cheese tasting before dessert.
Rounding out the high end are Restaurant August (five courses, $98), the Caribbean Room (five courses, $95) and Seaworthy (four courses, $88).
A drink is a course, of course 
Some Reveillon menus include a drink, often holiday themed, to start the meal, or more often to end it. Either way, it's an applied lesson in lagniappe that sweetens the pot.
You'll find examples at Café Degas (four courses, $43; ruby port with dessert), the Gumbo Shop (four courses, $36, with café brûlot), Muriel's (four courses, $55; with eggnog), the Pelican Club (four courses, $48; with bourbon eggnog), SoBou (four courses, $44; with a coquito, a Puerto Rican-style eggnog), Vacherie (four courses, $45; with a poinsettia sparkling wine cocktail) and Upperline, which really pours it on (four courses, $46; drinks are worked into two courses — a brandy Alexander or Irish coffee are among the dessert options, and there's a choice of Madeira wine with spiced pecans can be a first course).
Reveillon on the Rocks
Sometimes keeping those promises to get together during the holidays comes down to grabbing a drink after work or en route to the company party. That doesn't mean it can't be festive.
Reveillon on the Rocks is a newer off-shoot of the dining program that puts the holiday spirit in a glass. Twenty bars around town are taking part with specialty cocktails synced to the season.
These drinks vary as widely as the Reveillon menus, and so do the bars pouring them.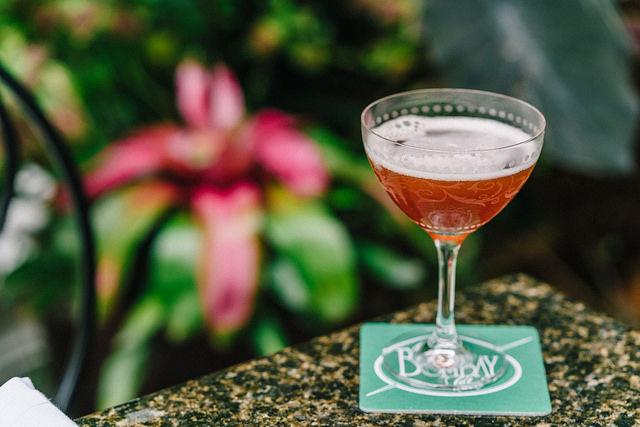 At the Davenport Lounge in the Ritz-Carlton, for instance, the yam old fashioned uses yam puree, nutmeg and clove and toasted marshmallow (along with cognac). At the Bombay Club, the sloe Suze cocktail (berries, citrus, slow gin, lemon, nutmeg) is a more straightforward pour done in Christmas red.
Even the small-but-mighty pub the Erin Rose is part of the program, adding its frozen Irish coffee to the mix. After all, you never know where a holiday romp will lead.
Explore the full Reveillon list, with menus, at followyourjoy.com.
A few of Bernie Jolet's regular customers were waiting when he pulled into an empty bank parking lot on Veterans Boulevard during rush hour on…
If you're read­ing this and you still don't know what dish you'll bring to the Thanks­giv­ing table this year, well, you're like me.
Eventually, Justin Kennedy had to accept the fact that he had created a monster. It was a beautiful monster, sure, built from roasted turkey, …