Before the first tables are seated for a Friday lunch at Galatoire's, before the Sazeracs materialize, the hot French bread is cracked open or the oysters en brochette appear, gambits to get those tables have been in play for some time.
Galatoire's famously does not take reservations for its downstairs dining room. For Friday lunch, which can more closely resemble an indoor, upscale block party than a formal meal, people queue up early to put their names on a first-come, first-served list for tables. Some deploy surrogates — line sitters who hold their place — and the stakes rise the closer the Friday lunch in question comes to Christmas and Mardi Gras, the most popular holidays around a Galatoire's lunch outing.
For two days each year, however, the rules of the game change, and the maneuvering begins long before any line forms.
Next Monday (Dec. 5), Galatoire's will once again hold a live auction in its dining room, where winning bidders get the right to reserve a table for the Friday lunch before Christmas. The event repeats on Jan. 30, when the restaurant auctions tables for the Friday before Mardi Gras. Proceeds go to New Orleans charities, which change each year.
This year marks the 10th anniversary of the table auction, and over those years it has netted $1.2 million for many local causes.
At the decade mark, the auction has become a new tradition at a restaurant known for many old ones. It started, however, as Galatoire's own end run around a custom that had run rampant.
"Really, what we're doing now is taking the passion of our customers and leveraging it for charities," said Galatoire's CEO Melvin Rodrigue.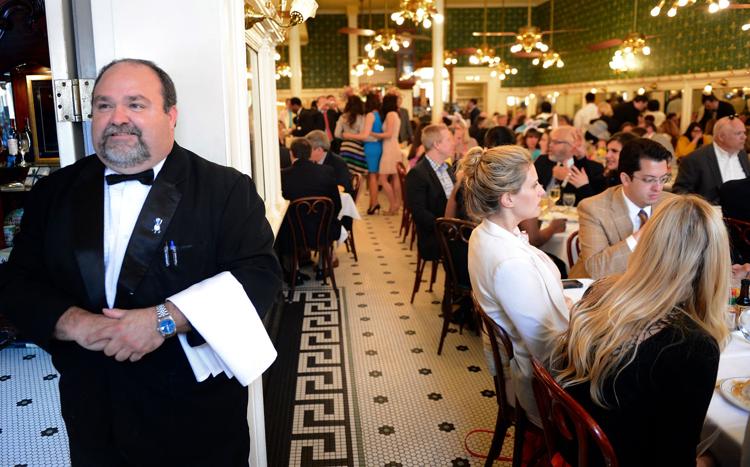 Each year since Rodrigue came to the restaurant in 1997, he watched as the line sitters came progressively earlier. He said 2005 marked the third consecutive year that the lines for the Friday before Christmas and Mardi Gras started forming on Tuesday. Management had long debated if they should intervene, and it finally felt inevitable.
"You could see it as flattering but it also became worrisome," said Rodrigue. "You don't want people sitting in line three days out there. But we also need to maintain our traditions, and no reservations downstairs is one of them."
Galatoire's is not immune to change, and since that first auction it's seen some significant ones. In 2009, the family-run restaurant was bought by new owners (led by John Georges, also owner of the Advocate). Galatoire's later expanded with a sister restaurant right next door, Galatoire's 33 Bar & Steak, doubling its size.
But demand for those Friday lunch tables in the original downstairs dining room has been undiminished, and so the auction has continued.
The auction catalog is a schematic of the dining room, charting out 25 tables in different configurations for a total of 150 seats. Bidders compete for specific tables — a four-top, say, or an eight-top. The average winning bid works out to about $500 per seat. One year though, a 12-top table went for $14,000. Another year, the Mardi Gras auction alone brought in $100,000.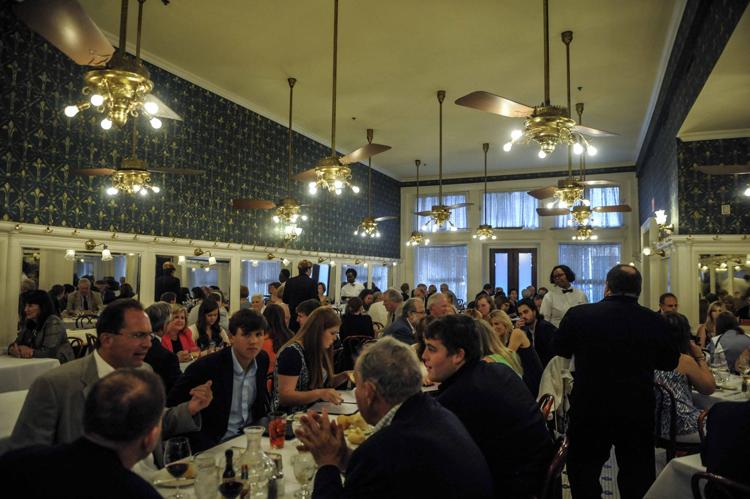 The board of directors of the nonprofit Galatoire Foundation picks beneficiaries from organizations that apply online. Money raised from this year's Christmas and Mardi Gras auctions will be divided between two educational organizations — Edible Schoolyard New Orleans and the Good Shepherd School, and the Galatoire Foundation itself, which makes its own charitable grants.
Rodrigue acknowledges the auction can be nerve-wracking for the restaurant. It depends each year on people showing up willing to fork over for something with a value that's highly subjective and a lifespan that's always fleeting. All the winners get is a lunch reservation; the cost of their meal is not included in the auction price.
"It really comes down to who's in the room looking for what," he said. "To be a success, the right people have to be here."
It helps that beneficiaries change each year, since they bring their own well-heeled supporters who change up the bidder pool. But each year the auction sees a core group of regulars, including some who once vied for the same holiday lunch tables the old fashioned way, outside in the line.
Their competition for tables is still fueled by compulsion, strategy and gamesmanship. But now it's tied to community causes, and the outcome is settled on the auction block, not the sidewalk.
Seating at the auction is limited. Participation requires a $50 donation per couple ($25 per additional guest at the auction). To reserve a paddle, call (504) 525-6022.