Every neighborhood needs a pizzeria, but the new one in Old Algiers is about more than just take-out pies or the easy family pizza night.
At Tavolino Pizza & Lounge (141 Delaronde St., 504-605-3365), there's room for the stroller crowd and there's also a back bar lounge for date night without the kids. And then there's the mysteries of ping, a comfort food meat mix stuffed into olives and encased in a fried crust.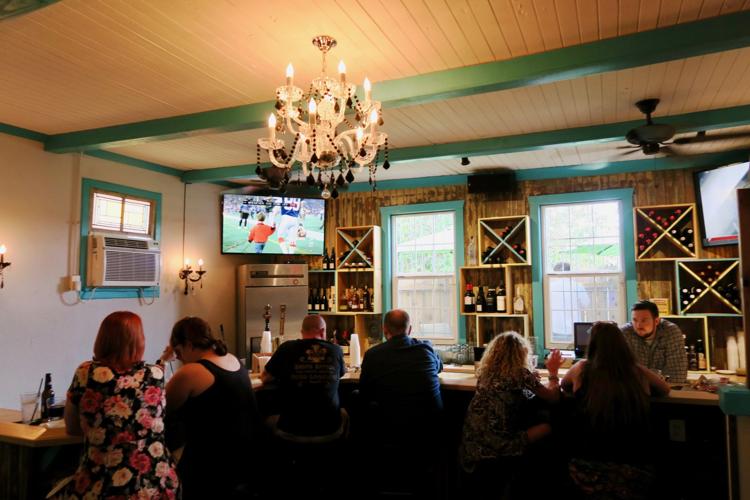 Tavolino, which means "small table," opened this week. It sits directly across from the Algiers ferry landing in the spot that was previously the wine bar Vine & Dine. I always liked Vine & Dine, particularly as a stop on a ferry ride field trip to explore this quietly compelling riverfront neighborhood.
Tavolino feels poised to continue that role. It's a mid-range eatery with a modern-rustic style, an expanded patio outside and character worked into every corner. That includes the menu.
The new restaurant was created by two local women — Suzanne Accorsi, who runs Pal's Lounge in Faubourg St. John and Martine's Lounge in Old Metairie; and Hillary Hanning, a longtime bartender who was a manager at Mondo in Lakeview early on. Hanning said the neighborhood itself drove their decision to develop Tavolino.
"It's like a funky little Mayberry, you don't want to leave the neighborhood once you get here," Hanning said. "People here need more options, and the way we looked at it, if we run a business here then we don't need to leave, either."
Tavolino's pizzas follow a distinctive style. At 13 inches across, they are about the size of a classic Neapolitan pie, but their thin crusts come out cracker crisp. Toppings branch out from the conventional. There's one with gorgonzola and dates, and another with arugula, prosciutto and brie. The mushroom pizza gets a whiff of truffle oil and a sauce made from creamy fontina cheese.
Dave Porretto, Accorsi's husband, is the pizza man here. He became obsessed with pizza while traveling in Italy and developed his own homestyle recipe. These pizzas made appearances at Martine's on special nights, and they are the foundation for Tavolino.
The ping also comes from Italy, though through a different route.
"It was the filling for the tortellini my grandmother always made for Christmas," said Accorsi. "She called it ping, and we all just thought it was some name she made up."
But research for Tavolino menu planning revealed other stories of family ping recipes, and most originated in Genoa.
"What we found out was everyone thought their grandmothers had made it up," she said.
The ping recipe handed down to Accorsi sounds like the makings for meatballs, with a mix of ground pork and beef, garlic, parmesan and egg. At Tavolino, Accorsi stuffs it into green Castelvetrano olives that burst with juice under thin fried shells. There's a meatless fried olive, too, which is filled with gorgonzola.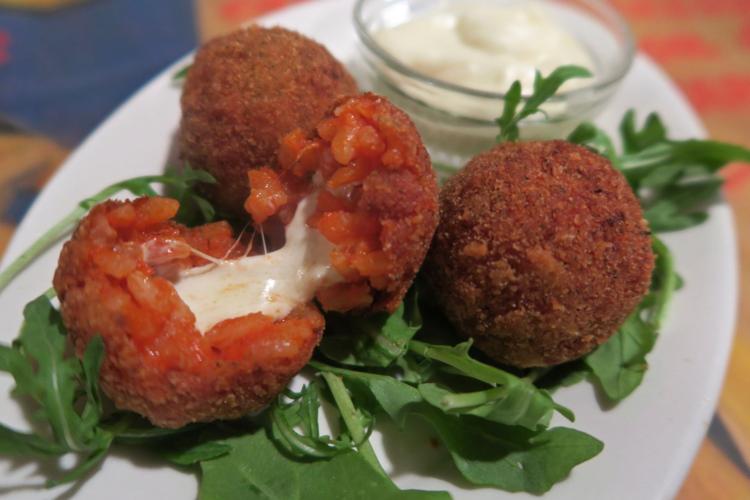 The rest of the short menu is made up of dishes that pull double duty as appetizers or bar snacks. There's cheese and salumi plates, chicken liver pâté, arancini (cheese-stuffed rice fritters) made with tomato-basil risotto and twists of fried pizza dough to dunk in honey truffle goat cheese. Glass jars of pistachio cheesecake and Italian cookies with wine (for dipping) are on the dessert list.
Porretto, a craftsman and set decorator for film productions, built out Tavolino. His renovation stripped out paneling, worked in weathered old architectural elements, opened up windows to bring more light and dressed the place up with Italian pop art posters fashioned into tabletops.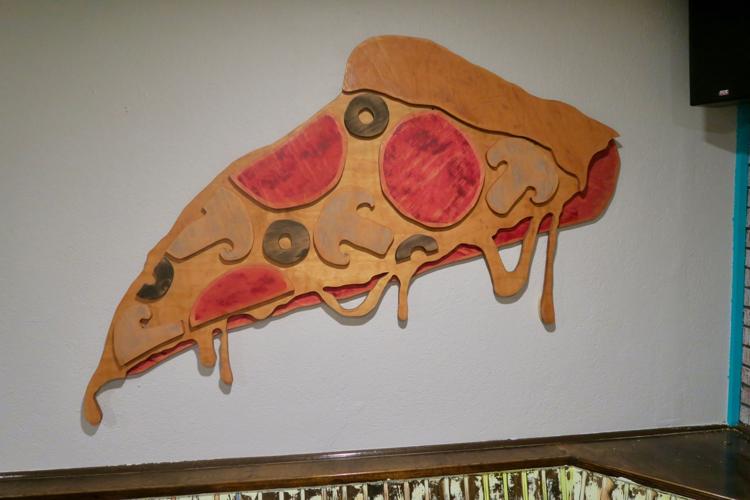 A giant plywood pizza slice by the front door telegraphs Tavolino's family-friendly vibe. In back, the adults-only lounge is enclosed by old window frames and slapping saloon doors. The full bar has a few local drafts, a pizza-appropriate wine list and cocktails like the Delaronde Fizz, a refreshing summer sipper.
A daiquiri machine dispenses a frozen cocktail that will change from time to time (it's currently strawberry lemonade, spiked with limoncello) but will always be called "the ferry companion." That sounds pretty good whether the night means sticking close to home in Algiers or making a jaunt across the river.
141 Delaronde St., 504-605-3365
Daily 3-10 p.m. (lunch hours to come)
The wood-burning oven at the Uptown eatery Pizza Domenica turns out Neapolitan-style pies th…
If you want a tour of the facilities at Parleaux Beer Lab, you may have to crane your neck, …
From booths at the Oak Street Po-Boy Festival last month, New Orleans restaurants served som…