Eventually, Justin Kennedy had to accept the fact that he had created a monster. It was a beautiful monster, sure, built from roasted turkey, brown gravy, his own grandmother's cornbread dressing and whole-berry cranberry sauce tumbling down the sides.
But his creation, the Thanksgiving po-boy at Parkway Bakery & Tavern, had become a Frankenstein of seasonal holiday excitement and the city's deep-running po-boy passion.
Its fans don't just line up to get one. They adopt the tactics of retail door busters, staking out early-morning spots before the shop even opens. Some bring chairs. Some arrive in groups. Others appear in turkey costumes.
This year though, Kennedy and his crew at Parkway have recruited this monster hit for a cause. It is now a fundraising vehicle on French bread for the Al Copeland Foundation, a nonprofit that supports cancer research and is named for the late, great fried chicken king of New Orleans.
"When you have something that gets a response like this, you know you can do something bigger with it," said Kennedy, who runs the Mid-City po-boy shop with his family. "People go crazy for this, so let's use that to help people."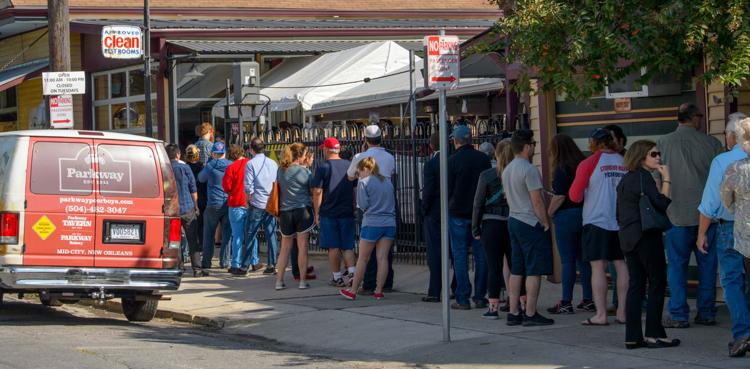 Since 2007, Parkway has served its Thanksgiving po-boy only on Wednesdays in November. Even a casual passer-by can tell when it's available, because each Wednesday it draws flocks of people eager to gobble them up and willing to queue in a long line.
This year, people who make a contribution to the Al Copeland Foundation get to skip that line and get their Thanksgiving po-boy, sides, a drink and a T-shirt on the house. The charitable campaign started out with a $100 contribution level to skip the line. For a final push in the last two Wednesdays in November, the requirement has dropped to $50.
"We just want to see where we can take this," Kennedy said. "You've got something that New Orleans people are responding to, and when you add a foundation to help out it makes the whole thing that much better."
Parkway has raised about $6,000 through the skip-the-line campaign over the past three Wednesdays. Kennedy is confident the restaurant will meet its goal of $10,000 with what are typically the busiest two Thanksgiving po-boy days ahead, on Nov. 22 and Nov. 29.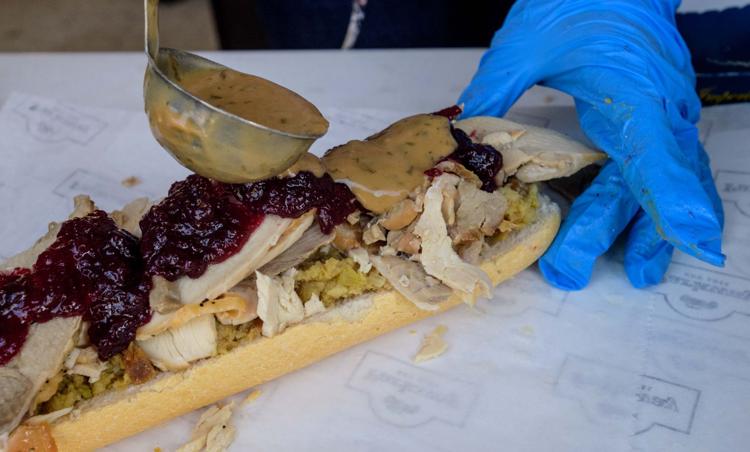 The Parkway crew is certainly prepped for a crowd. The restaurant sets up an outdoor po-boy assembly line staffed by five cooks. Last Wednesday, they flew through 750 holiday po-boys, Kennedy said.
One of those went to Tim Hemphill, who was part of an office lunch outing with his colleagues at the LSU Health Foundation. They made their contribution, skipped the line and started feasting on the po-boy together under a tent with a view of the outdoor kitchen.
"It's such a great connection between a foundation and a restaurant, you can see how people get behind it," he said.
Hemphill's group had a special connection to the event, since the Al Copeland Foundation supports the LSU Health Foundation's own work. But there was something else in the experience that drew them out for a preholiday lunch.
"It's a camaraderie thing for us," Hemphill said. "When I worked in New York, a lunch break meant you had about 15 minutes to grab a bagel. But this is New Orleans, and it's great to be able to spend time with people at a po-boy shop and see that it's going to a cause."
A few of Bernie Jolet's regular customers were waiting when he pulled into an empty bank parking lot on Veterans Boulevard during rush hour on…
If Sam's Po-Boys in Old Jefferson was a sitcom, the stars of the show would be Jackie Dupeire, her sister Jo Levatino Lund and their sister-in…
If you're read­ing this and you still don't know what dish you'll bring to the Thanks­giv­ing table this year, well, you're like me.