Some meals stay with you, and I don't just mean around the waistline. They might be planned feasts or unexpectedly delicious dinners you found along the way, and you can't get them off your mind. 
Stories about food are similarly liable to linger, and sometimes the ones that mean the most are the ones you never saw coming.
Writing about food in New Orleans of course means covering the new restaurants that capture our attention and, on the other side of the ledger, notable closures that remind us nothing lasts forever.
In between, though, there are stories that cut a little deeper into the food culture that New Orleans people share, and that we share with the world.
Some start in restaurants, others reach far beyond them. Together they help show how the business, the personalities and the emotions around New Orleans food influence the life of our city.
Here's a look back at some of the stories that stuck with me in 2016.
Carrying the blackened torch at K-Paul's
Paul Prudhomme's death in 2015 brought an outpouring of tributes to his influence, character and legacy. A year later, a visit to his restaurant K-Paul's Louisiana Kitchen showed how others carry on that legacy.
"Now, it's like everything he taught me over my life has just clicked," said Brenda Prudhomme, Paul Prudhomme's niece who runs the restaurant along with her husband, executive chef Paul Miller.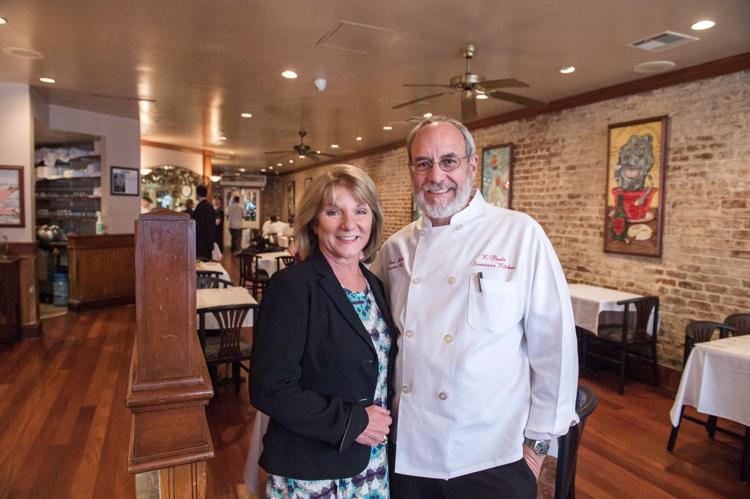 For many years, Brenda Prudhomme and Paul Miller kept the home fires burning for the globetrotting chef. After his passing, Miller said he knew the restaurant would have to be at its best.
"From now on, every time someone's unhappy with something here, they'll say it's because Paul is gone," said Miller. "We can't let that happen, so we have to watch everything very closely."
Today, K-Paul's Louisiana Kitchen can feel like one big colorful, bustling tribute to the chef, and in ways that reach beyond his classic dishes.
"Everyone who worked with him came to understand the attitude 'yes I can, and yes I will,'" said Brenda Prudhomme. "It's my job to pass that on to the staff and make them part of his legacy. It's hard work, but it's a sweet legacy, it's an endearing one, and it's a real one."
Po-boys rally for one of their own
Guy's Po-Boys on Magazine Street was knocked out of business for months after a pickup went careening through its front door. Proprietor Marvin Matherne didn't ask for help, but some of his peers around town recognized the hardship and got involved anyway.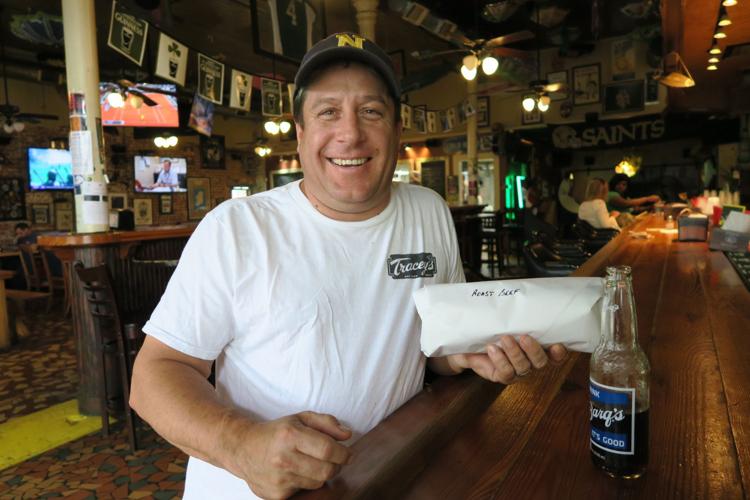 Jeff Carreras, owner of Tracey's Original Irish Channel Bar, started making some calls and soon he had Parkway Bakery & Tavern, Parasol's Bar & Restaurant, Ye Olde College Inn and Killer Poboys all on board. They held a one-day block party outside Guy's (in the pouring rain, no less) to help recoup some of the income the shop missed. It didn't matter that none of these other po-boy shop proprietors actually knew Matherne personally before this.
"Po-boy shops aren't corporate. They're not in big restaurant groups," said Justin Kennedy, of Parkway Bakery. "They don't really have a team to back them up even when somebody calls in sick, never mind something like this. They're just the classic mom and pop. So if a bunch of us can help him out, that's what we want to do."
At the Pontchartrain, history rekindled
The Pontchartrain Hotel reopened this spring with new owners, and a new culinary direction led by John Besh's company. The old St. Charles Avenue landmark now operates in a city and a hospitality scene that has evolved. And yet its return showed how closely New Orleans carries its cherished memories.
"It had an aura about it," recalled Jeffrey Schaffer, the hotel's general manager through much of the 1970s. "The reason it resonates still has to do with the people who ran it, the people who lived there and stayed there — the celebrities, people from the neighborhood or from across town. It really was unlike anywhere else because of that."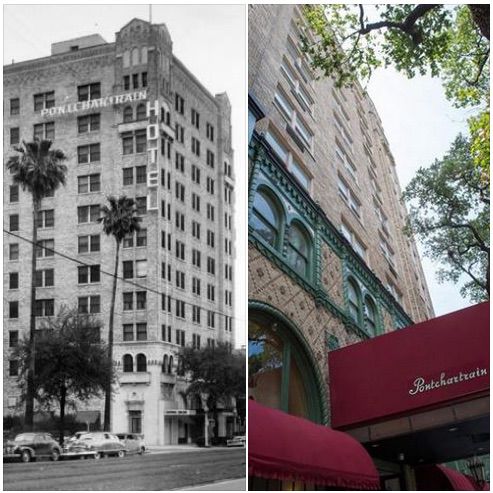 That was the result of careful curating of the hotel and its amenities from the Aschaffenburg family that built the Pontchartrain Hotel and ran it for generations.
"My grandfather and father were classic hoteliers," said Honoré Aschaffenburg, who worked at his family's hotel in his youth. "They came up in a time when most cities had a hotel that was the center of civic and social life, and they were passionate about fulfilling that role."
The hotel's main restaurant, the Caribbean Room, was a destination for special outings, holiday meals, private banquets, prom night dinners and receptions.
"Working at the Pontchartrain taught you how to be gracious," said Brad Hollingsworth, a Caribbean Room waiter who today runs Clancy's Restaurant.
The chefs served dishes that would join the Creole culinary canon, and the waiters were known for their quiet professionalism, even on the night when a guest passed away between courses. The waiters carried him out in his chair so as not to further disturb dinner service.
An enduring subculture for French chefs
Each year, local Bastille Day celebrations showcase French culture around New Orleans. This time around, we spent some time with a circuit of French chefs who represent a rich subculture in the city's culinary realm.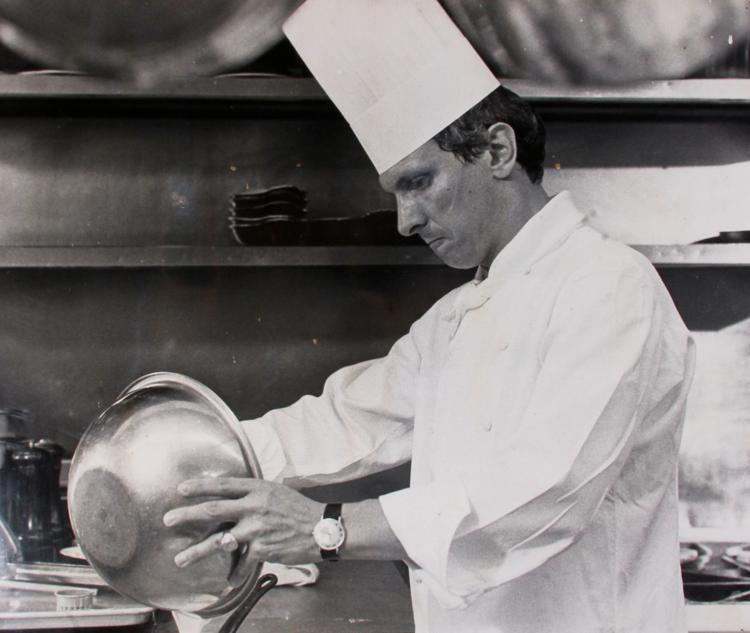 "When people wanted serious cuisine, very often they wanted a French chef…that is what they associated with the highest standard," said Daniel Bonnot, who arrived in New Orleans in the 1970s, helmed a succession of prominent kitchens and trained countless local chefs.
Changing trends and tastes and the awakening of more homegrown culinary ambitions have changed that relationship. And yet, in different ways, the French chef remains part of the New Orleans food story. One example is chef Jean-Luc Albin, who long ago left the restaurant kitchen for the bakery, running his Maurice French Pastries in Metairie.
"This is a great city to take part in, as a chef but also as anyone who loves food," Albin said. "Your customers know you, you love them, and they love you back."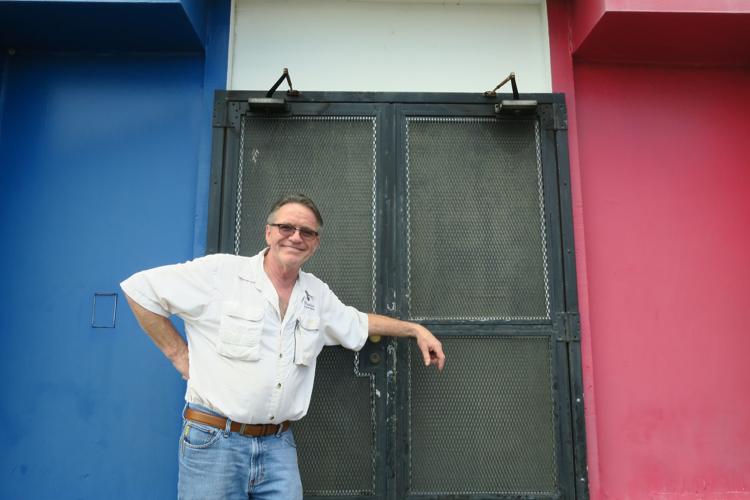 Street vendor's party means others can eat
Everyone who knows Sal Cannatella knows him as "Sal the fruit man," the produce vendor with a street stand by Jesuit High School in Mid-City. He's also known to be a prickly pear on occasion, taking no pains to conceal his rougher edges.
Lesser known, though, is Sal the fruit man's role hosting an annual fundraiser that's homemade and from the heart.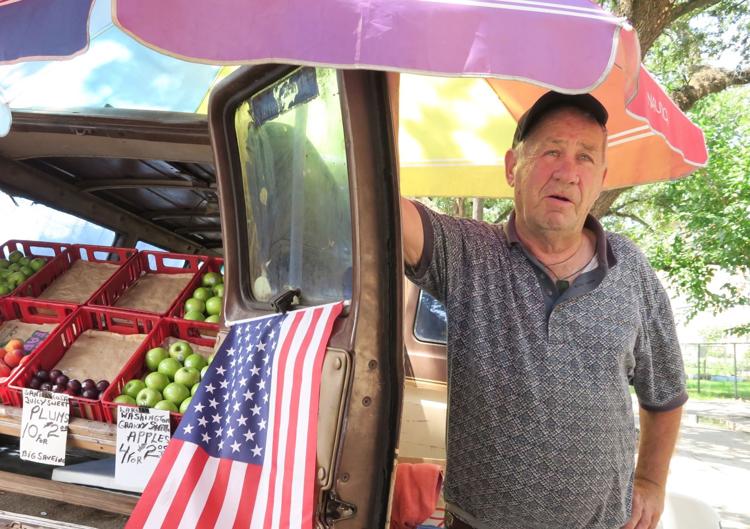 It started one blazing hot summer day years ago when he saw people waiting in line for food outside the St. Jude Community Center in the French Quarter. Cannatella decided to help by organizing a raffle, held at his regular watering hole, Finn McCool's Irish Pub.
Continuing this annual tradition means marshalling a lifetime of New Orleans contacts and connections to collect prizes and move tickets, and each year the gathering brings a mix of church ladies and courthouse honchos, priests, politicos and pub regulars, along with a tuxedoed crooner straight from the Rat Pack era to entertain the crowd.
At 88, Sal keeps working his stand, and each year, working for other people.
"I love to work because you get to meet new people every day. I love human beings. And I hate to see them in that line, just trying to eat," he said.
Blessings for food people at the Olive Mass
In September, New Orleans hosted the inaugural Olive Mass, a special Catholic service held at St. Louis Cathedral to honor people in the restaurant and hospitality realm.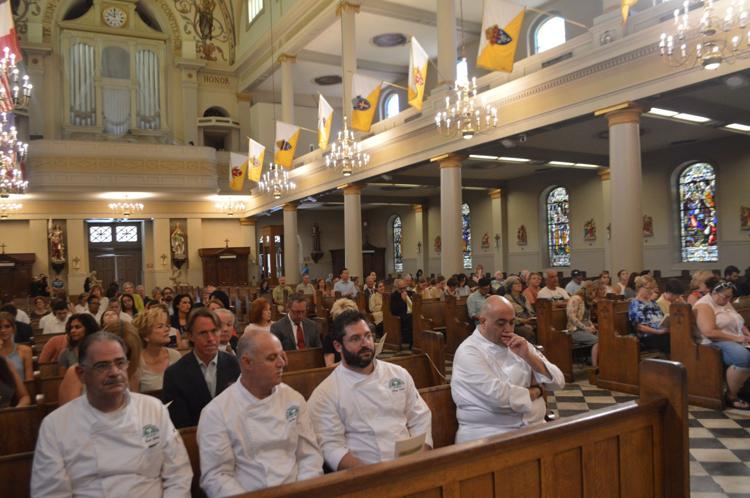 "We want to celebrate food and bless the hands that make it," said Father Leo Patalinghug. "We want to be faithful foodies and recognize how cooking food, serving it, washing the dishes, how it's a lot of hard work but it's something we share in common as part of our culture, and that these people are building our culture."
The Baltimore-based priest convened the Olive Mass through his nonprofit, the Table Foundation, with the help of co-hairs Jenifer and John Besh.
"I work with a lot of people in the hospitality industry who do struggle with their personal life, their family life, their emotional life. They have demanding jobs. Why can't we pray for them?" Patalinghug said.
This year's Olive Mass was the first of its kind in the United States. It is slated to return next fall.
When pho stirs more than appetites
The outright yearning for the return of one casual Vietnamese noodle joint in a city now teeming with such eateries might be hard to understand. But then, the restaurant in question this time around was Pho Tau Bay.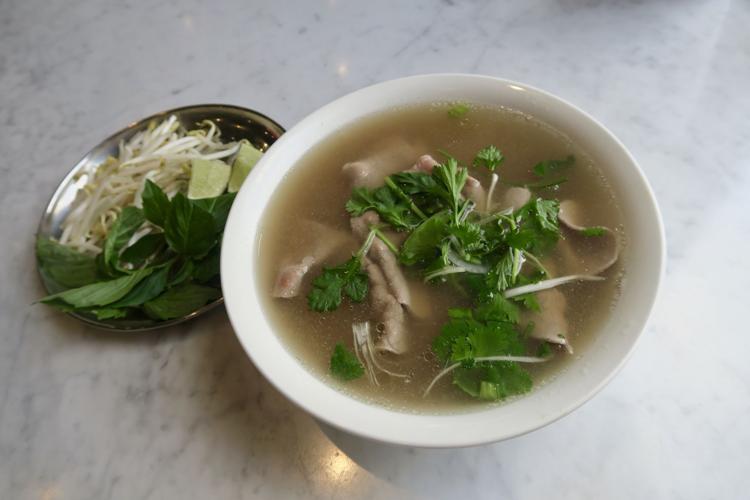 Out of circulation since early 2015, the restaurant reopened at an old-now-new-again location on Tulane Avenue, right across from the hulk of the old Charity Hospital.
This was one of four Pho Tau Bay locations open before Hurricane Katrina. None were big, but together their impact was outsized, and their flavors could be a major revelation.
Avid New Orleans eaters got hooked. They returned with friends in tow, eager to show off this fascinating cuisine they'd discovered. And, in the steam rising from bowls of soup, you could practically see the curtain lifting on powerful new cravings.
You don't forget your first love, and when it comes to Vietnamese food, for many of us that was Pho Tau Bay.
The two sides of Tujague's
After 160 years of business you might figure you know a restaurant pretty well. But for Tujague's Restaurant, that anniversary led to a new look at its history and its own place in the hearts of its regulars today.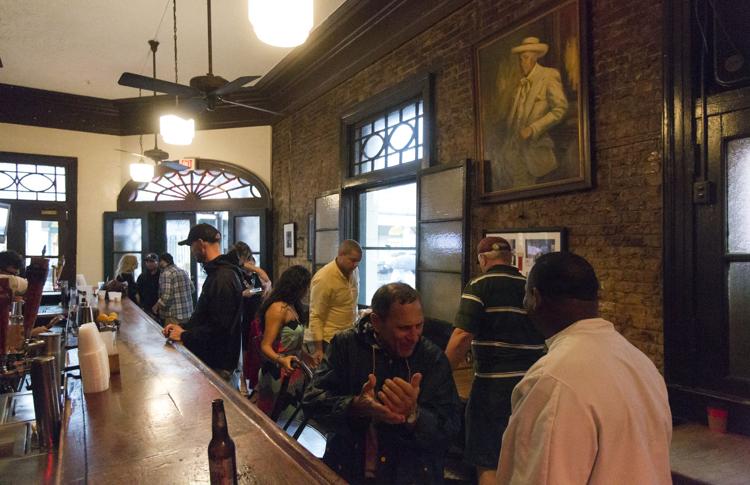 What it revealed was an establishment that has as much in common with a neighborhood watering hole as do the grand old-line Creole restaurants.
"It was a gathering spot not just for people who lived in the Quarter, but for those who used to, who moved away and were visiting again," said David Erath, a longtime regular here. "It used to be you couldn't walk a block in the Quarter without seeing someone you know. The Quarter's not like that anymore, but it still feels that way when you walk into Tujague's."
Full circle and then some at Sbisa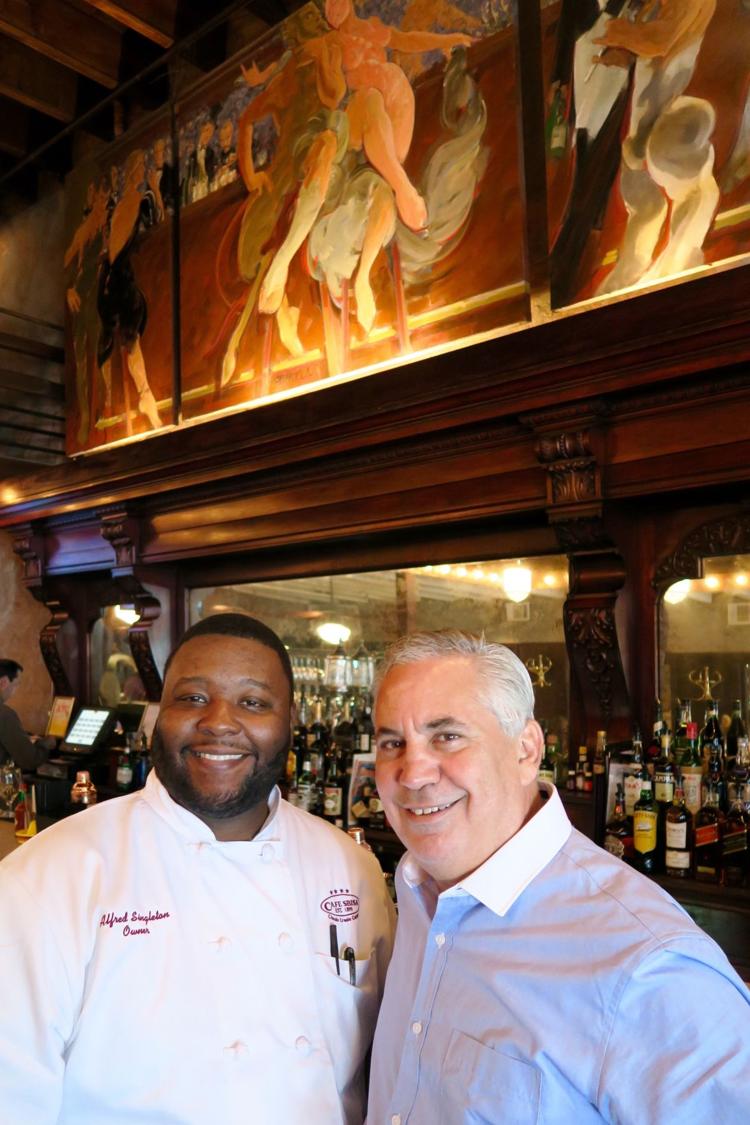 Can a food story come full circle and turn out better in the end? That seems to be the case with Café Sbisa, and especially for chef Alfred Singleton.
Sbisa is a gorgeous restaurant in a deeply historic French Quarter building. But it had been mired in on-again/off-again limbo since Hurricane Katrina as a succession of different operators tried their hand.
Back before Katrina, Singleton was working here and it made a big impact on his career. This year, he and his former boss, Craig Napoli, got back together and reopened Café Sbisa, this time with the chef as a partner and co-owner in the business.
"We were on the verge of something extremely special in 2005. The restaurant was going in the right direction. Then Hurricane Katrina happened," Singleton said as the new Café Sbisa was opening this past fall. "I've refined my craft since then, and that's what I'm bringing here. It's time to put Sbisa back on the map. We're going to bring it back to its roots."
After a flood, an outpouring
No culinary magic is required for the most important meals we ever put on a plate, and the recipe is no secret.
They are the meals served to others in need, and once again this year many people in a huge swath of south Louisiana were thrust into that position by devastating floods.
Contingents from the New Orleans hospitality sector followed fast on the heels of first responders, serving meals by the thousands. For many others, the impulse to help also flowed through food. People gathered supplies, hit the road and made sure that those pushed from their homes or stuck between floodwaters had something to eat.
As the response shifted from emergency meals to rebuilding, Louisiana's food traditions became the organizing principle for countless fundraisers encouraging people to dig deep when they were digging in.
How to measure achievement
And finally, here are some memorable words from two longtime leaders of the New Orleans restaurant world who this year each received lifetime achievement awards. Their reflections on the rewards of their field seem especially apt at this time of year.
"It makes me feel good. It makes me feel like I have accomplished something, like I have performed service to someone else. When people come back and tell me they remember something I told them, that makes me so happy. I stuck with them in some way." — Leah Chase, reflecting on her impact on others during the 75th anniversary celebration of her family's Dooky Chase's Restaurant early in 2016. Later in the year, she received a Lifetime Achievement Award from the James Beard Foundation.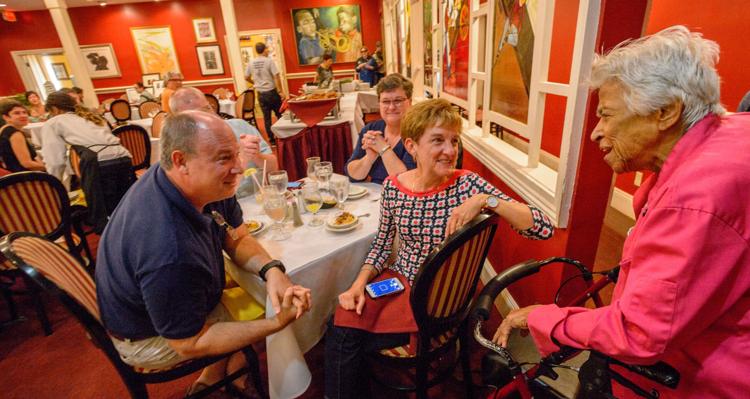 "The challenge in our business is executing every day. But what I really enjoy is watching people grow and develop. You see people who have been successful in their own right. That's very satisfying to be part of." — Ralph Brennan, on receiving the Ella Brennan Lifetime Achievement in Hospitality Award, an honor named for his aunt and presented by the New Orleans Wine & Food Experience.