As the shawarma spins, so the New Orleans food world turns. In a new twist, there are now competing outposts here for a type of Middle Eastern fast food that sounds familiar but brings something quite different to the mix.
Shawarma is a standard at Arabic restaurants, where chicken or beef versions are piled on platters and rolled into sandwich wraps. At some eateries around New Orleans you may spot the vertical rotisserie on which the meat is cooked and cut, though more often it's just cooked on a griddle. Either way, it's usually pretty good.
But there's a distinctively different shawarma at Shawarma on the Go, an eatery in an Uptown gas station, and the newer Shawarma on the Run, in a Terrytown strip mall near Oakwood Center. These are separate but similar quick-serve eateries, each specializing in sandwiches in the particular style of the omnipresent shawarma shops of Lebanon.
What you get is a tight package of just a few ingredients – chicken cut from the rotisserie, thin pickle spears and a slather of toum – the heavenly, fluffy white garlic sauce. It's all rolled in a tortilla and lightly grilled on a sandwich press, which simulates markouk, a flatbread that's thinner and a bit more stretchy than the pita loaf normally used for shawarma sandwiches here.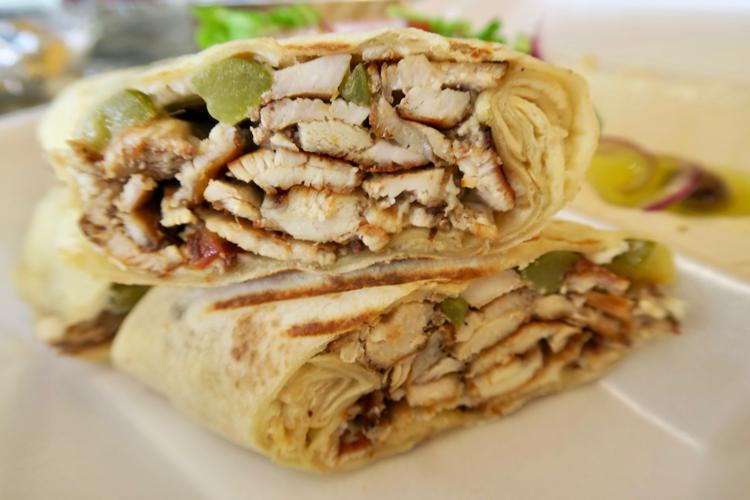 Both shops have other casual Middle eastern staples. Shawarma on the Go makes a particularly good falafel, doused with a mild tahini. The hummus at Shawarma on the Run is a standout, velvety smooth and bright with lemon.
But I am focusing here on the chicken shawarma wrap, partly because it's so different and mostly because I am obsessed.
"People come in and tell me, 'I've been eating shawarma all my life, why do you do it like this?'" said Abbas Alsherees, a native of Iraq who runs Shawarma on the Go as a walk-up counter inside his Jetgo gas station. "But if you've had it like this before then you know it. This is the taste of home."
Wrap it up
As any New Orleanian who has ever pined for a po-boy abroad knows, the taste of home is in the particulars. How it's dressed, the type of bread, the seasoning, texture and cut of the meat – all these factors are vital in distinguishing a regional sandwich. And all of that is in play with the seemingly simple shawarma.
It does not take many ingredients to make shawarma in this style, but it does take a level of commitment. The vertical rotisserie is the central piece of equipment. Then consider what goes on it. The gyro cone spinning away next to the shawarma is a processed cylinder of beef and lamb, a single block of meat. The chicken shawarma, by contrast, is a blended, seasoned, self-marinating, ever-changing collage of individual chicken breasts. Stacked and seasoned and layered, the chicken is variegated into thin crunchy bits and thicker, more tender, spice-stained seams as it all slowly turns past the rotisserie's heating element.
It's a process that is ideal for quick-service joints like these because, like good barbecue, most of the cooking happened long before you even order your sandwich.
The closest version to this style I've found elsewhere around New Orleans comes from the Lebanese restaurant group Byblos, and specifically from its walk-up delis. The tantalizing chicken stacks are on visible display, and it's packed thickly into the pita. Still, what distinguishes the chicken shawarma wraps at these newer restaurants comes down to a matter of ratio, restraint and garlic.
There's restraint in using just a few ingredients, so that the meat, so distinctively prepared on the spit, gets its due. There's also a generous meat-to-wrap ratio, because the tortilla encasing it is so much thinner than the accustomed pita bread. And then, of course, there's that toum, a wonder ingredient for garlic lovers, made with just garlic, oil, lemon, a little egg white and the patience to blend them right.
A split on the spit
As you might expect from restaurants with different proprietors but so much else in common, there is a tangled back story.
Osama Albassisi, co-owner of Shawarma on the Run in Terrytown, started out at Shawarma on the Go in New Orleans. But he and Alsherees went their separate ways earlier this year. Over the spring, Albassisi opened his own restaurant, along with business partner Omar Omar, who, like Albassisi, is a native of Ramallah who grew up in Kuwait.
These two restaurants have different but similar eye-catching logos of personified, cartoon shawarmas that both look like they're in a hurry. At each, the proprietors' young sons are usually manning the register too (Malik at Shawarma on the Go, Bilal at Shawarma on the Run), and these second generation representatives give newcomers helpful guidance on the traditional menu.
The two shops do, however, show some difference in style and menu decisions. Shawarma on the Go adds some specials, like the Iraqi-style lula kebab (a ground blend of beef and lamb) under grilled onions and tomato and sumac spice. The chicken shawarma here also has a few French fries tucked into the tortilla, another traditional touch that adds a little different texture.
Across the river, Shawarma on the Run also has beef shawarma, which is made like the chicken in a towering column of eye of round steaks. In the sandwich it tastes like well-marinated steak with, again, that alternating texture and thickness. They're also made on tortillas, though this time finished with tahini and hummus, tomato, onion and pickle (Shawarma on the Go plans to add beef shawarma in the future).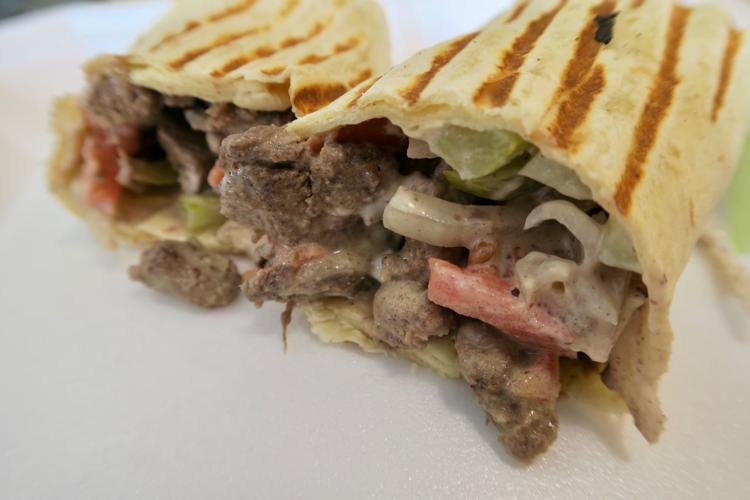 I've been alternately eating at both of these restaurants for the past few weeks, trying other things but always coming back to the chicken shawarma wrap. Their respective sandwiches are hard to tell apart, because their distinguishing characteristics are more different from the local norm than from each other. 
You'll find ardent ambassadors for the style at each. They are also across-the-river competitors, of course. But with two spots for these crave-worthy creations, if there's a winner here, it's us.
3720 Magazine St., 504-269-6427
Lunch and dinner daily
93 Terry Parkway, Terrytown, 504-373-6669
Lunch and dinner daily
Note: this story has been edited to correct the address for Shawarma on the Run
I spent a lot of time eating chicken shawarma for this week's story on the dueling quick-ser…
The menu at Banana Blossom (2112 Belle Chasse Hwy., Gretna, 504-392-7530) starts with fine-t…
To inspire new dishes, chef might turn to the classics, dig into family history or stretch t…