Street food, quick eats and good deals will always get a food lover's attention. Everyone in the media world knows this. In New Orleans, I recently discovered, they've known that for a very long time.
"Odd, unconventional eating places in New Orleans," proclaims a headline that does not appear on a travel web site or an online slide show but instead stretches across a newspaper broadsheet, over photos of stands, stalls, wagons and carts.
The paper, yellowed with age but still clearly legible, is a copy of The Times-Picayune, dated Sept. 26, 1915, and the story documents a long-ago street food scene analogous to the food trucks, pop-ups and tailgate hawkers of today. Back then, the finds included a CBD street lined with fried fish stands, roving waffle wagons by the riverfront and the evening appearance of "the hot tamale man."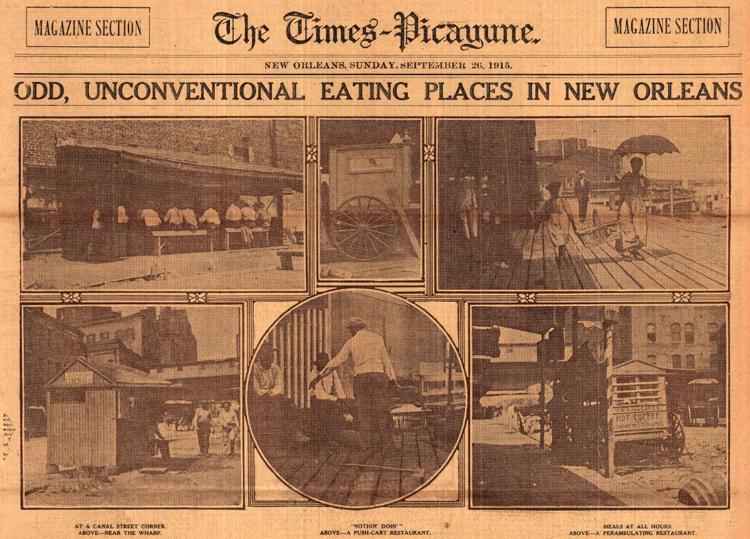 The story, attributed to Julia Truitt Bishop, offered to show readers of the day "where men eat belated breakfasts, sudden suppers and strange smelling luncheons," procured from "sidewalk restaurants and curbstone cafes — fish vendors and sandwich specialists."
As an enthusiast of alliteration, the writing style immediately appealed to me. As a student of New Orleans food culture, the topic was compelling. The back story of why this particular 102-year-old newspaper is surfacing now, however, speaks to something bigger.
The copy I read is not a reproduction or a microfilm file. It is an original, and it's part of an immense, once-hidden trove of old newspapers that is now slowly shedding light on different aspects of New Orleans life from generations past.
The newspaper collection now belongs to NOLA DNA, which was formed by local printer Joseph Makkos after a fortuitous find on the internet.
"This is probably the first time some of this has been seen since its publication," Makkos said, turning over one plastic-sheathed page after another during a recent tour of the collection.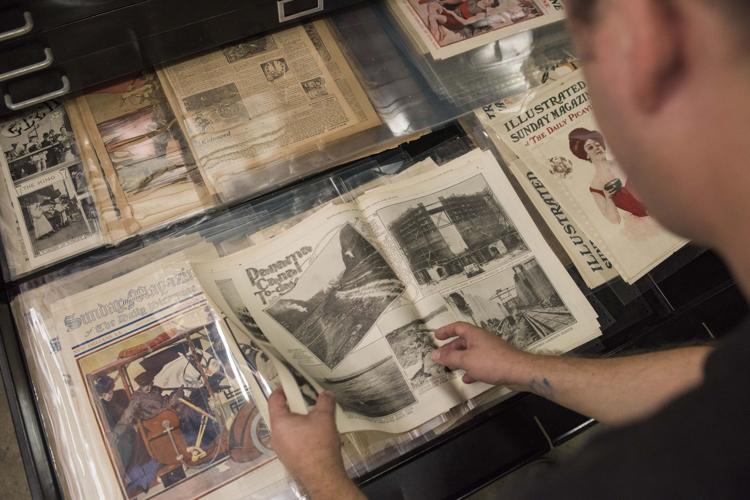 A trove, uncovered
In 2013, Makkos responded to an online Craiglist ad offering up a cache of old Times-Picayune newspapers. He didn't quite know what he was getting, but it turned out to be a mother lode of historic material, mostly from 1885 though 1930. The collection, which once belonged to the British Library, was stored in some 30,000 tubes and took several truck loads to transport.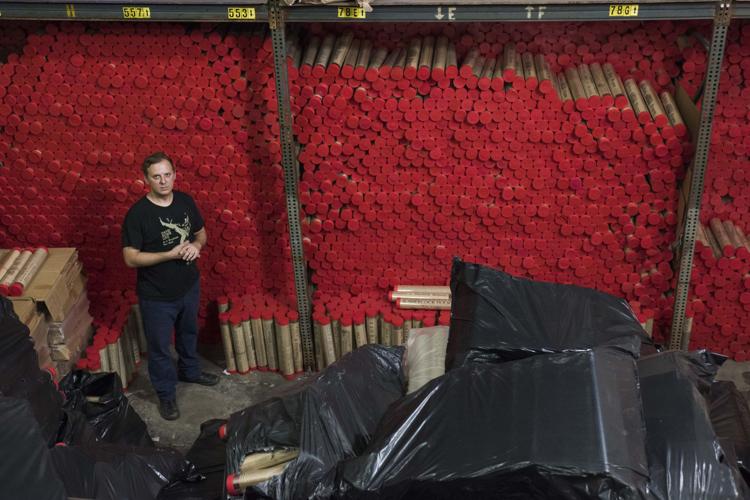 They are now stored in a New Orleans warehouse within sight of the Superdome. Makkos allowed a visit on condition that its precise location remain unpublished. Here, he works through a hive of red-capped plastic tubes, organizing finds by subjects ranging through sports, politics and technological innovations of the day (automobiles, aviation, radio), and tracking trends in areas such as graphic design and marketing.
Each paper could be its own rabbit hole, full of unfiltered views on the social, commercial and political life of New Orleans through the decades. Through NOLA DNA, Makkos has been developing ideas to share and repurpose the collection through projects and partnerships. The company is not affiliated with the modern-day Times-Picayune.
This spring, NOLA DNA unveiled its most public project at Picayune Social House, a CBD restaurant built in the Camp Street address that was home to the Times-Picayune newspaper until 1929. Today, its dining room is lined with digital reproductions of original newspaper covers from that era, which are framed and illuminated like movie posters on the old brick walls.
Makkos slowly has been finding other ways to tap the collection, and food, as the "odd, unconventional eating places" story shows, provides a particularly accessible lens.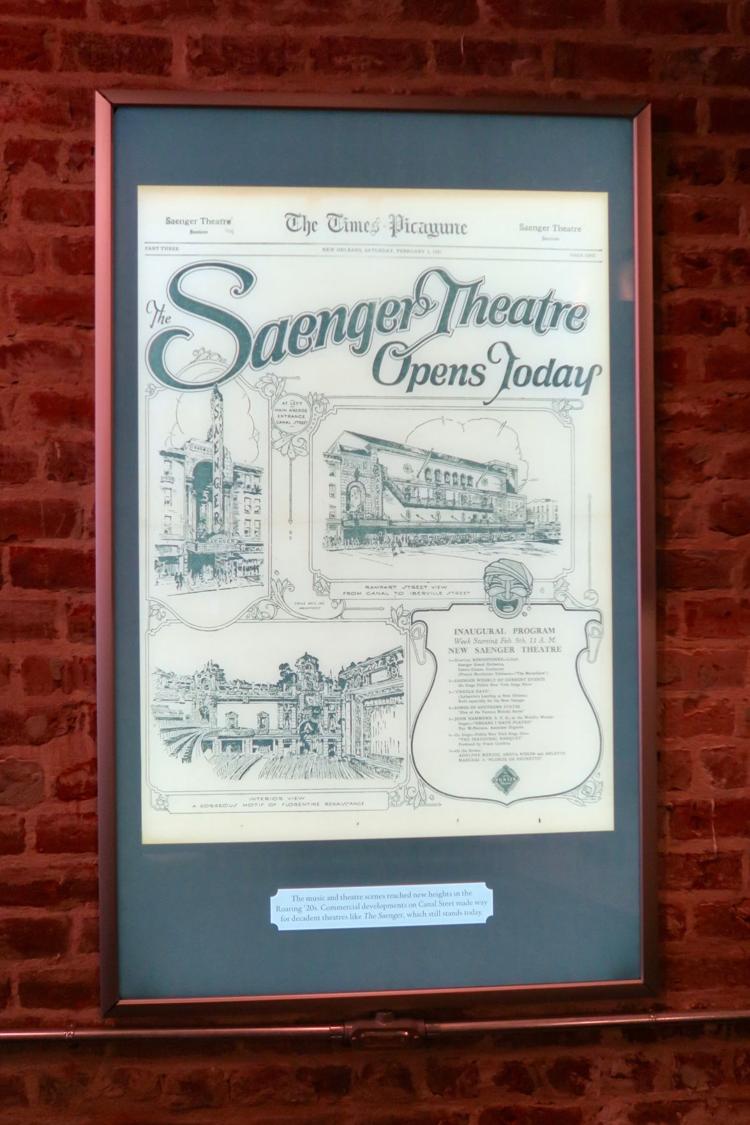 "In the modern world we think we're inventing everything, but then you look back and see the exact same thing and how they did it then," said Makkos. "This is the food truck scene, the odd eats around the city. We think we do it so differently now, but it's not really that different."
"We do not eat all the time!"
From the first line, the tone and topic of the 1915 street food story sounds familiar.
"No, honorable visitor to New Orleans — we do not eat all the time!" Bishop begins, quickly noting next that she knows some will be unconvinced.
"They will go home, those visitors, and write to their local papers that the most interesting things in New Orleans were the delightful restaurants, some of them so quaint, you know, and wholly unlike anything in any other city!"
Just swap "social media" for "local papers" and you have a contemporary moment. But Bishop's point is that not everyone in New Orleans ate "at French restaurants, most of them with sanded floors, and furnishing forth dishes for the gods at a moment's notice."

Instead, the story reveals the unsung spots for a quick meal. She begins in the modern-day CBD, along a stretch of South Rampart Street near Poydras Street lined by fried fish vendors, "serving from makeshift walk-up counters."
This was a street food niche dominated by "the Greeks," she pointed out. Ten cents bought a piece of fried fish between slices of bread, which customers dispatched on the spot or while walking down the sidewalk.
"How much less red tape there is on South Rampart street than in the more formal restaurants further down!"
By the river wharf, Bishop found "eating places flourish." They are "improvised restaurants," a collection of open sheds between larger buildings serving sandwiches, pies and cakes and "liquid refreshments."
At St. Louis Street and the riverfront, she found the food trucks of the day, "a flock of the little street restaurants, lined up by the sidewalk," and mounted on wheels.
"No doubt there is many a more ambitious restaurateur who feels regretfully that it is a pity his own venture was not mounted on wheels, so that he could hitch up and drive off, now, instead of being haled into a bankruptcy court or having a receiver appointed."
For anyone getting too wistful about it all, though, she advises, "(t)he Board of Health has never invaded these charmed precincts, apparently." They are "indescribably dirty," but "trade does not languish and the smell of cooking fills the air."
More impressive, and seemingly more hygienic, is a waffle vendor, who arrives on the scene (or at least in the story) with a herald.
"Clear musical notes sound just around the corner; and here comes one of the well-known institutions of New Orleans — the hot-waffle wagon."
The wagon "shines with paint and cleanliness" and its operator is "resplendent in snowy apron and cap." This vendor serves up orders of a dozen waffles, hot from the griddles, sprinkled with powdered sugar and folded in paper.
By the evening, Bishop catches up with a vendor selling a treat that is still familiar around the modern-day street food scene — the hot tamale.
"At certain hours of the day or night, principally toward sunset and in the earlier hours of the evening — the hot tamale man is abroad," she wrote. "He lugs a heavy basket, and he might easily be a Mexican, judging from his complexion...And he cries ''Ot tamale! Tamale caliente! R-r-r-ed 'ot!"
Scott Williams knows why people are drawn to his catered spreads of smoked boudin, cracklin'…
Around the dining room of Picayune Social House you'll spot people reading the paper, and ev…
When I first moved to New Orleans, back in 1999, I was amazed by how often people talked abo…