When Myers Rudolph surveyed the competition last year at Hogs for the Cause, he saw cook-off teams with elaborate party pavilions, big top canopies, scores of team members and displays of sponsor logos to rival a NASCAR crew. 
Then he reviewed the plan for his team, a lean, 10-man unit called Sport Porkin'.
"We had a tent, a sign and a handful of 28-year-olds hanging out, selling pork and having fun," recalled Rudolph. "But I don't care if you have the biggest set up and all the gear, we're going to be the best salesmen out here. We are going to get people to buy our food."
Scrappy spirit, barbecue bravado and close camaraderie define many smaller teams at Hogs for the Cause, and this year is their time to shine.
Hogs for the Cause returns this weekend with a new location outside the UNO Lakefront Arena. There's also a new layout for cook-off teams across the grounds, with more of the smaller players positioned between the entrance gates and the music stages.
"We've tried this year to build a system where smaller teams will have more exposure, knowing that the big teams will get it anyway," said Becker Hall, co-founder of Hogs for the Cause. "You pass by most of the teams on the way to the stages now."
Some 90 teams will cook whole hog and sell meaty snacks, sandwiches and even desserts to the crowd. They compete for trophies in different food categories and on the fundraising total they hand over to Hogs for the Cause, which supports families dealing with pediatric brain cancer.
From its own ad hoc start in 2009, Hogs for the Cause has become one of the most popular food events on the New Orleans calendar and it's grown into the nation's leading fundraiser for its cause.
Along the way, some of its teams have grown progressively larger, well-organized and effective, too. Last year, five teams each brought in more than $50,000. One of them, Team Fleur de Que, singlehandedly raised $150,000 in 2016.
For one weekend, Hogs for the Cause transforms a green glade in City Park into something lik…
Most teams will contribute just a fraction of such sums to the overall Hogs haul. But in their different styles and flair and in their sheer numbers, the smaller teams stoke the Hogs for the Cause festival experience and greatly expand the range of flavors across this vast food court of pork.
"We're a drop in the bucket as far as fundraising is concerned, but I feel like we bring a different magnitude of awareness to the event than you'd get if it was just a handful of big teams," said Martin Steib, captain of the team Hoggystyle, which raised close to $5,000 last year. "It's getting pretty hard to find someone around town who doesn't know someone on a Hogs team, and getting everyone together is what makes this event so fun."
Flavor "levels the playing field"
Many cook-off teams cheered the decision to move Hogs for the Cause to its new lakefront berth. In previous years, torrential rain turned the event's former home in City Park into a quagmire. While the largest teams held the high ground by the main music stage, rows of smaller teams found themselves in muddy bogs, cut off from the crowds.
Access to the hungry festival goers can make or break the smaller contenders. Hogs for the Cause teams must raise at least $3,500 to qualify for its biggest award, the Grand Champion, and to guarantee an invitation back the next year.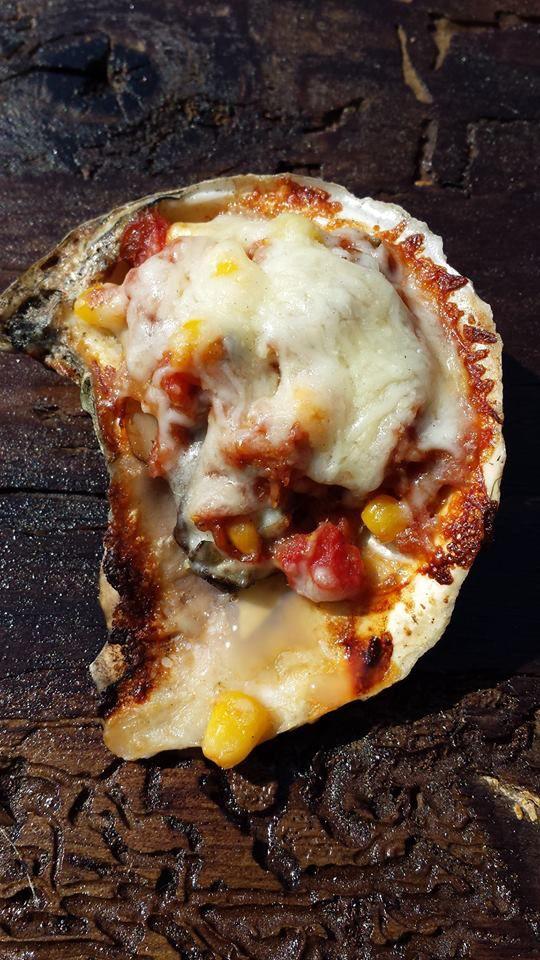 Many smaller teams count on food sales at the event itself to meet the mark. Add the competitive fire that barbecue reliably sparks, then multiply by 90 teams, and it's no wonder the food at Hogs for the Cause has grown evermore creative and eye catching.
"For a lot of the smaller teams, food levels the playing field, that's where we compete," said Rodney Beals, leader of the team Pork Funk All-Stars. "People are coming up to try what you got, and that's when it comes down to what you can really do."
One new entry on his team's menu this year is "the funky melt," a sandwich with varied chunks of whole hog, smoked gouda and aromatic taleggio cheese.
Many other competitors keep their food plans close to the vest before the gates open, but team histories shed light on their individual styles. The Swine Spectators, another small team, is known for its "cracklin' Jack," or caramel corn with fried pork belly, and one year the team topped char-grilled oysters with pork confit for "oysters porkerfeller."
"We're all just backyard barbecue guys who are focused on good flavor," said David Jacobs, captain of the Swine Spectators. "None of us are chefs, so all of us contribute to the food ideas and work as a team to figure out what we're going to make."
While larger teams can divvy up duties by committee, in smaller teams all members tend to take hands-on roles in cooking and serving their food. That experience can tighten the bonds between teammates.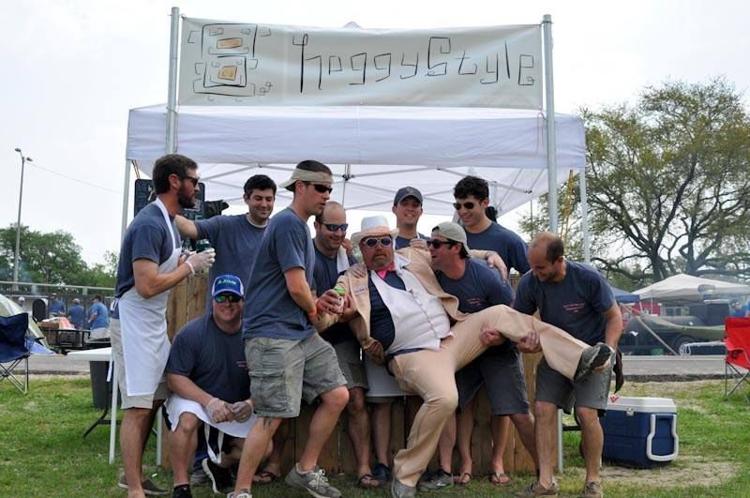 "The best is when you're in your booth, right in the middle of it all, looking at a line of people 15 deep waiting to eat your food," said Steib, of Hoggystyle. "Everything's rolling, everyone's doing what they're supposed to be doing and people are actually buying what you made. For guys who don't do that all the time, that's a good feeling,"
Beyond the barbecue and the parties, team leaders credit Hogs for the Cause organizers with keeping the families they help in the forefront. As event planning progresses through the year, organizers share the stories of their grant recipients, from happy milestones to heartaches. That keeps the many varied teams connected to each other, too, regardless of trophies and bragging rights.
"We all have egos and like to get recognition for our cooking, but really we're all in this for the charity," said Beals, of the Pork Funk All-Stars. "When you see the impact it makes, you don't feel like a small team. You feel like you did your part."
What: Outdoor charity cook-off and festival with food from 90 cook-off teams, live music on three stages.
When: Friday, March 31, 3:30-11 p.m.; Saturday, April 1, from 11:30 a.m.
What's new this year?
Location: UNO Lakefront Arena Grounds, 6801 Franklin Ave., New Orleans
"Hoggy Hours:" a special ticket allows entry an hour early (Friday at 2:30 p.m.; Saturday at 10:30 a.m.), with free beer during that hour and first dibs on food.
Hogwaii: a luau themed gala dinner from the Link Restaurant Group, Thursday, March 30, inside the UNO Lakefront Arena. 
For tickets and schedules see hogsforthecause.org.
Each spring, the charity cook-off teams behind Hogs for the Cause build a temporary town of …
When chefs throw a party, food naturally gets the spotlight, and Bal Masqué, the gala that D…