After all these years working in the New Orleans entertainment business, Elray "Chef Ray Boom Boom" Holmes knows music, he knows gumbo and he knows which way the wind blows.
So with the new Rampart-St. Claude streetcar line rolling, and with adjacent blocks along St. Bernard Avenue getting new attention, he knew it was time to get back in the restaurant business.
"When you see the streetcar coming, you know it's going to bring more people," said Holmes. "The neighborhood is changing; it was time to get in on the ground floor."
The result is Ray's on the Ave., a particular version of the ground floor that is built on foundational New Orleans flavors. It also sticks to the notion that, even in a changing area, a neighborhood joint should still feel like home to its neighbors.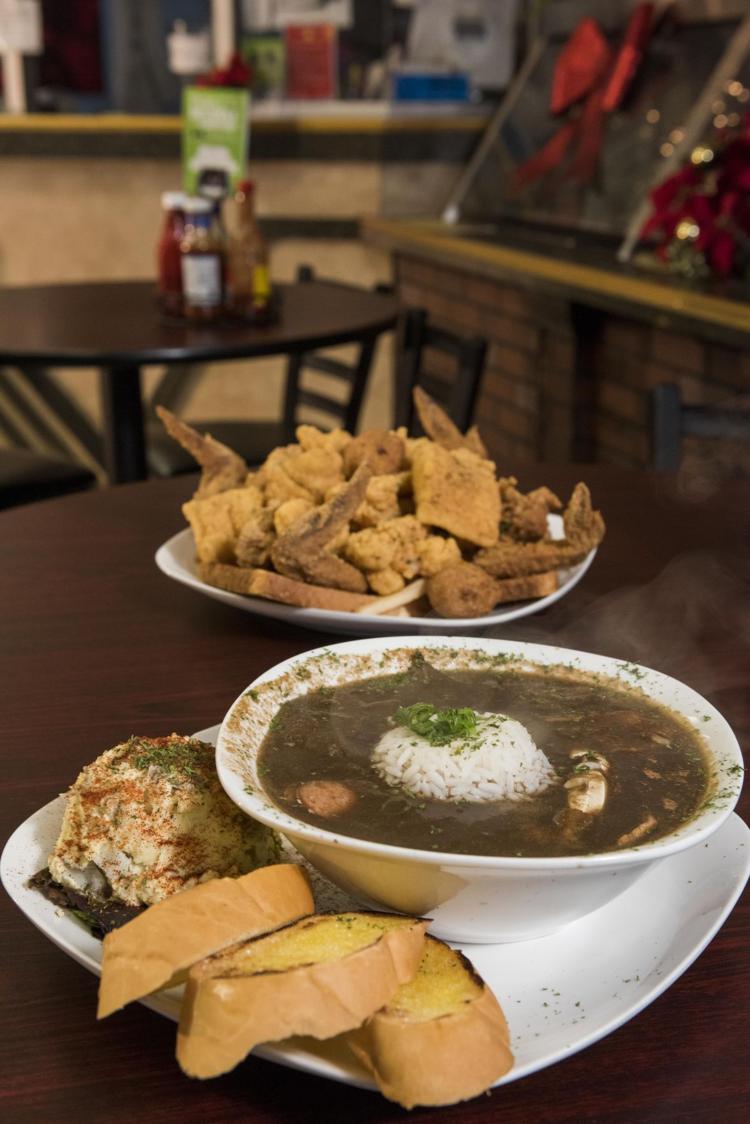 Five bucks will get you a sit-down meal here. It could be the gumbo, with potato salad on the side. Or it could be one of the daily lunch specials. Monday's plate is a modest version of red beans with chicken wings. Wednesday's plate, packed with greens and rice, a salty, crispy-fried pork chop, yams and hush puppies, looks like it came through a holiday buffet.
Holmes and his wife, Tammy, opened their restaurant in 2016. It still counts as new, though it looks like it could've been here for decades. It feels like it has an old soul, and that would be Creole soul.
The gumbo sets the pace. Holmes does his differently by adding the seafood and sausage to order, which means you can customize your gumbo. But its base is a dark, slurpable, restorative roux that starts with a family recipe, that common cornerstone of Creole soul cooking.
His mother, the late Mathalee Holmes, raised him on this roux during his childhood in Pontchartrain Park. And it's the roux he's been cooking through the various stops in an intersecting career of food and music.
Brass and roux
Ray Holmes, now 50, started working in restaurants as a teenager, washing dishes at the long-gone Bart's Lighthouse on the lakefront. He's been a musician since his school days too, and today he sings and plays the horn with his exquisitely named outfit Chef Ray Boom Boom and the Pot Stirrers.
A decade ago, his club, Ray's Boom Boom Room, was a fixture of the early post-Hurricane Katrina scene on Frenchmen Street (the same venue is now called the Maison). Holmes later ran an eatery and club on Bienville Street in Mid-City (where Bayou Meat Market is now taking shape).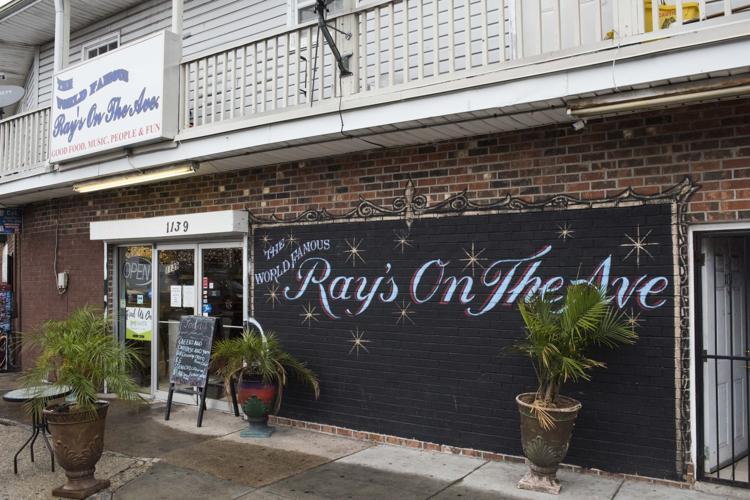 Ray's on the Ave. sits at the corner where St. Bernard Avenue, North Rampart Street and St. Claude Avenue connect, right along the edge of what's sometimes called New Marigny. This stretch of St. Bernard Avenue has long been a nightlife hub, and the changes here lately remind Holmes of the momentum along Frenchmen Street in the old days.
Some of the bars along the route are new or have been redeveloped. And a block away from Ray's on the Ave., on a triangular lot that once sprouted billboards, there's a plan on the drawing board to build a five-story hotel.
For now, Holmes has plenty going on under his own roof. Sometimes the restaurant feels like a barbershop, with regulars hanging out. Sometimes it feels like a cab stand, with drivers for online delivery services swooping in to grab orders by the dozen.
"When you see someone calling in 15, 20 orders, you know it's going to an office," Holmes said with a grin.
This eatery is a friendly, low-key, low-slung joint with clearly marked rules. Signs on some tables note they are permanently reserved (including one for the Holmeses). 
The drum kit and DJ table in the dining room speak to the restaurant's occasional alter ego as a music spot. There isn't a set schedule now, but Tammy Holmes sometimes spins as DJ and her husband might take the bandstand too on the right night. In the fall and spring, Ray Holmes also serves as emcee for the Jazz in the Park concert series in Armstrong Park, where his deep baritone frequently reminds visitors to "stay hydrated" (by which he means visit the bar).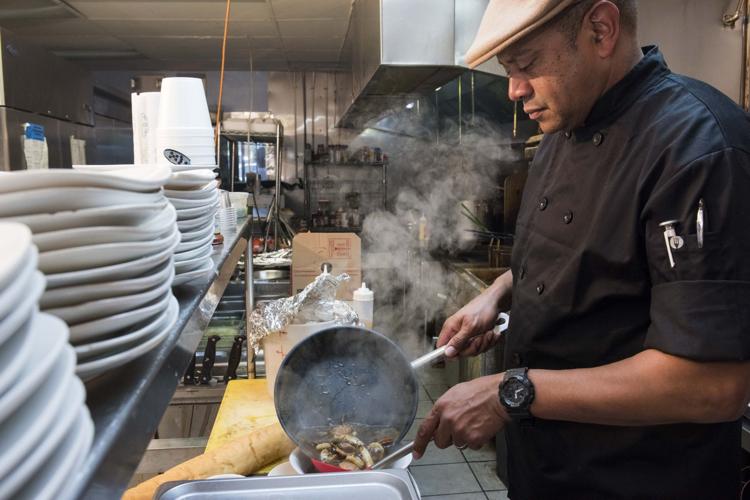 His main gig, though, is with his kitchen crew. They cook cabbage and greens in a huge wok, a holdover from an earlier Chinese take-out operation here, and they tend big pots of gumbo and red beans.
They pair wings with fries, ladle cream sauce over grilled fish for the catfish Tam and lay down overlapping hot sausage patties like a hand of cards for meaty po-boys. The Treme brass po-boy starts with grilled shrimp and deli-sliced turkey to keep it light and ends with remoulade to make sure it's not too light.
The soul platter is the marquee dish (and it marks the menu's high end at $15). Holmes forms chicken wings into a frame around the plate and fills this basket shape with fried shrimp and catfish over fries and toast. He came up with this dish while slinging food during a club show from his buddy Kermit Ruffins, after someone asked him to improvise with a little of everything he was cooking that night. 
The $5 lunch specials keep the kitchen especially busy. These lunches, it's worth noting, are still served on plates and at a table, not over a take-out counter in foam trays. To Holmes, this combines both business model and point of pride.
"You've got to get people coming in, and it can't just be about people coming off the streetcar to explore," he said. "You have to be able to serve the average Joes in your neighborhood."
In fact, before the streetcar was even running, it brought customers to Ray's on the Ave. The restaurant's first regulars came from the crews laying down its tracks.
The walls at We Dat's Chicken & Shrimp are emblazoned with murals of New Orleans notables, but proprietor Greg Tillery treats everyone who…
Good soul food usually carries a sense of place. Two Sisters in da East also gives a little more specific direction right in its name.
A good gumbo can give you different tastes from one spoonful to the next. That's been the case with the versions I've been eating these past f…