A recent dinner at Marjie's Grill started with cornbread turned into fishcake shrimp toast, with wahoo and shrimp under a crisp shell and buttermilk dip on the side. It ran through charred okra with briny dried shrimp vinaigrette and a stick of grilled chicken hearts. It ended with pecan pie with a crust as moist as a biscuit and no further embellishment than an ice cream scoop.
It's easy to label a restaurant serving this mix of flavors as fusion. But fusion is too fraught a term to describe a place that feels so at home in New Orleans right now.
There's a more compelling dynamic at play, one that's as satisfying to find as the fresh crunch, deep smoky savor and different lens on familiar pleasures that combine here.
Marjie's Grill tastes like Southern cooking that recognizes lemongrass, fish sauce and Thai basil as newer contributions to what constitutes the South.
Open since December, it's as casual as they come, a walk-right-in, sit-right-down eatery slotted into the midcentury clutter of South Broad Street in Mid-City.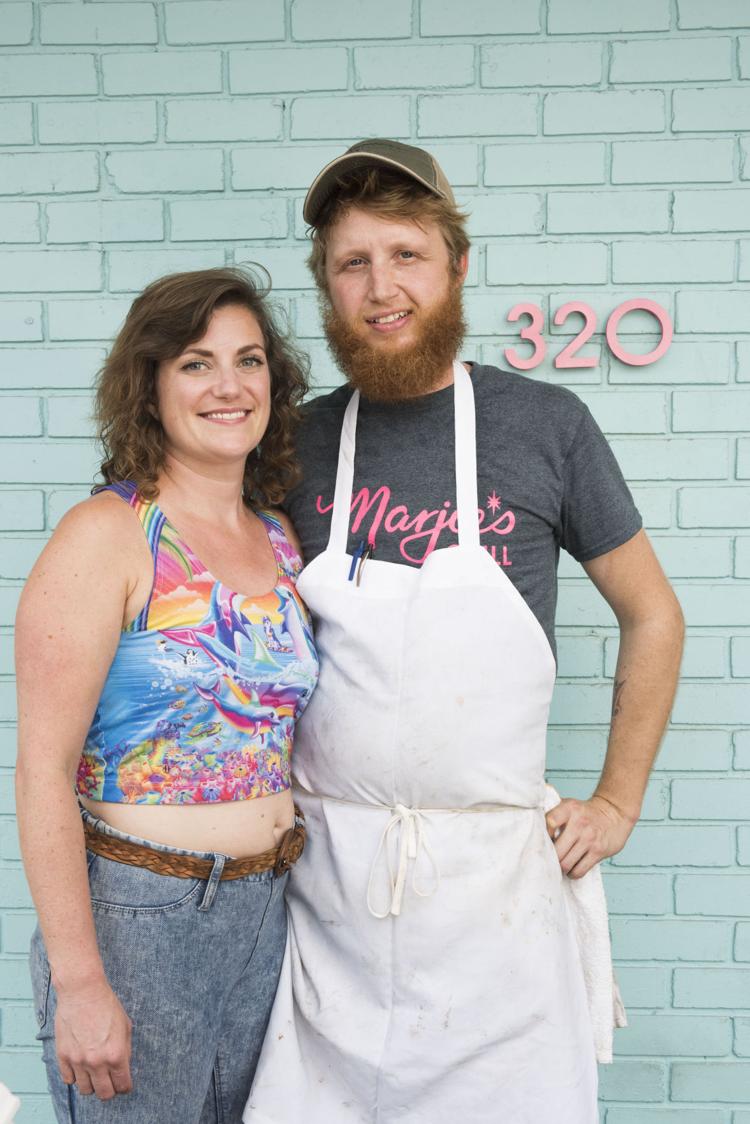 When you eat at Marjie's Grill, you're half a block away from a Latin grocery where pollo a la brasa and chicharones are take-away specialties. A few doors down, there's a corner store for catfish and baked macaroni and gumbo sold in foam cups. If Marjie's Grill is fusion, then so is its whole neighborhood.
The proprietors are Caitlin Carney and chef Marcus Jacobs, a young couple who started a pop-up inspired by Southeast Asian barbecue and quickly developed it into Marjie's Grill, naming it for Carney's mother. They bought a building that had seen a rapid succession of Latin American joints through the years and pulled together a minimal renovation.
The atmosphere and settings feel like a lunchroom treated to some artful rummage and creative make-do. You find communal tables up front, a row of small tables leading down the narrow corridor and a back deck patio in the rear.
The menu sets out copious vegetables (chopped raw or slow roasted), big Gulf shrimp tossed in chili butter, an impressively varied rotation of fish, and charcoal-cooked pork and steak. Chiles and garlic, the funk of fermented fish sauce and the cool of torn herbs trace the kitchen's own take on these staples.
A marquee dish of the dinner menu is a massive, platter-sized pork shoulder steak. The slow charcoal cooking imparts a matrix of flavors and textures — charred and fatty here, tender, giving, blush-pink there. You break off hunks to wrap with a jungly bouquet of herbs and greens and dunk these bundles into a wet chili-garlic sauce.
It reminded me of the kind of meal that chefs talk about when they discuss downtime cooking, what they make for themselves and their friends when they're not fielding a menu or composing a plate.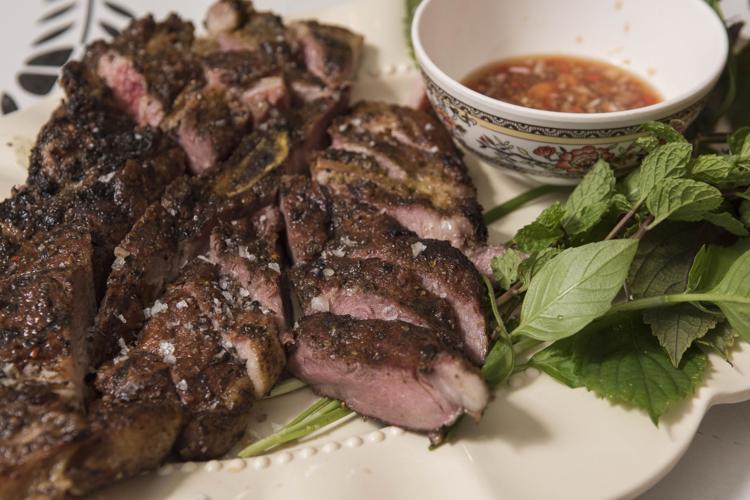 Beyond a few house drinks, cocktails are setups. That means you get a half pint of liquor in a pail of ice, tongs on the rim. You pick your mixer and fix your own two-ingredient drinks.
Commonplace at black-owned bars in New Orleans, the format would feel contrived at many another restaurant. But here it seems to fit the hands-on thrift of the place, where the semi-self-service approach is reflected in friendly prices. Two of us stretched a $16 set-up into four cocktails one night and afterward felt good about the deal, and life in general.
For as distinctive as Marjie's Grill is, there can be some sameness across so many dishes washed with garlic-chile sauce. It also helps to have a high tolerance for salt, which can show up with too much vigor. Mainly, though, what comes through is a blend of flavors that are joined together because they work together.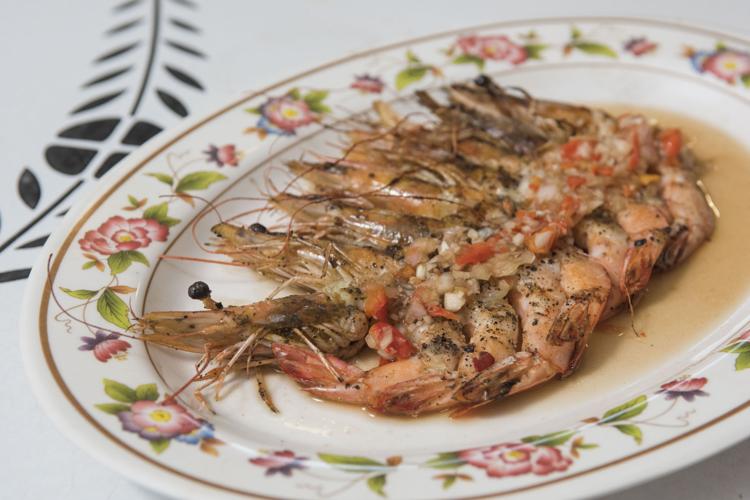 That approach continues at lunch, though the framework changes to something like a 21st century meat-and-three. You order at the counter. You pick a meat and hope they have the catfish strips fried with chiles and herbs over rice or the fried chicken with Thai spices in its dark, shattering crust; then you add a few vegetable sides, like garlicky cucumbers with mint or a fresh slaw of root vegetables. Or you could get all vegetables, like I did once, making only one small exception for a bowl of tumeric-dusted cracklin' on the side because, well, cracklin'.
You wipe your chin with paper towels pre-positioned on the tables. You wish you'd brought enough company to justify ordering one of the inexpensive carafes of wine. You start thinking about who you can bring back to try this place next.
320 S. Broad St., 504-603-2234
Lunch Mon.-Fri., dinner Mon.-Sat.
Reservations: accepted for 6 or more
Prices: Lunch plates $12-$18; dinner plates $9-$25
What does $5 get you these days? At Kin, a consistently unconventional New Orleans eatery, t…
At the corner of Tulane and Broad, you can get a box of chicken wings and a bottle of pills …
At MoPho, chef Michael Gulotta built a following on rice noodles, aromatic broth and origina…