All through the spring, as the renovations of the new NOPSI Hotel neared completion, New Orleans people were watching.
They stopped to cast long looks from across the street and, once the construction barricades were gone, they stepped right up, cupping hands to the glass to peer inside. They were getting a glimpse of what was to come, and also sizing up something historic but long hidden in the middle of the CBD.
Today, the lights are on, the stoves are lit in its kitchens, the drinks are flowing from three bars and people are pulling open the doors again to explore inside.
The NOPSI Hotel, which officially opened July 6, is the reanimation of a stately, 1920s-era building that had been dormant and boarded up for more than 30 years. After all that time, the reveal feels less like another hotel opening and more like the excavation of some buried piece of the city's past, now polished up and re-engineered for new use.
Amid a wave of downtown redevelopment, NOPSI Hotel has stood apart because of what NOPSI stood for. It's the acronym for New Orleans Public Service Inc., the company that once provided electricity and gas in the city and operated its streetcars and buses.
Its former headquarters is now a 217-room, nine-story hotel with generous public spaces built into its ground floor, and marching orders to chart a new role for a once-prominent property in the city.
"One hallmark of grand hotels of yesteryear is that they were great gathering spaces," said Prem Devadas, president of Salamander Hotels & Resorts, which operates NOPSI Hotel. "It wasn't just about the hotel guest but about a space where the community convened. That's the aim here. We're interested in creating a community gathering space in New Orleans and preserving the history here."
A line to the past
Outside New Orleans, the name NOPSI is cryptic at best. But in the city, it's part of a nostalgic lexicon, in a league with Schwegmann groceries, K&B pharmacies and the D.H. Holmes and Krauss department stores.
Artifacts remain around the city. The NOPSI name is pressed into iron manhole covers still in use around New Orleans and it's stamped into tin tags still attached to telephone poles.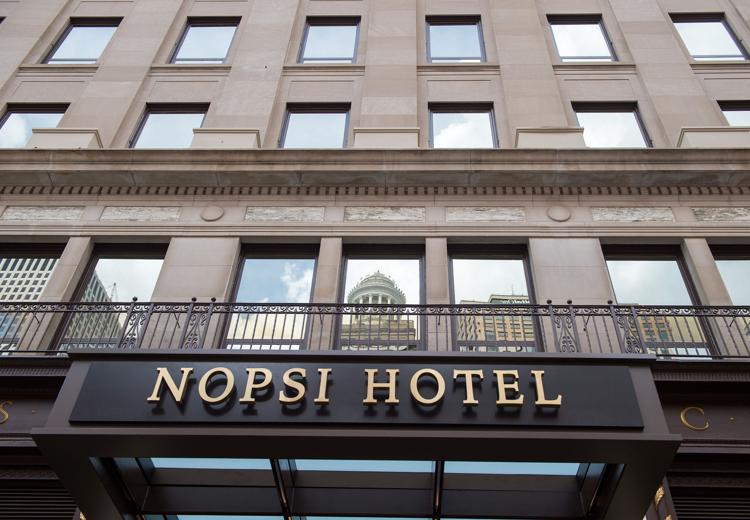 More so though, the NOPSI name resonates thanks to the many ways the utility worked its brand into daily New Orleans life. A company in the business of selling electricity and gas produced cookbooks, distributed home economics primers and even hosted cooking classes at its headquarters. Because it provided the necessities, all of New Orleans interacted with NOPSI in some way and in the pre-digital era that often meant in-person visits to the headquarters, to sign up for service, pay bills or buy transit tokens.
NOPSI Hotel was developed to tap this inherited legacy. While its primary purpose is overnight lodging for out-of-town visitors, the property was also designed to invite the public back in.
"It's really a rare opportunity in the hospitality business when you have this historic building right in the middle of everything that so many people have memories of, and you can bring it back for them," said Ellen LeMaire, the hotel's general manager.
Utility meets luxury
The original NOPSI building was designed by Favrot and Livaudais, the architecture firm responsible for other landmark buildings, including the Hibernia Bank tower a block away. Though its role was the definition of utilitarian, NOPSI's home base greeted its customers with grandeur in a lobby of soaring, vaulted ceilings between ornamented columns and over terrazzo floors.
Now that lobby also sports a curve of white marble for a bar called UnderCURRENT, where an adjoining patio adds a rare street level outdoor social space to this stretch of the CBD. The patio is dog-friendly, an accommodation for guests who travel with pets and neighbors who may be tempted off their dog walk route for a drink. The hotel even has a few dishes devised for dogs on its patio menu, like "the bowser burger" for the super-indulgent.
Nine floors up, the open-air rooftop bar is called Above the Grid. It opens to the public after 4 p.m., giving views of the city skyline from the middle of it.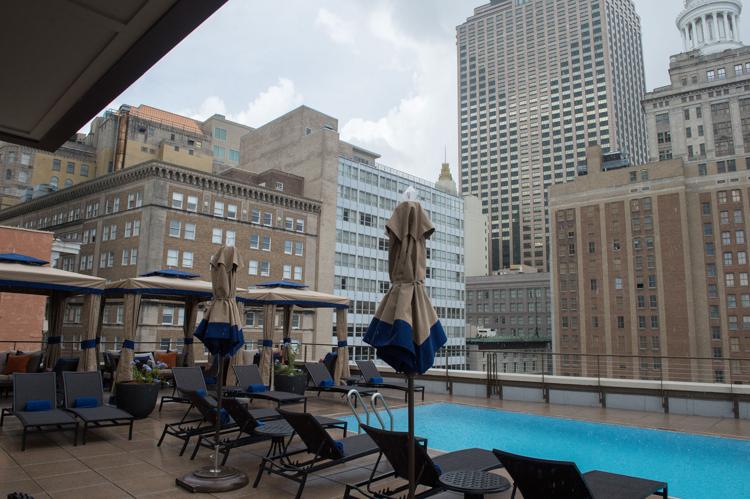 The centerpiece of NOPSI Hotel's food and beverage program is the restaurant Public Service (a reference to an older name for NOPSI). It's a contemporary regional restaurant with an upscale/casual ambiance set with deeply curving booths, a prominent bar sporting all-local draft beers and, across the room, an open kitchen.
"What we're doing is Southern regional comfort food that's been modernized," said chef de cuisine Dustin Brien.
On his menus (see below), that means chicken fried soft shell crabs over watermelon chunks dressed with watermelon ranch, and a blue crab dip with house-made saltine crackers. The steak frites uses a ribeye cap (a.k.a. spinalis, a typically full-flavored cut) and flatbreads are topped with white anchovies, roasted garlic and manchego or andouille, roast beef and red gravy.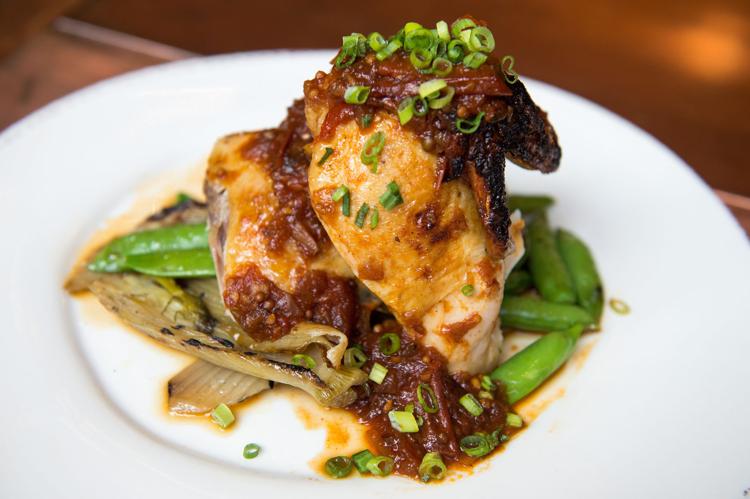 At one end of the kitchen's dining counter there's a chilled seafood display for oysters and clams, lobster and crab and crudo. The other end has an eye-catching vertical rotisserie with branches of flames flickering at whole chickens, porchetta, leg of lamb and other meats.
Public Service is connected to the hotel in what was once a separate building, the past home of a savings and loan called Jackson Homestead Association. This building was also empty for decades and during the hotel redevelopment it was essentially rebuilt from the ground up. Left intact, however, was the gold trimmed glass façade, which now gives views from the street straight through to the Public Service kitchen.
The restaurant crew has also been looking back out those windows as their restaurant and hotel came together, sizing up the corner of the CBD they've joined.
"We want to be part of the community as this becomes more of a neighborhood," said Carlos Ramirez, the restaurant's manager. "There are more people living downtown now, they need places like this when they want to go out near home or just grab some good food to bring back to their condo."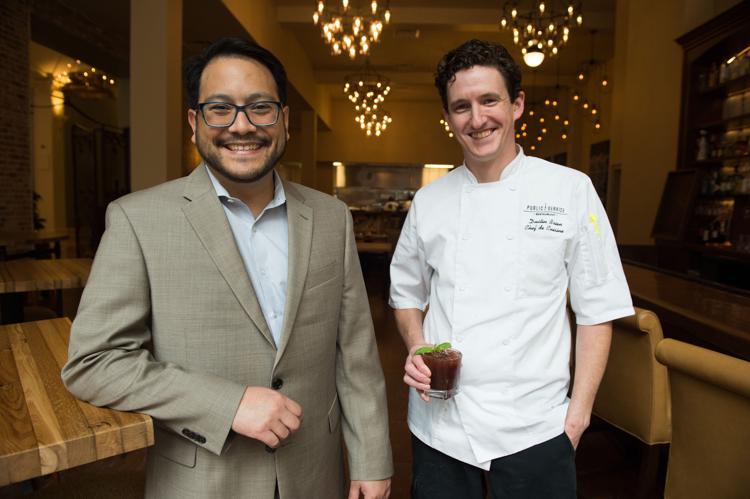 To that end, rotisserie chicken to go is part of the Public Service menu, with special boxes made up to bring the whole birds home.
Long history, small details
Managed by Salamander, a Virginia-based hotelier, NOPSI Hotel was developed by the Connecticut-based company Building and Land Technology, which tapped the New Orleans firm Woodward Design + Build as contractor. While the renovation was massive, it includes many small details referencing the building's past.
Hotel room numbers are marked by placards modeled after miniature NOPSI manhole covers. The wall of one corridor is a gallery of vintage NOPSI printed materials — fliers for customers, annual reports and in-house publications with names like the Gasette, Synopsis and the Spur. There are photos of old NOPSI company baseball teams and bowling teams.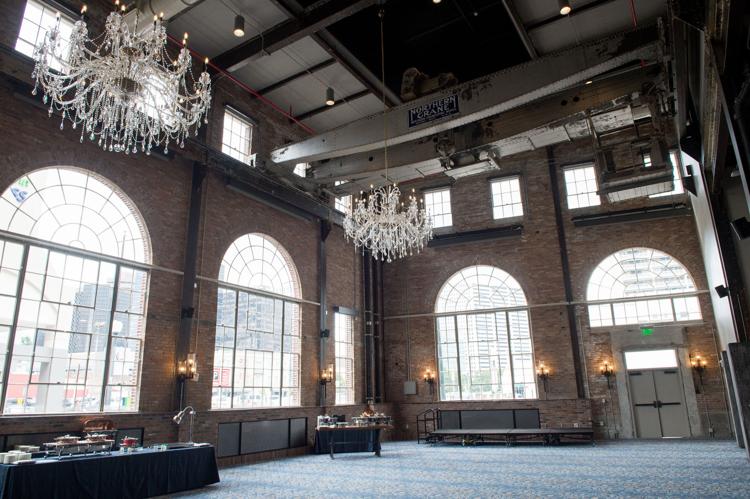 The hotel's main event space, dubbed the Dryades Ballroom, is a former repair shop for electrical transformers. The industrial-chic renovation sets glittering chandeliers against bare brick and high windows and a huge, burly hoist left as an overhead centerpiece.
Other touches are more subtle. As part of the standard turndown service, hotel guests get a recipe card drawn from dishes in NOPSI cookbooks, maybe the jambalaya, the mirliton relish or a quizzical BBQ shrimp recipe that leans heavy on Italian salad dressing.
The lobby, fittingly, is the most impressive public space in the hotel, unfolding like an elegant indoor piazza. The floors here gleam but hardly look new. They're not supposed to. Instead they show the wear of foot traffic from years past like a patina. Like the old NOPSI logos that still dot New Orleans streets, it's a reminder than while history runs deep in this town, sometimes it's right underfoot, too.
317 Baronne St., 844-439-1463
Public Service restaurant
311 Baronne St., 504-962-6527
Breakfast, lunch and dinner daily.
The Pontchartrain Hotel on St. Charles Avenue was once a home-away-from-home for visiting ce…
Amid the rising tide of so many new projects in the CBD, the Catahoula Hotel is a small one …