In deepest summer, there is a certain mindset in New Orleans that regards the outdoors as enemy territory. Maybe you've succumbed to this once or twice yourself. You dash from door to door at your own risk, and air conditioning on an outing for dinner or drinks is as necessary as air tanks for a deep sea dive.
When true fall arrives, of course, a truce is called, and an outdoor perch is the place to be. These days, though, once you start looking around for them, you might notice something has changed.
All around New Orleans, more restaurants and bars are making peace with the outdoors year-round. The classic lush courtyard is now joined by a landscape of patios and beer gardens and repurposed open-air urban spaces, sometimes squeezed in, sometimes integral to the design.
It's not hard to find a drink in New Orleans. But getting a beer straight from the source at…
The trend has filled the New Orleans restaurant scene with picnic benches and rollup garage doors, sail-shaped canopies and, everywhere, those overhead string lights, which are to this generation what the candle-mounted Chianti bottle was to the last.
The variety in these new outdoor options keeps growing, and it can often offer some surprising finds.
Push open the blank stockade gate at the wine bar and eatery N7 (1117 Montegut St., no phone) and you see a covered patio clung with grapevines and the kind of scene you'd expect to find outside a tasting room in wine country. Instead it's in the 9th Ward, and as the freight cars clang and groan on the nearby Press Street tracks, the tables fill with small plates, cheeseboards and spreads of specialty European seafood, served right from their tins.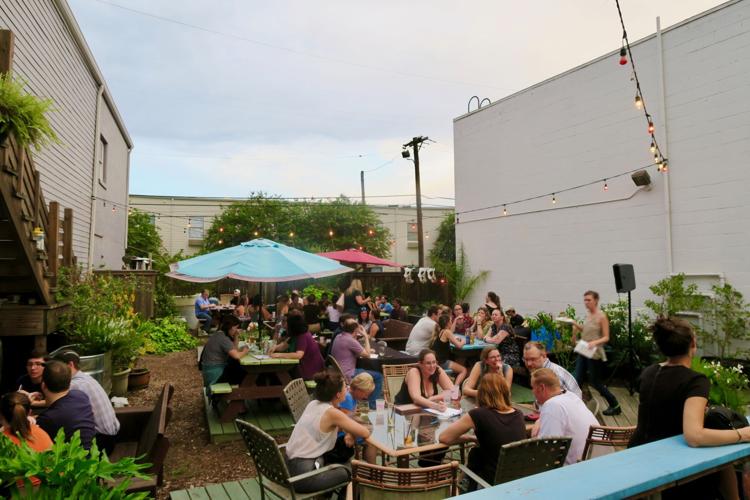 Across town at Treo (3835 Tulane Ave., 504-304-4878), a side door in the lounge and gallery opens to what looks like a pocket park set with outdoor furniture and colorful plants. Here, contemporary Italian food from the in-house kitchen Tana becomes upscale bar food. It feels a world away from Tulane Avenue, even as traffic hurtles past just over the fence.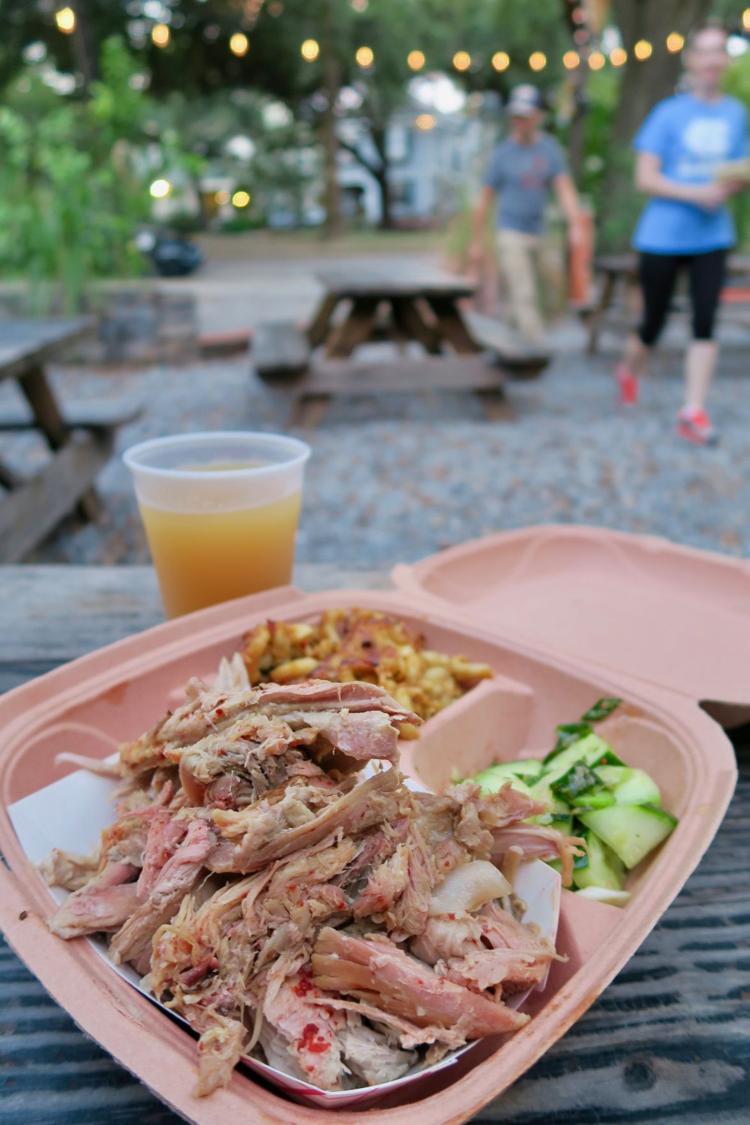 In 2015, the crew behind Boucherie turned the old Cafe Nino pizzeria into Bourree at Boucherie (1510 S. Carrollton Ave., 504-510-4040), a Cajun-style smokehouse and eatery for boudin, wings, daiquiris and local brews. Over the summer, they turned its one-time parking lot into a patio and in the process when essentially transformed Bourree at Boucherie into an outdoor den for smoky meats and icy drinks. On weekends, smoke rises from a little tent where cooks grill oysters (Fridays), assemble barbecue plates (Saturdays) or take apart whole hog (Sundays). Bands play between its planter box boundaries and green streetcars clatter past on Carrollton Avenue.
All the way at the other end of that avenue, by City Park where the red streetcars roll, Blue Oak BBQ (900 N. Carrollton Ave., 504-621-9837) has colonized its own parking lot, too. Here, a permanent pavilion reaches over what was once an ad hoc patio. Walk up on a busy afternoon, and the scene resembles a barbecue picnic in progress behind the hedges here.
Rosedale (801 Rosedale Drive, 504-309-9595), chef Susan Spicer's neighborhood eatery tucked into the Navarre neighborhood, backs up to railroad tracks. The grassy apron around those tracks blends into the rustic restaurant's patio, creating a gentle luxury of space more typical of small towns than densely-built cities. The kitchen serves updated New Orleans comfort food that fits this indoor-outdoor neighborhood setting well.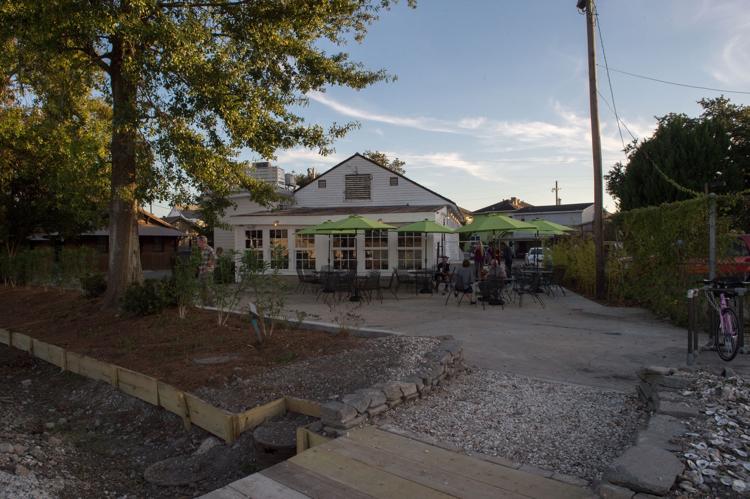 In the Bywater, a German joint called Bratz Y'all (617 Piety St., 504-301-3222) has turned a one-time bagel bakery into what feels like a permanent Oktoberfest installation, right down to the dimpled beer mugs and narrow beer garden benches ranked outside the walk-up beer window, trimmed like a Bavarian cottage. And in Old Algiers Point, the new pizzeria and lounge Tavolino (141 Delaronde St., 504-605-3365) has expanded a small patio into a wraparound outdoor dining area, where sounds of river traffic drift down.
Out by the lakefront, Station 6 (105 Old Hammond Highway, 504-345-2936) is a modern take on the idea Bucktown seafood joint, swapping fried seafood platters and hushpuppies for tuna tartare, cashew-topped pompano and a champagne and oyster happy hour (with Cajun caviar to boot). The restaurant has also updated the outdoor setting, trading the old fishing camp look for a patio of tables and sofas sheathed by a slat-lined deck, right there between the lakefront levee and a pumping station.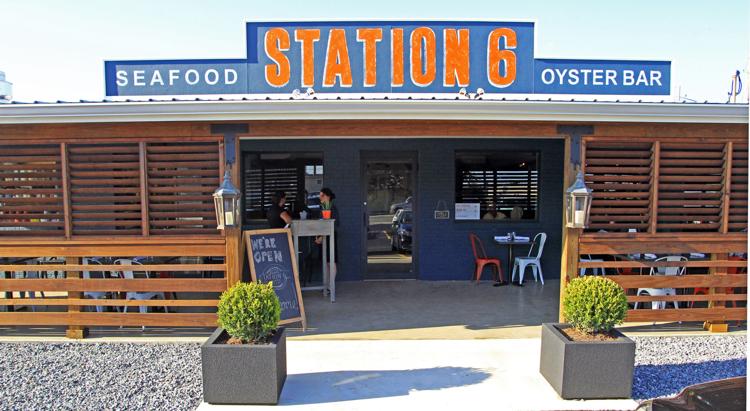 Further inland, shipping containers have become the building blocks for more outdoor dining space. One colorful head-turner to emerge this spring is the Box Spot, which has J's Creole Wingery (1700 N. Claiborne Ave., 504-309-9444) for wings and fries in one container, and the Fresh Side (1700 N. Claiborne Ave., 504-309-8888) for salads and wraps in the other, with an open deck in between.
Over in Central City, ramparts of shipping containers frame an outdoor campus around Central City BBQ (1201 S. Rampart St., 504-558-4276), which from its warehouse-sized building has expanded its grounds to cover half a city block. The space looks like a festival ground, and it periodically plays that role for events, though most of the time it's a wide expanse for people who want to eat smoky meats in the open air.
All the new outdoor space is something of a gamble, knowing the fickle seasons in this town. But let's say the weather doesn't quite cooperate. At least everyone still looks a little better under the candle watt glow of those string lights, even if they are shining on a sheen of sweat.
Spring is prime time for outdoor dining in New Orleans, when even those most in thrall to A/…
The renovation that turned a stately 19th-century residence into the modern Uptown restauran…