Thanksgiving and Christmas Eve were slow at Commander's Palace when she was a kid, said Ti Martin, co-proprietor of the restaurant in New Orleans' Garden District.
"When we were little, Mom and Uncle Dick would dress my cousin Lauren and me up in antebellum dresses, and we would hand out little baskets or roses to all the ladies in the party, things like that. It wasn't busy. It slowly built up over the years. Now, somebody's got to die to get a table."
Thanksgiving and Christmas Eve are two of the busiest days on the Commander's calendar.
"One of our goals is to be the world's greatest neighborhood restaurant," Martin said. "It's packed with local regulars and friends and family. … The kids are in from out of town. I can stand at the front door and see moms spit in their hand and fix their young sons' hair."
She and co-proprietor Lally Brennan "love seeing them grow up from year to year."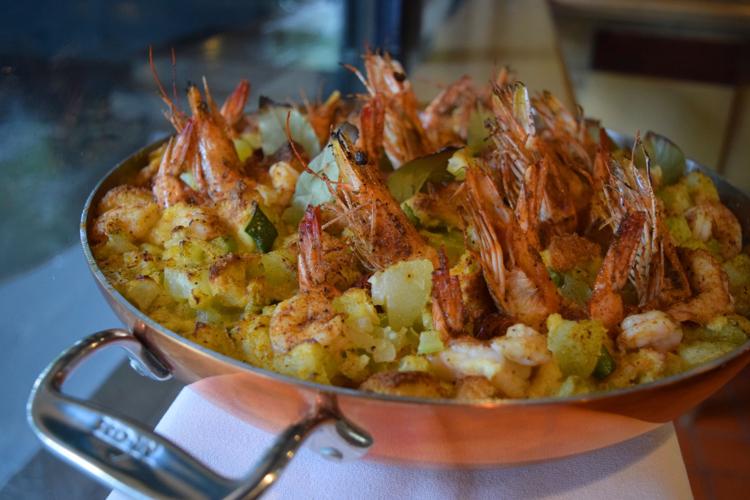 The staff dines on the same special holiday menu as guests. Her family musts have always been turkey, oyster dressing and shrimp mirliton casserole, Martin said, and they are always served.
Sweet potato side dishes vary year to year. Recently, executive chef Tory McPhail said, rustic-cut ones are cooked in crab boil, then topped with marshmallows, crumbled pralines and a splash of whiskey before baking.
Mirliton, Shrimp and Tasso Casserole
"We serve fresh turkeys, which are a lot of trouble," Martin said. "Poor Tory. He's a maniac about it."
In October, McPhail went to Raleigh, North Carolina, to visit a heritage poultry farm. He tasted the grain the poultry eats and went in the sheds to see how they're housed. He's convinced they're the best available, and the restaurant will prep about 40.
This year, McPhail said, each will be slathered inside with a pound of Plugra butter whipped with fresh tarragon, sage and thyme.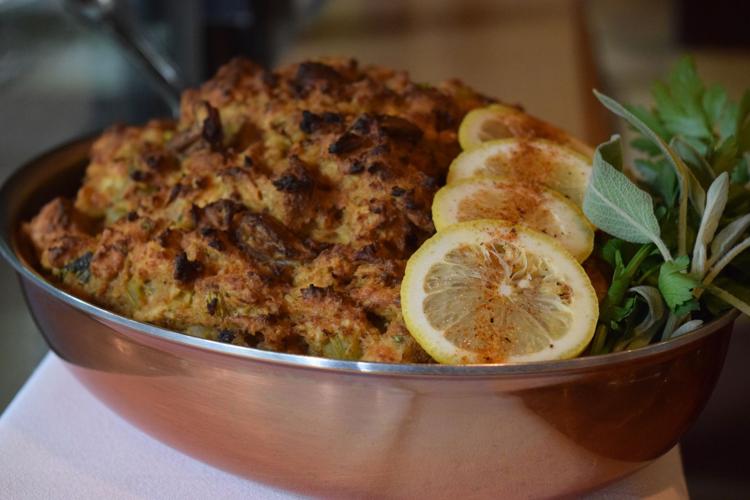 "Jamie (Shannon, the late chef) left me a turkey cannon," McPhail said.
He's not talking about the infusion roaster advertised by the same name, but a tube through which the chefs push each folded, deboned turkey to compact it into a football shape. The turkeys are salted on the outside days ahead to dry and crisp the skin. Starting at 4 a.m. on Thanksgiving, they're seared in smoking-hot bacon fat to a golden brown, then roasted to order at 375 degrees.
"My wife loves to come Thanksgiving morning," McPhail said. "We do a big display on the chef's table, with amazing copper pans Jamie left and a big cornucopia, to kind of set the tone. She likes to have a glass of Champagne and hug all the chefs. It's always fun."
Last year, Martin said, she wore "this terrifically hideous stuffed turkey hat, a silly, stupid-looking thing. People were taking pictures and trying to grab it. It's just to try to make everybody relax and have a good time."
Martin said most of the guests cook at home either Thanksgiving or Christmas Eve, and come to the restaurant the other holiday. Many make reservations for the next year when they leave. However, she said, there are always cancellations at the last minute.
Or add a taste of Commander's Palace to your own holiday menu with these recipes.
If you're read­ing this and you still don't know what dish you'll bring to the Thanks­giv­ing table this year, well, you're like me.
Even before you start picking at the turkey or swilling the early afternoon Beaujolais, you might be feeling a bit full of Thanksgiving. In th…
The sandwich got out of hand, that much was clear.