The pleasures of Louisiana seafood are usually big, bold and familiar, to the tune of oysters by the bushel and great drifts of crabmeat. Lately though, a different sort of flavor from local waters has been getting a new look.
Bowfin caviar — tiny, dark, glistening eggs from a prodigious and ancient fish — is drawing renewed attention both at high-end New Orleans restaurants and much more casual eateries.
It's served next to Champagne at happy hours, folded into eggs at upscale brunches and even dappled over bar snacks, adding alluring flavor and unexpected flair.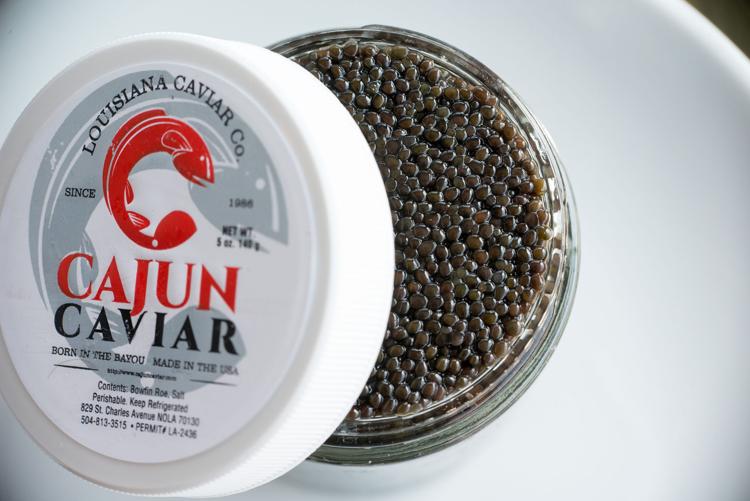 Variously listed on menus as bowfin caviar, choupique caviar or sometimes Louisiana caviar, in most cases it is Cajun Caviar, a brand from the Louisiana Caviar Co.
That's the firm that introduced Louisiana-made caviar more than 30 years ago, and it has recently changed hands. Now there's a trio of women at the helm who are bringing new marketing savvy to the brand and tapping their own deep connections in the food world to spread its reach.
John Burke, founder of Louisiana Caviar Co., sold his business last fall to Alden Lagasse, Amy Wilson and Alison Vega-Knoll.
"With who they are and who they know, they can take it to levels I could never take it to," said Burke. "I'm excited to see where it will go." 
Lagasse is married to New Orleans-based celebrity chef Emeril Lagasse. Wilson's husband, Chris, is culinary director for Lagasse's restaurant company. And Vega-Knoll is the chef who started Vega Tapas Café back in the 1990s and returned to the scene last fall with her new Station 6, an updated version of the neighborhood seafood joint. She runs Station 6 in Bucktown with her husband, Drew Knoll, himself a one-time chef de cuisine at Emeril's Delmonico.
The three women are longtime friends with close ties through work and family and a shared passion for food and wine that weaves through both. Now that they have their own food brand together, they're out to give Louisiana caviar a new boost.
"Cajun Caviar is known around New Orleans, but we feel like there's a long way we can go," said Amy Wilson. "It's about showing more chefs how they can use it, educating staff that this is local product with a story behind it, showing people that it's something they can have at home."
Flavor and flair
Caviar is usually a byword for delicate, high-dollar indulgence, but the Louisiana catch is much different from the sturgeon that produces the most expensive caviar.
While not exactly cheap — Cajun Caviar starts at $35 for a 1.5 oz. jar — it still sells for a fraction of the rate commanded by the traditional types, the best of which can fetch several hundred dollars per ounce. To understand the local product's place in the pecking order, think of the inexpensive Louisiana oyster next to pricier boutique oysters from northern waters.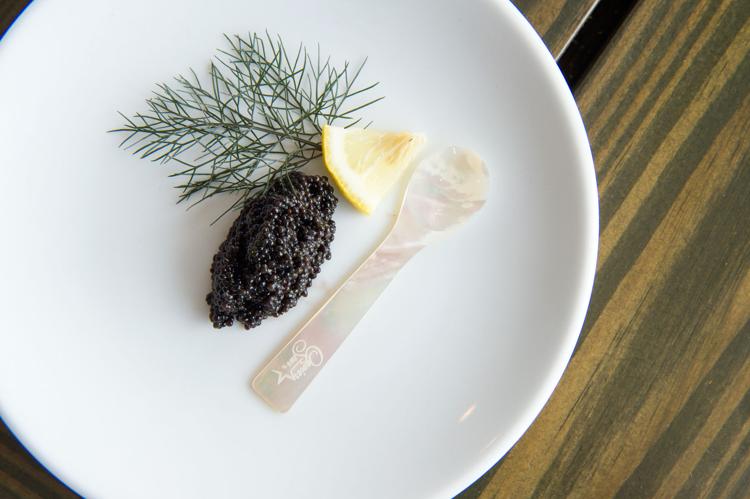 Bowfin caviar tastes different, too. If caviar is classically prized for its ephemeral essence of the sea, distinctive texture and richness, bowfin caviar gives more of a hint of brine, with a milder flavor and a soft pop to the grain-sized individual eggs. Cajun Caviar also produces a version flavored with ghost pepper, which adds a trickle of spicy heat.
Caviar purists may cringe at such an assertive addition. But Louisiana caviar has always been used differently. It sometimes appears as stand-alone caviar service, though more often it's an ingredient or finishing touch in a dish, part of a chef's palette of flavors.
"It's luxurious, but it's an accessible luxury," said Vega-Knoll, who uses her company's product across her Station 6 menu. "This is not a fine dining restaurant where you'd expect caviar, but we use it a lot and people like seeing it here. It makes an impact."
The product has a natural berth at high-end dining destinations like Restaurant R'Evolution, where it's added to the eggs a la crème at brunch, with crabmeat and paprika. Dickie Brennan's restaurants were early adopters of bowfin caviar back in the 1990s. It's still sprinkled over raw oysters at his seafood restaurant, Bourbon House, and Cajun Caviar's ghost pepper caviar also makes a shiny black crown for the "Cajun sushi" here, a riff on a sushi roll made with popcorn rice, tuna and shrimp.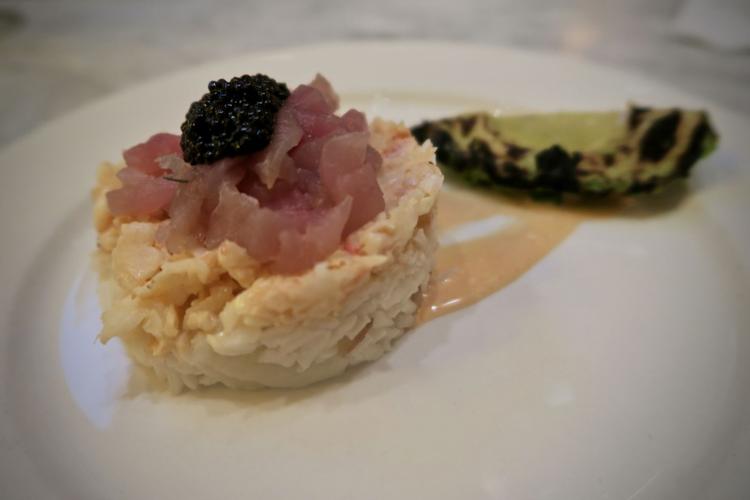 Elsewhere, chefs have been using bowfin caviar for more casual dishes. That ghost pepper caviar recently joined the menu at Willa Jean, the CBD cafe and bakery, served with whitefish and bagel chips on the lunch menu. At Salon by Sucre, bowfin caviar dresses up the thrice-fried Belgian-style fries, applied over a dollop of crème fraîche for dipping.
Trash to treasure
Like sturgeon, bowfin is an ancient species dating back to the age of the dinosaur. It thrives in the shallow backwaters of Louisiana's vast estuary coast, where it's known by the Choctaw word for mudfish — choupique.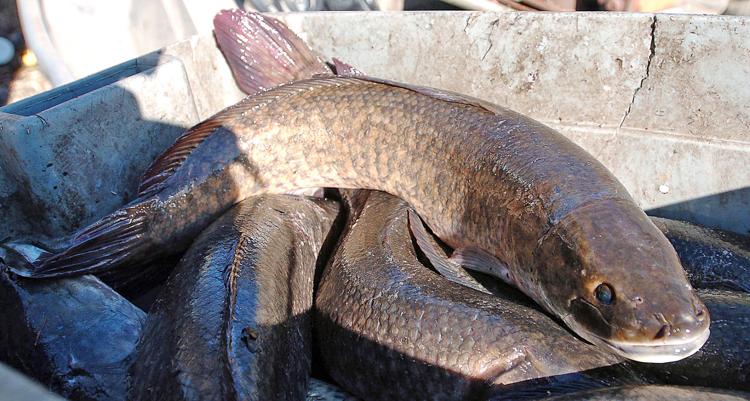 But for many years it was known mostly as a trash fish, a catch not even worth cleaning. The fish had practically no economic value back in the early 1980s when Burke, then a college student, met a Cajun couple who had been tinkering with its grayish roe.
"They applied the caviar process, salting it, and the bowfin eggs turned black," said Burke. "It looked like caviar, it tasted like caviar, but back then the question was, who's going to eat choupique caviar?"
When he sent out some samples of the product, however, the response was encouraging and he began to build a business around it.
One early sales call that proved particularly fruitful was to Commander's Palace in the late 1980s, when Emeril Lagasse was executive chef. Bowfin caviar has been in regular rotation at Commander's Palace ever since. Lagasse has remained a fan, too, and Louisiana caviar has been part of a changing roster of dishes at his restaurants. At Meril, his latest addition in the Warehouse District, chef de cuisine Will Avelar has lately been spooning it over deviled eggs for a gilded bar snack.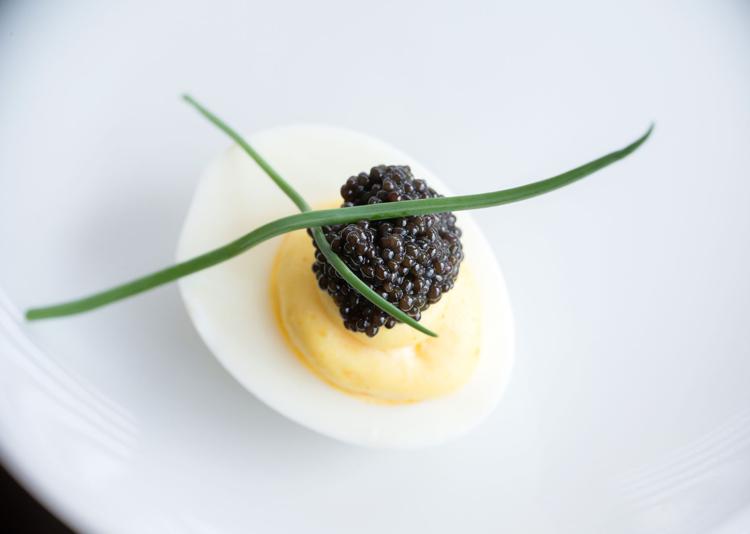 Many years later, the connection Burke made with Lagasse back in the Commander's Palace kitchen came full circle as Alden Lagasse and her partners took on the caviar company he founded.
"Chefs have this band of brothers thing," said Alden Lagasse. "They're always bringing each other this new thing to try or giving each other tastes of things they've discovered. That's what we're starting to see with Cajun Caviar, too."
Burke ran his company as the epitome of a cottage industry, sometimes delivering his product via bicycle to local restaurants. He built a local following, and exported bowfin caviar to Europe and Russia, though he acknowledges today he was essentially a one-man band, juggling marketing, distribution and sales duties.
"I did that for 31 years, and that's a lot of fish eggs," said Burke. "I'm happy that the company is going to continue, and especially with these ladies running it."
A seafood platter in New Orleans is usually a feast of the familiar. But lately a different …
The whoosh and clang of streetcars isn't the only new sound along North Rampart Street these days.