Right after Jay Monfort nixed the nachos at the little walk-up kitchen he runs inside Markey's Bar in the Bywater, his mother heard all about it.
Theresa Chatterton cooks at Frady's One Stop, a corner store two blocks away. While making egg plates and breakfast po-boys, she got an earful from regulars alarmed by the menu change they noticed the night before at their favorite bar.
"They wanted me to tell him to put the nachos back on," said Chatterton said. "I thought, 'This is ridiculous,' like I'm going to tell my grown son who runs his own kitchen what he should do."
But Monfort got the message, Markey's got the nachos back and one little kerfuffle of Bywater life ran its course.
That's how it goes in a city that keeps its bars close and its food closer. And in this case, it was all kept in the same family.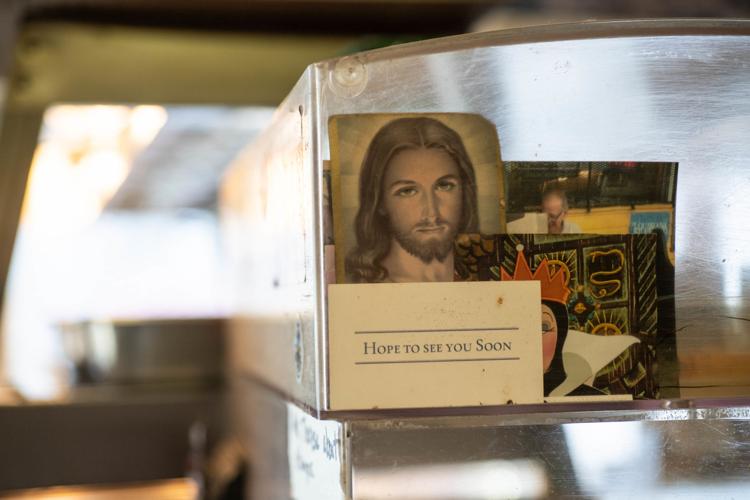 In the ecosystem of a New Orleans neighborhood, the local bar and the reliable lunch joint have roles as vital as rainwater and sunshine. In the Bywater, one of the city's old, storied, rapidly changing neighborhoods, the cooking at both such spots are now handled by a mother and son. They work separately, but they serve the same community.
"Pretty soon after I started here, I figured out that the people I'm feeding at night were having breakfast or lunch with my mom," Monfort said. "We hear about each other from them. They tell us stories about each other." 
Monfort and Chatterton cook in different styles. Neither owns the businesses where they work, which are each local institutions dating back for generations.
But their customers, and their own duties cooking for their neighborhood, overlap so much that it can feel like two sides of the same coin.
"Whenever I walk into Frady's, I see at least one customer I served drinks to last night," said John Hardison, a bartender at Markey's who lives two blocks away.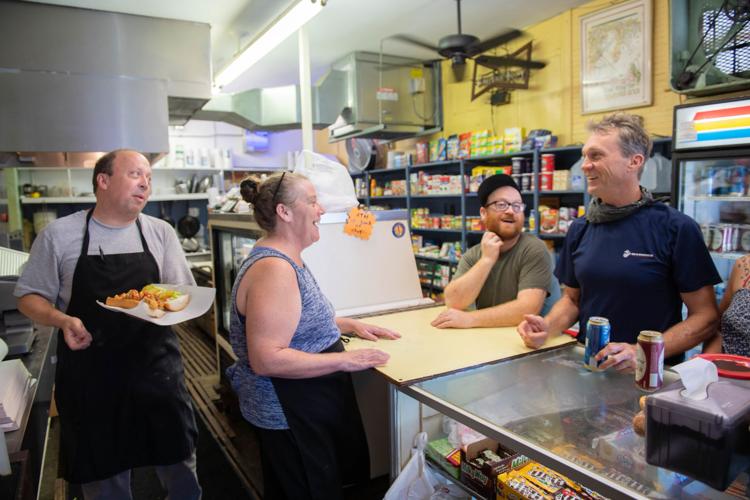 "That's the way it is here. When people get off their job, they go around on the circuit and show some love wherever they know people," he said. 
Elizabeth Pearce, a longtime neighbor and creator of the Drink & Learn cocktail program, calls the Markey's-to-Frady's shuffle the "Bywater two-step."
"It's lunch at Frady's, then drunk food at Markey's and then hungover breakfast back at Frady's," Pearce said. "Okay, so maybe that's a waltz."
In the family connection between the two, she also sees something that speaks to the soul of her neighborhood.
"Everything I read and hear about the Bywater, it's always hipsters and gentrification and how everything's changing," Pearce said. "But here you have this second generation coming in. Jay's not doing the same exact thing as his mom, but he's keeping something going. This is a way that you have both continuity and change."
'Never felt so loved' 
Chatterton and her family are originally from northern California. She moved here in 2002, and her three boys followed. Her middle son, Chris Monfort, has lately been working next to her oldest, Jay, in Markey's kitchen. Chatterton herself picks up the occasional shift in the bar kitchen, too.
But she's best known around the Bywater from Frady's. Barely tall enough to see over the lunch counter partition, she still has her eye on the door and always greets her regulars by name as they walk in.
Chatterton, 54, started cooking at Frady's soon after Hurricane Katrina, coming off jobs in business administration. She stuck with it.
"I've had other jobs that people would consider more important than this, but I've never felt so loved in my life," Chatterton said. "People love you when you cook for them."
Monfort, 34, started cooking at Markey's last winter. He'd never cooked at a bar before. His local résumé has stops at Elizabeth's, Sylvain and Iris. He then spent five years cooking in Pittsburgh restaurants before moving back home in 2017.
Proximity to family helped draw him to the Markey's job.
"For all those years in Pittsburgh, I might've seen them twice," Monfort said. "Now we see each other every day."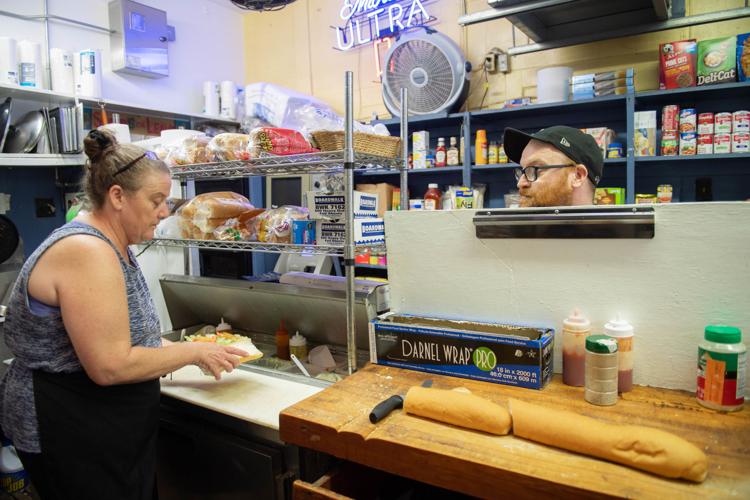 The family also sees a lot of their customers, at one spot or the other and in between.
"When I go to a bar, I know half the people in there from Frady's," said Chatterton, who also lives two doors down from the store. "We're from a small town. But the Bywater, it's so tight-knit it feels smaller."
Trends, rituals
In the past decade, the Bywater has gone from inspiration for local song lyrics to backdrop for style magazines. The ebb and flow of business here has changed too, which many people attribute to the area's high-density of short-term rentals and its rising property values.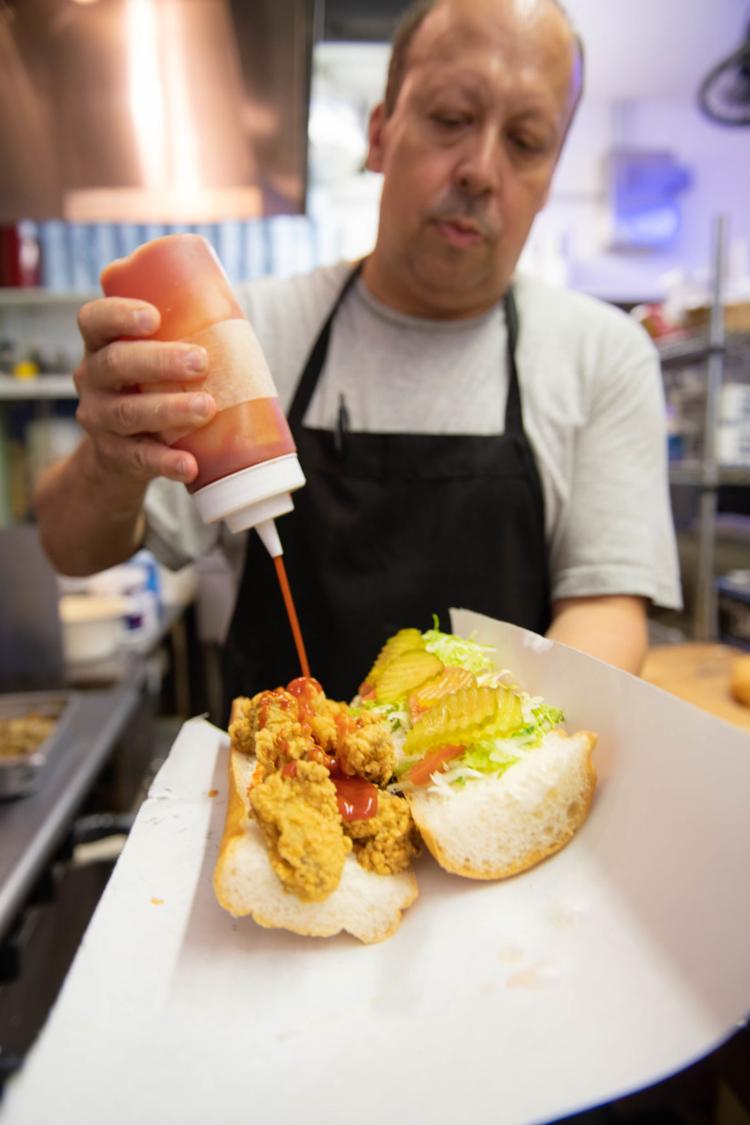 The neighborhood swells when big events bring more people to town, though they tend to be one-time customers.
Frady's has been open here since 1972, when namesake Joseph Frady bought the former Flick's Meat Market. His son, Kirk Frady, now the proprietor, said the store has stayed viable by keeping consistent.
"We're here for our neighbors, and our neighbors are here for us," Kirk Frady said. "That's the only way this still works."
A small chalkboard inside Frady's advises that the store offers no Wi-Fi. "Sit & talk," it suggests instead. And people do, claiming one of the metal chairs chained to the wall outside, under a wooden overhang that shades the surrounding sidewalk like a parasol.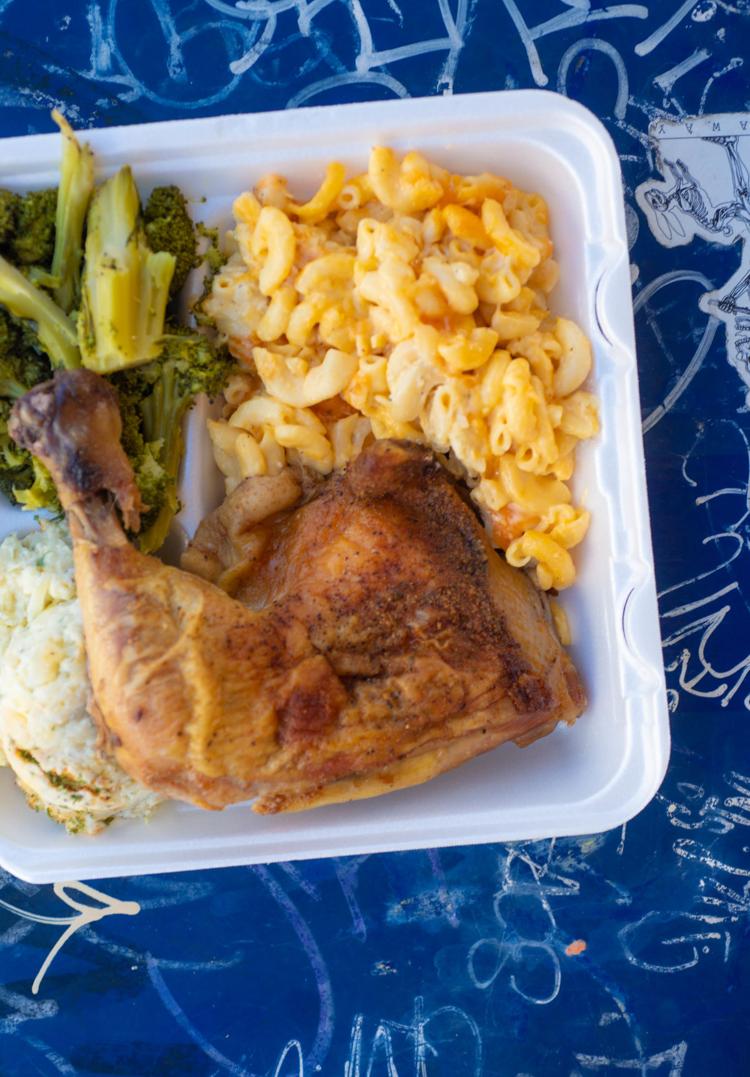 Each weekday, Chatterton cooks what Frady's has always served: bargain breakfasts, po-boys and plate lunches that follow a weekly rhythm so regular they become ritual. Red beans on Monday. Chicken and baked macaroni on Thursday. Catfish and jambalaya on Friday.
"I'm a cook. I'll reproduce a recipe and hopefully do it well and with love, but I don't create my own dishes," Chatterton said. "One reason I'm so proud of Jay is that he is creative."
Monfort brushes off the maternal praise. But since his arrival at Markey's, his cooking has made a clear difference at the old bar.
Markey's dates to 1947, when current proprietor Roy Markey Jr.'s family first set up shop. It initially kept early hours to serve dock workers from the nearby wharves that were once the pulse of the Bywater. It has continued to evolve, upping its beer selection in recent years, adding more TVs and becoming a cross between pub and gameday destination.
Monfort, working quietly from a galley kitchen the size of a walk-in closet, has been slowly remaking the food.
Raising the bar
It's nothing too fancy. He cooks burgers and tacos, po-boys and, still, those nachos. But there's a fresh touch across them, more handmade ingredients and a recognition that some bar patrons may keep vegan or gluten-free diets.
The simple-sounding "vegetable salad" is a verdant basket of sliced-from-the-cob corn and fresh peas, pickled egg, cucumber and tomato. It's generous and satisfying, a claim few barroom salads can make.
Wings might be tossed with a special watermelon barbecue sauce one day and on another get a coat of gochujang, the crimson-colored Korean chile paste. Hummus comes with such a harvest of crunchy vegetables to dip that it feels downright virtuous.
Mother and son help out each other's kitchens as needed with loans of butter or po-boy loaves. They refer each spot to tourists wandering in, looking for another good neighborhood place.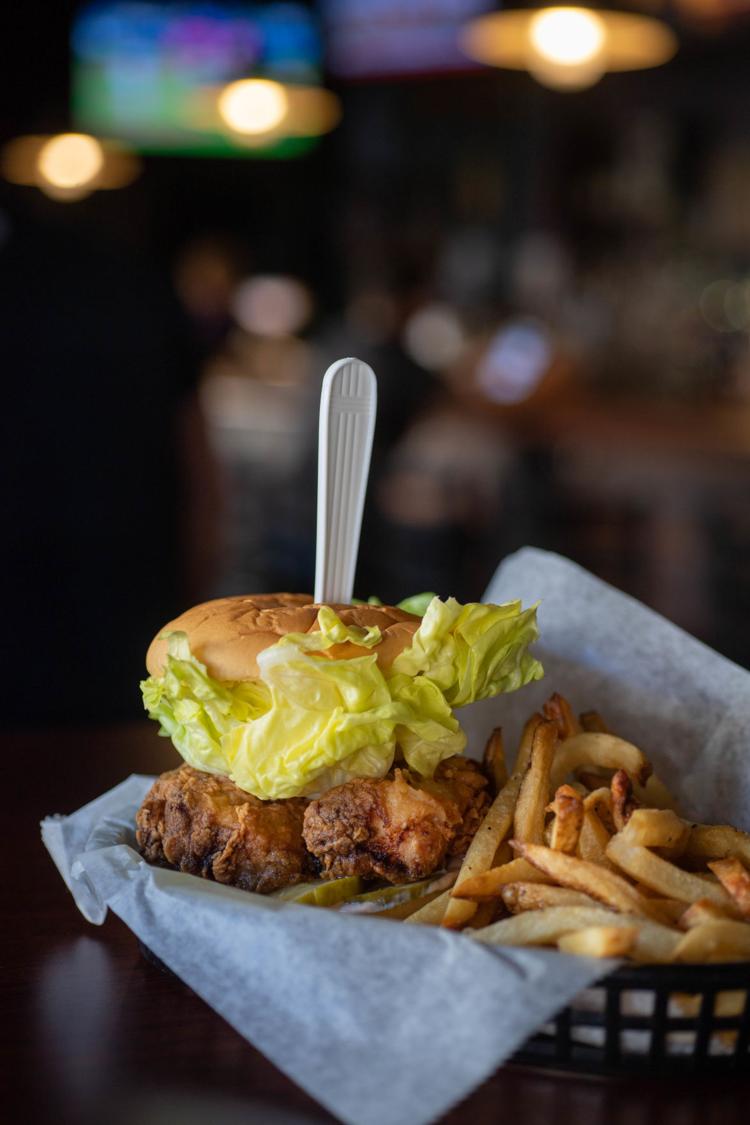 They can commiserate over jobs that demand so much of their time, but they also share the joy of being part of the food culture their city loves and local joints their neighbors identify as their own.
"I'm a pretty introverted person; I'm not looking for a lot of attention for what I do," Monfort said. "But here, I can cook and I'm part of a community. I like serving that role. I feel like people know me and appreciate what I do here."
For her part, Chatterton said the relationship with customers goes beyond cooking and serving.
"It's like a family, because you can't choose them," she said. "The people in your neighborhood are your customers. Even if at first you don't like them, you have to find some part of them that you can love. They're your community."
Frady's One Stop
3231 Dauphine St., 504-949-9688
Markey's Bar
640 Louisa St., 504-943-0785
At Charlie's Steak House, the T-bones arrive on battered iron pans with sizzle, smoke and dire warnings from the waiter to defend your shirtfr…
They're all bound to become po-boys, but as soon as the fresh loaves arrive at Mahony's in the French Quarter, they go straight to the vault.
Barrow's Shady Inn was only hard to find the first time.