The carrots and radishes and rapini that William Champagne now sells through the New Orleans Food Co-Op are harvested a few miles away and delivered the same day via bicycle. It looks like the textbook definition of local and healthy.
To John Calhoun, it also looks like the answer for a unique local food resource looking to make a fresh start. 
Calhoun recently stepped into the role of general manager for the New Orleans Food Co-Op and its grocery store in the Faubourg Marigny. It's a full-time job but also a volunteer position.
He's taken it on because he was there for the conception of the Co-Op back in 2002, and because more recently, he was sure he was watching it die.
"There's just too much invested in this to let that happen, for us to just close the doors," Calhoun said.
The New Orleans Food Co-Op's grocery opened in 2011 in the back of the Healing Center, a privately run community center of sorts with a mix of businesses and neighborhood services.
The store was a major milestone for a grassroots group that had earlier coalesced around better access to healthy food, starting with potluck suppers and buying clubs.
But as the competitive landscape for groceries has shifted, financial woes caught up with the Co-Op. When Robért's Fresh Market finally reopened its pre-Katrina grocery store a few blocks away in December, sales at the Co-Op dropped by 20 percent. It looked like the final stroke.
Instead of shuttering, however, the Co-Op board came up with a turn-around strategy. Part of that has Calhoun at the helm. One of the Co-Op's founders, and himself a former urban farmer, Calhoun agreed to a six-month, unpaid hitch as manager (Calhoun supports himself through his work as an auctioneer).
To reverse the slide, he has been progressively revamping the Co-Op, beginning with the parts he believes can draw new interest quickly and establish the grocery as a hub for local food.
"It can't just be marketing, it has to be real operational changes," Calhoun said.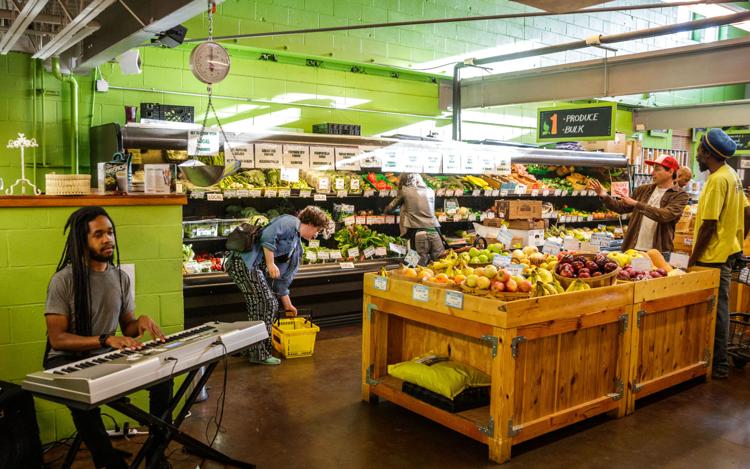 Fresh produce is the natural starting point. Calhoun acknowledged that the Co-Op's initial inventory focus was more on organic than local. Now, the produce area is split between options for conventional, organic and local, which is often not certified as organic but grown to at least as high a standard of quality.
Within weeks, he's added more than a dozen local growers to the lineup, from producers with regional distribution, like Covey Rise and Inglewood, to tiny, urban-plot producers. Their names, and sometimes their stories, are prominently featured above the bins. One of them is Champagne, who farms the Gathering Tree community garden in Gert Town.
"They seem real gung-ho over there now about getting local produce like this," said Champagne. "The stuff I've been delivering, I picked maybe an hour before. You can do that at this scale."
Shifting landscape of local
The Co-Op's effort comes after the demise of Hollygrove Market & Farm, which operated like a daily, indoor farmers market and was a center for urban farming education in New Orleans. Once hailed as a success story of progressive, post-Katrina development, it abruptly closed in February.
Some of Hollygrove's former vendors are now selling food to the Co-Op. This week, the Co-Op plans to start a program of produce boxes, combining food from various growers, which had been a hallmark of Hollygrove. Already, the revived produce section has gained some notice.
"People are always commenting on it now," said Nia Johnson, the store's produce buyer. "I think they're excited to see new stuff here, more produce, and they like to know where it's from."
The Co-Op's 4,800-square-foot store is configured as a full-service grocery, with everything from beer and frozen burritos to herbal tinctures and household cleaners lining its aisles.
But while the Co-Op looks like other grocery stores and competes with them, its defining and distinguishing characteristics come from a community-owned business model and a mission that emphasizes making healthy food more accessible. That guides the brands and suppliers it stocks, and the decisions it makes around pricing.
"That mission is staying the same, what's changing now is that we're moving closer to realizing that mission," Calhoun said.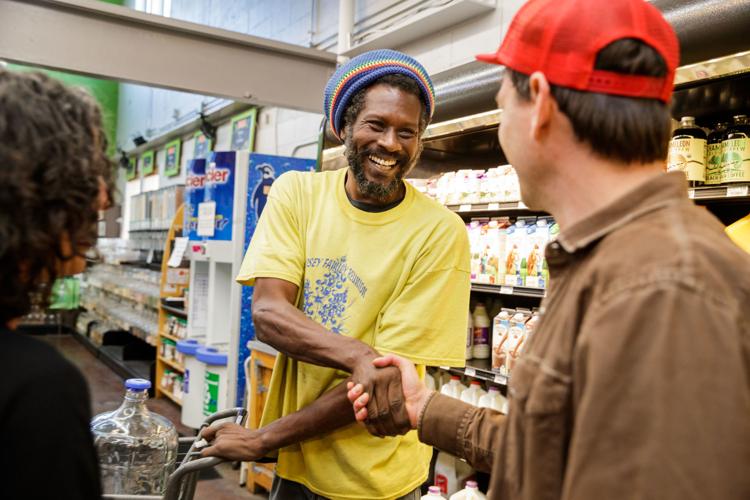 The Co-Op's owners are a now-loosely organized network of members who have paid into the organization to support it and to gain a say in its direction. Calhoun said roughly 4,300 people have paid into the Co-Op during its existence, with most paying either the standard $100 membership or a limited-income membership of $25.
This cooperative structure was what first inspired the New Orleans organization.
"Wherever you saw co-ops, they were always centers of community, you saw your friends and neighbors there," said Calhoun. "There was always a good energy."
Local farmers market expert Darlene Wolnik, senior researcher at the Farmers Market Coalition, thinks the Co-Op's bid to become a local food hub has at least the potential to improve access to healthy food.
"I think what they can do is work with emerging growers and figure out what else the farmers already coming to town can bring," Wolnik said.
However, she said, making a difference means going beyond just selling local growers' products.
"Things like support in expanding production and doing season-extending infrastructure," she said. "That is what a mission-based entity really agrees to when defining their values as focusing on local."
To begin, though Calhoun is taking an aisle-by-aisle approach to the Co-Op's store. In addition to bolstering its local produce, the Co-Op has lately been trying to re-engage its membership and bring more activity into the grocery.
The deli is being revamped for more grab-and-go meals, and the Co-Op is adding cafe tables for quick in-store meals. On Thursday evenings now, acoustic bands perform by the produce bins. Calhoun, a showman himself, calls these sets the New Orleans Food Co-Op Unplugged.
2372 St. Claude Ave., (504) 264-5579
Daily 9 a.m. to 9 p.m.
New Orleans lost a legend this year with the death of Arthur "Mr. Okra" Robinson, the roving produce vendor beloved across the city.
The build-out happened fast, transforming the former Kenton's into chef Alon Shaya's new restaurant Saba in just a few weeks. What's built in,…
Early on the second Friday of the New Orleans Jazz and Heritage Festival, Orlando Vega will dash from his Congreso Cubano food booth to the Ja…