With trains rolling just outside and ranks of shining steel vats closely clustered within, Parleaux Beer Lab looks like a factory. The beers on tap, including some exotics and small batch experiments, underscore the "lab" part of the name.
I've sipped beer here made with lemongrass or South African rooibos tea, and I've sampled others with tiny, velvety bubbles from added bursts of nitrogen.
The full recipe behind this tiny new Bywater brewery, however, is familiar, even intuitive.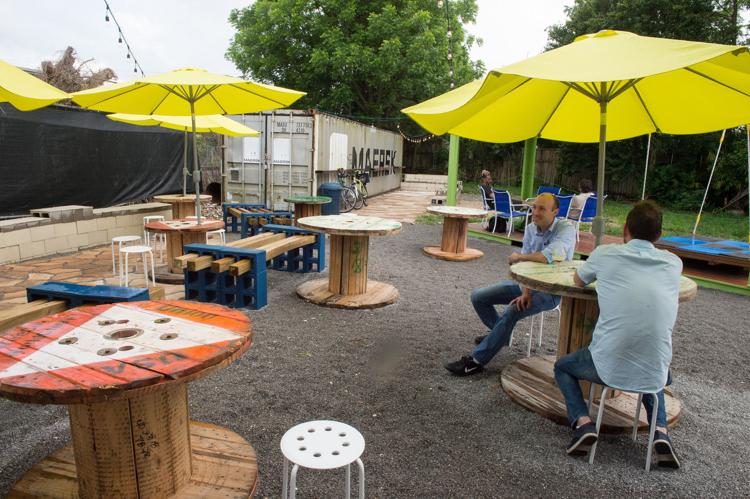 Between its elbow-height counters and a beer garden of playfully repurposed industrial gear, Parleaux Beer Lab is a social space to drink brews that were made on site, and likely poured by one of the people who made them.
"I learned to love brewing because it was something I could share with my friends, like the guy who loves barbecue and gets to see people enjoying it," said Eric Jensen, who developed Parleaux Beer Lab along with his better half, Leah Jensen.
The beer has been flowing here since April, and this Saturday (June 3) Parleaux Beer Lab will host its official grand opening party, from 11 a.m. to 11 p.m., with live music, food trucks and pop-ups and other activities around the small brewery. The event, like the brewery itself, is open to all ages.
It's not hard to find a drink in New Orleans. But getting a beer straight from the source at…
The Jensens drew the name for Parleaux from a bit of French wordplay on Bywater. A married couple, they moved to New Orleans in 2001, working in public health and education, respectively. They both also happen to hail from beer towns. She's from Denver, he's from Grand Rapids, Michigan.
"The neighborhood brewery was something I grew up with," said Eric Jensen. "They were everywhere, just part of the neighborhood fabric."
They are lately becoming part of the New Orleans neighborhood fabric too. As the number of small craft brewers here grows, each new addition brings its own style of beer and brand character to the circuit.
Some, like the newly-debuted Port Orleans Brewing Co. and Royal Brewery New Orleans, are production breweries. They make beer destined for restaurants, bars and, eventually, retail shelves, just like the more established players, like Abita and NOLA Brewing.
After several months of consternation about how state regulators would oversee their burgeon…
Parleaux Beer Lab exists on the cottage industry end of the spectrum. Its beers aren't distributed to any other venues. To get one, you have to come to the tap room.
That is partly by necessity. The new business emerged from a bootstrap start. The Parleaux facility is small, and so its production. That scale informs the sort of beer it produces, since Parleaux isn't trying to make enough of it to supply a portfolio of clients, at least not yet.
"I can do lots of new and interesting beers and rotate them through," said Jensen. "It's fun for me, but it also gives us a lot of data about what people like when we're ready to go to a bigger market."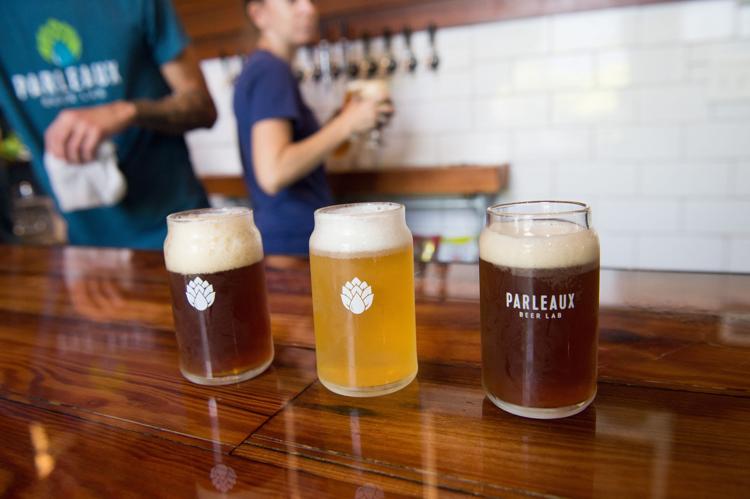 The beers here are highly drinkable, with moderate alcohol (5-6 percent), though they tend to be unpredictable. The German-style kolsch gets a bit of lemongrass, accentuating its quenching qualities on a hot day. The rooibos alt is a brown beer infused with tea, which gives it nutty, smooth taste. The farmhouse saison has a bit more rustic, rough-hewn funk.
Some of Parleaux's taps are dedicated to "nitro beers," with nitrogen pushed in for softer, fizzier bubbles. That may seem unusual, but if you are a fan of Guinness on tap you've been drinking nitro beers all along. On a recent visit to Parleaux, the golden-colored, memorably-named "stolen copper ale" showed the distinctive slow cascade of bubbles from the nitro treatment.
"We always want to be a place for new seasonal, interesting beers, stuff you've never had before," said Jensen.
4224 Royal St., 504-702-8433
Grand opening, Saturday, June 3, 11 a.m.-11 p.m.
Regular hours:
Thu.: 3-10 p.m.
Fri.: 3-10 p.m.
Sat.: noon-10 p.m.
Sun.: noon-8 p.m.
Mon.: 3-10 p.m.
At a glance: a tiny brewery and tap room for small batch beer, with a focus on offbeat styles, a beer garden with food trucks and pop-ups, open to all ages.
A new brewery builds a reputation one beer at a time. At the latest brewery to emerge in New…
At Royal Brewery New Orleans, you can feel the rumble of trucks rolling in adjacent storage …
Once, Dixie, Jax and Falstaff were more than landmarks in the New Orleans' skyline. For year…