Chefs can win acclaim and maybe get famous. Restaurateurs can build empires and they might make fortunes. But in New Orleans these aren't the only stars of the dining world.
Some waiters in this town have followings that span generations, and they can forge connections between people, place and food that go way beyond getting a meal to the table.
That is famously the case with the corps of waiters at Antoine's Restaurant, who sometimes seem more like emissaries for their regulars than representatives of their employer.
Sterling Constant is the epitome of the type. He has spent 50 years on the job here, making him the longest-serving employee at the city's oldest restaurant. He's become the front line of the relationship between "his" customers and Antoine's, the rambling, history-soaked repository of the old ways of French Creole dining.
On Sunday (July 9) Antoine's is turning the tables on Constant. The restaurant will host a party for the waiter and for once he will be the guest of honor as his friends, his patrons and the indistinguishable blend of the two gather to pay tribute.
The party, which is open to the public, coincides with the 50th anniversary of Constant's start at Antoine's. He was 16 when he first walked in, and that early start is one reason why he's been able to make the half-century mark still going strong.
"Being a waiter at Antoine's, you just go on," said Constant.
The recognition he's getting now isn't just about years or mileage, however. His tenure is a testament to the role of the professional waiter in a unique niche of New Orleans food culture.
Man on the move
At 66, Constant is a grandfather and a widower who lives in Chalmette, rides the bus to work five days a week and often pulls double shifts. He's a trim man who wears his mustache close and his dark hair combed back. He's soft spoken, and when he describes Antoine's specialties like oyster Rockefeller or soufflé potatoes you can still hear evidence of a Ninth Ward upbringing in his voice.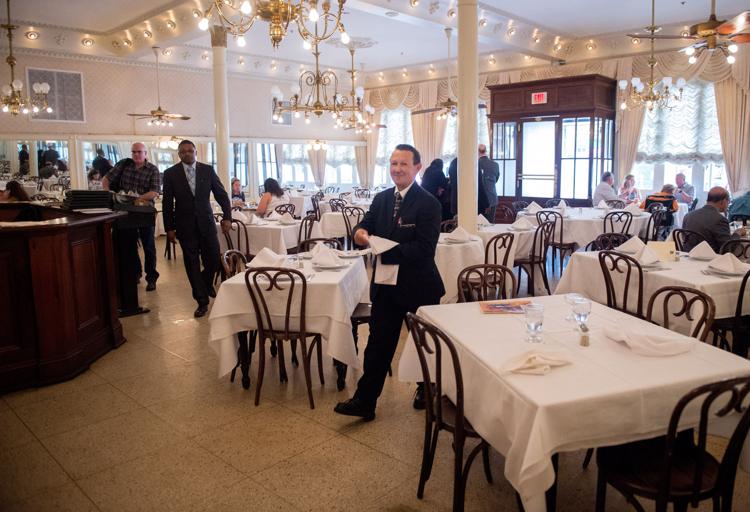 He presides over his tables with an air of calm. The moment he steps away, however, the pace changes. One patron describes him as a bantam rooster patrolling the dining rooms. Another compares him to the Energizer Bunny of battery commercial fame ("still going"). A much younger Antoine's waiter calls him "a ninja."
Constant is constantly on the move, shuttling swiftly between the huge kitchen, narrow passages and interconnected dining rooms of this winding indoor campus of a restaurant. He needs to hustle. On any given shift, he could be simultaneously serving parties in the jewel box Rex Room, under the rafters of the Large Annex Room and tucked away in that snug chamber by the wine cellar known alternately as the Last 1940 Room or the Tabasco Room.
The spread of tables comes with the territory. Antoine's regulars book specific dining rooms and ask for individual waiters, often making their reservations directly through these waiters. Constant's services are in high demand.
"We don't work zones here, we work all over the house. That's why we're able to serve any table that requests us," said Constant. "One thing is, you try not to put any of your customers next to another. You want it to feel like you're only there for them. If they see you working another table they think you're doing more for the other one."
It's hard to imagine Constant doing anything that could qualify as "less" for anyone. Austin Murray, a waiter who has worked at Antoine's for 39 years, still expresses amazement at his longtime colleague.
"He's been here longer than everyone, and he works harder than anyone," said Murray.
Family traditions
Constant had heard all about Antoine's when he was growing up a few miles downriver, off St. Claude Avenue. His cousin, Leroy Martin, was head chef at the French Quarter restaurant back then, and Martin got the teenage Constant a job in the kitchen. He worked between the omnipresent pots of stock for five years until he got the nod and moved out to the dining room as an apprentice waiter.
"There was no jumping right into it," said Constant. "They wanted you to have a few years on you before they would even talk about you being a waiter."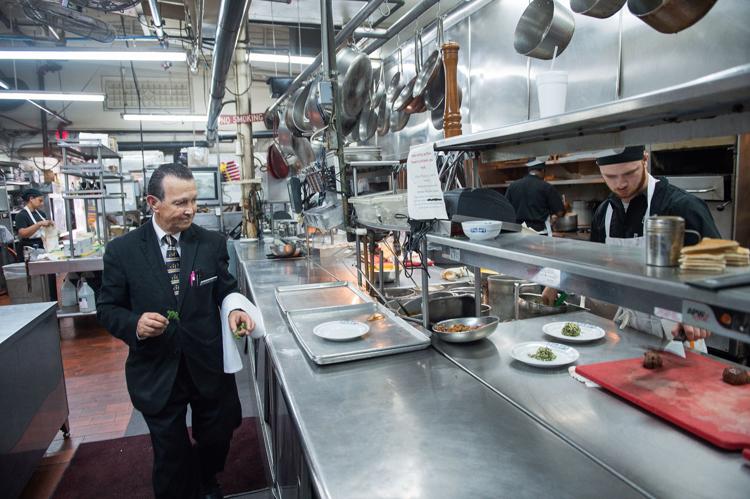 Constant had 10 years on him at Antoine's when he became a full waiter in 1977. By that point he'd been steeped in the ways of the restaurant and guided by the waiters who are today remembered around Antoine's as the old guard.
They taught him enough French to master the Antoine's menu, which only added English translations in the 1990s. They taught him the importance of memorizing a customer's order, a signal that the customer was the only thing on the waiter's mind.
"In the olden days, the waiters wouldn't let you write anything down, so you do it by memory and it just becomes natural," Constant said. "If you know what someone likes, and what they don't like, you can do no wrong by them. You get them their drink first, because you know what they want. The food can talk a while as long as they got that drink."
But pragmatism and dining room efficiency are not the only dynamics in play.
"In New Orleans, the customers are very particular in their ways," Constant said. "You learn about them, and they learn about you."
"His" customers
Ask Constant when someone became "his" customer, or ask customers when Constant became "their" waiter, and they can sound like an old married couple trying to agree on the first time they met.
"Sterling makes Antoine's for me. When I think of Antoine's, I think of Sterling," said Melissa Steiner, whose family has been dining and celebrating at Antoine's for many years.
"If someone is there for all these events, and you know he's looking for you, and you've known him for this long, it starts to feel like family," said her sister, Michelle Tyler.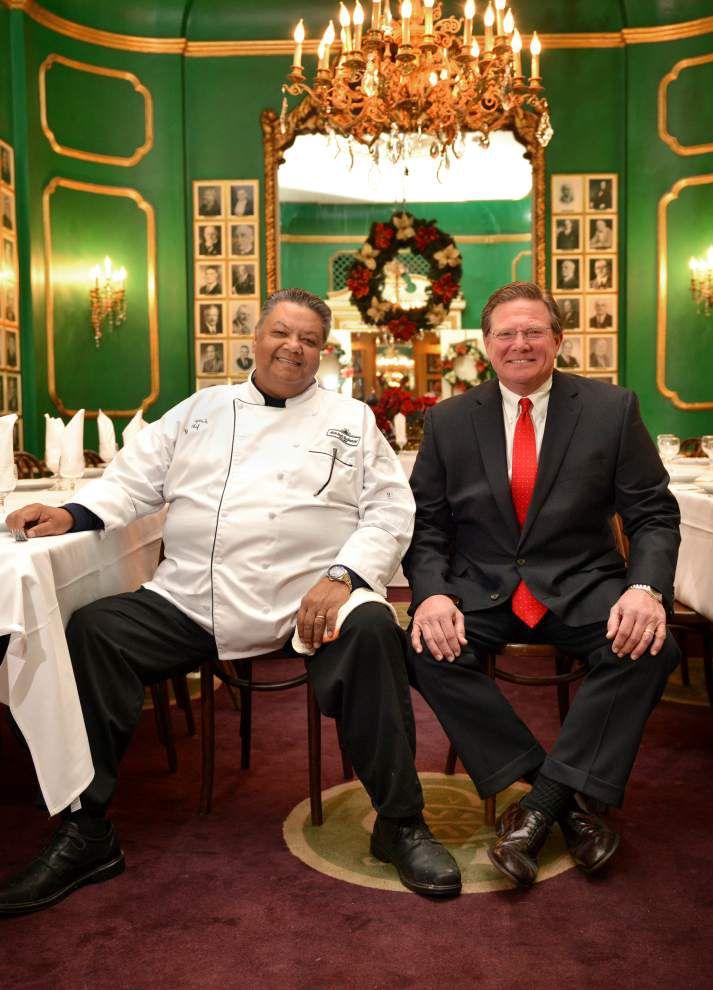 Like other seasoned waiters here, Constant takes an active role in planning his customers' special-occasion visits — their anniversaries and corporate functions, their rehearsal dinners and receptions. Antoine's has a dedicated manager booking and running events now. But when their regulars are involved, the waiters still insert themselves in the process. They oversee menu selection, ensure the right wine is available and maneuver to provide the touches they know their customers appreciate.
This arrangement initially took Rick Blount aback when he became president of Antoine's in 2005. He's the great, great, great grandson of restaurant founder Antoine Alciatore, and he grew up in the restaurant, but he'd had a different career in business management before joining the family restaurant.
"They know the system here, and they're master manipulators of it for their customers," Blount said of the waiters. "Even if the chef says 'no, we can't do that,' they'll turn to us and keep stumping for their customers. I had to learn a lot, and they didn't mind teaching me."
Where another boss might see insubordination, Blount frames the situation as "employee buy-in" to the restaurant's own culture.
"You'd never build a business like that today," he said, with more admiration than aggravation in his voice. "But it's fun to watch the dance."
Continuity through careers
Even as the New Orleans dining scene swirls with change and new players, Antoine's maintains a resolutely Old World approach. Though it is sometimes criticized for this, the individualistic identity of the restaurant, the feeling that it is a unique creation of this city, is one reason why its local regulars are so loyal. The continuity of waiters who build entire careers here adds heart and human relationships to the tradition, lifting it above a collection of historical accolades.
Many members of the staff have logged decades under Antoine's roof, including executive chef Michael Regua, who was first brought on in 1972 by a cousin who worked here. Charles Carter, a waiter, is the fourth generation of his family to work at Antoine's.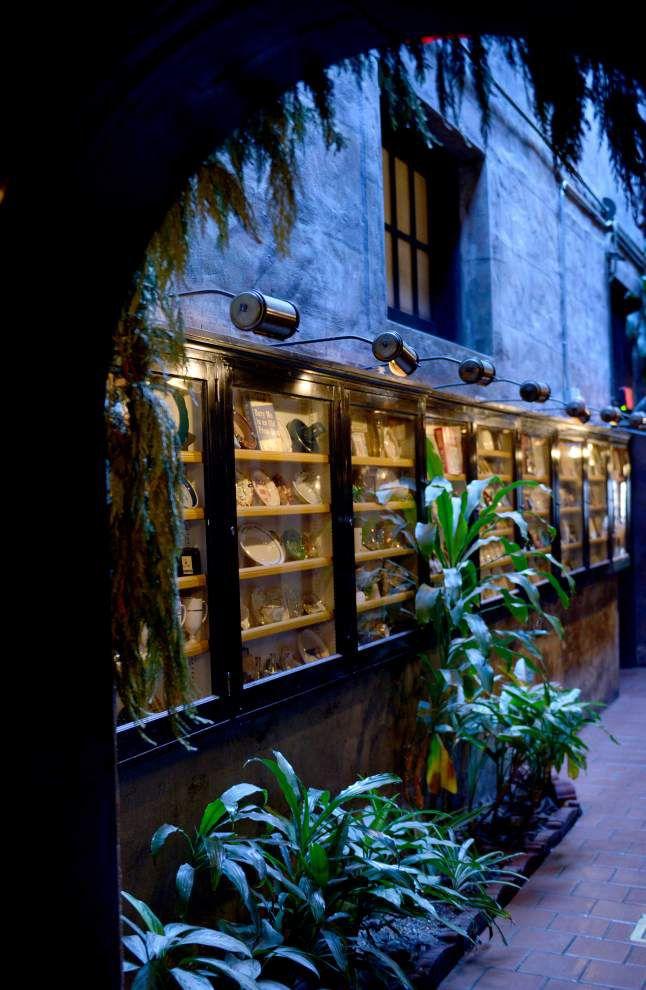 The connections extend past the dining rooms, which was put on tragic display in June after manager Matthew Ousset died at age 54. He started out at Antoine's as an apprentice waiter in 1981, and his funeral drew many of the restaurant patrons he had befriended through the years.
Constant himself once served a longtime customer on his deathbed, accommodating a request to bring one last meal to his home near City Park since he couldn't travel to the restaurant.
"We brought the food, the trays, and served him," Constant said. "The reason why was out of courtesy and respect for the family."
On Sunday, when Constant arrives for his anniversary party, it will be a time for many stories to unfold. After all, at the 50-year mark, he has been a waiter at the same restaurant for longer than most restaurants have been around.
Then on Monday he'll return to his usual schedule of double shifts. He does acknowledge, though, that with his eyesight beginning the worry him and the years advancing, he may need to cut back. It's a prospect his customers are preparing to face, too.
"I used to ask myself 'what will I do when he retires?'" said Steiner. "But I know now that Sterling will tell me what happens then. He's helping bring up the next generation, it's part of what they do here."
50th Anniversary Party for Sterling Constant
713 St. Louis St., 504-581-4422
Sunday, July 9, from 4:30 p.m.