Mirliton, Shrimp and Tasso Casserole
Makes 12 servings. Recipe is from Commanders Palace.
6 small mirlitons, about 9 ounces each
3 tablespoons butter, divided
8 ounces tasso, diced (or substitute ham plus ½ teaspoon cayenne and 1½ teaspoons paprika)
2 medium onions, diced
Salt and pepper
1 pound small peeled shrimp (or diced larger shrimp)
15 garlic cloves, minced
5 eggs
1 cup milk
2 cups fresh bread crumbs
1 bunch green onions, green parts only, thinly sliced
Salt and cracked black pepper to taste
In a large pot, cover mirlitons with cold water. Season with salt and bring to a boil. Cook 1 hour or until when you pierce one with a paring knife you feel a little resistance. Drain. Let cool in open space. (Do not overcook or shock with cold water to cool.) Peel cooled mirlitons and halve. Remove seeds. Lightly mash, and drain extra liquid.
In a large pot over medium heat, sauté tasso in 1 tablespoon butter about 4 minutes, or until brown. Add onions. Season with salt and pepper and sauté 4 to 5 minutes, until tender. Stir in shrimp and garlic and sauté 30 seconds.
Add mirlitons and sauté 3 minutes, stirring constantly. Remove from heat and season to taste. Let cool slightly.
Beat eggs with milk, salt and pepper in a large bowl. Add and mix mirliton mixture.
Coat a 3-inch deep large casserole dish with 1 tablespoon butter. Preheat oven to 350 F.
Topping: Melt remaining 1 tablespoon butter. Add bread crumbs, green onion tops, salt and pepper.
Turn mirliton mixture into prepared dish. Cover evenly with the topping. Cover casserole with foil and bake 1 hour. Remove foil. Bake 30 to 40 minutes, or until golden brown.
Chef's note: Be sure the casserole is not watery. If it is, pierce the topping, lower oven temperature and cook until water is absorbed.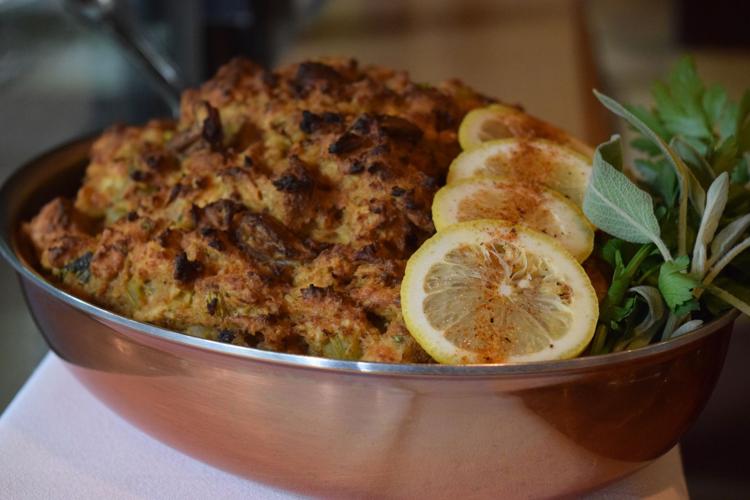 Commander's Palace Oyster Dressing
Use to stuff a turkey or bake as a casserole.
Makes 8-10 servings. Recipe is from Commander's Palace.
4 tablespoons butter
2 ribs celery, diced
1 large onion, diced
1 bell pepper, diced
1½ jalapeños, seeds and stems removed, minced
7 cloves garlic, minced
2½ tablespoons poultry seasoning
3 cups shucked oysters (halved if large) and their liquid
16 cups crisp 1-inch cubes French bread
1 cup well-seasoned chicken or turkey stock
4 eggs
Salt and freshly ground black pepper
2 cups chopped fresh parsley
2 green onions, thinly sliced
1½ teaspoons minced fresh rosemary
In a large pot, melt butter over high heat until it starts to smoke. Add celery, onion, bell pepper, jalapeños, garlic and poultry seasoning. Sauté 15 minutes over medium heat until vegetables brown and become tender. Add oysters and their liquid and cook 4 to 5 minutes or until the edges of the oysters begin to curl.
Turn off heat. Add half the bread and stir, soaking up any liquid. Add stock and stir. Add remaining bread and mix well. Add eggs quickly, stirring constantly to be sure they don't cook when they hit the hot mixture.
Season with salt and pepper. Add parsley, green onions and rosemary. The dressing should be moist but pliable, damp but not wet. If it's too wet, add more bread. If it's too dry, add more stock or oyster liquid.
Use to stuff a 12-pound turkey, or turn into a greased casserole dish and bake at 350 F, uncovered, 30 to 45 minutes, until golden brown and crispy on top.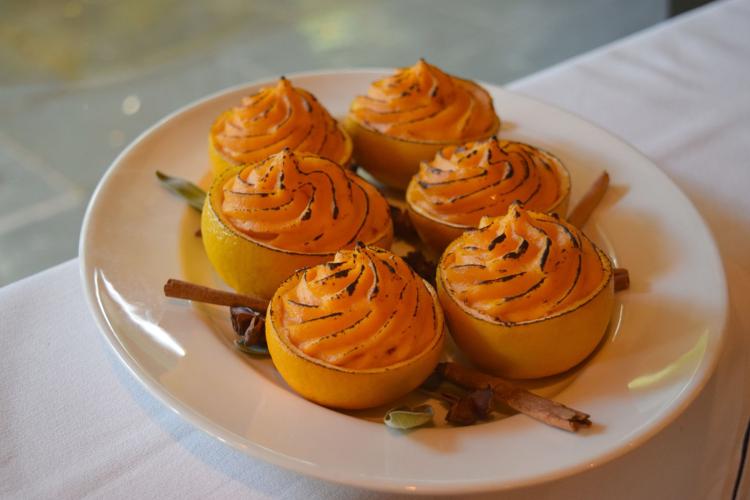 Satsuma Sweet Potatoes
The sweet potato dish served at the restaurant varies. This version, accented with satsumas, originated with chef Tory McPhail's mother-in-law.
Makes 10 servings. Recipe is from Commander's Palace.
5 medium sweet potatoes, about 3½ pounds
6 medium to large satsumas
¼ pound light brown sugar (½ cup)
1 stick salted butter, melted
1 tablespoon salt
1 teaspoon white pepper
Juice from satsumas to equal 1 cup
Preheat oven to 350 degrees and roast sweet potatoes 1 hour on a metal baking pan. Prepare satsumas while baking.
Remove zest from 1 satsuma. Cut that one in half and squeeze juice into a measuring cup.
Cut ⅛-inch off the tops and bottoms of the other 5 satsumas. Cut each in half horizontally to create two equal portions. With the tip of a teaspoon, remove fruit from the rind to create an orange cup. Juice the removed fruit into the measuring cup to equal 1 cup (If you have extra, reserve for another use).
Remove potatoes from oven and cool 20 minutes. Peel and put the pulp into a food processor with butter, zest, brown sugar, salt, white pepper and the 1 cup juice. Puree mixture until smooth. Taste and adjust seasoning as necessary.
Scoop puree into a pastry bag fitted with a star tip. Pipe the puree into the satsuma cups in a circular motion to create an attractive pattern.
Put the cups onto a sheet pan and bake in a preheated oven at 350 degrees for 20 minutes. Serve hot.
Thanksgiving and Christmas Eve were slow at Commander's Palace when she was a kid, said Ti Martin, co-proprietor of the restaurant in New Orle…