Strange to say, but after another day trying to keep the raging New Orleans heat at bay, on many nights this summer, I've found myself drawn to a restaurant that revolves around a blazing hot fire.
That would be Echo's Pizza in Mid-City, where a dome-shaped oven is the restaurant's wood-fed heart. It doesn't just produce beautiful pizza; this oven gives the whole restaurant its purpose.
The oven is stationed by the front door, impossible to miss. But when I look into its glowing maw, I do not see the gates of hell or even an approximation of how my car feels parked under the summer sun.
I see another pizza rapidly cooking. I see eggplants and red peppers getting an edge of char, soon to be dressed with olive oil. I see on display the semolina loaves that were baked in the same oven that morning, before the oven switched to pizza duty.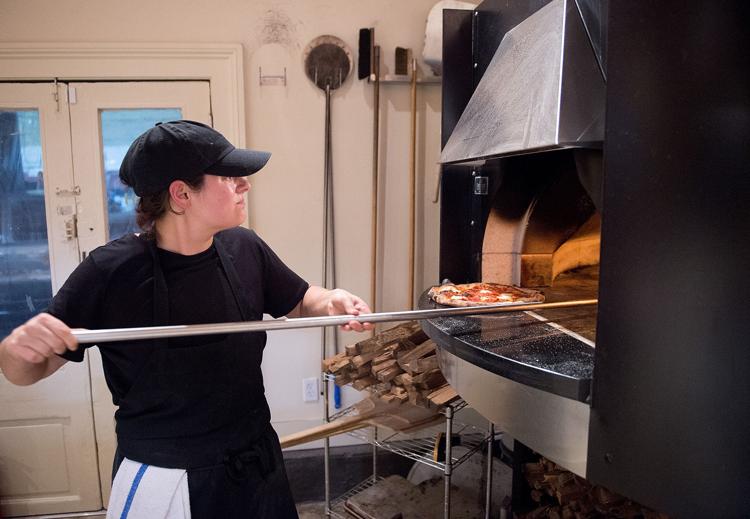 All of this speaks precisely to what I want in the summer. It's not the heat; it's the simplicity.
It's good food stripped down to the basics of a few ingredients. The setting seals it. Echo's feels like a modern neighborhood joint, vibrant but still chill.
Little things add up here: pickled carrots with an almost effervescent crunch; salty anchovies with good butter and crusty bread; the way the bartender cuts chunks of block ice for his seasonal specials (plum gin with the berry-dark fizz of Lambrusco recently).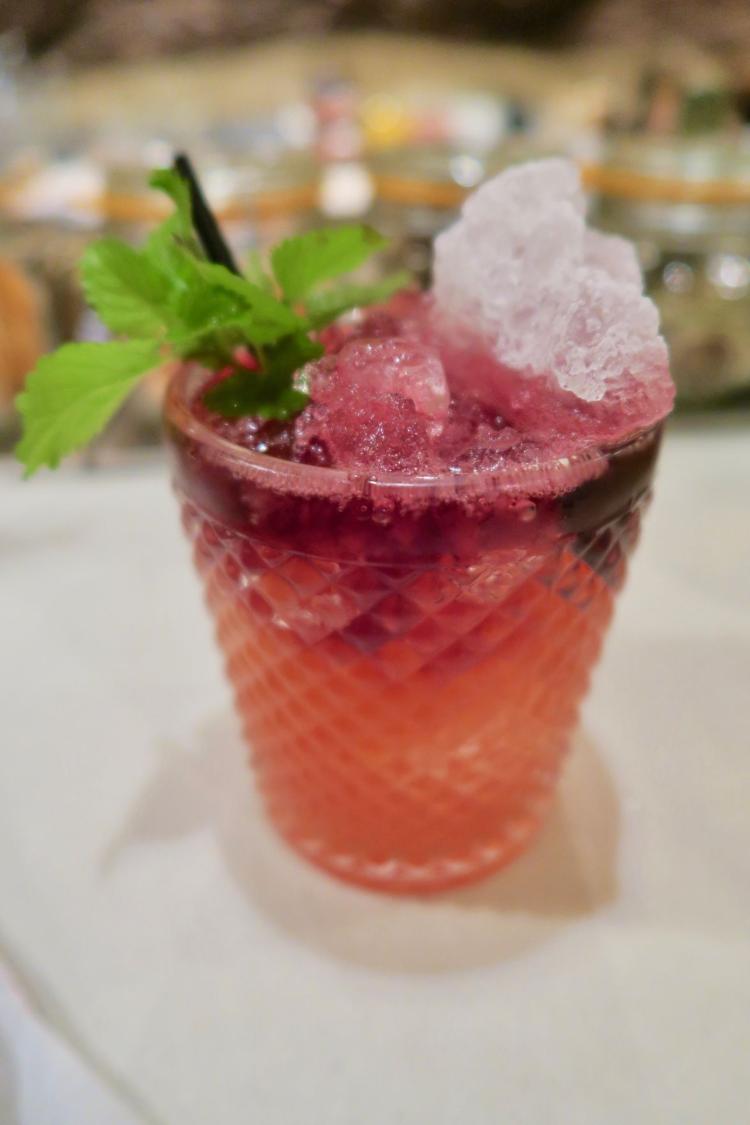 Pizza is the center point. One-sized, bubble-pocked, it follows a style that many will identify as Neapolitan, even though baker Kate Heller will tell you it's technically her own hybrid.
Echo's Pizza is a partnership between Heller and the couple behind the petite Mediterranean standout 1000 Figs, Theresa Galli and Gavin Cady.
It is also the answer to a conundrum for a modern baker. People say they want great bread. But they don't always want to pay a good price for it. However, people will do almost anything for pizza.
Great pizza is great bread with better PR. Add a few toppings and out come the credit cards. Heller is an artisan baker, and Echo's Pizza is a way to make a living at it.
Echo's makes this bread-pizza relationship clear. The flavor, mouth feel and aroma of the dough are all as foundational to Echo's as smoke is to a barbecue joint. And in the way that really good pastry isn't too sweet, this pizza isn't too heavy.
The pork sausage pie is my favorite pizza in town right now. It has a base of cream and greens and fermented chiles that tastes like a charred, subtly spicy, smoky spinach dip, with dollops of red sauce and herbaceous-sweet sausage.
The chorizo pie has wads of melting fresh mozzarella the size of boiled eggs. The miso pizza is an enigma of umami, delivered between the orange, tart-sour sauce, onions and whole mushroom caps, some so large the outer crust curves around them.
The darkness, or doneness, of the pizza should be more consistent here. Wood oven pizza will always draw some complaints of burnt pies, when in fact a crinkle of char is a desired goal of this style. But I've had pies here surrounded by leopard print patterns of big dark bubbles, and others that came out with an evenly sandy tan ring of crust. A more reliable house standard would help set expectations.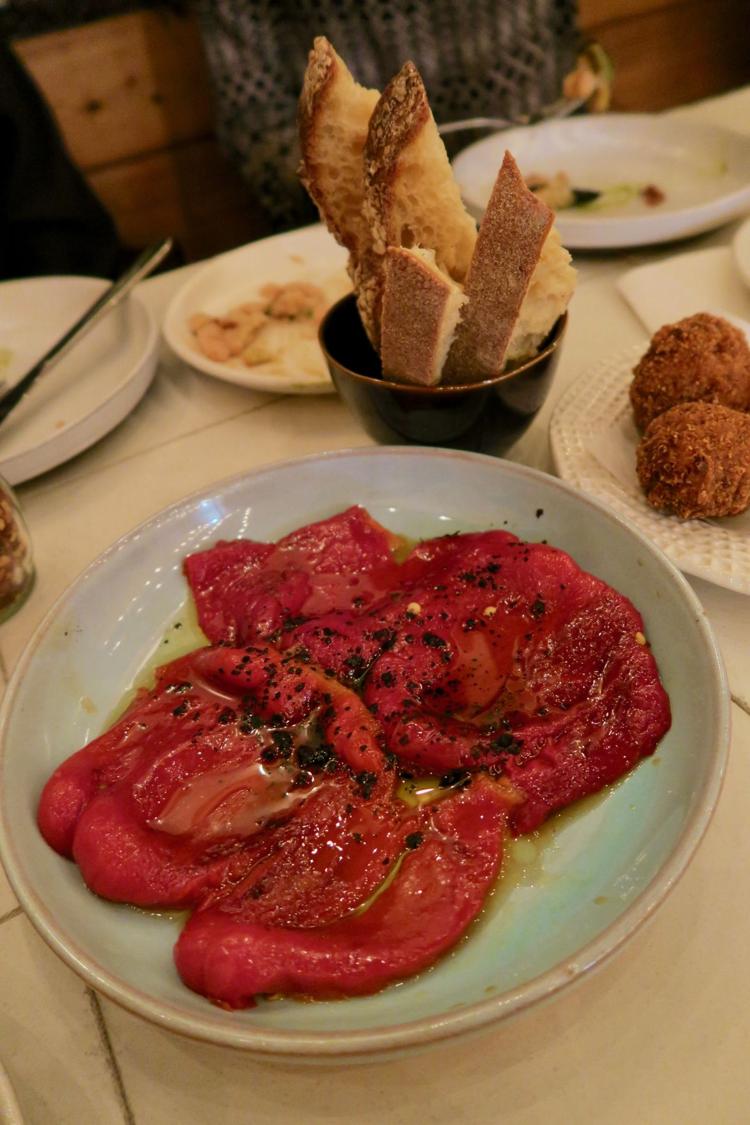 The 1000 Figs connections shows in Echo's other dishes. Salads are verdant. The suppli are egg-shaped rice fritters that ooze mozzarella from within, differing from arancini mostly in shape. The dandelion greens only sound dainty; they're robustly garlicky, sluiced with olive oil and served with yogurt.
Desserts are simple and often seasonal. The plum upside-down cake could only have been more homey if it were left on a windowsill to cool.
At the bar, I like the natural wines and interesting, fresh cocktails, which cut right through a hot day. At lunch, I like the sandwiches, built on quilted, puffy sheets of focaccia, like antipasto platters on bread.
Street parking is vexing around here. Finding a spot may entail an inadvertent tour of the surrounding blocks. A restaurant like Echo's might seem like a stark change. Its address, long ago a po-boy shop, was tumbling down before the rebuild that put Echo's here. But put in the context of this rapidly changing part of Mid-City, Echo's feels more on pace with its neighborhood.
So when the temperature soars, let us praise pizza and simple pleasures, wine and olive oil, good bread and company. This recipe is helping me get through this summer. I look forward to testing its all-season abilities when sweater weather finally gets here already.
3200 Banks St., (504) 267-3231
Lunch and dinner Wed.-Mon.
Like any proud cook, Iris Cardona gets a thrill when people tell her they like her food.
I would like to address a false rumor circulating in the news. Multiple sources are claiming that summer is almost over.