On the day after New Year's Day, with recuperation still on our minds, dinner at a wine bar might not have sounded like the natural call. Our destination, however, was Bar Frances, and we were after something different than elevated pub grub.
Bar Frances is definitely a find for wine lovers, and it has the trappings of a modern bar. But since joining the Freret Street restaurant row last year, Bar Frances has established a dual role. It's a bistro with comfort food for people who take comfort in a more vivid, fresh, vegetable-first approach to French and modern American cuisine.
The centerpiece for this dinner was crispy-browned gnocchi set off by the dark, bitter crunch of radicchio. Next to that, cauliflower, overused in restaurants generally, found a fitting home between chickpeas and kale and large-bore couscous imbued with the warm, earthy spices of a North African tagine. For another dish, downy-soft sheaths of endive leaves carried red-and-white striped beets over a whip of walnut purée that tasted creamy but not fatty.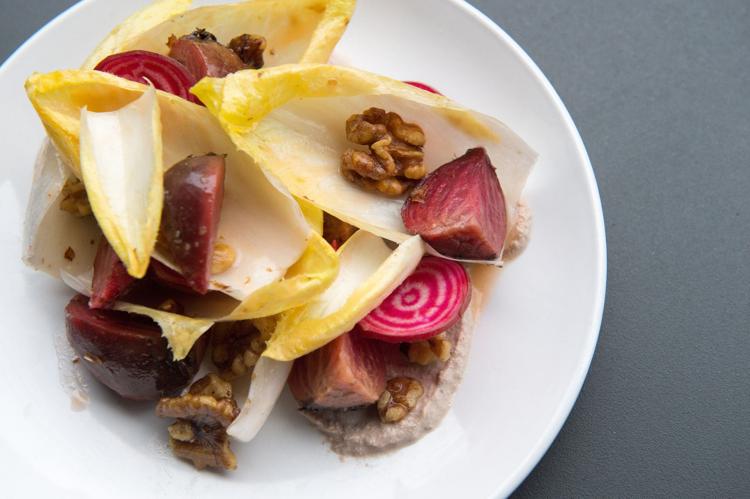 This dinner was only coincidentally meatless. The hanger steak and chicken liver mousse are standouts from earlier visits, and the crudo is always good, well-dressed with oils and fruit or herbs as the fish and seasons dictate. Every other table seems to order a charcuterie board.
The post-New Year's dinner, though, represented the style that has built Bar Frances its niche in the city's increasingly crowded upscale/casual dining scene.
Bar Frances is run by PJ Rosenberg, a longtime wine professional, and Mark Latter, best known these days as proprietor of historic Tujague's Restaurant. The chef is Karisa Glantz, who started here as sous chef last spring.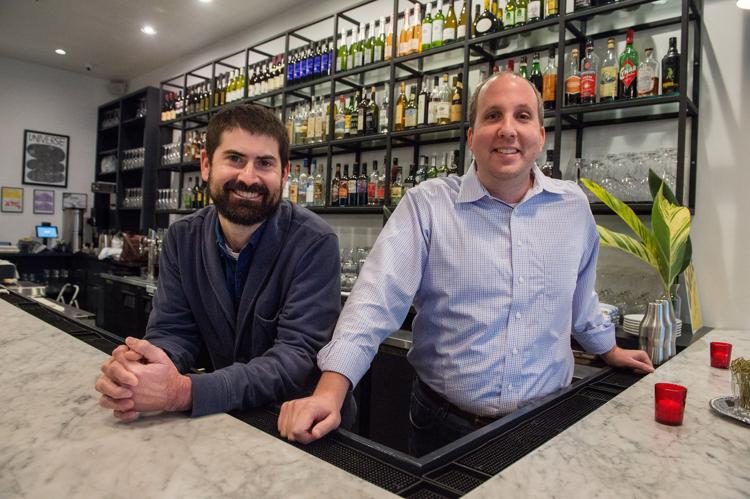 The menu is a testament to the idea that a few prime ingredients, carefully combined and without much manipulation, can make a dish taste complete.
That accounts for red snapper with ruffled greens and multicolored ribbons of radish over a smooth, ginger emulsion. And it explains the unexpectedly satisfying farro salad, which relies on the natural alchemy between peppery greens, tart citrus, crunchy root vegetables, a hearty grain and little else beyond shaved planks of parmesan.
In the past half-year, Bar Frances has settled nicely into its neighborhood role as a causal eatery and a grown-up bar. Importantly, the severe acoustics of the early days have been largely remedied along the way. In nice weather, the best seats still are outside on the covered patio, which feels like Freret Street's front porch, giving a different sort of view than the beer garden at Dat Dog or the cloistered courtyard of Cure down the street.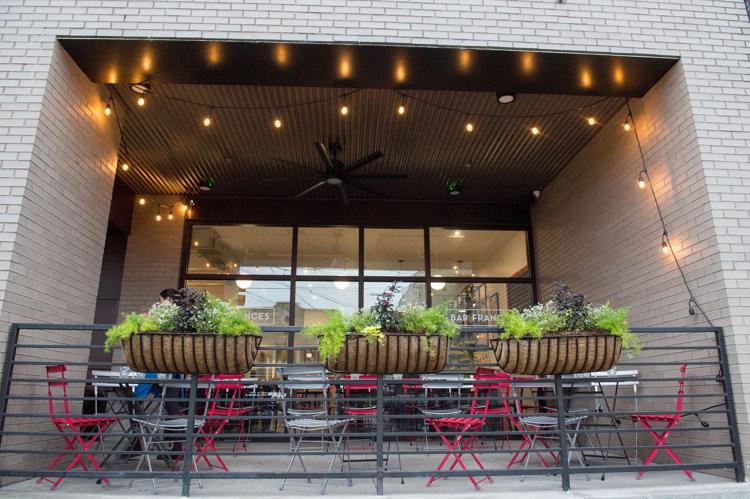 Oysters appear just one night a week — Thursdays, joined by a half-price offer on bottles of sparking wine. It's a deal that also feels like a tease. The superlative oyster bar at Pascal's Manale is just a few blocks away, but Freret Street could certainly use an oyster bar without being an overlap, and the potential for wine pairings here is huge.
The wine list is exceptional for a restaurant this size. Its strength is in spreading interesting options across the price range. There's exotica like natural wines (characteristically livelier, funkier) and orange wine (like a rosé, but a little weightier, more aromatic). Darkly complex Gamay and Cabernet Franc are the star reds. And Bar Frances is helping show how Rieslings that are bright, clean and (it bears emphasizing) not sweet can be phenomenal food wines. They certainly work well with this menu's fresh flavors. 
Oysters make people happy. It goes beyond satisfying an appetite or even a craving. It's som…
For desserts, I eagerly await the return of strawberries with black pepper meringue and balsamic vinegar, another example of perfected simplicity that was in rotation here while the fruit was in season.
Nothing else comes close, but the dense chocolate cremeaux or a cheese plate will have to do for now. After all, if we're still trying to make amends with the holidays, we can't always have what we want.
4525 Freret St., (504) 371-5043
Dinner daily, lunch Monday-Friday, brunch Saturday, Sunday
Prices (dinner): appetizers $4-$16; entrees $16-$26
Happy hour: Monday-Friday, 4 p.m.-6 p.m.
Dining in New Orleans always has been big, but these days, it's been growing and changing li…
On busy afternoons this fall, Michael Gulotta and his chefs turned a circuit of Mid-City res…