Saffron NOLA started as a well-hidden, once-a-week restaurant serving a one-of-a-kind cuisine, a contemporary, boundary-bending approach to Indian cooking.
The family behind it is pretty distinctive, too, and their ideas about food, hospitality and their own Indian heritage have found a much bigger stage.
For most of its history, Saffron NOLA was open only for Friday dinner. Its tucked-away location in a Gretna strip mall was the picture of low profile. Despite these limits, the restaurant earned a following. Regulars scheduled group outings and date nights to partake of proprietor Arvinder Vilkhu's curried gumbo, Bombay shrimp and rum-lashed Khyber lamb chops.
Now the limits are off. After a week of trial runs, Saffron NOLA will officially open its new, full-fledged restaurant Thursday (Aug. 10) in the middle of a buzzing stretch of Magazine Street.
As before, Saffron NOLA melds Indian flavors, New Orleans staples and a knack for creating dishes that are compelling originals, not just novel mash-ups. Now the menu has greatly expanded, and its South-meets-South Asia lens is applied to a buttery oyster roast with naan bread for sopping, griddle-crisp brunch dosa filled with seafood and even a charcuterie platter of kebab sausage and chicken pâté dappled with earthy spice.
"We want to show our roots in Indian culture and its marriage to what we have here in New Orleans," said Arvinder Vilkhu, who runs Saffron NOLA with his wife Pardeep, their son Ashwin and their daughter Pranita.
"The key is simplicity without losing the authenticity of the food," said Arvinder, speaking in the steady, ardent tone of a man laying down a dictum. "I want to make it relatable to our community here in New Orleans so they can enjoy Indian food in a different dimension."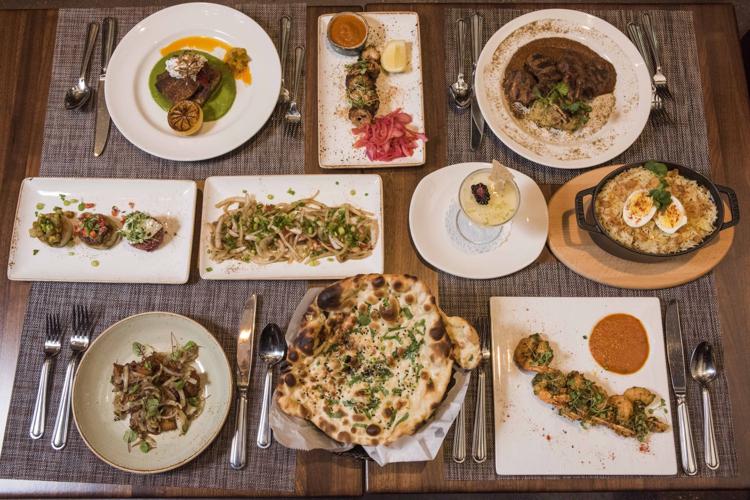 The Vilkhus' new Saffron NOLA adds more than just a prominent location and expanded schedule to the equation.
The restaurant's new home was designed to share a different sense of Indian culture, one rendered in intricate detail, creature comforts and modern style. And embedded in Saffron NOLA's evolution from an unconventional debut to this new start is the story of a New Orleans restaurant family charting a different path.
Generations, evolutions
If the Vilkhus followed the usual script for family restaurateurs, then the first-generation immigrant parents would stick to tradition, or else a version of their food proven to sell in America, while the kids would jostle for change.
But at Saffron NOLA, the parents were the rebels.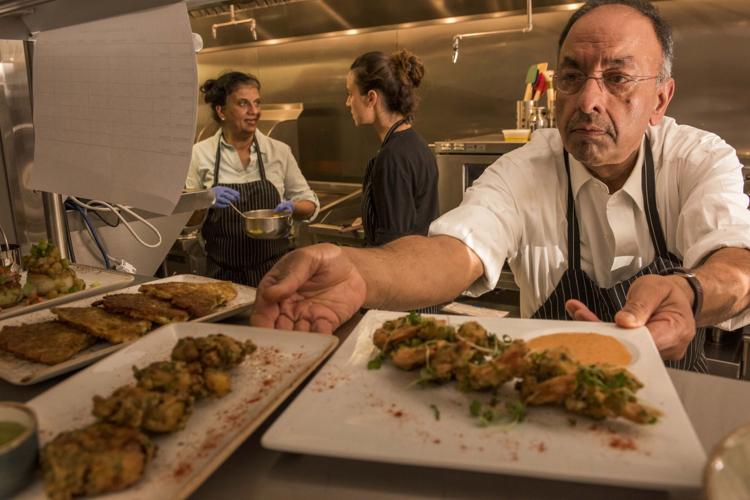 Pardeep, a retired psychologist, and Arvinder, a lifer in the hospitality field, broke the mold when they started their restaurant in 2011. Forgoing the template of tikka masala and lunch buffets, they treated Indian cuisine to the kind of worldly, contemporary approach that other chefs have made mainstream with Italian or French cooking. In the Saffron NOLA kitchen, coriander and cumin, fenugreek and tumeric, lentil flour and yogurt sauces mixed it up with pulled pork and pompano, soft shell crab and roasted duck.
The restaurant's Friday-only format felt somewhere between new-fangled pop-up and old-fashioned supper club. In fact, was a practical accommodation for a family with a full plate.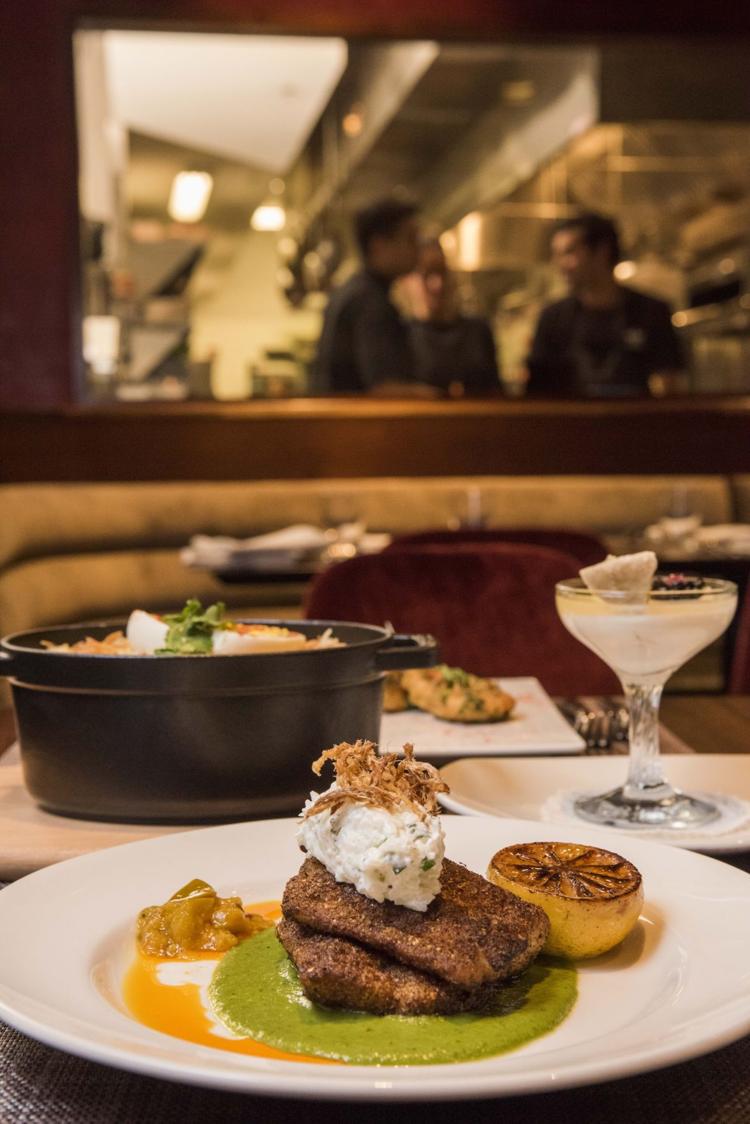 Arvinder is the longtime manager of the Pickwick Club, one of the city's old-line social clubs, and that's a position he still holds. Back in the 1990s, after a successful experiment cooking for a friend's wedding, he and Pardeep started a catering company on the side, called Saffron Caterers. The Friday restaurant grew out of the catering company. It provided a different outlet for the ideas of cuisine and hospitality that have driven Arvinder since his early days working in hotels back in his native New Delhi.
"Cooking has always been his passion," Pardeep said of her husband. "It's not just Indian food. Whatever he could learn from whoever he worked with through the years, he pursued that. Eventually we said, we're in New Orleans, we love this food, let's do something that's a blend."
Along the way, the catering company kept growing and the family started a retail line of Indian sauces and condiments. Their children's role was not to break away from what their parents started, but to accelerate it from within.
"They pushed us to do this, they told us 'you have no idea what accolades you're getting out there,'" said Arvinder. "They're younger, they follow the trends. They saw the potential."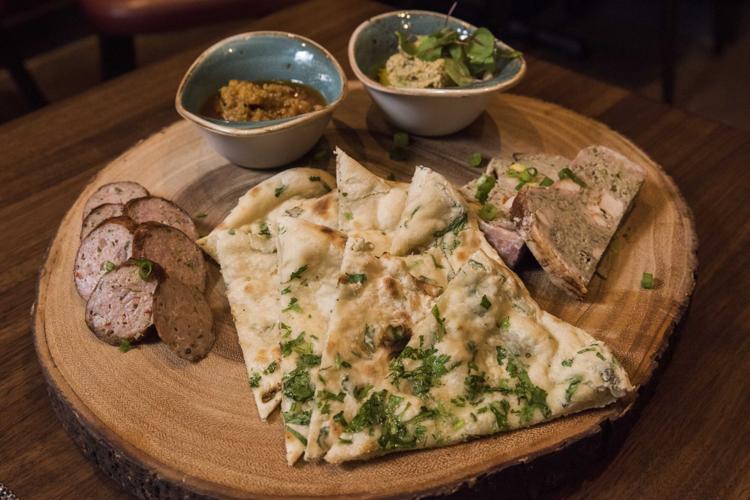 When Ashwin, 33, and Pranita, 25, were ready to devote themselves to the family business full time, the Vilkhus had enough hands on deck to make the leap to something bigger.
"Being open only one night a week, there was only so much we could do," said Pranita. "We know this is different, so we know we have to make a statement."
New flavors, familiar anchors
On the menu, that statement sizzles on gleaming metal oyster trays sluiced with butter and it's napped between crabmeat and lentil pancakes. It simmers in the tamarind and black pepper sauce for a subcontinent-style barbecue shrimp and it encrusts puppy drum fillets with tawny, aromatic spice under dabs of yogurt rice.
On the Sunday brunch menu, it traces a path through different Indian regions for paratha (stuffed breads) and crepe-like dosa, next to creations like curried brisket and grits and pari puri shots, or puffed rice balls that crackle in the mouth when hit with a dose of cucumber water.
The Saffron NOLA bar brings its own blend to classic cocktails. The ripe flavor of mango underlies an old fashioned; cardamom bitters trickle through a Manhattan.
"The intent is to represent our Indian culture in artful ways, subtle ways," said Ashwin. "It can be sexy, modern, innovative."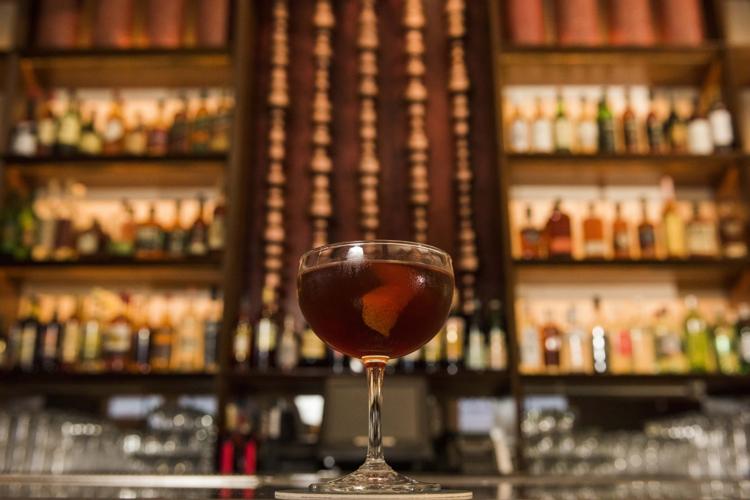 That idea extends across Saffron NOLA's new home. New Orleans architecture and interior design firm Farouki Farouki led a renovation that has transformed this Magazine Street storefront.
Saffron NOLA feels sultry and chic, warm and modern, a balance conveyed in layers, texture and colors of burnished copper, ashen grey and rich burgundy.
There are stories throughout the room, often hinged to design details that are intricately, but maybe not obviously, Indian. One wall covering simulates raw silk. The chandeliers and the bar were inspired by the Punjab city of Chandigarh, a showcase for modernist master planning. An art piece at the center of the bar suggests the ubiquitous tiffin tins used for delivery meals in India. Decorative jars above it filled with marigold represent a king's ransom worth of saffron strands.
Across the full picture of Saffron NOLA, each family member can point to elements of his or her own influence. In discussion, though, they quickly come back to a shared family ethos behind the restaurant. When talking about hospitality and restaurant management, the Vilkhus comfortably and cogently use terms like wisdom and knowledge, patience and understanding.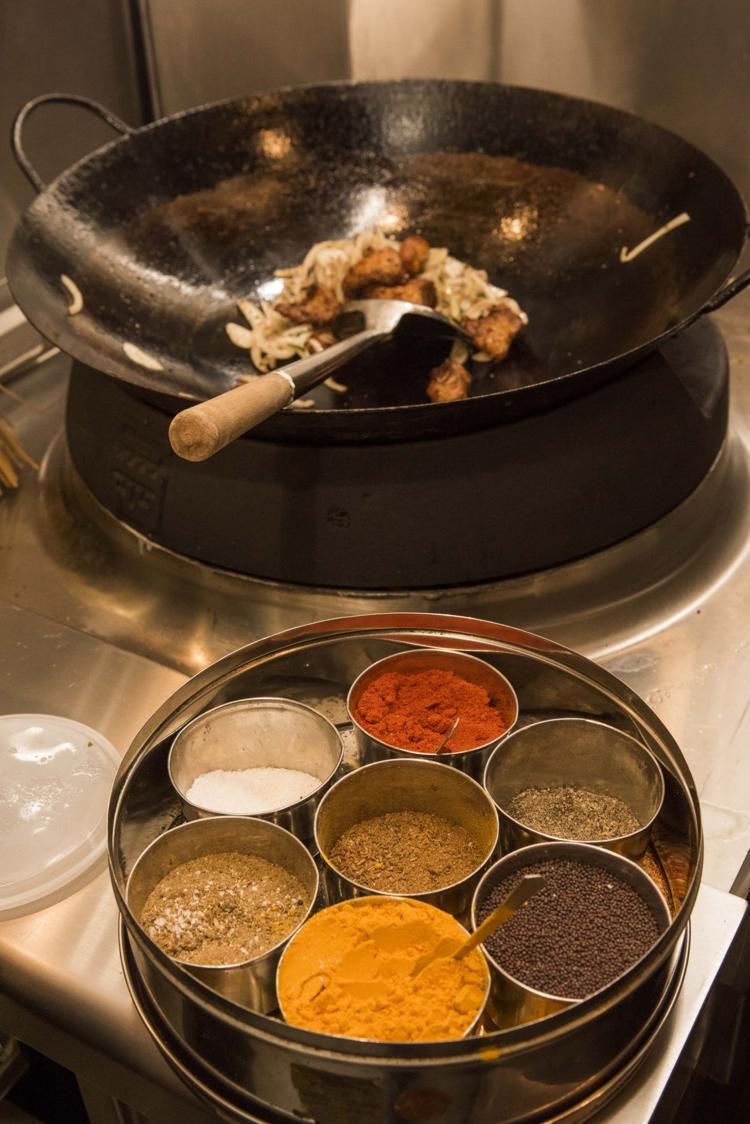 "I am here for you," said Arvinder. "Making people feel that is the whole objective of this business."
Ashwin and Pranita are clearly in awe of their parents, of their drive and creativity and the life they charted in their adopted home. Arvinder and Pardeep, in turn, see the future in the ideas their son and daughter bring to the table.
That's not to say the path to this new Saffron NOLA has been straight and smooth. It is still an intergenerational family business. Pardeep, who is both the mother and psychologist of the family, has often been the mediator along the way.
"The most important part through this is that everyone has helped shape it, we all have our opinions and they can all bring something to this," she said. "This is family, after all. We have to make it work."
4128 Magazine St., (504) 323-2626
Grand opening Aug. 10
Dinner: Tue.-Thu., 5 p.m. to 10 p.m., Fri. and Sat. 5 p.m. to 11 p.m.
Brunch: Sun. 10 p.m. to 4 p.m.
Can a restaurant based on fusion also be authentic? After eating at Maypop more or less cons…
The wood-burning oven at the Uptown eatery Pizza Domenica turns out Neapolitan-style pies th…
Throughout his life, chef Paul Prudhomme praised the dinner table as the best place to bring…