Goffredo Fraccaro displays a medal on the wall of his Metairie home commemorating the day in 1983 when the government of Italy made him a knight, or cavaliere, in recognition of his culinary achievements.
It might have been the pinnacle of the long career for the Italian-born chef, who was the personification of his highly-regarded Metairie restaurant La Riviera from 1972 to 2005.
But Fraccaro, now 91, is just as eager to share the stories behind a clutch of other medals he's collected through the years, each cast for Chefs' Charity for Children.
Some are still shiny, others are tarnished with age. Each holds memories for Fraccaro of past events, the fraternity of fellow chefs who cooked at them and the good times they shared for a good cause.
"Everything I do is for love, and that's what it was always about," Fraccaro said in his tenacious Italian accent.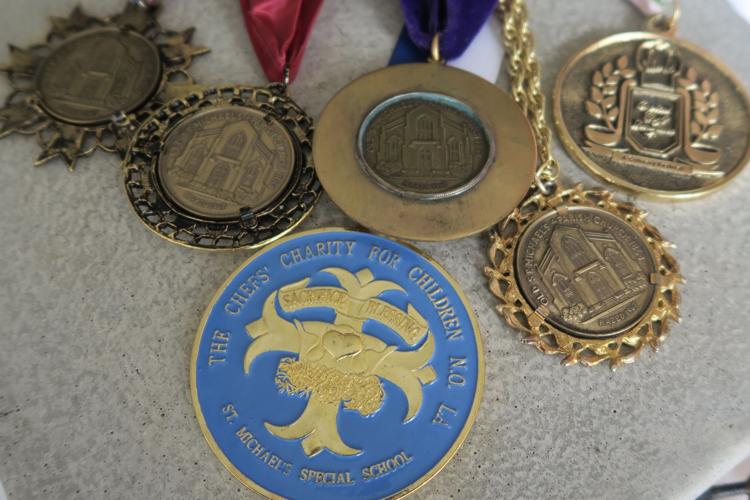 Chefs' Charity for Children is an annual culinary event and fundraiser for St. Michael's Special School, which serves local children with developmental disabilities. This year marks the benefit's 40th edition. Fraccaro was there from the start, and he will again take part in this year's event on March 16 at the Hilton Riverside Hotel.
Fraccaro is a living link to the founding of Chefs' Charity for Children, which was pioneering in its time and remains unique in the constellation of food-focused New Orleans benefits. This year, he's bringing along the medals to share with younger chefs at the event.
"I was one generation, they are the next generation," Fraccaro said. "The best thing is to pass on what we have to the next generation."
All stars, many generations
Through the years, Chefs' Charity for Children has become a tradition that chefs successively pass along in their field, inviting new talent and rising stars to cook and present beside top names in New Orleans dining.
The daytime event is a luncheon, where chefs conduct cooking demonstrations and guests are served a banquet meal. A highlight is always the interaction of the chefs on stage together and with the crowd.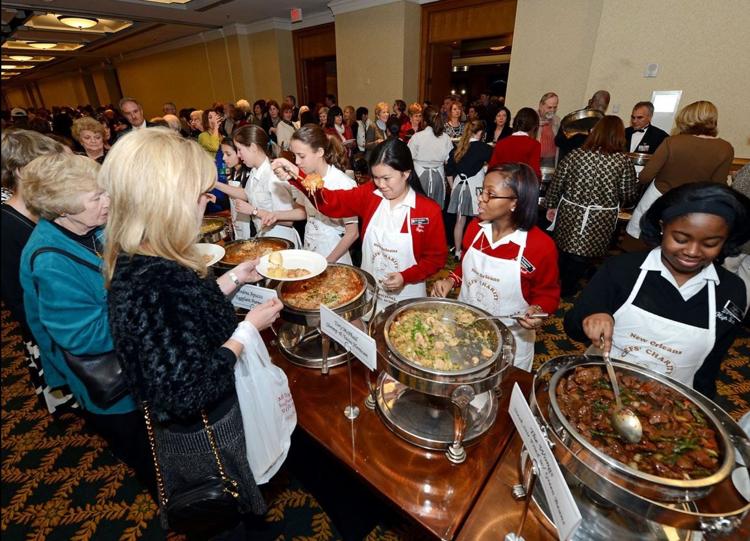 New to this year's roster is Nina Compton of Compère Lapin, a culinary celebrity for her star turn on Top Chef a few years back. Alon Shaya of Shaya, Domenica and Pizza Domenica and Justin Devillier of La Petite Grocery and Balise joined the event in 2016, and they're back again this year.
They will cook alongside returning chefs Andrea Apuzzo of Andrea's, John Besh, Leah Chase, John Folse, Tory McPhail of Commander's Palace, Greg Reggio of Zea and Mizado Cocina, David Slater of Emeril's Restaurant and Frank and Tommy Wong, the brothers behind Trey Yuen.
Chefs' Charity for Children was among the early generation of events banking on the draw of chefs for charitable causes, an approach now commonplace. Chefs have always contributed the food for the event so that St. Michael's can keep more of the ticket proceeds.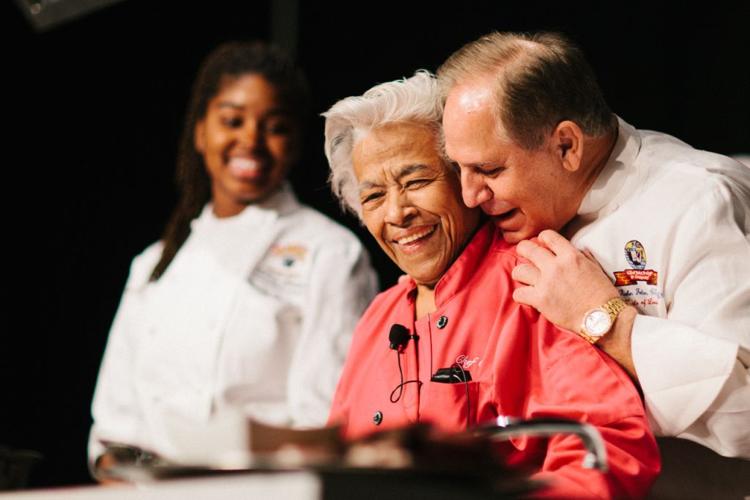 It was started in 1978 by the highly influential New Orleans chef Warren Leruth and Phil Johnson, news director of WWL-TV and a noted gourmand (both now deceased). They were able to rally other chefs to their cause, Fraccaro said, because they were such respected leaders.
"Warren was our guide, a mentor. We knew what we wanted to do but didn't know how to do it. He showed us," said Fraccaro. "Individually, we could never do it. But together, we said 'okay, let's go.'"
Another chef from that first year was Gunter Preuss, now a chef-in-residence with the Dickie Brennan & Co. restaurant group. In 1978 he was chef of Versailles Restaurant, and he took part for many years afterward through his restaurant Broussard's. The Wong brothers joined just a year later for the second edition.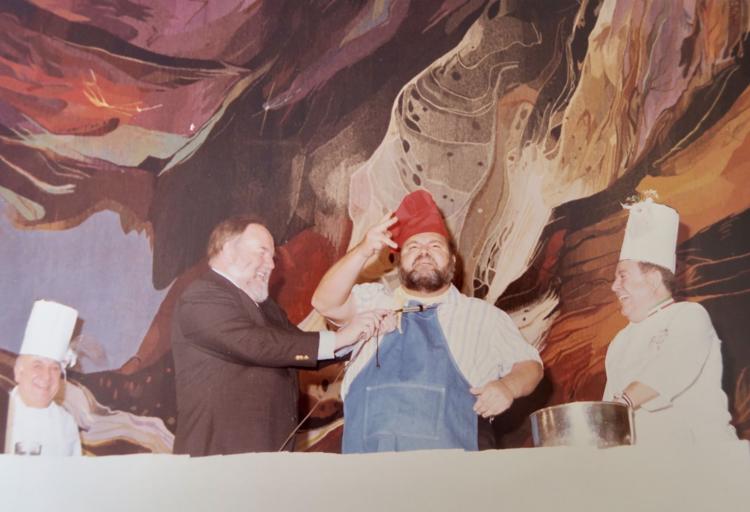 The inaugural event was held at the Fairmont Hotel (now the Roosevelt) and tickets cost $12.50. Dessert was prepared by Beulah Ledner, creator of the classic New Orleans doberge cake. In her book "New Orleans Memories," writer Carolyn Kolb notes that Ledner, 84 at the time, "happily supplied apple kuchen."
The late chefs Paul Prudhomme, then of Commander's Palace, Louis Evans of the Caribbean Room, Austin Leslie of Chez Helene and Chris Kerageorgiou of La Provence were among the featured chefs for the first year. Louis Szathmary, a famous chef from Chicago, also cooked that year, as did Myriam Guidroz, a food columnist for the Times-Picayune.
"Cameratismo"
In the years that followed, organizers brought in national stars and media celebrities, including Dom DeLuise, Ed Bradley, Alex Trebek and Charles Kuralt. But the constant has been the progression of chefs through different generations of New Orleans cuisine.
Another fixture is Fraccaro himself, who has participated in every edition of Chefs Charity for Children, long after he retired from the restaurant business.
"God has let me live a long time," he said. "I go every year, and tell people, see, I am still here."
Born in Genoa, Italy, in 1926, Fraccaro said he has been cooking his entire life, including a stint in the Italian navy during World War II and later in the merchant marine. He first laid eyes on New Orleans in 1952 when his ship arrived to pick up a load of molasses.
"It reminded me of Europe," he said. "When I saw New Orleans, I thought this is a city. If I come to America, I'll come to New Orleans."
He arrived in 1960 and by 1964 he was chef at the Baton Rouge Italian restaurant The Little Village.
He later moved to New Orleans, where he opened an ambitious French Quarter restaurant called Il Ristorante Tre Fontane, which was described as "the city's first big-deal Italian restaurant" in the book "Lost Restaurants of New Orleans" by Tom Fitzmorris and Peggy Scott Laborde. This closed after a few years, but his next restaurant, La Riviera, would achieve lasting success.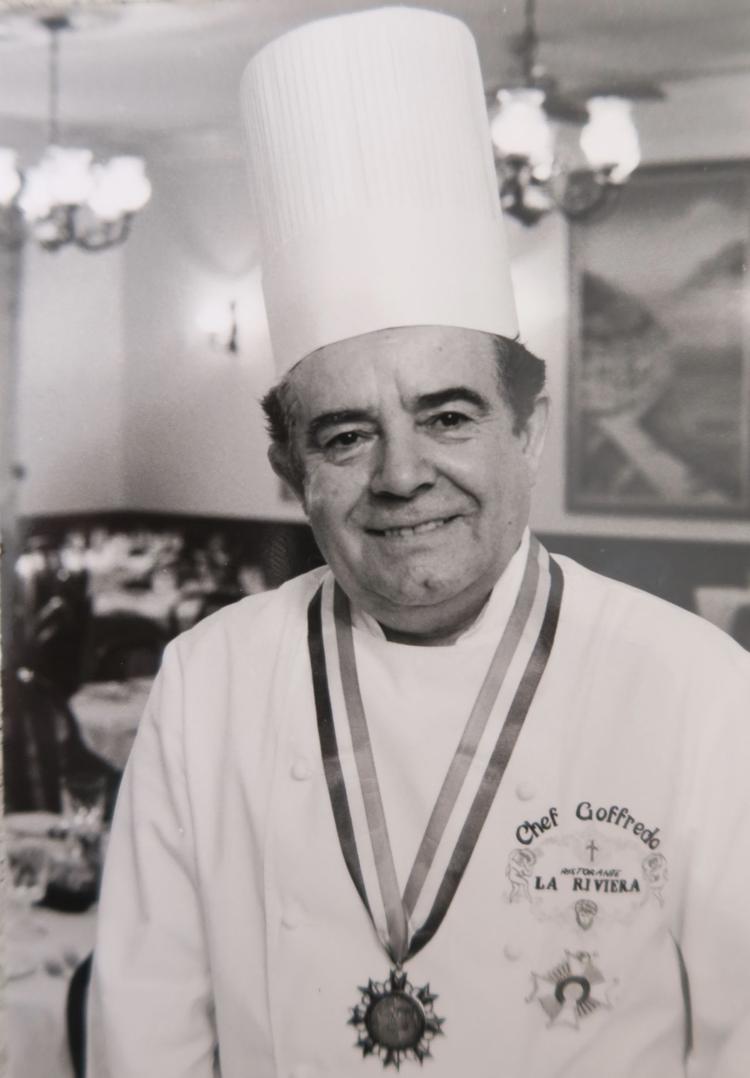 Here, Fraccaro introduced many traditional Italian dishes to New Orleans, serving them next to an upscale version of Creole-Italian fare that would set a standard for years to come. La Riviera was inundated by the flooding that followed Hurricane Katrina, and it never reopened.
His Metairie home is not far from his old restaurant, and it is a trove of emblems and keepsakes from a life in cuisine. There are elaborate, commemorative Chianti bottles, rows of cookbooks in English and Italian and photos of Fraccaro smiling next to famous guests at La Riviera or posing in a tall, white chef's toque.
Each year he returns to Chefs' Charity for Children, he sees old friends, meets new culinary stars, contributes to St. Michael's and savors a treasured experience.
"We have — in Italian was say, cameratismo — camaraderie, that good feeling of being together," said Fraccaro. "All us chefs, we have that feeling."
When: March 16, 10 a.m.-2 p.m.
Where: Hilton Riverside Hotel, 2 Poydras St.
Tickets start at $75. Call 504-524-7285 or see stmichaelspecialschool.com.
One night last week at Commander's Palace, the two reigning doyennes of New Orleans food sha…
Throughout his life, chef Paul Prudhomme praised the dinner table as the best place to bring…
The Pontchartrain Hotel on St. Charles Avenue was once a home-away-from-home for visiting ce…