Follow St. Claude Avenue toward the Bywater and you'll find Euro-style Middle Eastern food combined with a pinball parlor (Kebab), a Basque-style tapas bar (Estaño), Creole soul with a side of Korean kimchi (Morrow's) and the best poke bowl in town (Poke Chan).
Basically, if you can imagine it, there's a chance it will turn up here.
The latest addition to this unusual restaurant row, however, starts by imagining a different way to run a restaurant.
Saint-Germain (3054 St. Claude Ave., 504-218-8729) is a modern French bistro and wine bar. It's also a balancing act, one calibrated between the culinary ambitions of its chefs and the realities of making it in a dining scene already bursting with new restaurants.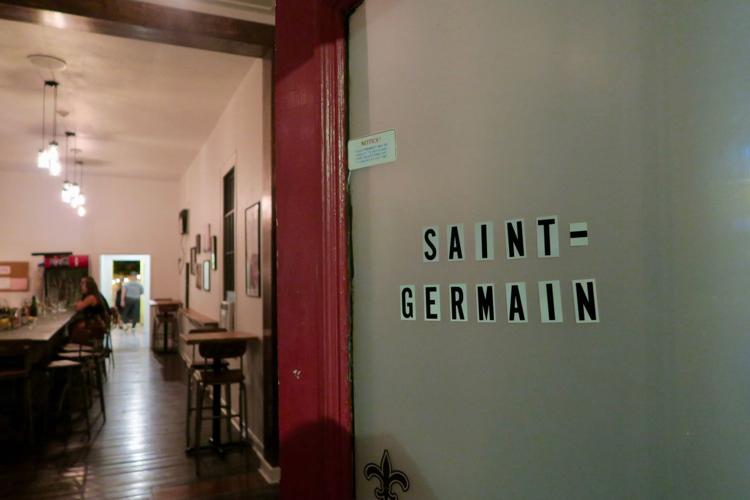 To begin, Saint-Germain is opening in phases and it remains in its budding stage right now. It is operating as a wine bar, with a short food menu and a list of interesting wines, mostly from small producers using natural winemaking techniques.
The full picture of Saint-Germain is slated to debut Dec. 6, when the bistro joins the equation.
The blueprint here calls for the wine bar to help underwrite the bistro, while the bistro supplies the wine bar with its own menu of casual dishes on a different level from bar snacks. 
"We try to look at it like it's our house," said Trey Smith, one of the three proprietors of Saint-Germain. "At the bar or the patio, it's like the living room when you come over to visit. If you're coming for dinner, that's in the dining room and that's a different experience."
Saint-Germain was created by Smith and fellow chef Blake Aguillard and Drew DeLaughter, who runs the front of the house. They share ties through past work at MoPho (Smith and DeLaughter) and Restaurant August (Aguillard and Smith). Smith was also chef de cuisine at Maypop, while Aguillard cooked at the ultra-modern San Francisco restaurant Saison.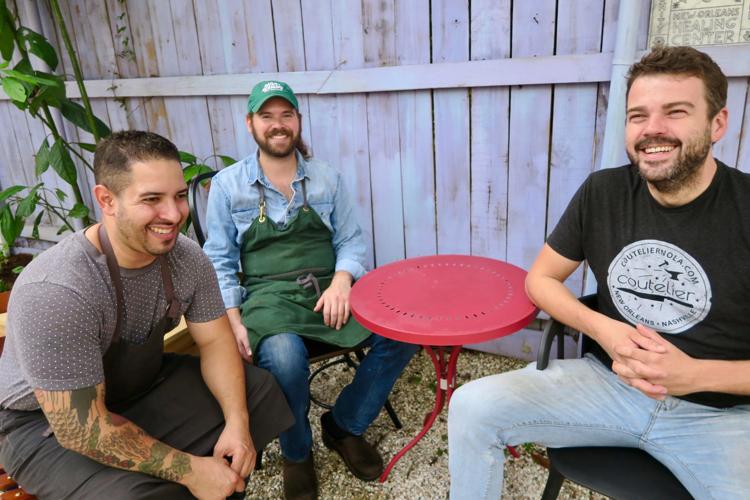 Their goal is to serve fine modern French cuisine. This is not the traditional bistro cooking of moules-frites, onion soup and coq au vin. Instead, Saint-Germain draws its cues from the next-generation eateries that are now adding new verve to Parisian dining — inventive but still approachable, beautifully composed but not just flights of fancy. 
The trick at Saint-Germain will be to serve this in a way that is more accessible than the traditional upscale chef-led restaurant, and that goal was built into the whole concept.  
Saint-Germain is in a double shotgun that was previously home to the pizzeria Sugar Park. It looks unchanged from the street (right down to the old Sugar Park sign). Inside, there's the long wine bar that leads to a large, gravel-covered outdoor space that feels as casual as any backyard hang.
From the bar, you can look right into the bistro dining room, but it's still a little hard to believe the dimensions.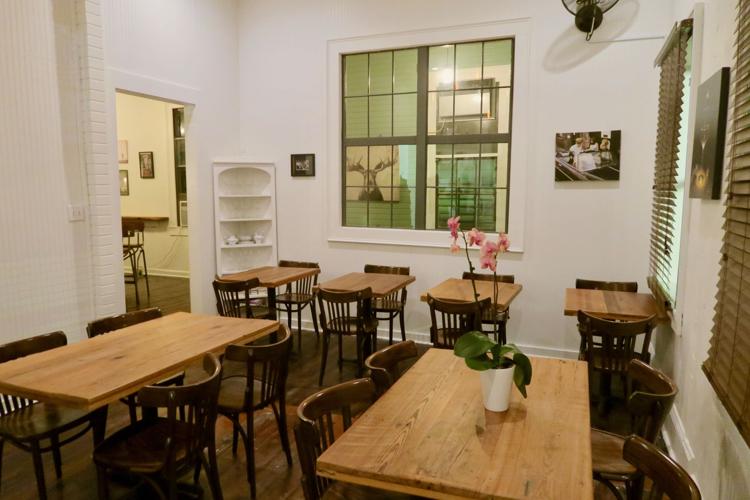 It's a single room, standard shotgun living room-sized, with tables for just 16 people at a seating.
The idea the chefs are banking on here is that by staying small, they can do more.
"When you're this size, you have more control over the experience," said Aguillard.
The small scale means lower staff costs and more hands-on direction from the three partners. The kitchen's focus is on getting more from its raw materials, with techniques to make modest staples into marquee items. Fish butchered in-house for peak freshness and greater flexibility to use its many parts, vegetables coaxed to maximum flavor, sauces spun from Old World technique and new ideas — these are some hallmarks of the coming bistro menu.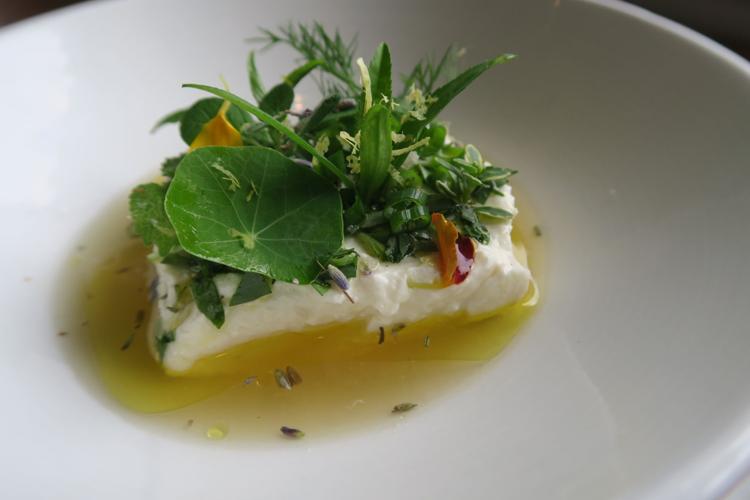 Right now, on the wine bar menu, the approach plays out with fresh cheese ($12), in a bath of its own caramelized whey, under a bouquet of fresh green herbs. Simple in concept, it's full-flavored but still light tasting, bringing the essence of cream and hints of lemon as you spread it over the crannies of toasted sourdough (baked in-house in the stacked pizzeria ovens the partners inherited when they bought the building).
The "Saint-Germain table salad" ($9) is an eye-catching platter of crudites, a collection of raw, slow-cooked and pickled vegetables and a vinaigrette with a creamy, subtly peppery flavor. One recent component, burdock root cooked over charcoal, unleashed immense umami flavor, tasting closer to jerky than a root vegetable.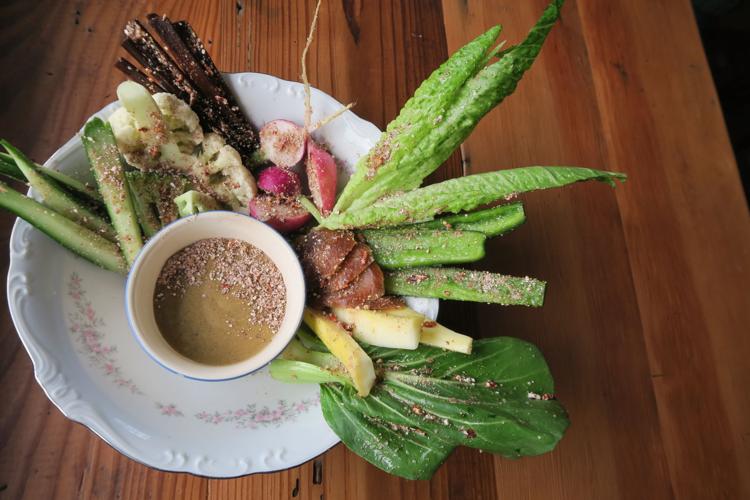 The fries ($8) are thick, with a fluffy interior under their crisp, tawny, salted shells, with a green peppercorn aioli for dipping (think creamy — but nondairy — sauce au poivre). These fries are a conversation piece, not an afterthought.
And then there's duck liver pate ($12), sheathed in a layer of pork belly, finished with tart cherries and bitter herbs and more of that bread.
The culinary vision driving Saint-Germain is ambitious, though the approach still feels unassuming, a pairing of serious food in a handmade, anytime-casual setting. Along St. Claude Avenue, where it seems like anything is on the table, it's an idea that feels well grounded.
3054 St. Claude Ave., 504-218-8729
Sun.-Thu., noon-midnight, Fri.-Sat. noon-2 a.m. 
In the ever-growing portfolio of New Orleans food events, we have a few broad types. The most familiar starts with a popular dish and invites …
What's a New Orleans diner supposed to think when presented with a restaurant inspired by hip-hop and skateboarding? How will that translate t…
Some essential ingredients for a road trip: good tunes, to peel back the miles; a phone charger, of course; and, if this road trip is in south…
The growing range of Latin American food in New Orleans now spans upscale modern restaurants and taco trucks and outdoor market finds. Another…