For many of us, this is the most wonderful time of the year. While spring sprung in New Orleans weeks ago, the rest of the country is finally shedding its wintry blanket just long enough to fit in a seven-month season of, to me at least, the greatest sport on Earth.
Many fans of baseball developed their love for the game when they played it as a child. That was not the case with me, a pudgy grade-schooler with a major fear of being beaned by what was probably a 15 mile-per-hour "fastball." No, my love of baseball is tied to my love of America's other favorite pastime: eating.
Staying on my Little League team meant guaranteed unlimited consumption of sunflower seeds and Big League Chew bubble gum, as well as post-game pizza outings. I associated baseball parks with food. Hot dogs, nachos and popcorn. Yes, please!
Even the game's anthem knows what's up: "Buy me some peanuts and Crackerjacks. I don't care if I never get back!" Never get back to where? Probably to a place where novelty ice cream sundaes aren't served out of your home team's miniature, plastic batting helmets. Who in their right mind would want to go back to a place like that?
But everything changes. Gone are the days when simple food items filled ballpark menus. Today, what feels like an edible arms race pushes teams to showcase a more diverse menu full of items that are both local and really freakin' bizarre.
I visited The Shrine on Airline, home of the New Orleans Baby Cakes, to see how our local squad's menu stacked up. It was Thirsty Thursday, so beer was just $2! (And, yeah yeah, I was excited to check out the team, too.)
I got some friends together and set out for Opening Day with one goal in mind: 9 dinners in 9 innings.
First Inning: Chicken-Fried Steak Strips
At a ballgame, it's tempting to start off with a staple like a hot dog, but with nine items to try, there was no time for staples. My buddy, Jeff, and I walked along the concourse past more than a dozen food vendors, getting the lay of the land and making our list of "must-eats."
"The gravy's really good," he said, as he used a steak strip to soak up the gravy, the kind you'd have with biscuits at breakfast.
"And it tastes really good with the fries, too," I added.
Jeff and I snacked thoughtfully as we gazed off onto the field where the Baby Cakes came to bat.
"It's going to be a long night," he said, "if we have to eat an order of french fries with all nine meals."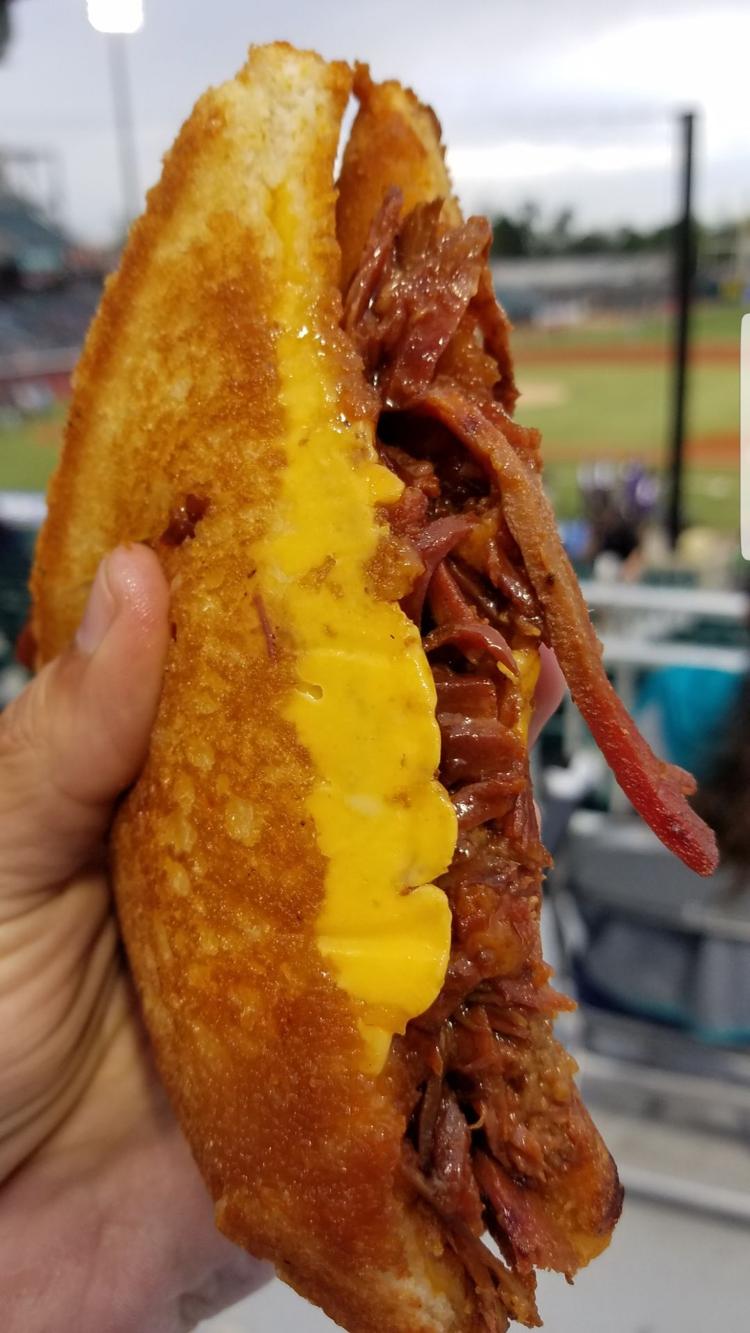 Second Inning: Brisket-Stuffed Grilled Cheese Sandwich
I know you think you know what this is. But you don't. You're thinking two slices of bread, American cheese and brisket, griddled in butter? Grow up.
The brisket is actually sandwiched between TWO grilled cheese sandwiches. So you're actually getting buttery-toast-cheese-buttery toast, brisket, buttery toast-cheese-buttery-toast.
"Sometimes you don't feel like you're getting your money's worth with ballpark food," Jeff said, chowing down. "But I would have paid double for this!"
Third Inning: Chicken and Waffle Nachos
None of us knew what we were getting with this one. The chicken was full, plump, fried strips. The nachos were waffles. And the sauce was plentiful — some combination of nacho cheese and sriracha.
I'm notorious for loving everything, so I was into it. But my friends were skeptical.
"Maybe add syrup to it for something sweet?" Caroline asked. Sure, I'd be into that, too.
Fourth Inning: Apple Pie Funnel Cake Fries
Caroline was right. It was time for something sweet.
"The fries are really good!" Aaron dug toward the bottom of the basket with the spoon we were given to get at what were actually strips of funnel cake. The 610 Stompers took the field between innings to entertain the crowd.
"It's a lot of apple compote, though," Amanda said.
I returned with forks and used mine to spear a few funnel fries and a single slice of apple. "Oh yeah, there it is!" I yelled at the fork I held in the air. "You're the key!"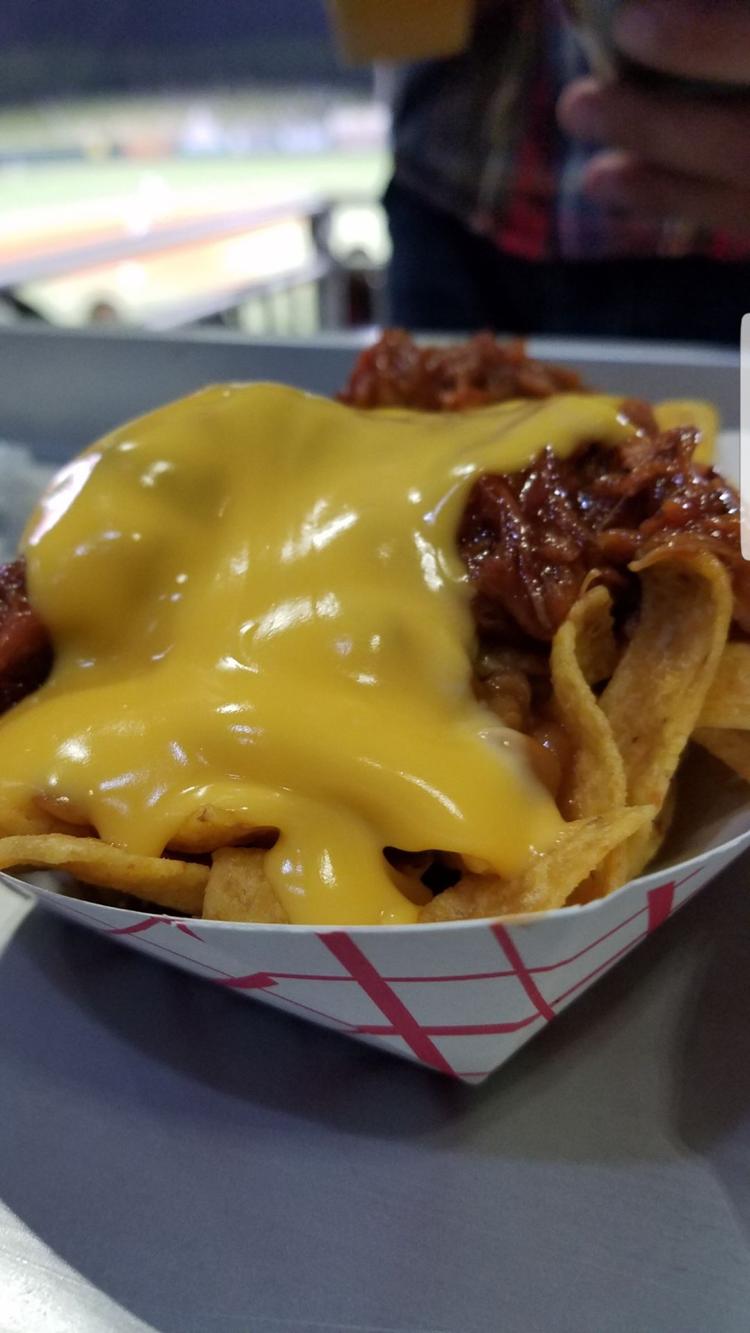 Fifth Inning: Barbecue Frito Pie
After a brief reprieve, it was back to salty. There's not much to dislike about Frito pie, except that this was now my fifth meal of the night. A salty bed of Fritos covered in a blanket of nacho cheese, the return of that juicy brisket from inning one, and a surprise layer of beans.
"It's got a spicy kick to it," Jeff said as he took a sip of his beer.
"And the brisket," said Aaron — who missed our earlier foray into brisket. "It's sweet. It's smoky. Nice balance."
"And the beans are sweet!" Amanda added.
The Baby Cakes were now trailing a miserable 0-8, but plotting meal six, we hardly noticed.
Sixth Inning: Baby Cakes Burger
"Deeeeeeeeeeeeyyyy yo!" the speakers blasted across the park.
"Deeeeeeeeyyyyyyyy yo!" the crowd thundered back, hoping to rally the team.
The sixth inning was big for everyone, us included. It was time for the Shrine on Airline's big show: a cheeseburger with bacon-jam spread stuffed between two king cake-inspired buns. There's also sweet cream cheese hidden in there somewhere, but I don't know where.
Regardless of how that all sounds, you've got to eat it. You have no choice. It's weird, but the sweet cream cheese and the salty bacon burger make for something in the realm of refreshing.
Most importantly, as Aaron said: "Extremely Instagramable."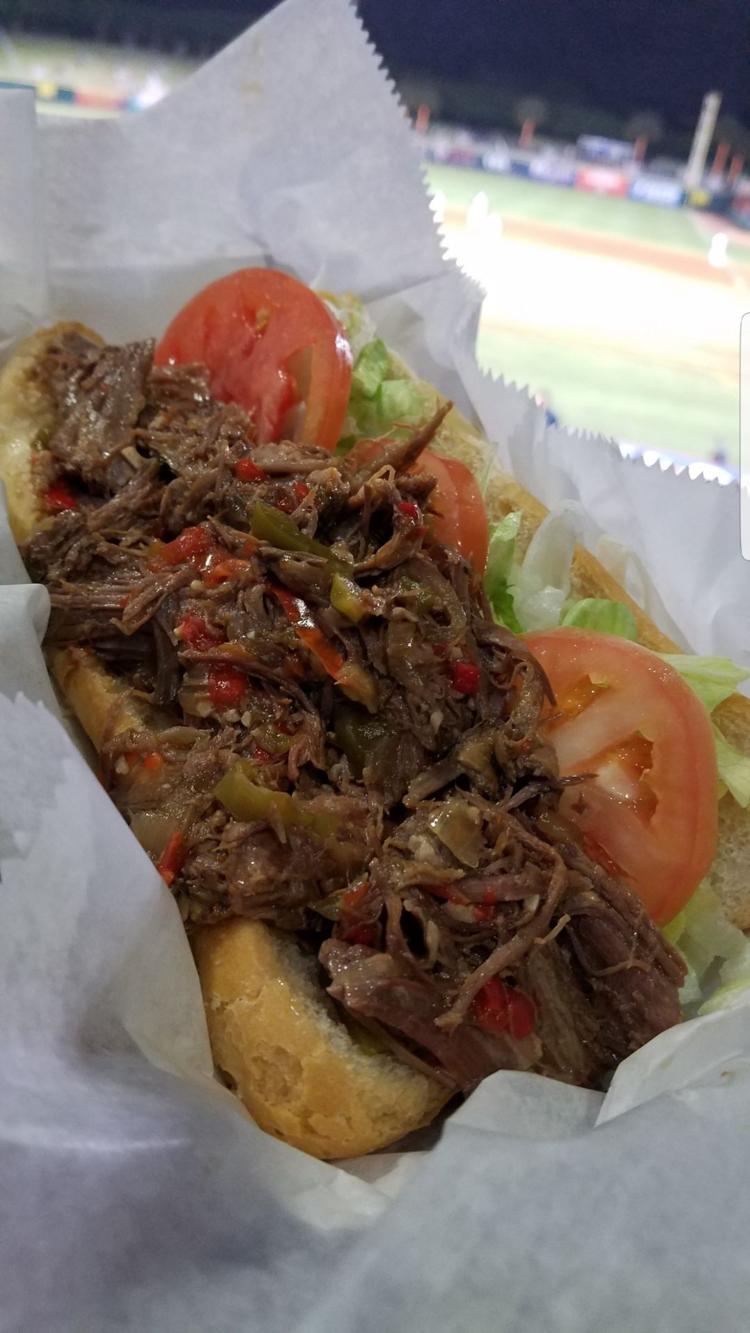 Seventh Inning: Roast Beef Po-boy
"I can't eat anything else salty," I whined as I devoured the last bite of inning six. Five minutes later, I returned with the roast beef po-boy.
This isn't your grandma's roast beef po-boy, smothered in gravy, though. This one was a cross between a po-boy and a Philly cheesesteak — dressed traditionally but covered in tangy onion and pepper relish.
Jeff insisted the stuffed grilled cheese was his favorite, but this might have taken the (baby) cake for me.
Eighth Inning: Dippin' Dots
Amanda was asserting her desire for an alligator sausage po-boy so I went to grab one, only to be informed they had run out. I used this as my chance to satisfy my sweet tooth, picking up some cookies and cream-flavored Dippin' Dots — the ice cream of the future since 1988.
We each thought we hated Dippin' Dots, but as it turns out we remembered incorrectly. The tiny orbs resist melting and, once you put them in your mouth, feel and taste like ice cream. Mercifully sweet.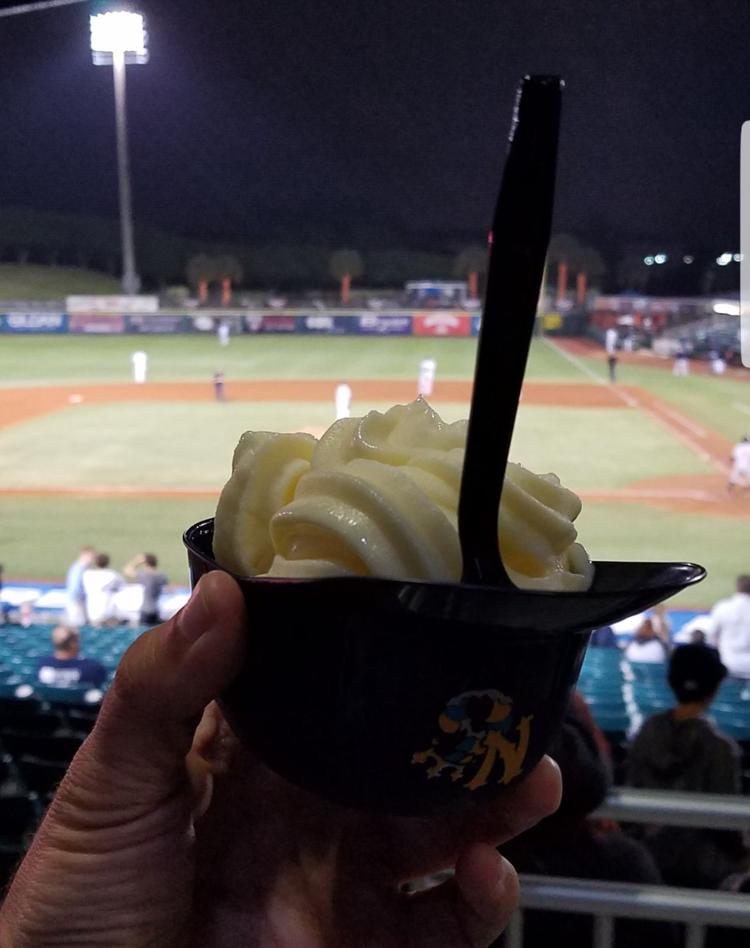 Ninth Inning: Novelty Ice Cream in a Hat
The Baby Cakes comeback hopes were nearly dead, now down 0-11. But we could still win. Nine meals in nine innings was within our reach.
I didn't realize most food vendors closed before the game ended, so my options were limited. I ran through the concourse, searching for any vendors that might still be open. I found a woman tending to a machine that serves ice cream (of the past).
"We turned off the machine," she said. "It's probably melted."
"I truly don't care," I said. "I'll pay double."
It was a tough defeat for the Baby Cakes, but don't worry, there are still many, many more home games this season. With more than 30 food options, you'll find no shortage of choices: the weird, the ballpark staple, the global-trotting exotic, the local favorite. It's all here.
The team has home games scheduled through August, and you can check out the full season schedule at cakesbaseball.com. Swing by the Shrine on Airline, and save room for dinner. Or nine of them.
Matt Haines is a New Orleans writer. Follow him at matthaineswrites.com.
The late Peter Mayer loved to smoke a cigar on the CBD sidewalk outside the advertising agency that bears his name. He was fond of the Commerc…
Plenty of vegan recipes aim to replicate traditional comfort food. That's the specialty at Sweet Soulfood too.
For nearly 100 years, the Morning Call Coffee Stand and Cafe du Monde were direct competitors for the coffee and doughnut business in the Fren…