The New Orleans sushi circuit has seen some changes lately, as longtime favorites have departed (Horinoya, Kyoto) and high profiler players have expanded (Rock-n-Sake) or entered the market (Tsunami).
To take stock, I've been scouting new places, revisiting old reliables and tracking down recommendations from fellow local sushi lovers. This week, I'm rolling out my current top picks, notable additions in different categories and other highlights from all this raw research.
I call it the Sushi Shuffles, and today I'm sharing this report on a different sort of sushi experience: the pop-up omakase.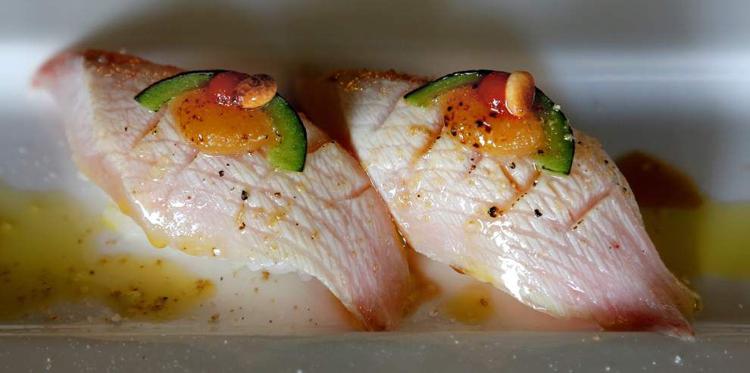 Ohm-Ma-Kaz-E
When chef Kazuyuki "Kaz" Ishikawa worked at Shogun, his regulars knew his schedule, planned their dinners to coordinate with it and would rather wait for a seat at his section of the sushi bar than immediately sit at an open spot just down the bar.
That's because, alongside the regular menu, Kaz served his own distinct style of sushi. It mixed the Tokyo native's traditional Japanese culinary upbringing with a more contemporary style he learned while working in California.  
Nowadays, Kaz is working freelance and some of the same regulars now book their dinners direct.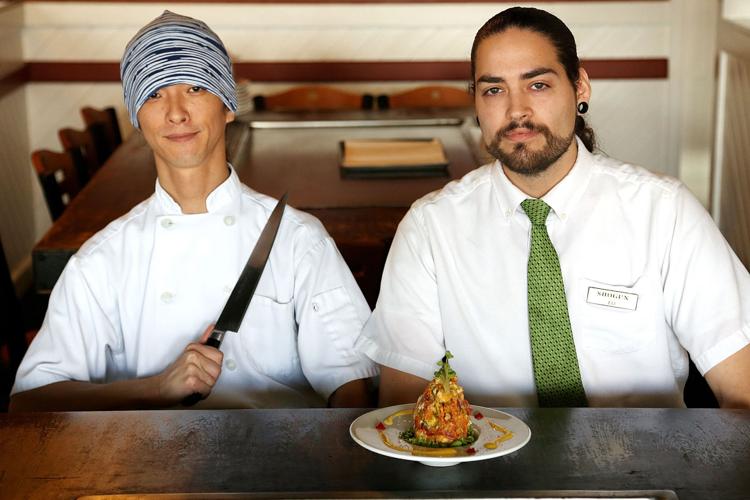 Since leaving Shogun, Kaz and his business partner Eli Ramos (a former Shogun waiter) host their own pop-up dinners and private events for sushi served omakase style. From the Japanese for "to entrust," omakase puts the diner in the chef's hands for a multi-course tasting menu.
The pop-up dinners are held monthly at Ohm Lounge, an Asian-themed nightspot built into downtown's Barcadia tavern and game room. They're called, of course, Ohm-Ma-Kaz-E.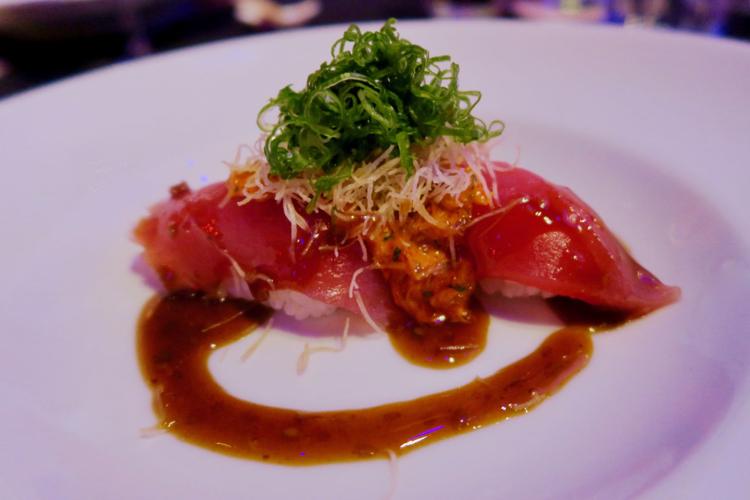 The edition I attended earlier this summer showed the style I'd gotten to know during Kaz's stint at Shogun, though now it unfolded more like a private dinner. The chef turned the elevated DJ station into his prep kitchen, while diners shared long tables set across the dance floor. Sake and wine paired to the menu flowed from the bar. 
The dinner started with ceviche and ran through five types of sushi, each set off with a different sauce, oil or marinade that accentuated the flavor of the fish and turned each cut into a compelling new taste. Cured red snapper enveloped a ball of rice like a dumpling, creamy sesame sauce and black caviar escorted albacore, and on it went through salmon, yellowtail and tuna.
Ramos said he and Kaz eventually hope to develop their own restaurant. For now though, they're fielding pop-ups and private events. The next Ohm-Ma-Kaz-E dinners are Sept. 21 and 22 at Ohm Lounge. For details and upcoming events, see the Facebook page for K & E NOLA.
The Sushi Shuffles series continues this week with more picks, finds and reports from the New Orleans sushi circuit.
The New Orleans sushi circuit has seen some changes lately, as longtime favorites have depar…
The menu at Banana Blossom (2112 Belle Chasse Hwy., Gretna, 504-392-7530) starts with fine-t…
What does $5 get you these days? At Kin, a consistently unconventional New Orleans eatery, t…