A new brewery builds a reputation one beer at a time. At the latest brewery to emerge in New Orleans, you might want to drink two as you consider its particular appeal. If it's a really hot day, maybe make that three.
Port Orleans Brewing Co. opened last week, converting an old Tchoupitoulas Street warehouse into a gleaming new production facility with a tasting room trimmed in brick and dark wood, a covered patio and a separate eatery under the same roof with a menu synced for beer pairings.
While it will produce a wide range of beers, the first flagship brews flowing at Port Orleans are pitched as "session beers," or a type of beer that's quaffable enough to down a few in a single drinking session. The brand's Riverfront lager, Storyville IPA and Slack Water brown ale are all easy drinkers with moderate alcohol levels (5 percent to 6 percent, depending on the beer), as opposed to the hearty, often potent specialty beers that have proliferated as craft brewing has boomed.
"They're 3-pint beers," said Brian Allen, head brewer for Port Orleans Brewing Co. "It's the climate here, the lifestyle. If someone's going to have a beer, they're going to have a few. These are beers you can do that with."
Room to flow
Allen and his crew are prepared to slake a lot of thirst. Port Orleans is a big addition to the city's nascent craft beer scene, and it has some big players behind it.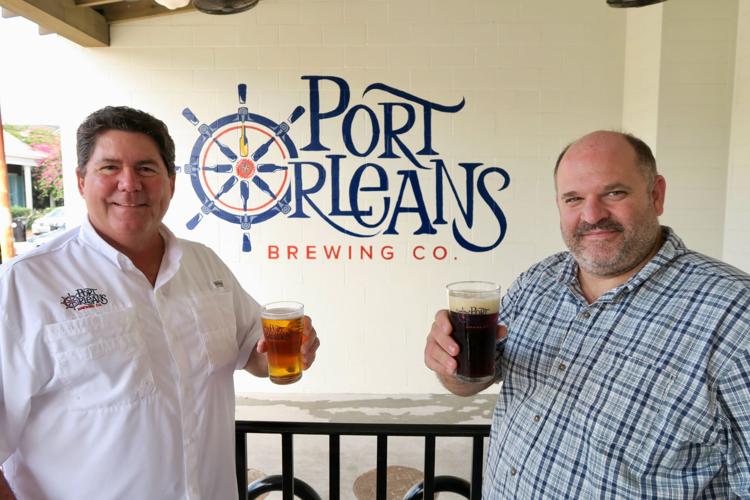 The brewery hits the market with the production capacity that many other local beer brands have spent years building up to. The Tchoupitoulas Street facility can produce roughly 24,000 kegs a year, and it already has the room and roughed-in infrastructure ready to grow from there.
The new brewery was developed by a group of partners with deep roots in New Orleans. That includes Richard Thomas, who is president of Blue Runner Foods, maker of the Louisiana kitchen staple Blue Runner red beans.
Thomas looked to the example of other cities where craft brewing is surging and saw a promising business opportunity. He looked closer to home for motivation to make the idea of a new brewery a reality.
"People take pride in brands in Louisiana more than anywhere. We see this with Blue Runner. I saw the craft brewing industry taking off in other cities and thought there's no reason why we shouldn't have more here," Thomas said. "It was really important for me and all of our partners to be in the city of New Orleans. There's no better city for food, and it should be the same way here with beer."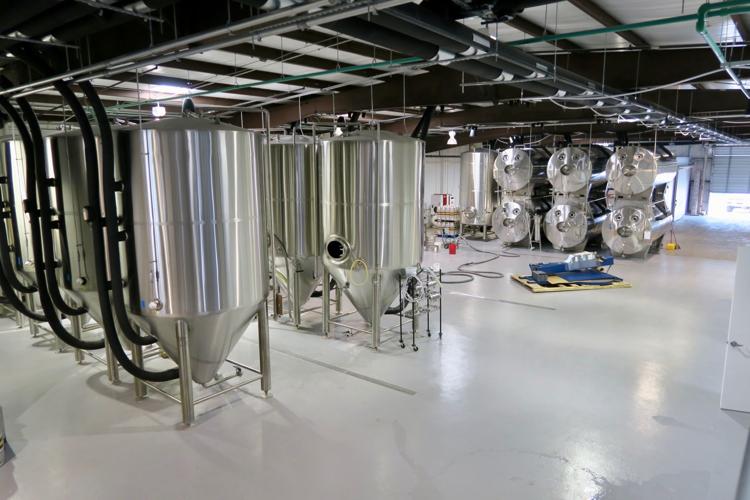 Thomas and his partners in Port Orleans have been friends and business collaborators for years, and they're joined by one considerably younger compatriot in the new venture: Zach Strief, offensive tackle for the New Orleans Saints.
Pairings on tap
Port Orleans shares its roof with the eatery Stokehold. While the brewery and the restaurant are separate businesses, they function in concert.
Stokehold, named for the furnace chamber on a ship, occupies a snug corner of the brewery and resembles a walk-up tavern kitchen. Its menu goes well beyond typical bar food and is, in fact, conceived specifically as beer food. Dishes are created to pair with individual brews flowing from the Port Orleans taps. That's one reason Allen and others at Port Orleans refer to the brewery taproom as "the tasting room."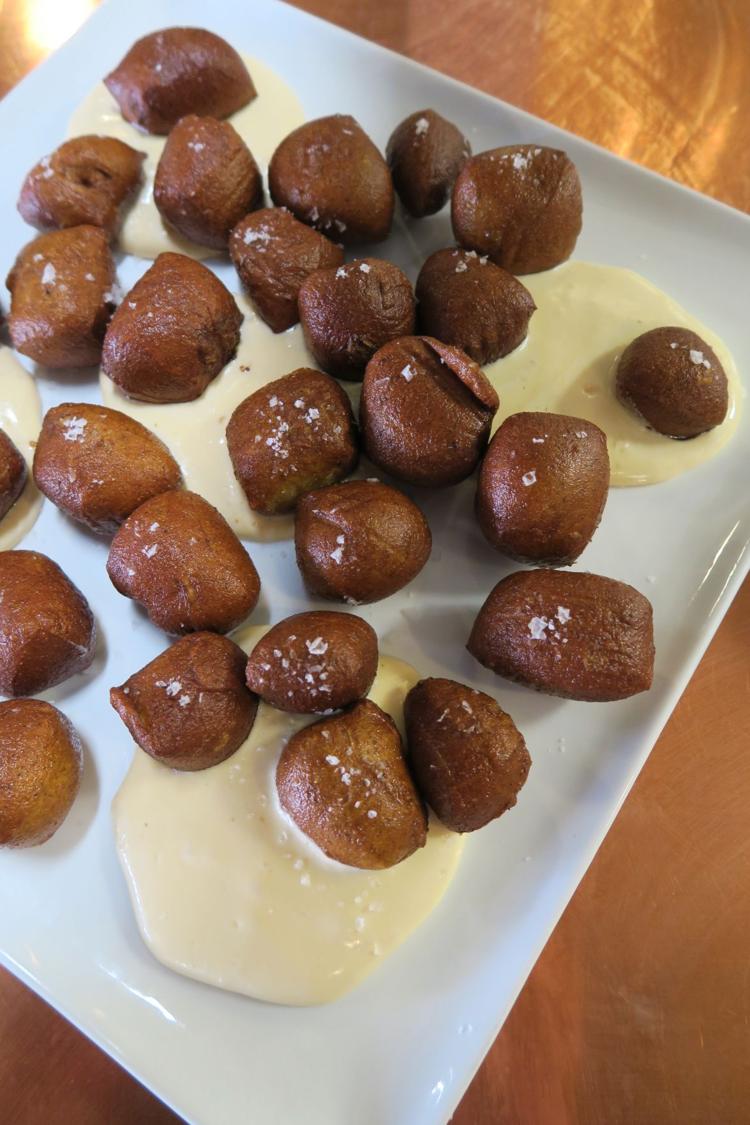 Stokehold is run by a trio of three chefs: Jeremy Wolgamott, previously executive chef at High Hat Café; Phillip Mariano, who was chef de cuisine at Domenica and the first executive chef at Josephine Estelle; and Tim Bordes, a chef who later moved into supplying local foods to area restaurants through Chappapeela Farm.
"We're going beer first on this," said Wolgamott. "We taste the beer and build a dish around it, so each beer has a dish you should have with it."
On the opening menu, there's chicken curry and roast beef tartare (like a seared beef tataki), patty melts, fish and chips finished with Vietnamese fish sauce, goulash nachos ("goulachos") and boquerones with grilled bread.
Their pretzel rolls start with spent grain from the brewing process, and they end up like dark, soft, puffy beignets, sprinkled with salt and finished with a sharp cheddar sauce with the texture of whipped cream.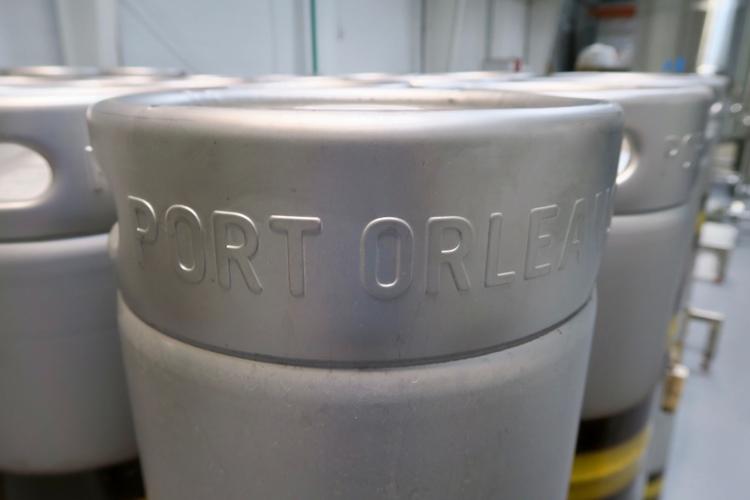 While the new brewery is launching with its lager, IPA and brown ale in the forefront, Port Orleans has other beers in rotation at the tasting room, including a "TPA," for tea pale ale, which is made with Earl Grey tea and has a dry, food-friendly flavor. As more beers make it to the taps, the Stokehold chefs will have more fodder for future dishes.
Port Orleans beer is now being distributed by keg to local bars and restaurants, with canned beers to follow this summer.
4124 Tchoupitoulas St., 504-266-2332
Tasting room hours: 11 a.m.-till Wednesday-Monday, 
Restaurant hours for Stokehold are the same as the tasting room.
The whoosh and clang of streetcars isn't the only new sound along North Rampart Street these days.
It's not hard to find a drink in New Orleans. But getting a beer straight from the source at…