The Metairie eatery That's Amore has always been a neutral ground for pizza styles not normally seen together. It serves both Chicago deep dish and thin-crusted New York style pies under the same roof, and on the same table if your appetite can handle it.
That's Amore now has a second location in New Orleans, and here it has added wood-fired, Neapolitan-style pizza to the equation.
"The idea is always the great debate, which is better," said Darren Kennedy, co-owner of That's Amore along with his wife Debbie Kennedy. "In Metairie, it's Chicago or New York, with our new place it's Chicago or wood-fired pizza."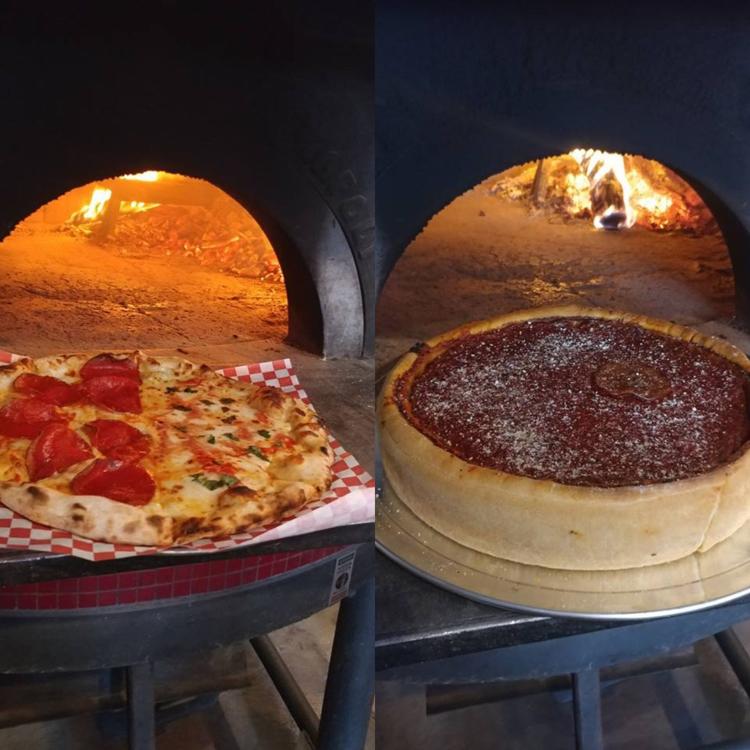 The menu change for the new location was dictated by some distinctive equipment That's Amore inherited here. The Kennedys took over the former home of Dolce Vita Wood Fired Pizzeria, at 1205 St. Charles Ave., where a dome-shaped oven covered in red tile remains the centerpiece of the open kitchen.
This oven produces a modestly-sized, 12-inch pie with a thin, bubble-pocked crust. Meanwhile, a convection oven in the back kitchen turns out the Chicago pizzas. These are layered pies that follow the stuffed pizza style, with a thick outer ridge like a pie crust, a thinner bottom crust and a second layer of dough between the cheese and the chunky tomato sauce applied on top. They're prepared in different sizes in round and rectangular pans.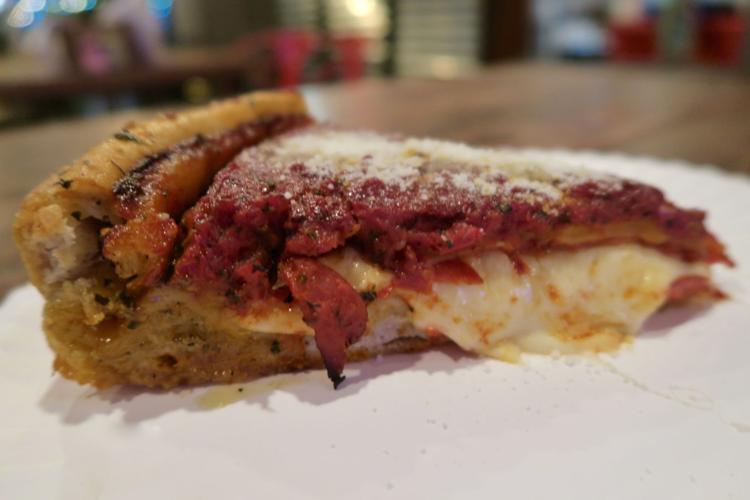 It's an imposing pizza that stands about two inches tall and can resemble a lasagna or a pizza potpie, and it offers a stark difference from the pliant, foldable slices from the wood-fired oven or the classic New York style. In Metairie, That's Amore makes its New York style pies in sizes from a single-serve 10-inch pie to a huge, table-covering 24-inch pie.
That's Amore originally opened in 2008 in a different part of Metairie, combining Chicago and New York style pizzas. The Kennedys bought the business three years ago. Darren's family once owned Liuzza's Restaurant & Bar, a classic Creole-Italian eatery in Mid-City. There's a hint of that connection on the That's Amore menu, which he has expanded to include fried and grilled seafood dishes, po-boys and Italian sandwiches. Eventually, the menu at the New Orleans location will add some of these dishes, too.
Dolce Vita got its start as a food truck in Baton Rouge, where founder Bogdan Mocanu prepared pizza on a trailer-mounted wood-fired oven. He moved to New Orleans and set up shop on St. Charles Avenue in 2013, though he later left the business.
The wood-burning oven at the Uptown eatery Pizza Domenica turns out Neapolitan-style pies th…
New Orleans has seen more pizzerias for both wood-fired and New York style pies emerge. Deep dish has been a more rare regional specialty to find here. Midway Pizza serves a thick-crust, pan-style pizza, though it differs from the That's Amore version. 
At That's Amore, the deep dish style takes longer to prepare – about 45 minutes. Kennedy said his regulars in Metairie have learned to call in orders well in advance. Some double down, ordering a thin-crusted pizza to eat while the deep dish cooks, and then comparing the two at the table. The Chicago style has been catching on.
"We were about 75 percent New York, 25 percent Chicago when we first bought the business, now it's more like 55 (percent) to 45 (percent)," Kennedy said.
This new That's Amore has kept Mardi Gras hours synced to the parade schedule. Beginning Wednesday, March 1, it will serve dinner daily and lunch Saturday and Sunday. Kennedy plans to add weekday lunch hours soon.
4441 West Metairie Ave., 504-454-5885
1205 St. Charles Ave., 504-324-7674
One of the wonders of Carnival time in New Orleans is its ability to transform. Your normal …
Carnival can feel like a dance between the familiar and new. We go to the same parades each …
The mansion at the corner of Prytania Street and Jackson Avenue is flanked by white columns,…