Somewhere near the entrance to the Magnolia Discount in Gert Town, a whiff from the gas pumps and a waft of just-fried chicken from the kitchen commingle in the air.
It isn't exactly the kind of sensory cue to summon warm, idealized food memories. But for a particular need, and even at a specific time of year, it's a sign that you're at the right place.
At this location of Magnolia Discount, a gas station and food mart at South Carrollton Avenue and Olive Street, the windows now show drawings of Mardi Gras beads and Zulu coconuts between the neon beer ads. Another sign of the season is simply the volume of chicken going out the door.
"There's just so much chicken during Mardi Gras," said proprietor Zahran Bazzar. "It's locals, it's people from out of town driving in for the parades. Everyone stops for chicken."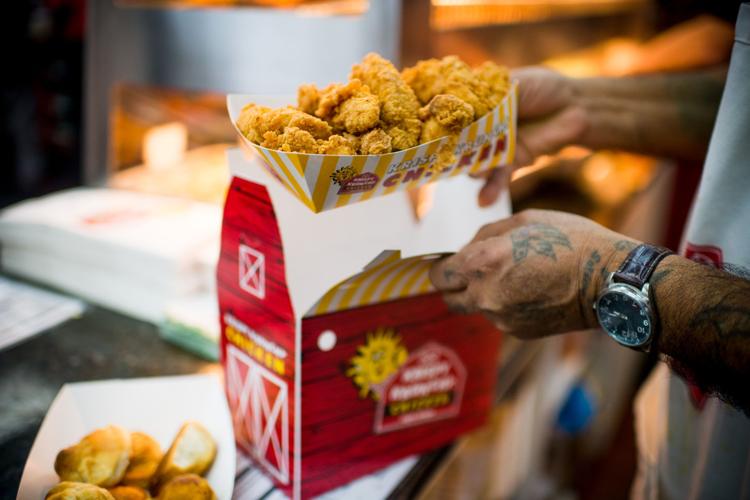 His store serves Krispy Krunchy Chicken, a growing, Louisiana-based brand that supplies gas station and convenience store chicken counters across the country. Within New Orleans, it is part of a vast and varied network of fried chicken purveyors that go into overdrive as Carnival season revs up.
In this season of parades and feasting, family gatherings and party hopping, fried chicken fits the bill. It's quick to procure, easy to serve from the box, durable enough to survive a parade route, portable for travel across town, and abundant and affordable for sharing with whoever turns up.
That means fryers are raging to meet demand, from outlets of national chicken brands to mom-and-pop joints, wing shops, delis and big groceries.
Gas station fried chicken occupies its own niche. It's one that has diversified lately with a mix of independent operators, local chains and the steady march of Krispy Krunchy Chicken, which has over 2,200 outlets around the world and nearly 40 in the New Orleans area alone.
All gas station fried chicken is quick and inexpensive. But it is not all created equal. In fact, you can eat a lot of bad gas station chicken…
Not long ago, the gas station chicken business was largely about baiting the impulse buy, getting someone to grab a two-piece tray on the way to the register. A more recent shift sees people planning larger orders in advance, essentially using the gas station down the street as walk-up catering services.
Bazzar at Magnolia Discount said when Mardi Gras parades start rolling, the phone is ringing with those big orders for 25 pieces and up.
Fueling up
Louisiana has a track record for legit food from gas stations. You don't have to spend much time traveling around Cajun country, for instance, before learning that gas station butcher shops produce some of the best boudin around (and boudin balls, and boudin egg rolls, and boudin everything).
Gas station chicken is not your mama's skillet fried chicken, and the kitchens that supply it are unlikely to win culinary awards or wind up on those best-of roundups that populate the internet. But when you actually ask New Orleans people for their favorite fried chicken, particular gas stations often percolate to the top.
The curb appeal of gas pumps and flood lights might be low, but the value proposition is high (at most such outlets, an eight-piece mixed box still runs around $10 or less). Enter the peculiarities of Mardi Gras, and this humble chicken can become heroic.
It keeps people moving, or at least upright. The gas station locations tend to be en route to wherever you're going, and when you need other essentials — like ice, beer and ibuprofen —they are a one-stop shop.
But while the appeal is broad, gas station fried chicken is hardly uniform. Quality and value vary widely across the spectrum of purveyors. Some versions have a peppery bite, others are more mellow. Some keep a crackly-crisp texture even when cold, while others lose their edge quickly. Some are speckled with spice, others have seasoning sluiced throughout (see New Orleans recommendations below).
Even when it's sold under the same brand name, gas station chicken can vary markedly by location, and that's true for Krispy Krunchy Chicken in and around New Orleans.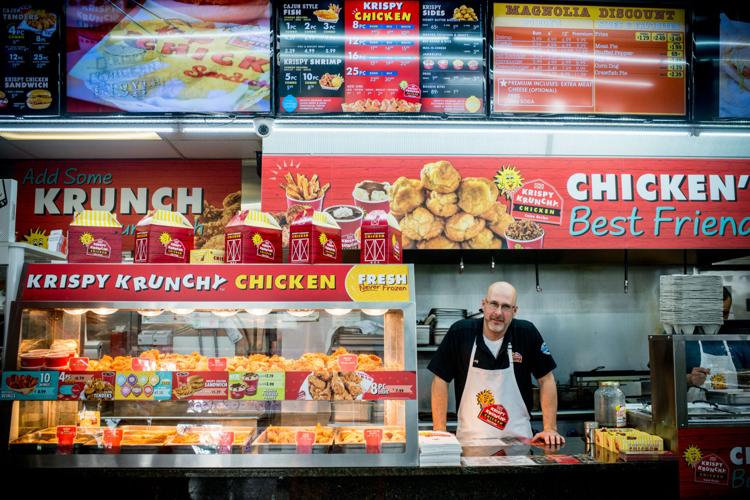 Allison Shapiro, director of communications and technology for Krispy Krunchy Chicken, said the Alexandria-based company long ago learned that even with the same recipes and training programs in place, the cook still has the final say in how the chicken ends up. And locally, it turns out, the cooks have plenty to say.
"Everywhere else, our operators go by the book, but not in Louisiana," Shapiro said. "They all have their own way of cooking chicken here."
Krispy Krunchy keeps standards of quality and performance for its operators, and it will pull its brand out of stores that don't meet them. But the company, which got its start in Lafayette, also leaves some room for regional interpretation.
"Everyone wants to put their own spin on it in Louisiana, it's that love they give it," Shapiro said. "We're also from here, so we understand how it goes."
Fried chicken is one compulsive craving and a Carnival time staple. It doesn't have just one answer. Across this bird-frying city there is a g…
All gas station fried chicken is quick and inexpensive. But it is not all created equal. In fact, you can eat a lot of bad gas station chicken…
Carnival can feel like a dance between the familiar and new. We go to the same parades each year, invade the same friends' homes, and we might…
One of the wonders of Carnival time in New Orleans is its ability to transform. Your normal neighbors can become temporary monarchs, if only o…