Inside the Mercedes-Benz Superdome, a steady din turned into a full-throated roar as the excitement of tens of thousands of Who Dats echoed against concrete and steel. A familiar rendition of "When the Saints Go Marching In" gave way to the driving drums and piercing brass of the Ying Yang Twins' anthem.
It was only preseason, but I peeked over to see attendants and fans dancing to the twins' oft-repeated plea to "stand up and get crunk."
But I wasn't in the stands. I was on a mission. And my mission, unlike the Saints', had nothing to do with football.
The hero you've been waiting for
We live in one of the top food cities in the world. But the Superdome isn't really known for its trendsetting culinary repertoire.
In fact, many fans said something along the lines of, "Oh, no, I don't usually eat here." Stadium nachos, hot dogs, burgers and peanuts don't typically whip up a frenzy.
There are 100-plus food vendors in the Dome. What if that stereotype is wrong?
In line to pass through the metal detector, I overheard two 20-somethings arguing about a recent Shania Twain concert.
I told them about my mission and asked if they had opinions on what I should eat. One of them, Cassie Roland, was emphatic: "I get the lemonade every time."
"Just a lemonade?" I asked.
"Well," she lowered her voice like she was letting me in on a secret, "you gotta get it ripped."
"What's ripped?" I asked.
Now she looked disappointed at me. "Booze! But you can barely taste it!"
I jotted that in my notebook. "And do you eat anything with it?"
"Sometimes I'll get the jambalaya," she said, making her way through the metal detector. "Comes with sausage and chicken! Best food in the Dome."
I wrote that down, too, and headed inside.
Game 1: The mostly bad
Overall, Game 1 was a struggle. I had an extra ticket, so I brought my friend, Emily, to help with the eating. Her enthusiasm made her perfect for the task at hand, but I forgot she doesn't eat meat, which, well, made her less than perfect for the task at hand.
Monica, the woman who scanned our tickets, insisted we should start our adventure on the first level. "It's better than what they get in the suites," she assured me.
"Oh yeah?" I was excited. "What should I get?"
"No, I never eat here," she shook her head. "But I heard it's good!"
I looked for food Emily and I could share. I'd heard there were seafood nachos, but we could only find the ultimate nachos. So I got them, leaving poor Emily to watch me eat them alone.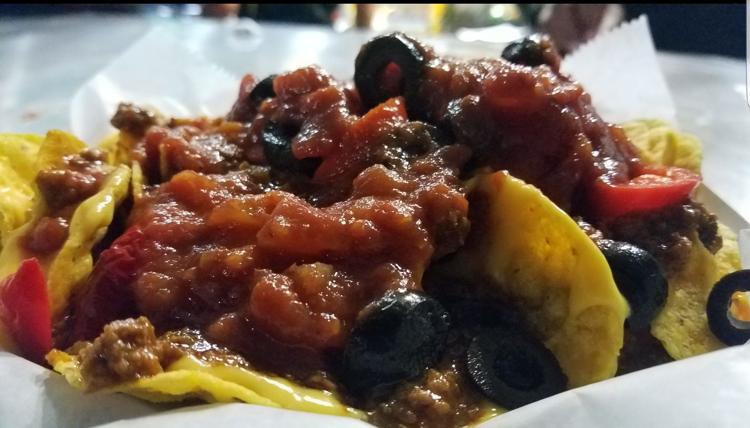 They were better than I expected for stadium nachos. Toppings were layered so there was as much cheese, olives, peppers and chili on the last chips (which were maybe a little soggy after sitting in all that topping) as there were on the first. They were also massive, which is great for you, but wasn't for me, considering I was trying to eat ... everything in the Superdome.
I headed over to the next food stand I saw and read the menu: The Root Beer Chicken Waffle Cone.
If your reaction to those six words was "What in the world?!" then you and I have something in common. It was also my reaction when they were handed to me.
The RBCWC consists of cubes of chicken in a waffle cone plus a sea of root beer/barbecue gravy and sour cream. It wasn't my favorite, though they also had a nacho variety of the dish (so many nachos!), and it's possible having a more accessible carb to pair with each bite of root beer chicken would have helped.
But now I was in trouble. I was full and hadn't found anything I could stand behind as a "best dish."
Can't see video below? Click here.
I got a crawfish pie so Emily could finally eat something. Our verdict: It's easy to eat on the go, but needs more seasoning and is understuffed compared to festival versions.
Then we went to the beer booth. My friend, Colin, advised me, "Get the craft beer over the cheap beer. Both come as tall boys, and the good stuff is only a couple of dollars more."
Next, it was on to Geaux Nuts, where they give free samples; and the praline-covered brownie was sizable and tasty, though not as fudgy as I would have liked.
But, sometimes if you keep trying, you have a breakthrough. At the start of the fourth quarter, I found a grilled cheese stand way up on Level 5/6, manned by hard-working Tammy Jackson.
"Besides the grilled cheese, what's the best food in the Dome?" I asked.
"Besides the grilled cheese?" Jackson didn't seem happy with that parameter. "The jambalaya and the prime rib po-boy are good. But you can't pretend to know the best food in the Dome if you don't eat my brisket double-decker grilled cheese."
She was right. Grilled cheese sandwich, then sweet, juicy brisket, then another grilled cheese sandwich. Tons of cheese, tons of brisket, and crisp, buttery bread holding it all in place.
Tammy Jackson saved the day. For me, at least. Emily never did find her seafood nachos. 
Game 2: The mostly good
Two weeks later, I was back at it. I didn't eat all day. Most importantly I brought my friend, Jeff, the only person I know who might be able to eat as much as I can.
Because the world is a cruel, cruel place, the first thing we stumbled upon was (sorry, Emily) the seafood nachos. Like their "ultimate" counterpart, these were well layered, with cheese, as well as heaps of crawfish and shrimp. The seasoning was great, and there was plenty of it.
Next up was the Philly cheesesteak — fresh bread, well-stuffed with juicy steak. You can add Cheese Whiz and onions, and in my opinion, that's a must.
The eating continued. We got the much-recommended jambalaya — very good, if a little dry. At the same booth, they also had the alligator po-boy, which has great spice and a sweet bun that is strong enough to hold anything at the topping bar, and the Louisiana Cajun pasta — huge portion with a delicious, butter-garlic alfredo sauce. "I'm not sure why it's called 'Louisiana Cajun pasta,'" said Jeff, "but it's really good."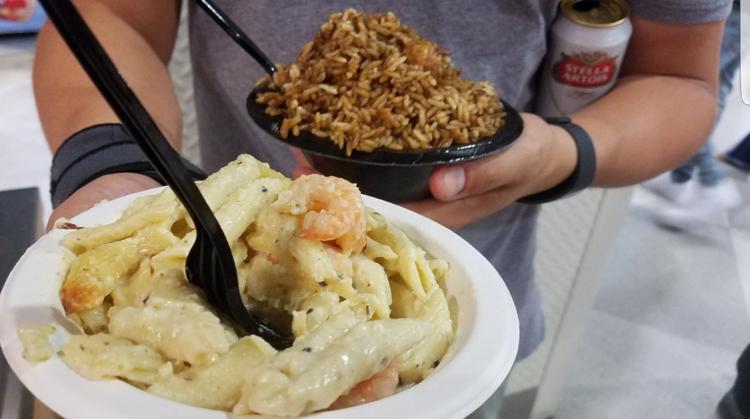 We weren't done yet. The "ripped" strawberry-watermelon lemonade was sweet and you couldn't taste the booze, just like Cassie Roland said, and the sangria was refreshing. We followed that with funnel cake fries, topped with chocolate, warm and crispy on the outside and soft on the inside; and Dippin' Dots (this seemed like a more reasonable use of a waffle cone than, say, root beer chicken).
Apparently, there was a football game going on, so we checked out 10 minutes of that before heading to the last spot on my list: Level 2's Poydras Street Paninis, home of the famed $19 oven-toasted prime rib sandwich.  
The booth also offers Italian, Cuban and Reuben sandwiches, $13 each. But I knew that I couldn't write this article without trying the $19 special. 
And the winner is ...
I can't tell you who's going to be the NFL MVP this year, or who's going to run for the most yards. But I can give you a well-researched opinion on the best food in the Superdome.
The People's Choice Award has to go to the jambalaya. Big chunks of sausage, well-seasoned rice and some chicken, too. If you could buy football jerseys with the names of food on the back, jambalaya would be this season's Drew Brees.
But here are my Top 3.
In third place: the Philly cheesesteak sandwich. A big ol' sandwich, filled with juicy steak and Cheese Whiz? Yes, please!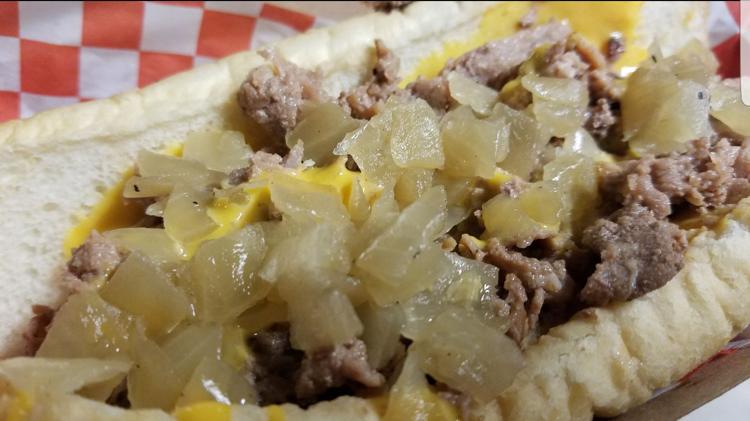 Our runner-up is an even bigger sandwich — actually three sandwiches in one: the brisket double-decker grilled cheese.  
And our winner? I'm usually a sandwich man, but today, I'm all pasta. That Louisiana Cajun pasta with the buttery, garlicky alfredo sauce — it's worth the season tickets alone.
Do you think I'm wrong? I'm sure some of you do. Let me hear about it in the comments. What great Superdome food did I miss? Let the debate continue! 
Early on Saints game day, Landon Lott unfurls a fleur-de-lis banner by the door to his Irish Channel house. It's a signal to his neighbors tha…
Football is back. School is well underway (until it gets called off again for weather). Fall is so close you can almost see it.
Archie Manning was the beloved quarterback for the New Orleans Saints in an era when the team itself was not easy to love. He never played on …