After 12 years, what's a few more weeks? For chefs Mary and Greg Sonnier, they added up to a final bump along the home stretch of bringing back their restaurant, Gabrielle.
But Gabrielle is finally slated to open Wednesday, Sept. 27, at a new location and in a new incarnation.
The restaurant, now at 2441 Orleans Ave. in the 6th Ward, has a midrange menu (see below) anchored by dishes that made Gabrielle a standout of pre-Katrina New Orleans.
The Sonnier family had been aiming to open the new Gabrielle, at least in some capacity, on the Aug. 29 anniversary of the storm that closed the original.
Those plans were pushed back by the now-infamous Aug. 5 flood, when an intense downpour and a laggard city response saw water rise dramatically in some parts of the city. That included the old corner market that they'd been turning in to the new Gabrielle, and some of the renovations already completed by then had to be redone.
It was another turn on what's been a long and winding road back for this restaurant.
First opened in 1992 near City Park, Gabrielle was part of a new garde of upscale/casual dining in New Orleans that gave Louisiana flavors fresh vigor. For those who remember it, the name Gabrielle alone can still pack a wallop of food memories, running through the roasted duck with orange-sherry sauce, BBQ shrimp pie, oysters Gabie (baked with pancetta and artichoke) and the Peppermint Patti dessert.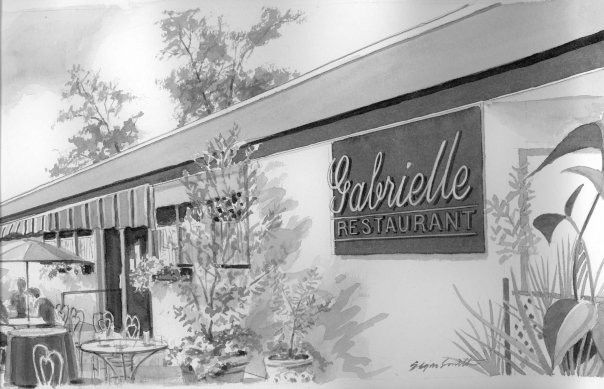 After Katrina, the Sonniers tried to reopen Gabrielle in a one-time events hall Uptown, but that plan was stymied by red tape and neighborhood politics. Still, the familiar Gabrielle flavors turned up around town in different formats through the years, keeping its name and flavors in circulation. The Sonniers' friends and the chefs themselves staged different dinners, sometimes dubbed "Gabrielle in purgatory." In later years, Greg Sonnier brought some of his specialties to other restaurants where he worked, namely the Grill Room and Kingfish.
The new Gabrielle finally gives the chefs a home of their own again. It is, of course, opening on different terms from the original.
All these years later, the city's dining scene is more diverse, crowded and competitive. And while Gabrielle's new neighborhood is home to the stalwarts Dooky Chase's and Willie Mae's Scotch House, there's no question that the Sonniers are staking out new territory for upscale-casual dining here.
Still, with the longevity of food memories and restaurant loyalties in this town, there's also no doubt they'll see some familiar faces when Gabrielle's doors open.
2441 Orleans Ave., (504) 603-2344
Dinner Tuesday through Saturday (lunch hours to come)
Click the PDF below to see the full opening menu.
Can't see the menu below? Click here.
When I first moved to New Orleans, back in 1999, I was amazed by how often people talked abo…
There's gumbo in the pot whenever the Tremé restaurant Li'l Dizzy's Café is open, and that i…
A good gumbo can give you different tastes from one spoonful to the next. That's been the ca…