Fried chicken gets people fired up, and so did the news that New Orleans would have a new festival devoted to it.
The Fried Chicken Festival debuts Sunday downtown in Lafayette Square. Admission is free, local bands and DJs take the stage, nearly 30 vendors will be spread around the park and judges will dish out best-in-show awards. That much sticks to a format shared by many of the festivals crowding the New Orleans calendar. But there's no missing that this one struck a special chord.
The early response far outstripped what the Fried Chicken Festival organizers anticipated, including the interest from restaurants. Some taking part Sunday are renowned for their fried chicken. But the idea also attracted restaurants not known for the dish, and it has drawn others that have never before participated in a festival.
Ask them why, and you're likely to hear that "there's just something about fried chicken."
Indeed, there is. I spent some time eating fried chicken and talking fried chicken with vendors who will be on hand this weekend. And between the crunchy skin and the juicy meat, some common themes behind the fried chicken fascination emerged.
One: The appeal of fried chicken is universal, but the particulars behind it are highly personal.
Bring up the idea of fried chicken competition, and you're throwing down a gauntlet. Long before New Orleans had a barbecue scene to speak of, there was already fierce pride and rivalry around fried chicken.
Recipes, techniques, seasoning — people talked about the fundamentals of their fried chicken with the same machismo that swirls around Texas brisket. Or, just as significantly, they refused to disclose any details at all, which any competitive cooker will appreciate.
Saying you love fried chicken isn't enough. It's like saying you're into rock 'n' roll. Whose chicken? Which style? Name names.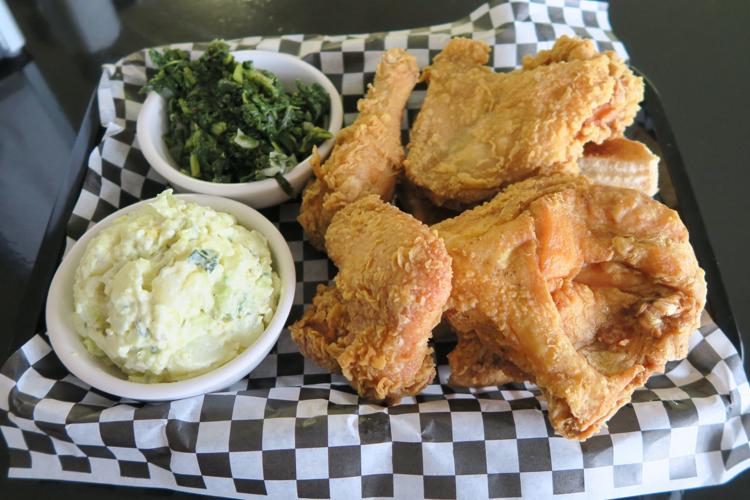 There are stories behind great chicken, and often, these are family stories. For instance, Fiorella's is one familiar local name taking part in the Fried Chicken Festival. Brothers Calcie and Kelly Fiorella earlier this year opened their new restaurant the Original Fiorellas' Café in Gentilly. It's the continuation of a restaurant their father C.J. Fiorella started the French Quarter in the 1980s.
Today, the Fiorella brothers serve the same fried chicken recipe their dad first concocted through field trials with his neighbors around the French Market back in the day.
"After lunch, Dad would work on the recipe and bring a sample out to a produce vendor named Alvin Campo," said Kelly Fiorella. "This went on for a while until one day Alvin said he got it just right. That's the recipe we've used ever since and what we're bringing to the festival."
Two: Fried chicken is a Southern tradition that's wide open for interpretation and the stamp of global flavors.
What's the common ground for an Uptown sports bar run by a white guy, a Creole-style food truck from a black woman and a walk-up wing stand started by the son of Vietnamese immigrants? Of course, it's fried chicken.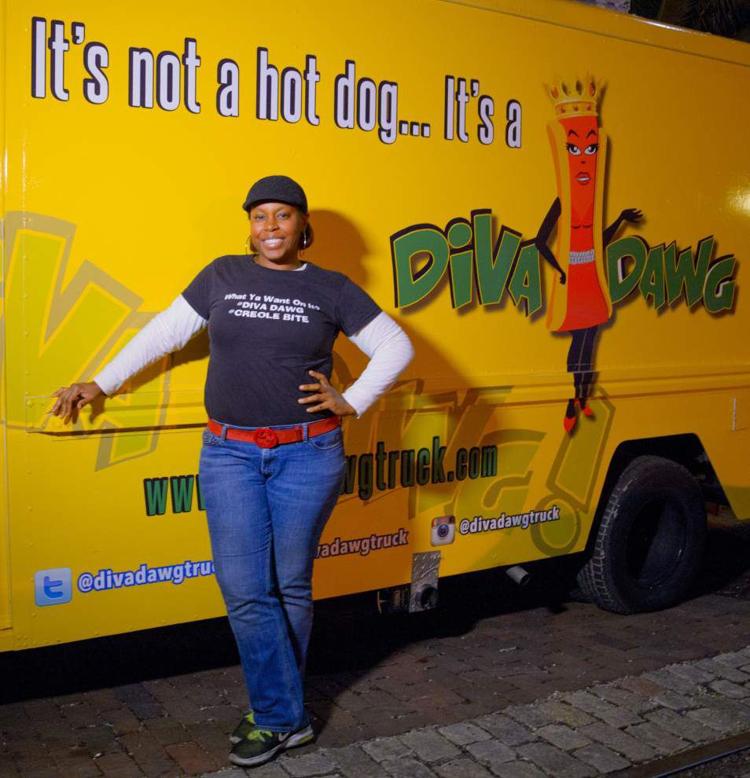 The Fried Chicken Festival is the first festival appearance for Tracey's Irish Channel Bar. Proprietor Jeff Carreras, best known for his roast beef po-boys and St. Patrick's Day block parties, saw a chance to wheel out his "Dirty Bird" special — a po-boy with fried chicken, brown gravy, melted Swiss and pickles on a Leidenheimer loaf (extra points for getting a "Dirty Bird" reference in the day before the Atlanta Falcons come to town).
Meanwhile, Ericka Lassair has built her brand on hot dogs. It says so right on the side of her food truck — Diva Dawg. But fried chicken has always been part of her repertoire. Chunks of it go over her red bean chili dawg, which is like a chicken-and-red beans plate turned into a hog dog topping.
"I wanted to do something different from what people might expect," said Lassair. "I love hearing people say they've never had anything like what we do before."
Over on South Claiborne Avenue, across from Tulane University, the takeout shop Bayou Hot Wings got its start with straightforward ideas for fried wings and chicken strips. Allen Nguyen, one of the proprietors, pegs his own fixation on wings to growing up in Vietnamese family.
"It's not textbook Vietnamese food like your pho, but it's part of that home style of Vietnamese eating," said Nguyen.
For the Fried Chicken Festival, Bayou Hot Wings will have wings with its "bayou hotboy" sauce. Spicy, though not blazing, it starts with Crystal hot sauce and adds a clutch of other flavors, including Sriracha, in a nod to Southeast Asian influences.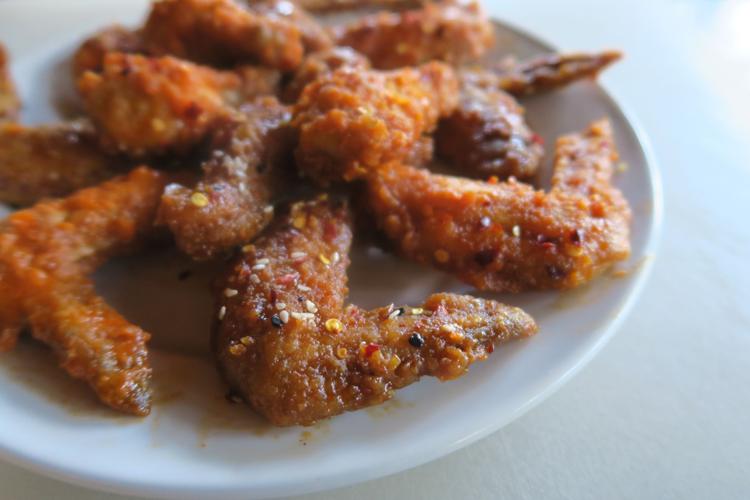 Three: More than comfort food, fried chicken is social food.
Never recommended for your health, fried chicken can be good for your soul. It can bring people together, and in this way, fried chicken is may just be the ultimate down home party food. It's portable, you don't need utensils (though keep those napkins handy) and it works in big batches for big groups.
That's why 100-piece orders of chicken is business as usual to Rahman Mogilles. He runs McHardy's Chicken & Fixin', with takeout shops on North Broad Street and on Lapalco Boulevard in Marrero.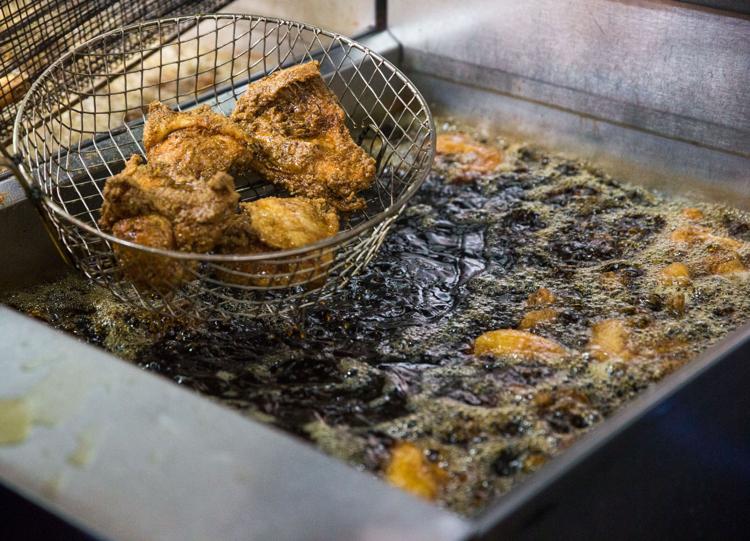 For the festival, McHardy's will serve modest, two-piece plates, a sample size really. But Mogilles says the recipe remains the same. That starts with the way the chicken is trimmed, to reduce the grease, and how it's seasoned, with a mix he blends himself. It's casual food, but it still takes care and patience to do it right.
"That's what I take pride in," said Mogilles. "We do it here just like you'd do it at home, but we do a lot more of it."
When: Sunday, Sept. 25, 11 a.m.-8 p.m.
Where: Lafayette Square
About: Music from the Brass-a-holics, John Boutte, Sweet Crude, Tank and the Bangas and DJ Mannie Fresh. Free admission. VIP tickets for the Moët Chicken & Champagne Lounge are $45 (and $15 for a second ticket). For details, see friedchickenfestival.com.