Each year, the king cake faithful count the days to Jan. 6. It's the Epiphany, the official start of Carnival season and the date that gives a king cake its power and meaning, raising it from a mere sugary treat to a New Orleans tradition.
This year, no one was keeping closer track of that countdown than Chaya Conrad, a veteran New Orleans baker with some unique experience in the realm of the king cake.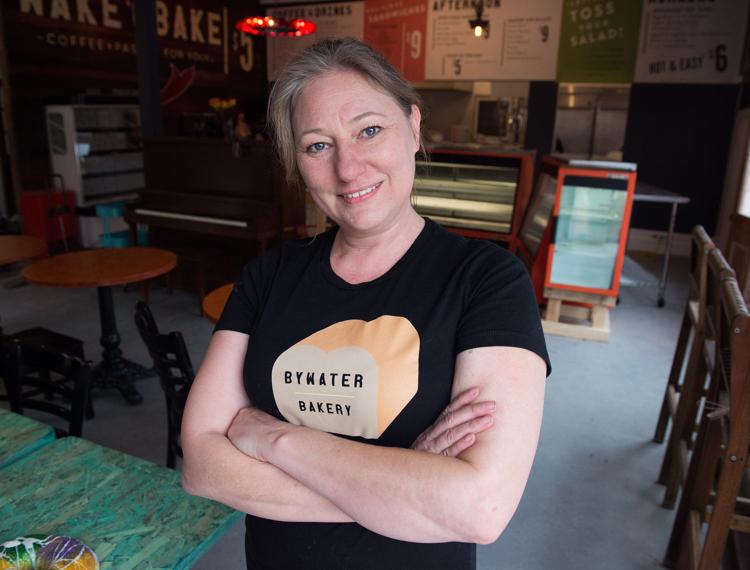 She chose Jan. 6 as the opening day for Bywater Bakery, which she developed with business partner Steve Walkup. Soon, they'll serve a breakfast and lunch menu here. But as Carnival gets rolling they're starting with king cake, and there's a lot riding on it. 
Standards for king cake comparison are not just high; they're highly personal. New Orleanians are passionate about them, and they're often very picky. Conrad knows king cake will bring people through the door, and that they will also influence first impressions of the entire bakery.
If that sounds like a lot to put on a ring of dough, Conrad welcomes it. After all, the recipes she developed for the eight varieties of king cake she's selling here align closely to the philosophy guiding her new business overall.
"You can do king cake a lot of different ways now, traditional or very contemporary," she said. "I wanted to do something old school that would still stand up to modern expectations and tastes. That's what I want for the whole bakery."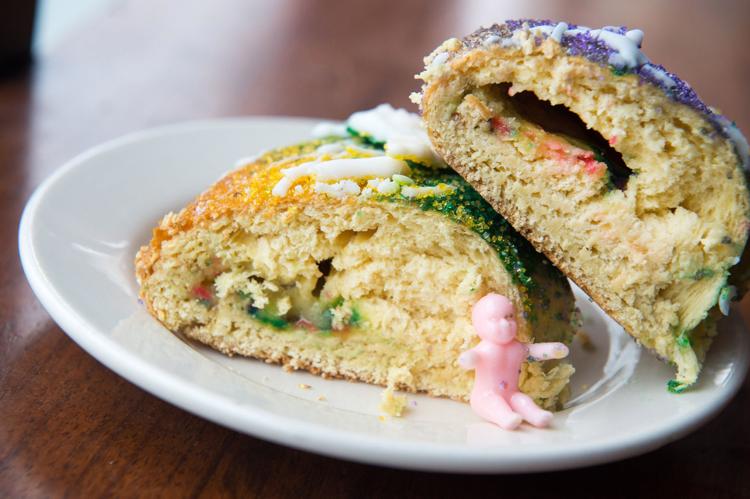 Bywater Bakery king cakes start in the customary fashion. They are brioche rings dusted with purple, green and gold sugar and dappled with white icing. Plastic babies are hidden inside.
Fillings range from baked apples with brown sugar to Creole cream cheese cheesecake. There's a take on tarte à la bouille, a custard pie that's a staple in Louisiana's bayou country. Another is based on Chantilly cake, made with mascarpone whipped cream and a mix of fresh berries.
Yet the cake that's technically the "plain" offering of the bunch might also be the most instructive for Bywater Bakery's style. It isn't stuffed, but it still gets a ripple of "ooey gooey butter" (more on this below), further shot through with rainbow nonpareils, or tiny sprinkles that mottle each slice.
"It's traditional, but we're still talking about king cake," said Conrad. "It's still a party."
Old tradition, fresh start
Bywater Bakery is in an old Creole house at the corner of Dauphine and Independence streets that rambles across a succession of additions, its lines venturing off in various angles.
Walkup, a local tech consultant and musician, lives next door. He owns the property and had been using it for rehearsal space. He'd received plenty of proposals to turn it into a restaurant as the Bywater real estate market revved up. Eventually though, he decided to start his own venture here with Conrad, who lives a few blocks away.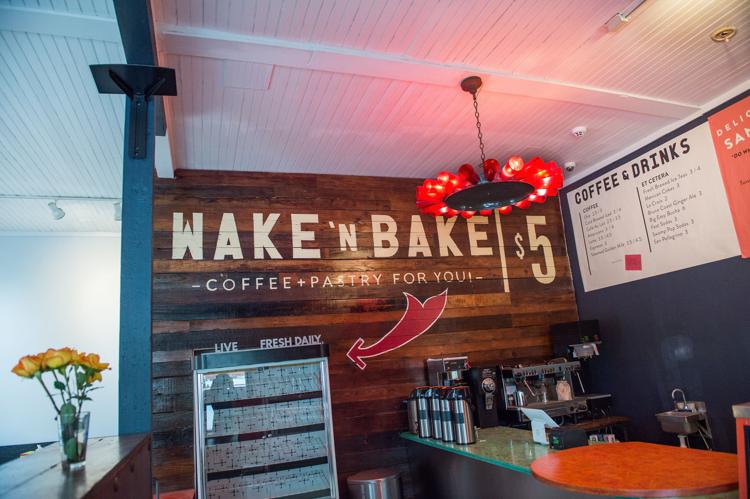 Now, the clapboard exterior is painted a deep red, the bargeboard walls inside have a dark gleam and artwork and vintage pieces that Walkup has collected over the years give the place a retro/modern feel.
The eatery is also a new chapter for Conrad, a lifer in the baking arts who built her career on the grocery side of the business. She was bakery manager at the Whole Foods Market headquarters in Austin, Texas, and then spent seven years as bakery director for Rouses Market, where she managed king cake production on a massive scale. In 2016, her last Carnival season with Rouses, the regional chain made more than 400,000 king cakes.
She can talk industry speak with the best of them. But change the topic to her own creations, and a giddy, mischievous streak starts coming through. With her own small, neighborhood bakery, she has a different sort of outlet, and king cake is where it starts. That brings up the ooey gooey butter.
"Ooey gooey" is less a strict recipe and more a flavor profile, a promise of creamy-sticky-rich goodness that has sold countless cakes and bars and brownies in endless variations. At Bywater Bakery, it's a mix of cream cheese, butter and brown and powdered sugars that's slathered in the traditional king cake. In consistency and heft, it's closer to a cinnamon-filled king cake than a stuffed one. Yet that butter still brings an X factor of flavor.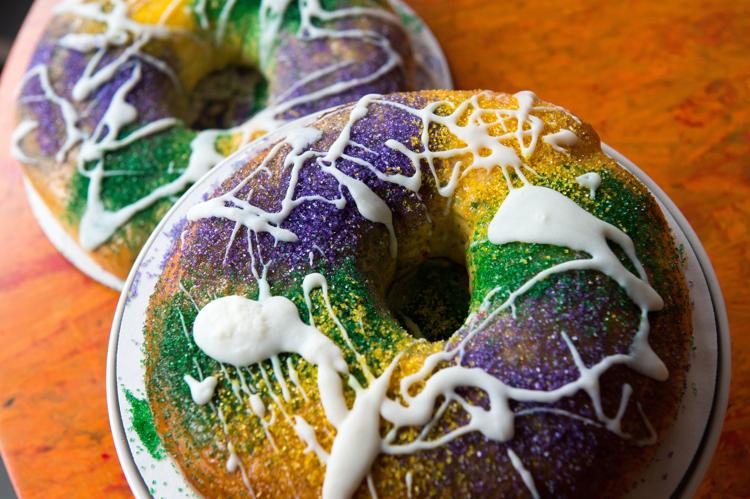 Bywater Bakery was built as a casual eatery. The breakfast and lunch menu will roll out soon after this week's debut, with counter service and a grab-and-go case emphasizing quick meals. The kitchen will make "breakfast go-cups," for instance, filled with boudin hash and eggs or shrimp and grits. At lunch, mason jar salads will be made ahead to "take and shake" or to have plated for a meal at the cafe.
The cafe will make deli sandwiches and open-faced sandwiches, like smoked salmon and asparagus with goat cheese. The bakery selection runs through cakes and Danish, scones, muffins and other breakfast pastry and desserts. 
Coast Roast, a boutique coffee roaster with a location in the nearby St. Roch Market, provides the coffee.
3624 Dauphine St., 504-336-3336
Open daily, 7 a.m.-5 p.m.
The king cake is no longer a mere dessert or Carnival season indulgence. Now, king cake is a…
Research for last week's column on the enduring popularity of plain, traditional king cakes …
Dining in New Orleans always has been big, but these days, it's been growing and changing li…