It was called Happy's Irish Pub, though this CBD bar was more aligned with the "breastaurant" trend than any sense of Erin go bragh. The uniforms for the female bartenders were short plaid skirts and midriff tops for a schoolgirl-gone-bad look.
To Kyle Brechtel, who took over Happy's when he bought the interconnected location of Walk-On's Bistreaux & Bar, the bar never felt like a good fit for this historic space. For more than a century, from 1876 to 1986, the Poydras Street address had been home to Maylie's, a restaurant for old Creole flavors. Later, it became part of a Smith & Wollensky's steakhouse here.
Now Happy's days are done (though it will reopen for one more special event, see below).
Brechtel recently closed it, and in its place he's now developing a bar and eatery called Copper Vine Winepub (1009 Poydras St.). Nola.com reported the change first. Copper Vine Winepub is slated to open in August.
Brechtel confirmed his plans for the New Orleans location and told the Advocate they do not affect the original Baton Rouge location of Happy's, which is owned separately.
Brechtel is a New Orleans businessman who also developed the nearby bowling lounge Fulton Alley. He also has a new catering company, Bonfire Catering and Events. In 2016, he bought the franchises for Walk-On's in Metairie and in the CBD, which came with Happy's.
"There's been a plan all along to phase it out," he said of the bar. "It certainly didn't feel like the highest and best use of that space."
Happy's and Walk-On's both opened in 2011 as expansions of Baton Rouge-based brands. They arrived when redevelopment was just beginning to ratchet up in downtown New Orleans, especially near the Superdome.
Since then though, the CBD has seen a surge in residents as more apartment and condo building open. Brechtel, who lives downtown, said he wants Copper Vine Winepub to reflect the changing neighborhood.
"We're trying to develop the concept for the people who live downtown in the neighborhood," he said. "There such a great history with the building, we want to make this really special."
The design will stay casual, and emphasize the building's corner patio. A centerpiece will be wines on tap, which have grown from a curiosity to a commonplace in recent years. The keg wine format typically allows bars to serve more wine varieties by the glass and at lower prices. Copper Vine will have up to 30 taps, along with beer and cocktails.
The kitchen is led by local chef Michael Brewer, who is still remembered for his original offbeat po-boy shop the Sammich (it closed in 2015).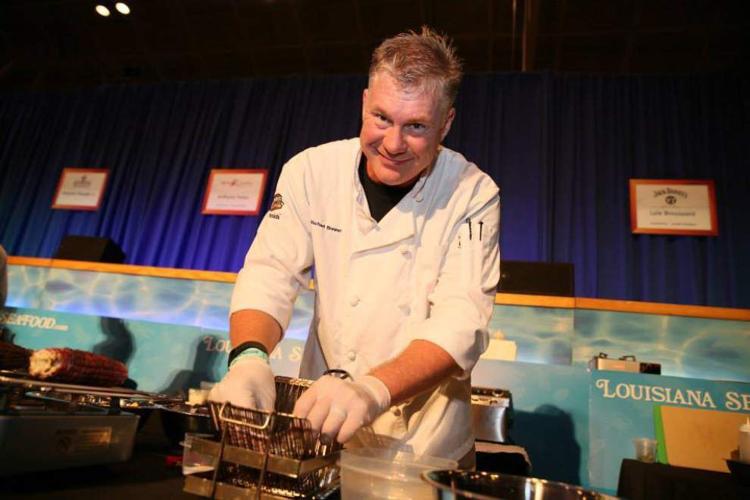 He's part of a chef-run barbecue team at Hogs for the Cause (team Silence of da Hams, also a fixture at the Po-boy Festival), and in 2015 he won the King of Louisiana Seafood cook-off.
"We want this to be the neighborhood pub, that kind of feel, but with wine instead of beer," said Brewer. "We don't want anything on the menu where people have to Google the names."
Some dishes in the works are crabmeat deviled eggs, smoked salmon with leek and dill sauce, charcuterie boards and flat breads, sandwiches, like blackened redfish and a smoked pork belly Cuban, and plates, like ratatouille and braised short rib.
Brewer is also overseeing Bonfire Catering and will eventually revamp the menu at Fulton Alley.
Though Happy's ended normal business, it has been reopening for special events (without the schoolgirl outfits).
The old bar will reopen one last time on May 25 for a benefit for Hogs for the Cause. Brewer's barbecue team will prepare a whole Ossabaw hog (said to be comparable to Spain's famous black-footed Iberico hogs). It will be stuffed with boudin and jambalaya and smoked, and served along with sides. The event is from 5:30-8:30 p.m., with plates for sale on site.
After the event, renovations for Copper Vine will begin.
"It's one last hurrah before we start swinging hammers," Brechtel said.
1009 Poydras St., New Orleans
Projected to open August 2018
Plenty of vegan recipes aim to replicate traditional comfort food. That's the specialty at Sweet Soulfood too.
The menu at Kim Son is so vast, it feels like you could eat here for years and still find something new. Now, however, the clock is ticking on…
The late Peter Mayer loved to smoke a cigar on the CBD sidewalk outside the advertising agency that bears his name. He was fond of the Commerc…