The doors to the building at Baronne and Union streets first opened 90 years ago, bringing an ornate addition to a then-booming downtown New Orleans. In three weeks, and after decades of dormancy, the doors are slated to open again at a property known to generations of locals as the NOPSI building.
Now, the 1920s-era building and adjacent addresses will comprise NOPSI Hotel. It is opening in a section of New Orleans once again buzzing with new development, and it will add a new restaurant, a lobby bar with street-side patio and a rooftop bar to the mix.
NOPSI Hotel is scheduled to open July 6, and as the debut nears new details have emerged about what visitors will find here.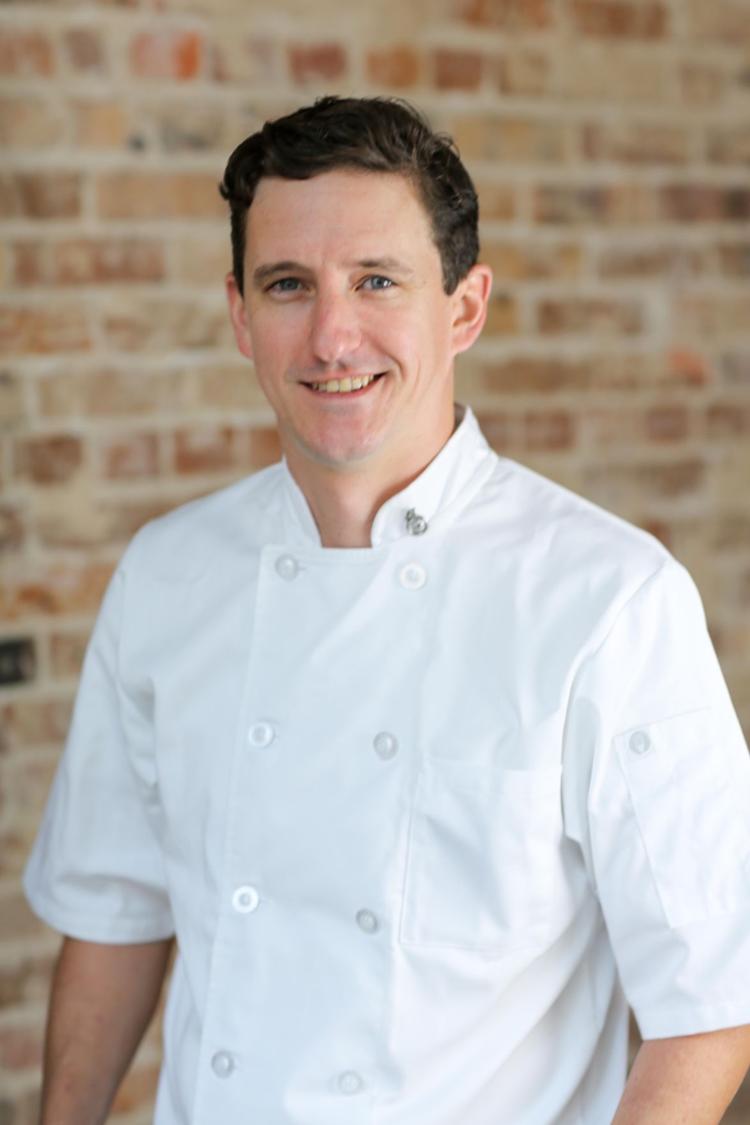 The address for the 217-room, 9-story hotel had long been the home of New Orleans Public Service Inc., which once operated the city's electric and gas utilities and transit network (NOPSI later became Entergy New Orleans, while the Regional Transit Authority took over streetcar and bus service).
The centerpiece of the new hotel's food and beverage program is Public Service, which is being developed as a contemporary regional restaurant with an upscale/casual ambiance. It is situated next door to the main hotel structure in the connected "Gold Building," so named for its 2-story glass facade trimmed in gold-colored steel.
Today, the hotel announced that chef de cuisine Dustin Brien will lead the Public Service Kitchen. Brien was previously chef at the Uptown restaurant Salú. Carlos Ramirez, formerly general manager of Restaurant R'evolution, leads the restaurant's front-of-the-house staff.
"What we're doing is Southern regional comfort food that's been modernized," Brien said in an interview. "There's no fluff or pretension, just really good food cooked right."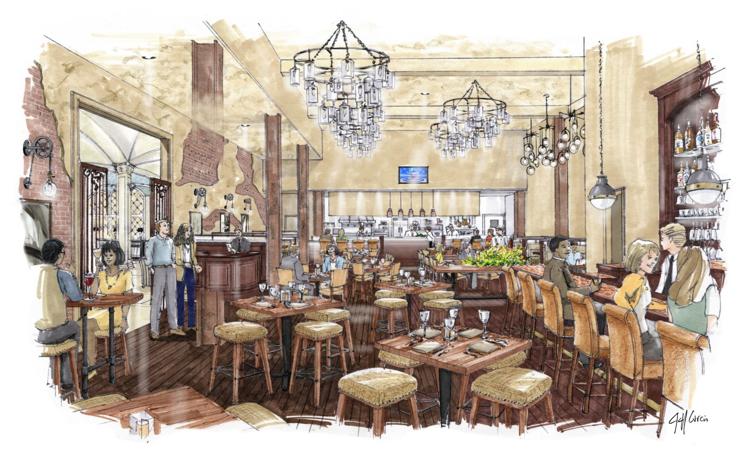 The restaurant will have an open kitchen anchored at one end by a raw bar with a chilled seafood display and at the other by a vertical rotisserie. The raw bar will have oysters and also clams, crabs and other seafood the kitchen can source in season, Brien said. On the rotisserie, Public Service will prepare whole chickens (including whole roasted chickens to go) and dishes like porchetta, jumbo shrimp skewered with garlic, duck and other seasonal game.
The chef grew up in Massachusetts, where he started his career. In Boston, he met his future wife, Loryn Brien. She's a New Orleans native and so, in a familiar pattern, those family roots eventually led the couple back here. Brien said he didn't need too much convincing.
"What cook doesn't want to come to New Orleans?" he said.
At Public Service, he's excited to soon lift the lid on a new restaurant in a setting that many around the city still remember from its old incarnation.
"We didn't build this to be a hotel restaurant, we built this for New Orleans people, for the community to come in," Brien said.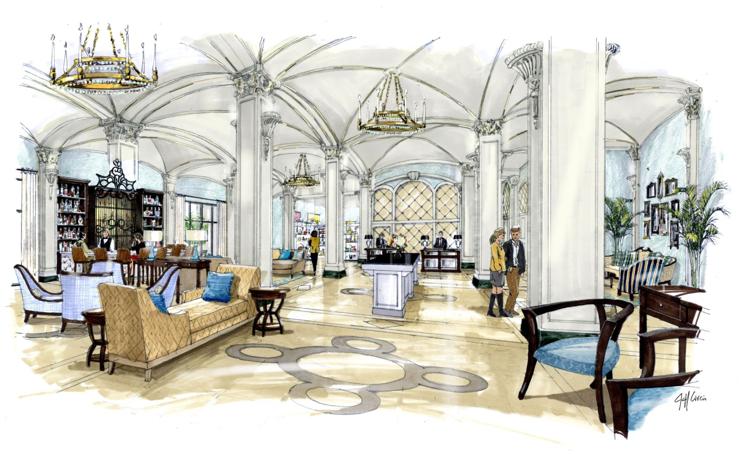 The NOPSI building dates to 1927 and though it was originally designed as offices the property has stylish extravagances worked into its public spaces, like the lobby's vaulted ceilings and ornamental columns. That space will be home to the new hotel's bar, called underCURRENT Bar & Patio. It opens to a patio on the corner of Baronne and Union streets, bringing another outdoor social space to the CBD.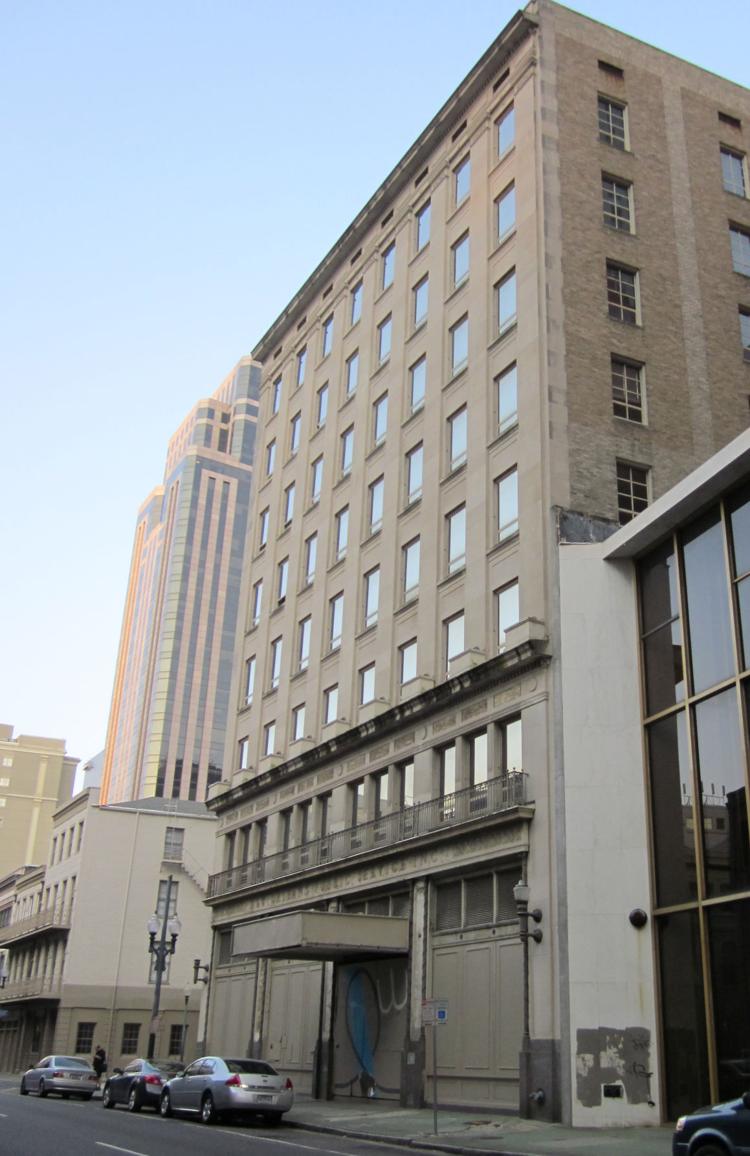 A rooftop bar and pool called Above the Grid will be open to hotel guests by day, while the bar opens to the public each day after 4 p.m. The hotel's executive chef, Peter Page, will oversee menus for these bars and other hotel food and beverage operations. NOPSI Hotel will also have an events space, the Dryades Ballroom, in a connected building at the corner of Union Street and O'Keefe Avenue. 
Public Service will serve breakfast, lunch and dinner daily, with brunch on Saturdays and Sundays.
NOPSI Hotel is the latest in a series of new hotels and residential projects emerging in long-vacant downtown buildings. A few blocks away, the high-rise Troubadour Hotel opened late last year in the former Rault Center, while the property adjacent to that, the 10-story Pythian Building, is being remade as a mix of apartments and a new ground floor food hall.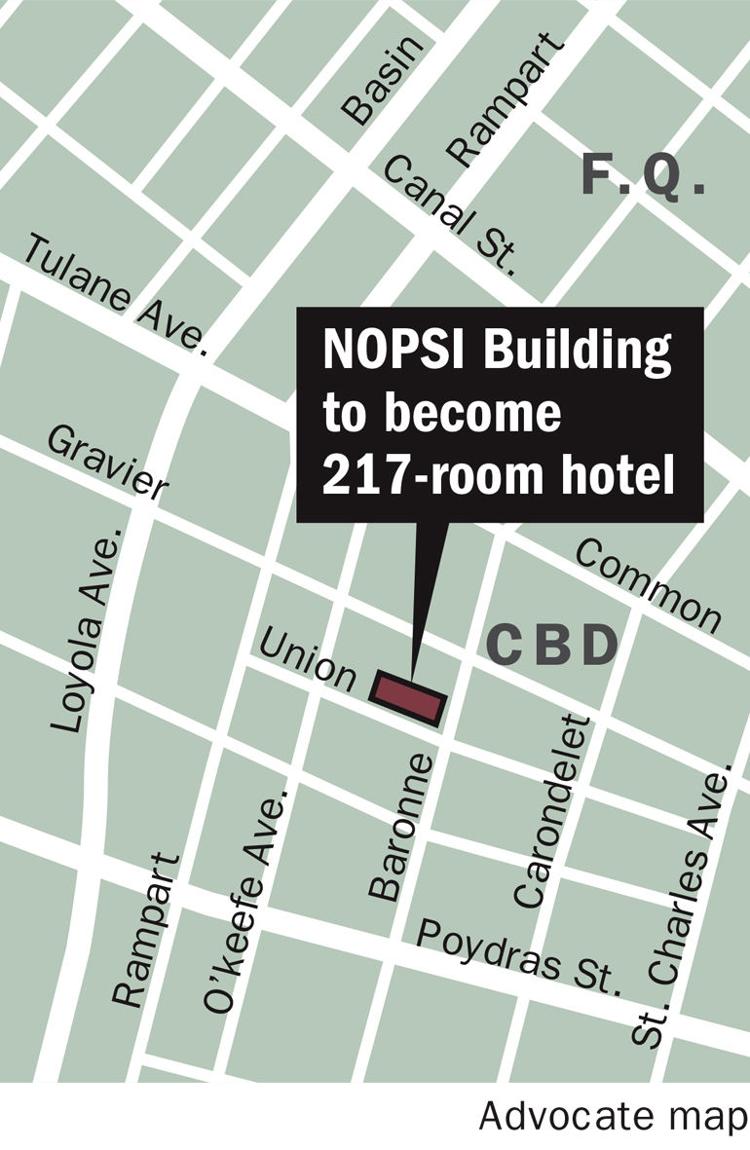 In fact, the redeveloped NOPSI Hotel will complete the reanimation of an entire block of the CBD that had been dark for many years. The NOPSI building runs the length of the downriver side of the 900 block of Union Street. Directly across the street, the only other properties facing Union Street are a pair of townhouses, once crumbling, that were conjoined and redeveloped as the Catahoula, a 35-room boutique hotel with its own lounge and third-floor rooftop bar.
NOPSI Hotel was developed by the Connecticut-based company Building and Land Technology and is managed by Salamander Hotels and Resorts of Virginia. The New Orleans firm Woodward Design + Build is the project contractor.
NOPSI Hotel and Public Service restaurant
317 Baronne St.
Projected opening: July 6, 2017
Amid the rising tide of so many new projects in the CBD, the Catahoula Hotel is a small one …
Street food, food halls, public markets, fast-casual — these terms all carry buzz in the cur…
Got an old NOPSI cookbook gathering dust? Some streetcar tokens sitting in the back of a dra…