After a Thanksgiving feast, families all across the land turn leftovers into sandwiches. In the weeks leading up to Thanksgiving, Parkway Bakery & Tavern (538 N. Hagan St., 504-482-3047) turns the same fixings into a po-boy, and this has turned into a phenomenon.
This year, though, there's something a little different on the table as Parkway harnesses the popularity of its specialty po-boy for a cause.
"People go crazy for it, they love it and we want to make it into something bigger, because it has that potential," said Parkway manager Justin Kennedy. "When something gets a response like this does, that means it has the potential to help somebody."
The Mid-City eatery serves its Thanksgiving po-boy only on Wednesdays in November. Some of its fans undoubtedly already have those dates on their calendars. For years now, the limited-time sandwich has drawn flocks of people eager to gobble them up and willing to queue in a long line to get one.
That inspired Kennedy to team up with the Al Copeland Foundation (ACF), a nonprofit from the family of the late, legendary restaurateur that supports cancer research. People who make a $100 contribution to the ACF get a Thanksgiving po-boy, fries, a soft drink or a pint of Abita 30 by 90 beer and a T-shirt...and they get to skip the line.
This po-boy charitable campaign is dubbed #IDidItForTheTurkey, which is emblazoned on the shirts. Regular sales of the Thanksgiving po-boy will continue as usual during the charitable campaign.
"It's still the same thing we've always done, but this year if you can donate you get to skip the line and get your po-boy, and you're rewarding yourself by donating to a good foundation," said Kennedy.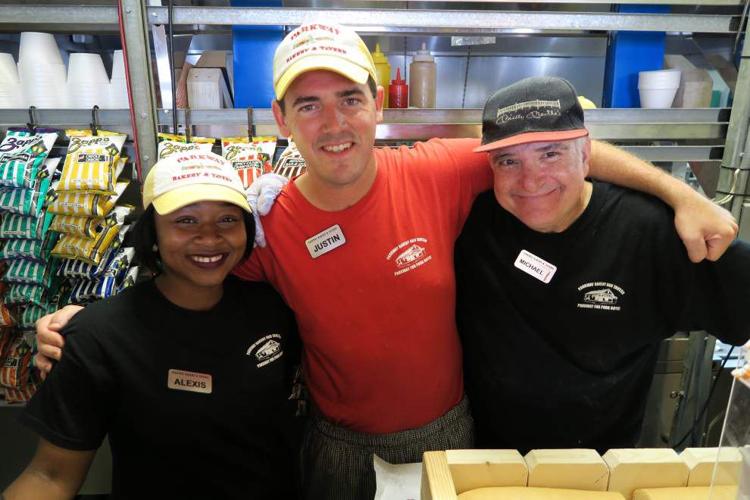 A Thanksgiving-style sandwich is not exactly revolutionary, but at Parkway the po-boy version has grown into something remarkable.
Kennedy created the sandwich back in 2007. Just like the holiday leftover editions, it starts with whole roasted turkeys, broken down into a mix of white and dark meat. It adds cornbread dressing, gravy and whole-berry cranberry sauce on Leidenheimer loaves.
Its seasonal appearance inspired a following that soon outstripped the kitchen's ability to keep up. Now Parkway sets up a separate prep station just for this po-boy, and the line leading to has in the past extended down the block. Some people stake out spots before the restaurant opens, in shades of Black Friday retail door busters or the Friday lunch line at Galatoire's.
Typically demand grows through the month as each Wednesday builds toward Thanksgiving. On the day before Thanksgiving last year, Parkway sold 480 of the specialty po-boys, going through a quarter of a ton of turkey and close to 30 gallons of gravy (and 130 pounds of cranberry).
"People want us to do them every day, but we can't," said Kennedy. "It would totally take over. We'd have to change the name Parkway to the House of Thanksgiving."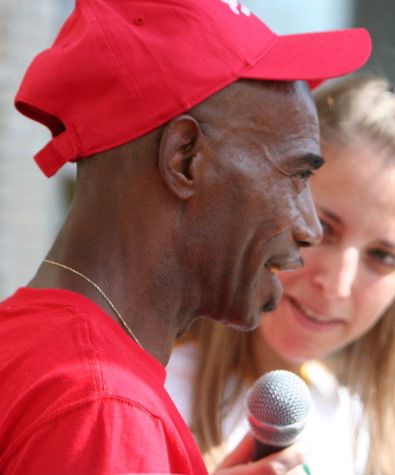 The Thanksgiving po-boy will be served Nov. 1, Nov. 8, Nov. 15, Nov. 22 and Nov. 29. A limited number of #IDidItForTheTurkey tickets will be sold online in the days before each Monday. Details and links to each pre-sale round of tickets will be posted on the Parkway Bakery Facebook page. A small number of tickets will also be sold at the restaurant each Wednesday during the campaign.
The choice of the Al Copeland Foundation as collaborator in this campaign has a personal significance for Kennedy, and it goes back to his friend John Jackson. After coming home from a long prison sentence, the New Orleans native got a fresh start with a job at Copeland's Restaurant, Kennedy said, before joining the staff at Parkway in 2007. He became a essential part of the restaurant, and Kennedy came to regard him as a personal mentor. Jackson died of cancer in 2014.
"I feel like he was someone I'll never encounter again the rest of my life," said Kennedy. "Copeland's and Parkway are both family businesses and he was part of our family. That's the connection that inspired this."
538 N. Hagan St., 504-482-3047
Thanksgiving po-boys are available Wednesdays in November, from 11 a.m. until supplies run out for the day.
Before the first tables are seated for a Friday lunch at Galatoire's, before the Sazeracs ma…
The teams that convene at Hogs for the Cause each spring cook for a festival crowd and raise…
Ten years ago, Jeffery Vannor was a high school dropout with little hope for his future. But…