Christmas season is a busy time for the grand Creole restaurants of the French Quarter, where families and groups of friends traditionally flock for festive lunches or Reveillon dinners.
At Arnaud's Restaurant, though, some of the holiday bustle comes from bears — teddy bears. Some are so small a toddler could tote one along, others are big enough to dwarf a grown man. They're piling up fast as the restaurant's annual Teddy Bear Drive revs up.
All are donated from the public. They arrive individually and in bunches. Arnaud's is a big restaurant, its maze of dining rooms has capacity for more than 1,000 people. Last year's Teddy Bear Drive brought in enough bears to fill each of those seats and then some.
Cops bearing bears
The Teddy Bear Drive is different from other holiday toy drives because of who ultimately dishes out the gifts. Arnaud's donates them to the New Orleans Police Department, whose officers in turn give them to children.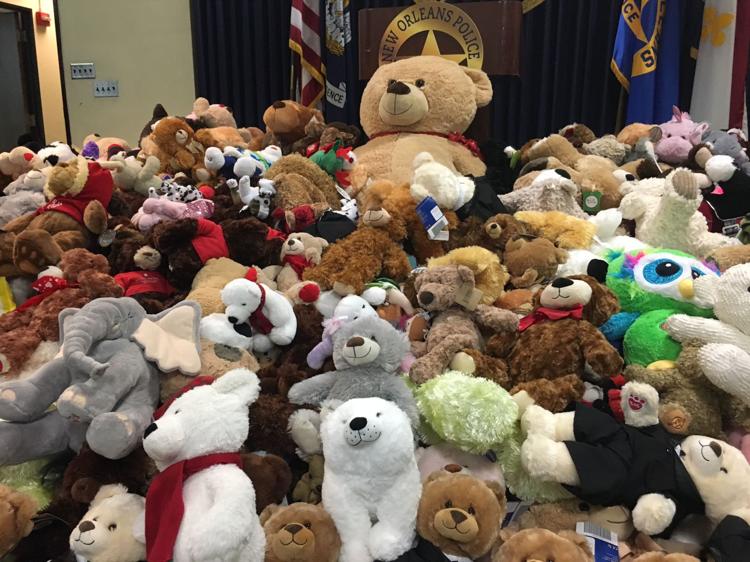 Given during the holiday season, the bears have a year-round presence with the NOPD. Officers working in domestic abuse or child abuse units keep them on hand; others keep them in their cruisers. They give them to kids at crime scenes, to kids they see on their patrols who look like they need a boost and to students when they make school visits. In this way, the bears are tokens of comfort that can also be bridge builders between cops and kids and the community.
"Every day our officers encounter children who have been victimized or have seen bad things or had some scary experience," said Melanie Talia, president of the New Orleans Police & Justice Foundation, a nonprofit that supports the police department and helps coordinate the Teddy Bear Drive.
"When they're feeling that way and a police officer shows up with a furry friend, that's a moment that lives on. The kids don't forget that," she said.
From the dining room to the field
Arnaud's started the drive in 2014 and amassed 500 bears. Last year's effort more than doubled that count.
"It went from a pickup truck full of bears to a panel truck and we still need more," said Archie Casbarian, who with his sister Katy runs the nearly-century old Arnaud's Restaurant. "We don't want to overwhelm the police department with bears they can't use, but as many as we bring in they use up. That speaks to the need out there."
If a plush toy seems a small response to serious travails, feedback from the field says otherwise.
"These may be small gestures, but they can mean so much," said Talia. "I compare it to when people write notes of appreciation to our officers for their service. It doesn't take much, but it goes much farther than most people will ever know."
Teddy bears, unwrapped, can be dropped off through Dec. 31, at these locations:
Arnaud's Restaurant, 813 Bienville St., daily after 6 p.m., Sun. 10 a.m.-2:30 p.m. and during holiday lunches (through Dec. 22, 11:30 a.m.-2:30 p.m.)
The New Orleans Convention and Visitors Bureau at 2020 St. Charles Ave. (Mon.-Fri., 8:30 a.m.-5 p.m.)
Energy Centre, 1100 Poydras St. (Mon.-Fri., 7 a.m.-8 p.m.)
Verdad Real Estate and Vertical Construction Management, 1240 Camp St. (Mon.-Fri. 8 a.m.-5 p.m.)
The black drum Mitchell was arrayed at a jaunty angle, its bright, light-tasting sauce was a…
Dining in New Orleans always has been big, but these days, it's been growing and changing li…