Whenever the holidays draw us out or bring us home, people just start gobbling cheese. It's the first thing set out when company comes calling, it's part of the dessert spread and it awaits in endless cubes on catering trays for office parties everywhere. When we're celebrating, cheese becomes habitual.
That doesn't mean it always has to be the same, however. Part of the calling of the cheesemonger is to cut open the rind and let the rich possibilities of an increasingly diverse cheese world flow out.
These days, the cheesemongers at St. James Cheese Co., the city's most single-minded altar of cheese worship, have more tools to pursue this mission.
Like other savvy food retailers, they have a ready hand with samples from their inventory case. But they also have a restaurant menu designed by and for cheese lovers, happy hour cheese boards for after work indulgences, melted gooey raclette platters and even a somewhat experimental sideline in "cheese bites," which can make the cheese counter feel a bit like a sushi bar.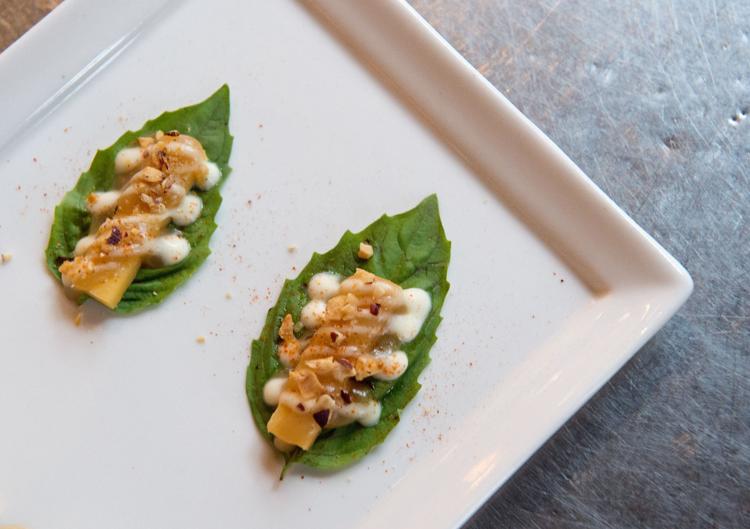 "All these cheeses have stories behind them, where they came from, the people who made them," said Brad Daschbach, a monger and manager at St. James Cheese Co. "When you can find a connection with a product like that, you want to share it."
Old World, new zeal
These are great days for cheese lovers in New Orleans. In addition to standard bearers like Martin Wine Cellar and specialty purveyors like Stein's Deli & Market, some groceries have upped their game and the city's growing ranks of neighborhood wine shops have carved a niche with cheese and charcuterie cases between their racks.
But it was St. James Cheese Co. that changed the pace of cheese connoisseurship when Danielle and Richard Sutton opened their first shop Uptown in 2006. Over the years, it has become an important purveyor for restaurants and other specialty stores, distributing cheese by the pallet load around the region, and its name is frequently called out on restaurant menus. Emeril Lagasse's new restaurant, Meril, for instance, devotes a whole menu section specifically to "St. James cheese boards."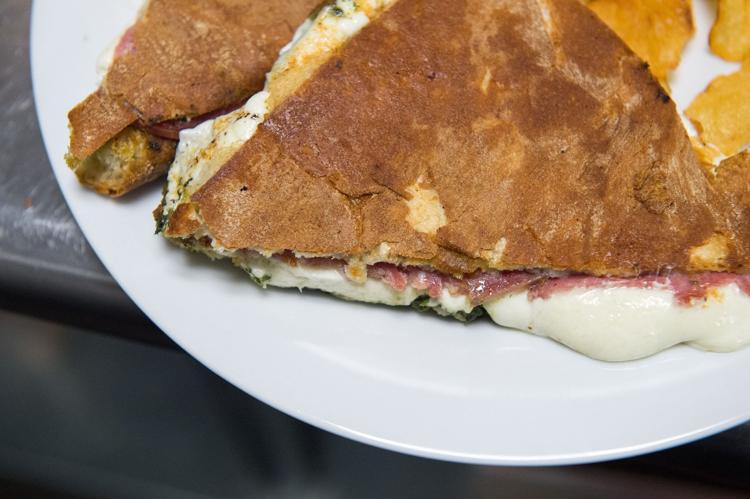 The name St. James refers to the London neighborhood that's home to Paxton & Whitfield, a 200-year-old cheese shop that has kept Britain's royalty in cheese since the reign of Queen Victoria. The Suttons, both Tulane grads, worked there while living overseas. Richard eventually became the shop's manager, which was the springboard for a self-guided education in cheese that took him across Europe and instilled the zeal for the artisan end of the industry that he brought home.
The local impact of St. James Cheese Co. has grown as the business has expanded, and last year, when St. James Cheese Co. opened its second store in the Warehouse District, it introduced a much larger, more multifaceted cheese emporium.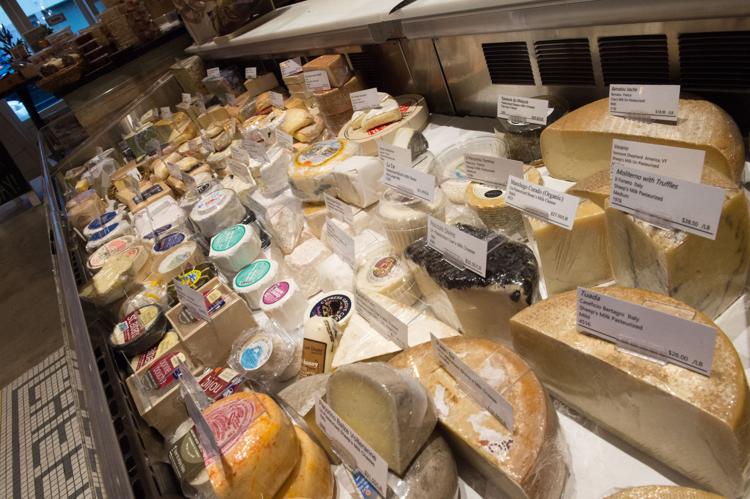 There's more room for the lunch rush, when people line up for sandwiches and salads that always start with cheese (the classic French ham and brie de Meaux on buttered baguette, for instance, or the lomo bocadillo, a baroque, open-faced splay of Spanish flavors). The retail portion of the business is bigger and the shop has a standalone bar for wine, beer and cider, the natural pairings for cheese.
Still, the heart of the operation remains the cheesemonger.
Meet your monger
A holdover from the days of the neighborhood butcher, baker and candlestick maker, the job title cheesemonger sounds arcane and vaguely like a putdown — until you get to know one. Then it becomes a rank of respect, trust and distinction, like a sommelier.
"It's our job to sell cheese as the cheese was meant to be tasted," said Daschbach. "We're part of the process, how you handle it, how you select it, how you get it to the customer in the way the cheese maker intended."
Their skill set draws on elements of historian and storyteller, retail manager, caterer and even carpenter when it's time to break down a cheese wheel the size of a millstone into saleable cuts.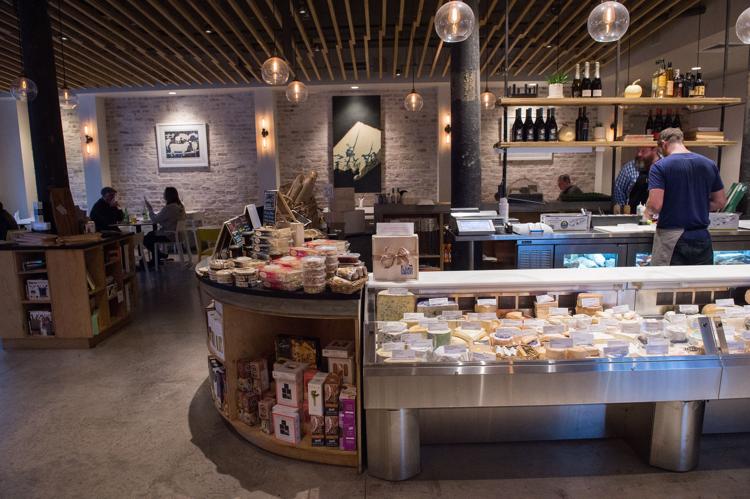 Increasingly at St. James, this calling has also crossed into the restaurant realm, with more ways to serve the cheeses that excite them most directly to their customers in the shop.
That includes the cheese bites. This is a menu segment created for the Warehouse District location that sprang from the Cheesemonger Invitational, a national competition for cheese pros. One challenge at the event is to craft a "perfect bite," a pairing of cheese and other ingredients.
"It's taking the idea of the perfect bite from competition to a restaurant setting," said Justin Trosclair, a St. James cheesemonger who took home top honors from the invitational in 2013.
The current menu has some natural regional pairings, like a thin wedge of Manchego over a crisp coin-sized slice of Spanish chorizo. Others sound less than intuitive, like a dollop of Délice de Bourgogne (a cow's milk as rich as butter) spread over dark chocolate with a dot of strawberry jam on a plank of flatbread. Bite into another and you get the funk of blue cheese, a hint of pineapple and mint and then, only at the end, the sweet/sharp tang of the gingersnap cookie underneath.
"A perfect bite can be homogenous flavors, or it can take you on a little ride," said Trosclair. "It can have that gestalt, blending things to create a very unexpected flavor."
Cheese bites are aptly named. Each is a single bite, sold two per order for $3. It's a fun way to taste different cheese and get a story behind the complementing flavors.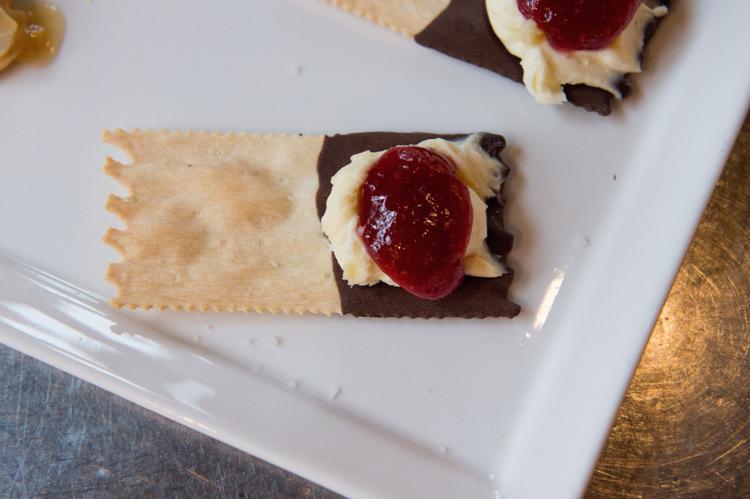 On the other end of the spectrum is Harbison, which has lately captured the cheesemongers' imagination here. It's a whole cheese the size of a tea plate and so decadently gooey it requires a framework of spruce bark to truss it all together. This lends its own subtly woodsy, evergreen element around the edges of an otherwise plush and creamy cheese. The shop sells it to take home, and also plates it up to eat there and then, with the top rind sliced off and spoons stuck in its surface. It looks like a table centerpiece and eats like an ice cream sundae.
Made in Vermont, Harbison is an American version of the classic French cheese vacherin Mont d'Or, and it's aligned with a rising tide of domestic artisan and farmstead cheese now entering the market. For the mongers, that's opening new conversations and gets to the essence of what they do.
"The heart of artisan food is the humanity of it," said Trosclair. "You can feel close to it, it's not just coming out of a factory, and that's what brings us all here."
Seasons eatings
Want to make your holiday cheeseboard stand out this year? St. James Cheese Co. mongers Brad Daschbach and Justin Trosclair recommended these seasonal and special release cheeses:
Bark-wrapped cheeses – a variety of very soft cheeses trussed with bark to maintain their shape as they soften to a gooey, spoonable texture. Vacherin Mont d'Or is the French classic, Harbison is the American rendition.
Brillat-Savarin with truffles – a very rich French triple-cream cheese infused with black truffles and typically available seasonally.
Gruyère alpage – a style of Gruyère from small Swiss producers made high in the mountains with a stronger, deeper flavor.
Gorgonzola cremificato – an Italian blue cheese so rich and soft that it's served from the wheel with an ice cream scoop. "Try it with Prosecco poured over the top," Daschbach says.
641 Tchoupitoulas St., 504-304-1485
5004 Prytania St., 504-899-4737
See also St. James' related French Market stand:
1100 N. Peters St., 504-407-3437
Dining in New Orleans always has been big, but these days, it's been growing and changing li…
This spring, Inglewood Farm brought in the first commercial harvest of organic wheat that Lo…
Three local businesses, each known for hand-crafted food and Old World traditions, are heade…