It's not hard to find a drink in New Orleans. But getting a beer straight from the source at one of the local breweries now proliferating here can mean venturing to back streets, dead ends and long-forgotten corners of town.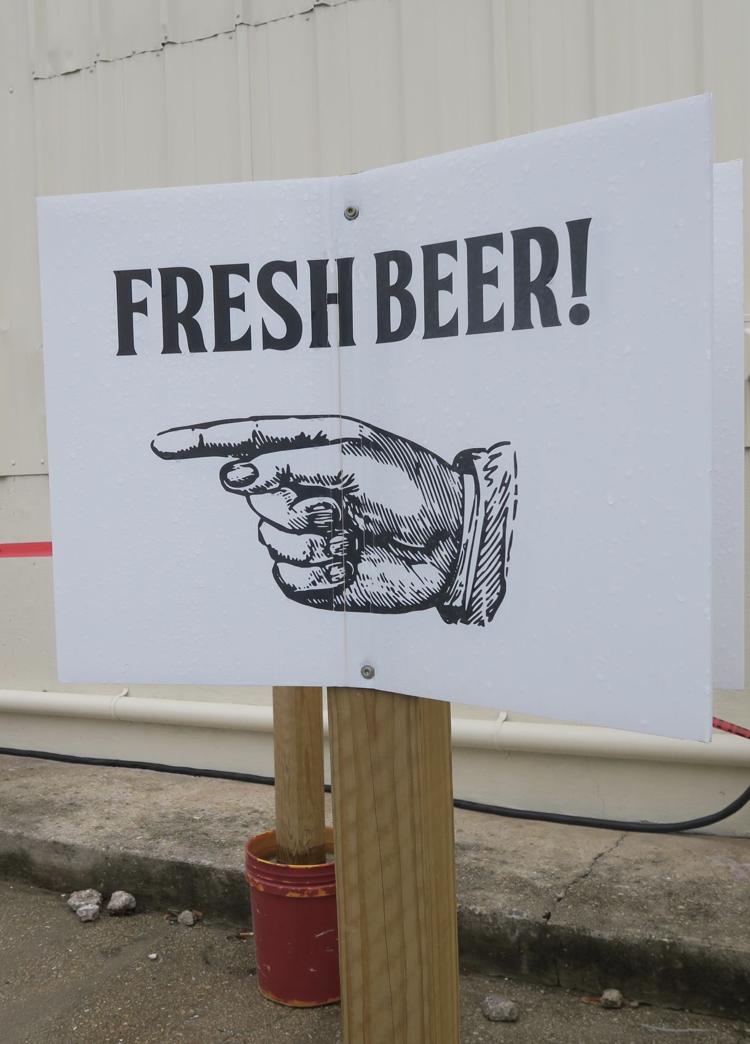 Beer making is a light industrial process. Beer drinking is often a social pursuit. The taprooms where these new small brewers now sell pints of their product direct to beer lovers combine both callings. Along the way, they're bringing new life to once-utilitarian settings and creating a different sort of social space in New Orleans.
Many of these breweries are found in old warehouses and workshops. Add some taps, string up lights, set out picnic benches, and the surroundings of concrete slabs, loading docks and storage yards begin to feel vibrant and laid back all at once.
In Mid-City, Karen and Mark Logan opened Second Line Brewing last year in a warehouse abutting some rusting railroad tracks. Without the brewery, this stretch of North Bernadotte Street looks like the sort of back alley your mother warned you about. But when the Second Line taproom is pouring, the outdoor/indoor space here feels like a DIY beer garden.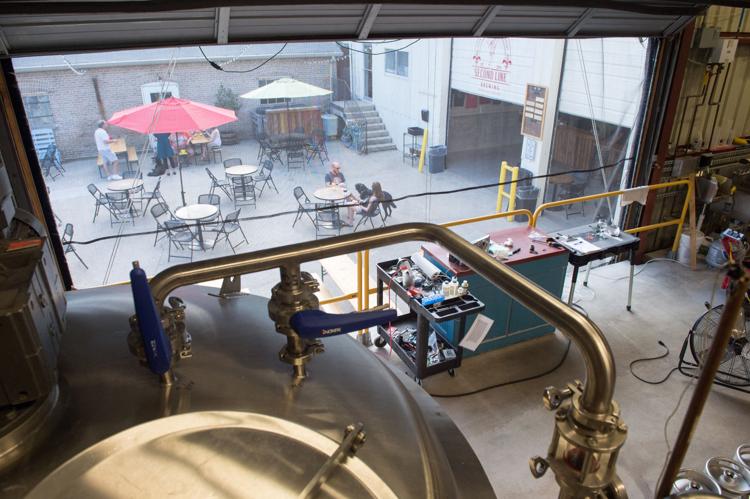 Mark Logan says his focus is on making beer but that the taproom feeds an essential part of the craft brewer's culture.
"We want to be part of our community, and we have a responsibility as part of our community to participate in it," he said. "Part of that is inviting people in."
Different rules, different vibe
Beer is the draw at the city's new taprooms, though these spots differ from bars. They typically close well before midnight and, often, much earlier. By law, they can't sell liquor or wine. And they are open to all ages. Toy boxes and sidewalk chalk are normal taproom amenities.
Early one Friday evening, the after-work crowd at Urban South Brewery included parents at ease with babies in arms, romping toddlers and preteens sipping mason jars of lemonade.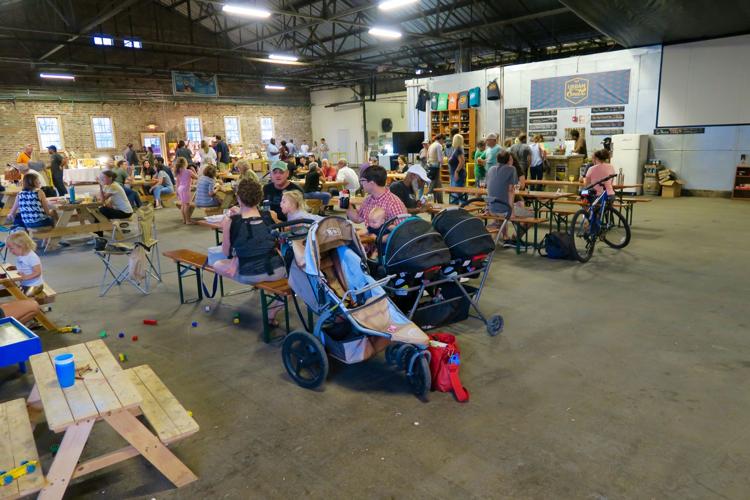 "I can't tell you how many dads come up to me with a slap on the back, offering eternal gratitude that there's a place where they can drink beer, their kids can run around and scream, and nobody's going to care," said Jacob Landry, founder of Urban South Brewery.
His brewery opened in March in a brick warehouse on Tchoupitoulas Street, where a small counter with a half-dozen taps protruding from the flanks of a walk-in cooler constitutes the taproom. Under the high metal roof the echoes of laughing kids and cheers from the beanbag toss game across the room blend together.
Full pints and bottom lines
Craft breweries first staked their return in Louisiana in more rural areas, starting with Abita Brewing Co. The north shore now has its own network of smaller breweries — Covington Brewhouse, Chafunkta Brewing and Gnarly Barley — and they all have tours and tastings. Mandeville has a brewpub, too: Old Rail Brewing Co., which, like the long-running Crescent City Brewhouse in the French Quarter, is a full-service restaurant.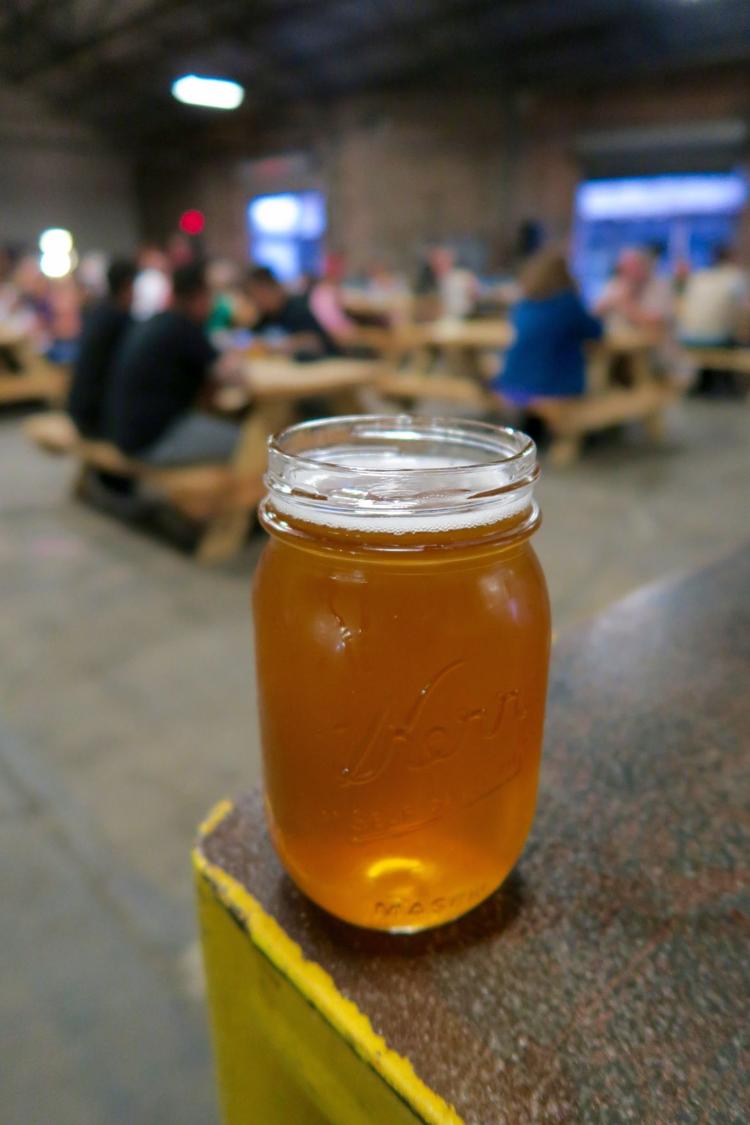 In New Orleans itself, the new wave of brewery taprooms was spurred by a change last year in state law. Louisiana breweries were previously limited to selling 10 percent of their production through taprooms. Now, they can sell 10 percent or up to 250 barrels of beer per month, whichever is greater. 
That change means very small, startup breweries can sell proportionately more of their beer direct at taprooms. That has bolstered their business models, since brewers keep more of the money on a pint sold at a taproom than they do from the same beer sold through a distributor. It's a revenue stream the brewers describe as a lifeline for a fledgling industry taking root here.
These breweries are cropping up in old industrial properties by necessity. They need high ceilings for tall tanks, room for storage, access for trucks to deliver grain and ship out beer, and the right electrical and water service for their work. They also need leases that fit the budget of startups.
Ad hoc, off the beaten path
Courtyard Brewing is housed in a former seafood warehouse in the shadow of the Crescent City Connection overpass. Even after a renovation this fall that added an art gallery annex, the ambience remains ad hoc, and the location feels off the beaten path. Far from a deterrent to business, Courtyard founder Scott Wood thinks that all contributes to the appeal for beer enthusiasts.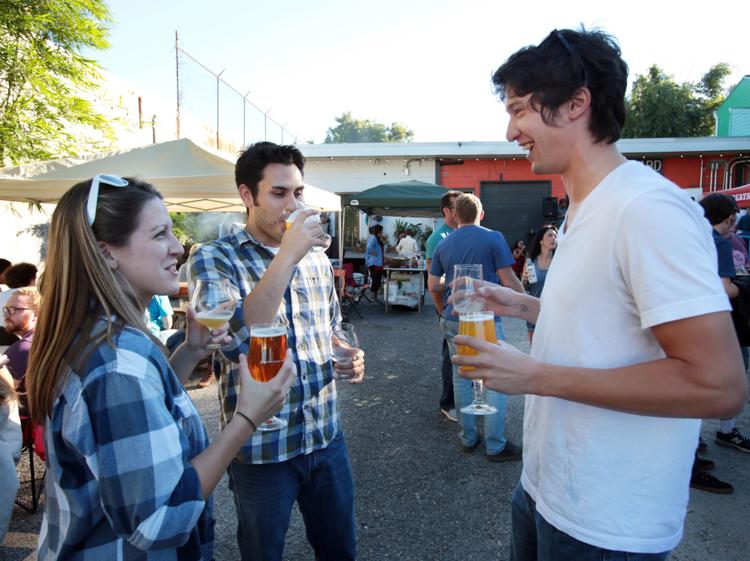 "We're not trying to please everyone here," said Wood. "People come here because they share an interest in beer, and they like the ways that we're not a bar. People aren't coming here to pick someone up. They're coming here to drink beer and talk about the beer."
There were no breweries in New Orleans when Kirk Coco started NOLA Brewing in 2008. Last year, it expanded from its original Irish Channel warehouse facility with a two-story taproom with a view overlooking the hardworking riverfront.
Just over the parish line in Old Arabi, 40 Arpent Brewing opened its new taproom this month, taking over another space in the riverfront warehouse where the tiny brewery debuted in 2013. Now, roll-up doors give a view of the Mississippi River levee just across the street while taps designed like Louisiana marsh reeds dispense founder Michael Naquin's latest beers.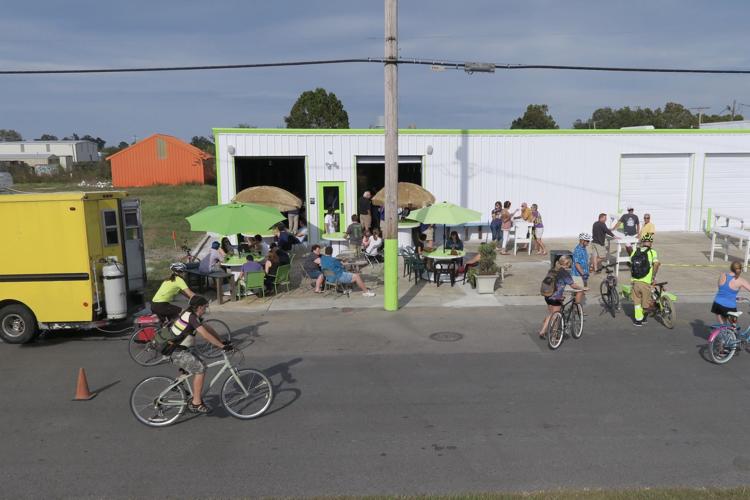 More are on the way. Parleaux Beer Lab is under development in a former auto garage in the Bywater, which will have a beer garden. Work on Brieux Carre is progressing in the Marigny, just off the bustle of Frenchmen Street. In New Orleans East, Royal Brewery is redeveloping a warehouse near the Industrial Canal for an opening in 2017, and Port Orleans is another brewery underway on Tchoupitoulas Street by the Uptown riverfront.
And just off South Broad Street, near the pumping station where Central City meets Broadmoor, Justin Boswell will open Wayward Owl Brewing. The address at 3940 Thalia St. may not jump off the page, but the property was once prominent in its neighborhood as the Gem Theater. The movie house dates to 1952 and was slated for demolition before redevelopment plans got underway. Newly fabricated Gem signs now shine over the marquee as part of the renovation work. Inside, a taproom will stretch the length of the lobby, separated from the brewing areas by vintage cinema seats.
"We were advised against building a brewery here, but we have confidence in this neighborhood," said Boswell. "Breweries do serve as a draw for tourism, and we'll get that business, but we want to be here for people who live nearby and be that neighborhood space."
Now on tap:
6809 N. Peters St., Arabi, (504) 444-3972
Taproom hours: Thursday-Friday 5 p.m.-till, Saturday 11 a.m.-til., 11 a.m.-6 p.m.
1020 Erato St., no phone
Taproom hours: Monday-Wednesday 4 p.m.-10 p.m., Thursday-Sunday 11 a.m.-10 p.m.
3001 Tchoupitoulas St., (504) 896-9996
Taproom hours: daily, 11 a.m.-11 p.m.
433 N. Bernadotte St., (504) 248-8979
Taproom hours: Wednesday-Friday 4 p.m.-10 p.m., Saturday 2 p.m.-10 p.m., Sun. 2 p.m.-8 p.m.
1645 Tchoupitoulas St., (504) 267-4852
Taproom hours: Monday, Thursday, Friday, 4 p.m.-till, Saturday, Sunday 11 a.m.-till (normally 10 p.m.)
More brewing:
2115 Decatur St.
Projected opening: late 2016
634 Lesseps St.
Projected opening: early 2017
4124 Tchoupitoulas St.
Projected opening: TBA
7366 Townsend Place
Projected opening: brewery opening early 2017, taproom mid-2017
3940 Thalia St.
Projected opening: brewery late 2016, taproom early 2017