You promised you'd catch up, if not before Christmas then definitely before the end of the year. But just look at the calendar. The days are scant and the nights are full. You can't book another dinner or another party. But maybe you can swing a holiday get-together over a drink, a few small plates or maybe a dozen oysters.
Below are some ideas to squeeze in that visit. It turns out they also make good destinations to reunite with expat friends back in town or to get visiting relatives out of your house for a spell.
Santa goes tiki at Latitude 29
New Orleans' reigning Tiki temple, Beachbum Berry's Latitude 29 (321 N. Peters St., 504-609-3811), has undergone a North Pole-to-Polynesia holiday makeover.
Part pop-up, part cheeky holiday installation, it's called Sippin' Santa's Surf Shack and across the restaurant and lounge you'll find holiday-themed cocktails in specialty mugs, ornaments and tinsel hanging from the bamboo lanterns, and Christmas tunes from Tammy Wynette and the Supremes drifting over the thatched-hut booths.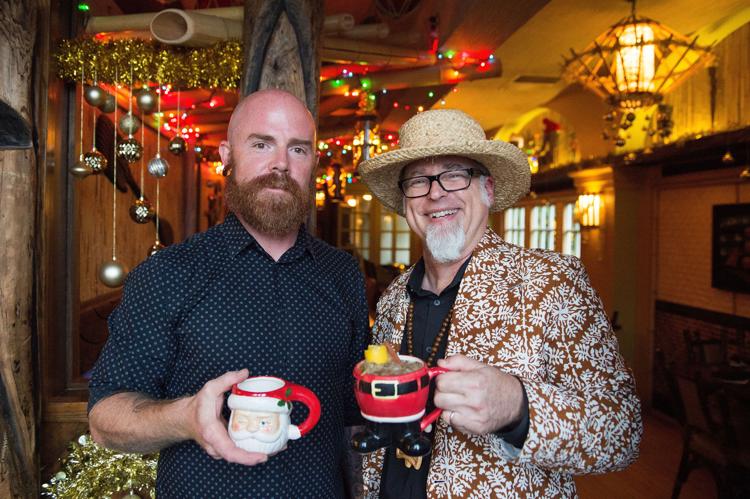 The special drink menu is a collaboration with cocktails devised by bars in Chicago, New York and New Orleans. One example from Latitude 29 is the Don & Victor, a hot rum drink under a creamy cap of spiced batter served in a Santa mug. It's a tiki spin on the Tom & Jerry and a potent pour of holiday flavor.
The Sippin' Santa's Surf Shack theme and special drinks continue through New Year's Day (closed Christmas Day).
At Arnaud's, toasting teddy bear hugs and bridge building
Earlier this year, Arnaud's Restaurant and the French 75 Bar (813 Bienville St., 504-523-5433) collected a James Beard Foundation national award for outstanding bar program. This time of year, the restaurant and its bar are collecting something different — teddy bears.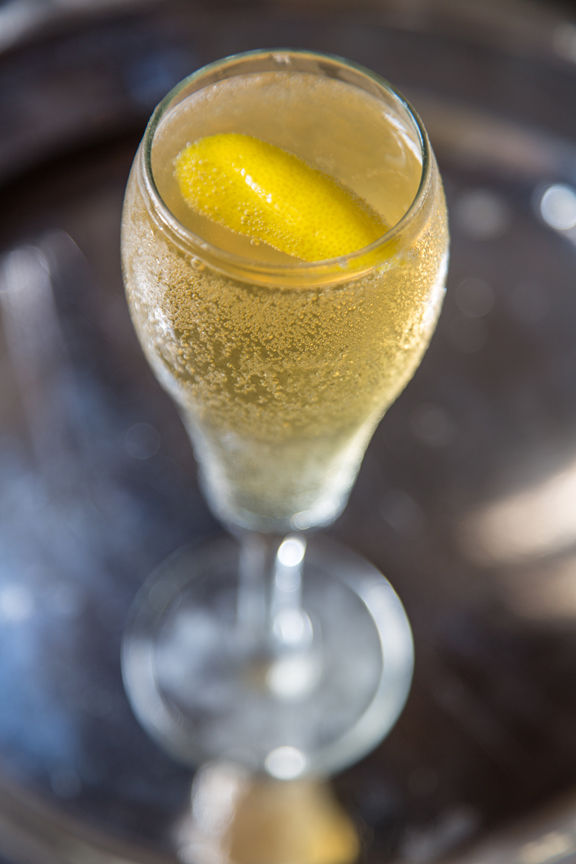 The Teddy Bear Program has grown into a holiday tradition at Arnaud's, fed by patrons who bring along new teddy bears when they visit for a meal or drop in for a drink at the French 75. These gifts are donated to the New Orleans Police Department for officers to give to children who have been traumatized and to Raintree Children & Family Services.
Arnaud's holiday time haul typically numbers more than 1,000 new bears, though in a testament to the need that police see in the line of duty there is always a demand for more. The New Orleans Police & Justice Foundation, the restaurant's partner in the drive, has praised the program for helping children and building ties between the police and the community.
Arnaud's Restaurant extends its schedule during the holidays, serving lunch through Dec. 22 from 11:30 a.m. to 2:30 p.m. The French 75 bar serves seasonal cocktails throughout the month, including the classic Dickens' Toddy and Tom and Jerry and hot buttered rum. It also has a bar menu running through soufflé potatoes, boudin wontons and cheese plates.
The teddy bear drive continues through Dec. 31. In addition to Arnaud's, drop-off sites are available at the New Orleans Convention and Visitors Bureau at 2020 St. Charles Ave. (Mon.-Fri., 8:30 a.m.-5 p.m.); Energy Centre, 1100 Poydras St. (Mon.-Fri., 7 a.m.-8 p.m.); and Verdad Real Estate and Vertical Construction Management, 1240 Camp St. (Mon.-Fri. 8 a.m.-5 p.m.).
Holiday spirit, shaken or stirred
While Reveillon dinners roll this month, a collection of bars around the city take part in a more casual cocktail offshoot called Reveillon on the Rocks. From grand restaurants (Tableau) to neighborhood bistros (Café Degas), you'll find special holiday drinks that range from classic to contemporary to pure kitsch.
The Columns poinsettia (Champagne with cranberry and raspberry vodka) at the Columns Hotel holds down one end of the spectrum; at the other there's the "fiery gingerbread man" (cinnamon and butterscotch schnapps, cinnamon whiskey and cream) at Antoine's Restaurant.
Some Reveillon on the Rocks bars are within hotels where robust holiday décor and festive settings recommend them as destinations in their own right.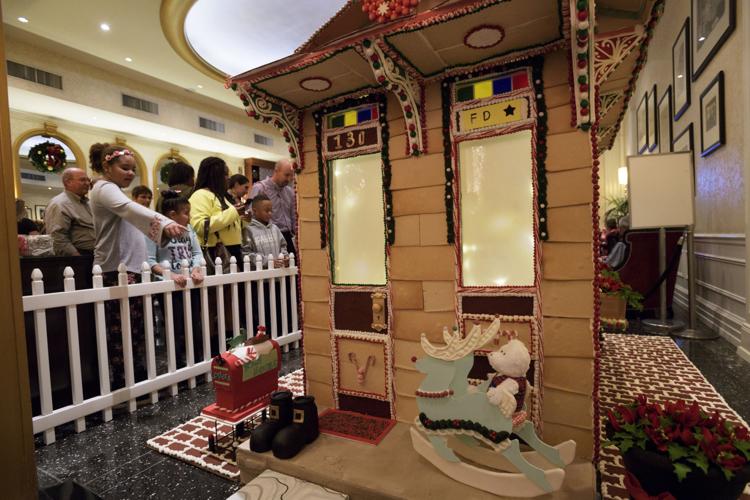 Here's a proposed itinerary:
• Start with a Twelfth Night sparkling wine cocktail at the revolving Carousel Bar in the Hotel Monteleone.
• Continue on for a yam old fashioned (cognac with yam puree, nutmeg, clove and toasted marshmallow) at the Davenport Lounge in the Ritz-Carlton Hotel, with a stroll through the lobby's life-size, 750-square foot gingerbread house installation.
• End with the block-long lobby light display at the Roosevelt Hotel, check out the shotgun gingerbread house and duck into the historic Sazerac Bar, for a Santa's candy cane cocktail (peppermint schnapps, crème de cacao, raspberry and candy cane), or maybe just a Sazerac.
Find all the Reveillon on the Rocks bars and more details at followyourjoy.com.
Quick hits at the happy hour
Happy hour isn't (just) about cheap drinks. Many restaurants offer happy hour deals on food too, and some are especially conducive to catching up in this holiday theme.
On board for cheese plates: A prime example is St. James Cheese Co. (641 Tchoupitoulas St., 504-304-1485; 5004 Prytania St., 504-899-4737) and its cheese plate happy hour. Three-cheese boards are $10, and wine and beer is discounted. Happy hour is 5-8 p.m. daily downtown, and Thu.-Sat. (same times) at the Uptown location. The Warehouse District location adds another special on Fridays with three cheeses paired with three local beers for $25). At either spot you can multitask with some edible gift shopping.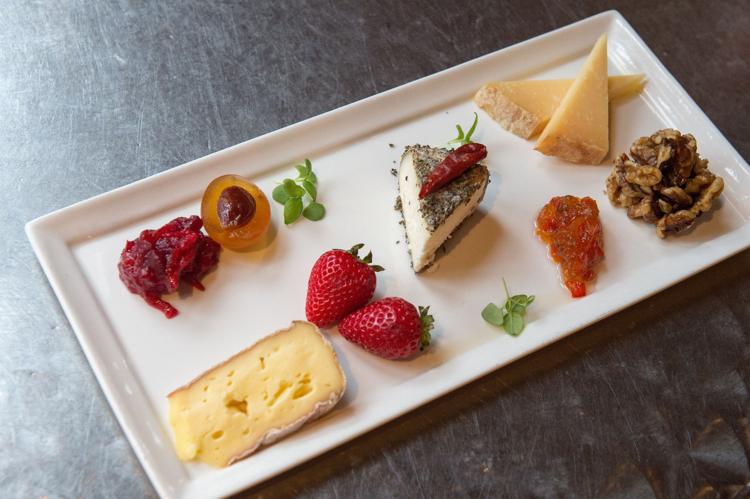 Oysters of course: Of the many reasons to love a New Orleans oyster bar, add this seasonal one: They make a convivial perch to catch up over a cold dozen and a couple of drinks without a full meal's commitment in time or reservations. Some have happy hours too.
For these purposes, meet me at Pascal's Manale Restaurant (1838 Napoleon Ave., 504-895-4877), for half-price oysters 3-6:30 p.m. Mon.-Fri. and the nearby Superior Seafood (4338 St. Charles Ave., 504-293-3474), where oysters are 50 cents each, daily 4-6:30 p.m.
Save me a seat at the curving marble counter at Bourbon House (144 Bourbon St., 504-522-0111), where they're $1 each, daily 4-6 p.m.; or the more modern Seaworthy (630 Carondelet St., 504-930-3071) for half-priced oysters from a range of growers. And if we're downriver from the Industrial Canal, I'll be at MeMe's Bar & Grille (712 W. Judge Perez Drive, 504-644-4992), for happy hour in da Parish, Tue.-Fri., 4:30-6:30 p.m. with 99-cent oysters from the grill.
Sinuous tree limbs dripping with lights, only-in-New Orleans holiday songs on repeat play, the clang and toot of the miniature train chugging …
Christmas season is a busy time for the grand Creole restaurants of the French Quarter, where families and groups of friends traditionally flo…
Visions of sugar plums aren't the only things dancing through the heads of those who feel the Christmas spirit in their appetites.