The growing range of Latin American food in New Orleans now spans upscale modern restaurants and taco trucks and outdoor market finds. Another way to measure how much it's grown here is the diversity of flavors within this range.
Catalino's brings a uniquely satisfying, even eye-opening example. This new addition to Maple Street is a Guatemalan restaurant.
Of all the different realms of Latin American cooking, this must be one of the least familiar outside Guatemala or the kitchens of Guatemalans abroad. Certainly, it is among the least widely translated and reinterpreted.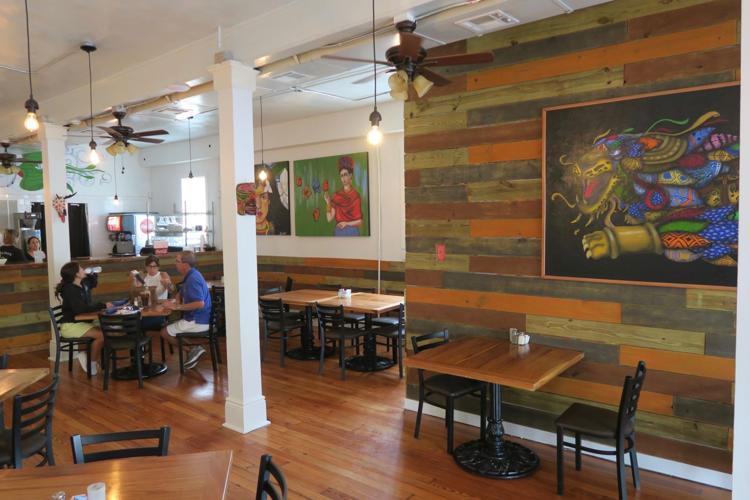 Catalino's gives a glimpse of its potential with a small menu, and it sets a welcoming, approachable stage for newcomers to sample it.
The menu is written for a clientele not necessarily fluent in this cuisine, with tasting notes and even pronunciation assistance worked into its short list of dishes.
This is helpful, because while Guatemalan cooking shares some similarities, and even terminology, with its Mesoamerican neighbors, it clearly developed along a different track than the traditional flavors of Mexico and Central America.
As presented at Catalino's, it feels like a homespun, comforting cuisine, with the payoff coming from combinations of flavors rather than individual star ingredients. It does not have the fireworks of vibrant salsas and chilies like its Mexican neighbor to the north. Rather, the best dishes here either crackle with a contrast of textures or satisfy something deep down with a blend of many flavors together.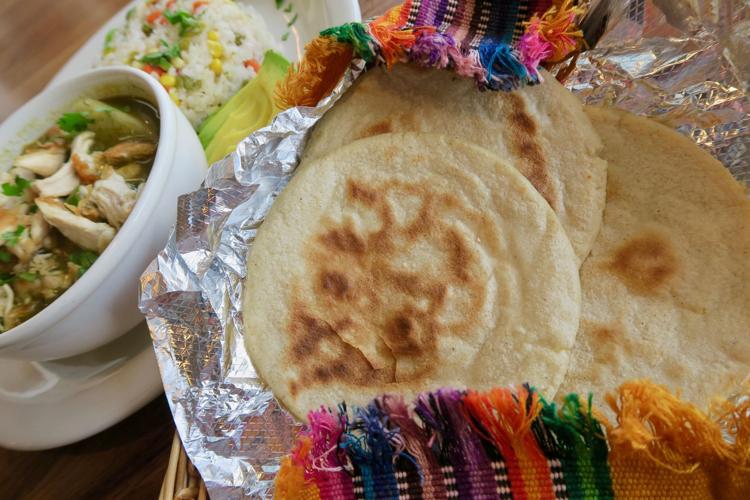 A common fundamental are tortillas, and with these Catalino's truly stands out. Handmade tortillas will always make a big difference, but these go a step further. The corn tortillas have a slight, pliant chew to their texture and a toasty flavor. They're tortillas with character and they're as important to meals here as proper pizza crust or great bread.
Some of the marquee dishes are stews. A prime example is jocon, a made with torn pieces of pan-fried chicken and a green broth swimming with the fresh-sour flavor of cilantro, bell peppers and tomatillo and chunks of mirliton for body. Though in a stew, the chicken still has a crispy edge, while the broth is thin and surprisingly rejuvenating with its contrast in flavors.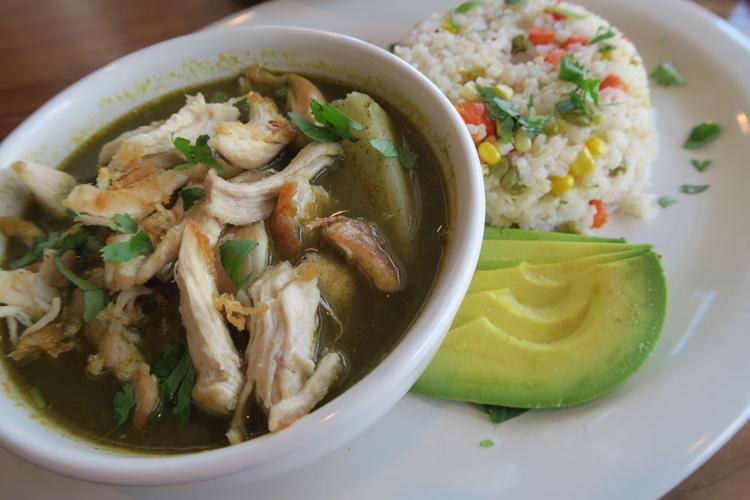 Pepian is another chicken stew, but a much different one. It has a dark, burnished red color with a veritable salad of green beans resting on top and the toasty flavor of roasted spices running throughout.
I alternately spooned this over the rice and vegetable mix on the side, and dunked in pieces of terrific corn tortilla.
A vegetarian platter of grilled squash and onions, fried plantains lacked any excitement, in a way the bland salsa and even blander guacamole couldn't rectify. Other dishes might speak to ingrained comfort food cravings that don't immediately speak to newcomers to the cuisine. The caldo de res, the beef soup, reminded me of an Irish stew, add corn and yucca. The broth felt nourishing and restorative but was not very flavorful.
Elote loco looks more fun than it really is. Though likely the most photographed dish on the menu, it amounts to corn on the cob stuck on skewers under a coating of ketchup, mayo and crumbled cheese.
The Guatemalan enchilada is much more satisfying and alluring and deserves to be a go-to dish here.
"Enchilada" is one of those food terms that changes from place to place. In Guatemalan usage, enchiladas resemble Mexican tostadas, towering constructions of meat and crumbled cheese and vegetables over a fried tortilla.
At Catalino's, these come out on a swoop of lettuce with beef and egg and a salad of beets and green beans, with the beans turned red from the beets. The variety of textures and flavors makes each bite taste hearty, juicy and light all at once.
I'm told the proper way to eat these is by hand, like gigantic individual nachos. That skill must be a sign of food mastery in Guatemala. I've always had to resort to a fork.
Somewhat confusingly, the Guatemalan tostadas, also on the menu here, are like smaller enchiladas – circular fried tortillas with less towering toppings.
For dessert, try the rellenitos — fried plantains stuffed with sweet bean paste. The starchy plantain itself gives a creamy, puddinglike texture, though there's no cream; the beans taste almost chocolaty, though there's no chocolate.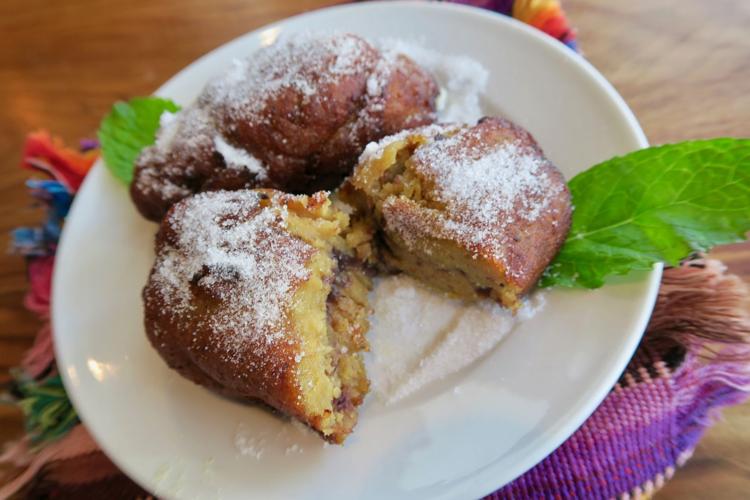 Catalino's is casual, inexpensive and family-friendly, created by the couple Addie and Hugo Vasquez (she is from Louisiana, he is from Guatemala). It's named for Vasquez's late grandfather.
It opened in July in what had been the longtime home of the Middle Eastern restaurant Babylon Café (like that predecessor, it is still attached to the adjacent laundry, with which it shares restrooms). Catalino's is BYOB.
Visiting new restaurants is always interesting, for the chance to try out what might make them different. Catalino's has been especially interesting because it is bringing what for many will be the first taste of an entirely different cuisine.
Catalino's
7724 Maple St., 504-518-6735
Lunch and dinner Wed.-Mon. (closed Tue.), BYOB
Like any proud cook, Iris Cardona gets a thrill when people tell her they like her food.
Inside New Orleans' longtime cultural meeting points for the city's Latin American community