It seems like any building that can accommodate a kitchen and some tables is liable to be drafted into the growing ranks of New Orleans eateries these days, no matter its original purpose or design. In Mid-City, however, one of the dining scene's newest additions has taken up residence in what has long been a distinguished New Orleans hybrid.
Vessel opened in June in the old church that for nearly 30 years was home to Christian's Restaurant, and which later had a stint as the restaurant Redemption.
In its concept and inspiration, Vessel is much different from either of its predecessors, which were both formal. Yet the setting remains central.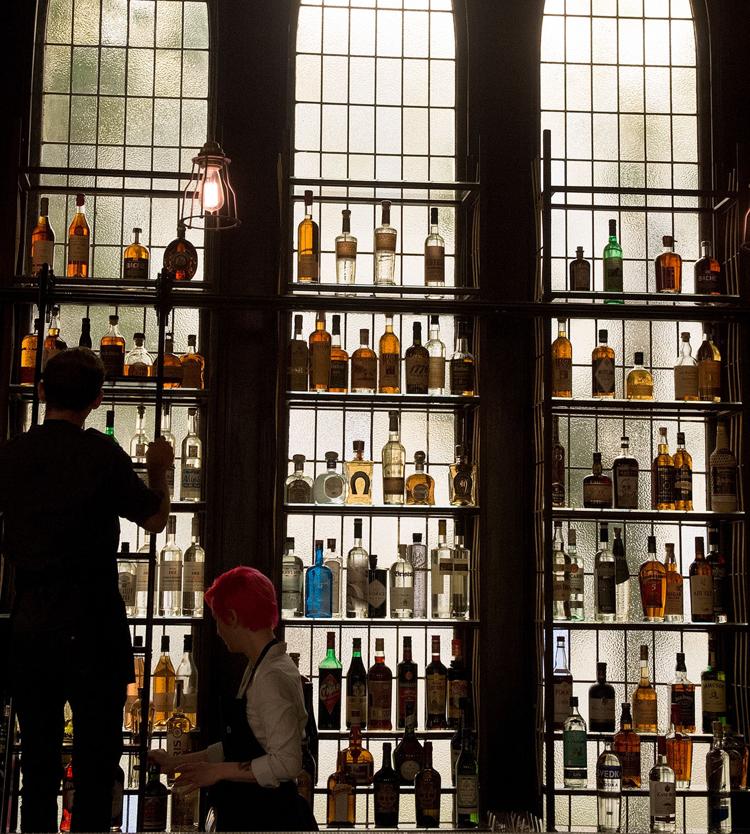 Before you cut into chef Nick Vella's distinctive rendition of Mediterranean cooking, and even before you consider the intricately detailed drink list, you have to size up the salient fact that you're in a church.
That's not to say it feels hallowed. People have been dining and drinking under this steeple for decades. And now the space is designed to function as much as a bar as a restaurant.
But as cocktail glasses clink and tables fill with wild boar pate, octopus topped with shaved bonito and peach salads dappled with ricotta, the open rafters still rise high above, Gothic chandeliers extend down and old stained glass windows arch across the walls.
A coastal concept
Vessel was developed by Alec Wilder, Eddie Dyer and Chuck Brechtel, who are all partners in the Bulldog Tavern and Lager's International Ale House. For years, they've been planning a different sort of project from those pubs, one with higher-end cocktails and wine and a lighter, more modern restaurant menu. They were not specifically searching for a church, but when this property hit the market last year they immediately sensed it would sync with their plans.
To lead the kitchen, the partners found a young and unheralded chef with a unique vantage on their culinary aims for Vessel. Vella's family is from Malta, an island nation that developed its own traditions amid the swirl of its Mediterranean neighbors.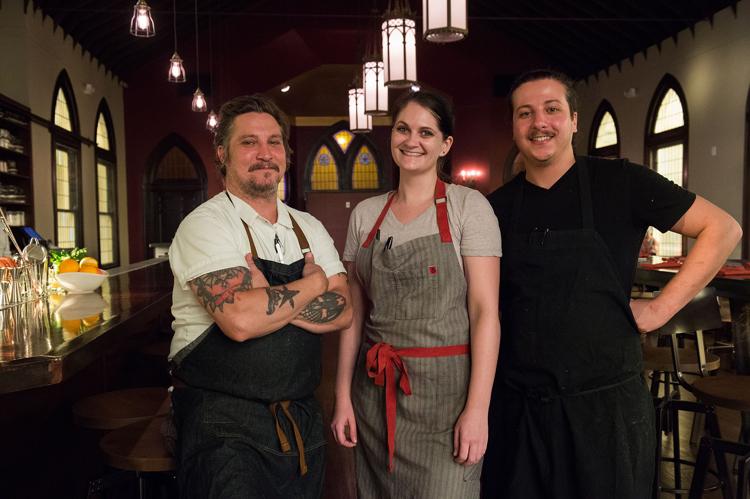 Vessel's concept is "coastal cuisine," but the focus is not specific to seafood. Instead, it's about fresh flavors from seaside regions, and Mediterranean influences that go beyond Italian and French classics.
On his opening menu, caramelle pasta, shaped like candy bundles, are filled with fresh ricotta and interspersed with charred corn and black truffles. Flatbreads taste lighter than they should because they start with thin lavash before they're topped with shrimp and arugula or lamb and crushed tomato. Red snapper crudo has a more contemporary feel, layered over the delicate icy crunch of watermelon sorbet and with a foamy fizz of basil and Pimm's. Chicken braised in olive oil with a dashi-enriched reduction gives a lushly full flavor without the accustomed rustic heft.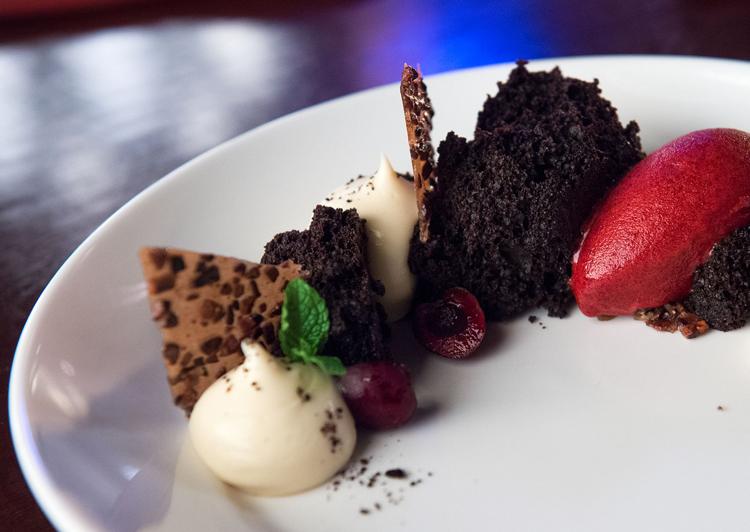 Vella is joined in the kitchen by sous chef Chris Godfrey and pastry chef Amelia Watts, whose dessert list follows suit with buttermilk pie with pickled blueberries and sweet corn gelato and a deconstructed cake with all the intensity of Valrhona chocolate and an artfully modern presentation.
Drinks first
The bar at Vessel stretches across nearly the length of one wall, and it's paralleled by a pair of long, high communal tables, then a row of smaller tables along a banquette. The bar's prominent role at Vessel is reflected on the menu, where at least half the dishes are small plates, snacks or vegetables sides (and these sides are all actually vegetarian) – in other words, modern day bar food.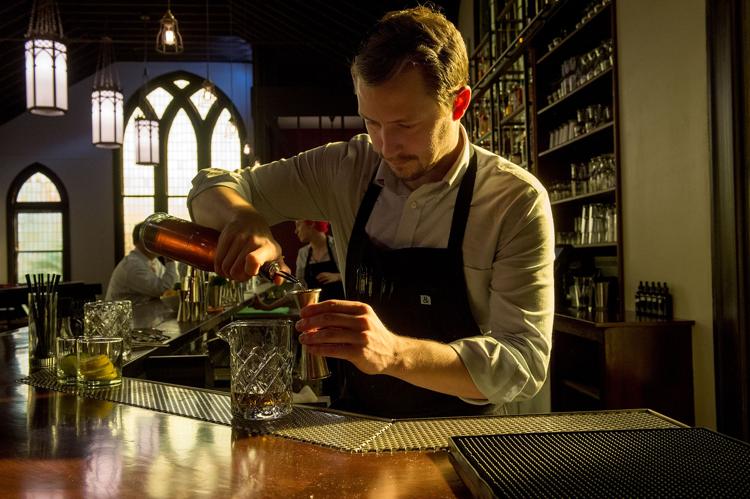 Vessel's manager Joe Pilié is an alum of Commander's Palace, where he earned his sommelier certification. He built the wine list here, and used the coastal concept to guide it into the lesser-known nooks and coves of wine-producing areas rimming the Mediterranean, with other producers represented as well. 
All are served in varietal-specific glasses, which gets to another of Vessel's organizing principles. The right "vessel," the proper glassware for individual drinks – for the beers and cocktails as well as wine – is a point of distinction for the bar.
The type of glass is even indicated on the drink list with icons denoting their shape. From there, beverage director Wyatt Lowrey can describe the way those shapes enhance aromas or control temperatures, or why some just speak to him for their classic style (he's a fan of the "Nick and Nora," a stemmed cocktail glass named for the booze-swilling characters from vintage "Thin Man" films).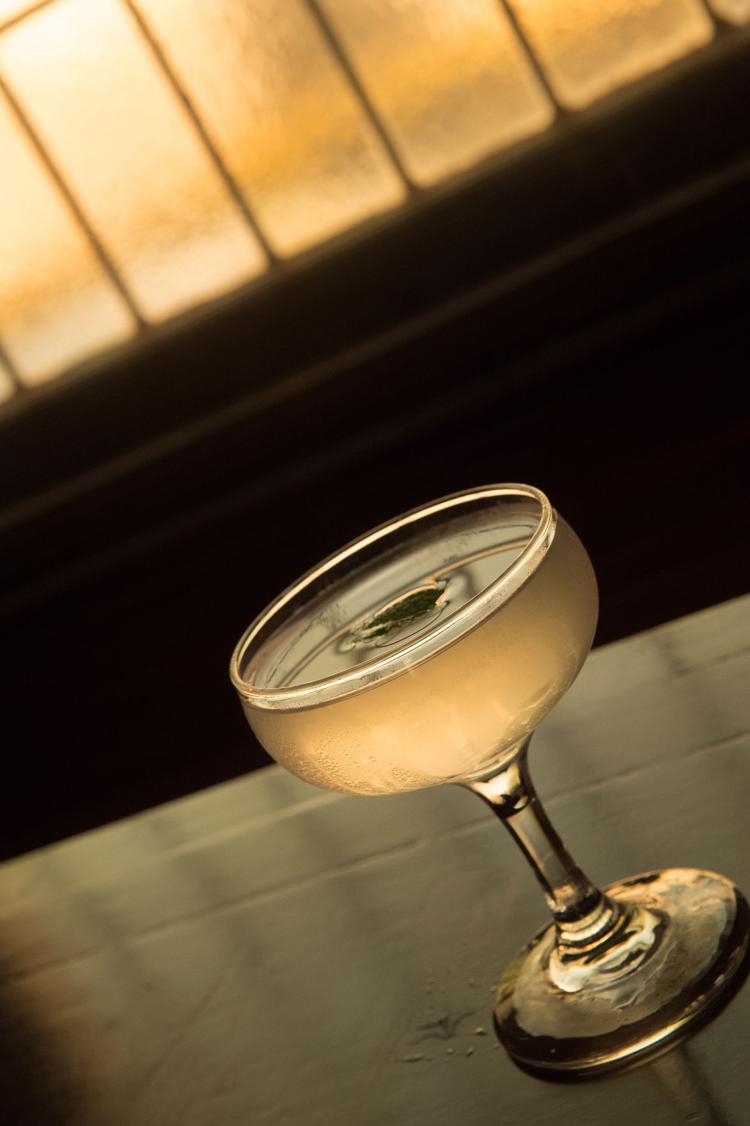 Beyond the vessel symbolism, beyond the coastal interpretations, Vessel comes back to its singular setting. Particularly, there are those windows framed across three sides of the soaring room.
The honeyed-amber hues coming through change throughout the day. By sunset, they change the tone of the room practically minute to minute, putting on a subtle, ambient light show.   
That will be familiar to anyone who dined here in the Christian's or Redemption eras, though now they glow over a more social space. 
3835 Iberville St., 504-603-2775
Daily 4 p.m.-'til (full menu served 5:30-10 p.m.)