Sometimes traveling can inspire you to live a little differently back home. And sometimes, a visitor can help you see your own home in a new way. That was the case when a mentor and old master came to town recently.
"I realized that through my life, I carried in my heart and on my palate the food I grew up eating," said Dario Cecchini, the famous butcher of Tuscany, spreading his hands above the pig and cow he had just butchered and would soon help cook at Dickie Brennan's Steakhouse.
Cecchini was speaking in his native Italian while his wife Kim translated. But the meat of the message needed no interpretation for this New Orleans crowd.
Food is heritage. Food traditions matter, and for more than their own sake. Traditions connect us to each other and our past. It is also completely in our hands to forge new traditions and bring others back from extinction, so that traditions have a pulse and a future.
"Tradition is nothing but innovation that turned out well," Cecchini said at another point in his amiable, ambling talk and demonstration of the butcher's craft.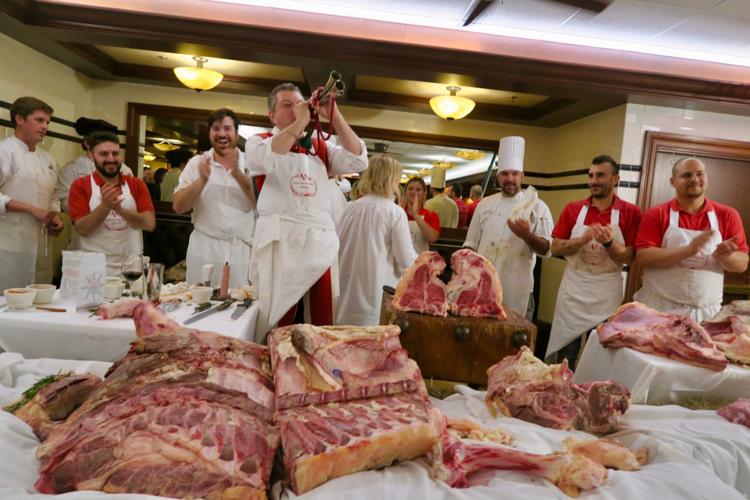 He was in New Orleans last week for a unique exchange. Richard Brennan III, the son of Dickie Brennan, recently completed an internship at Cecchini's butcher shop and restaurants in the tiny village of Panzano, Italy. Now back home and working at his own family's restaurants, he's chomping to transfer that experience.
Cecchini, the mentor, came to visit his protégé and he did what he does when he travels these days — he put on a show.
Between quoting from Dante and methodically turning a side of beef into something that looked like a St. Joseph's altar of meat, he shared stories of food traditions from his home village, from his family and of his own much more recent making. For instance, his quest to elevate the beef shank led to a marrow-braised, rosemary-trussed holiday-worthy centerpiece. 
"And the ugly ducking becomes the swan," the butcher exclaimed.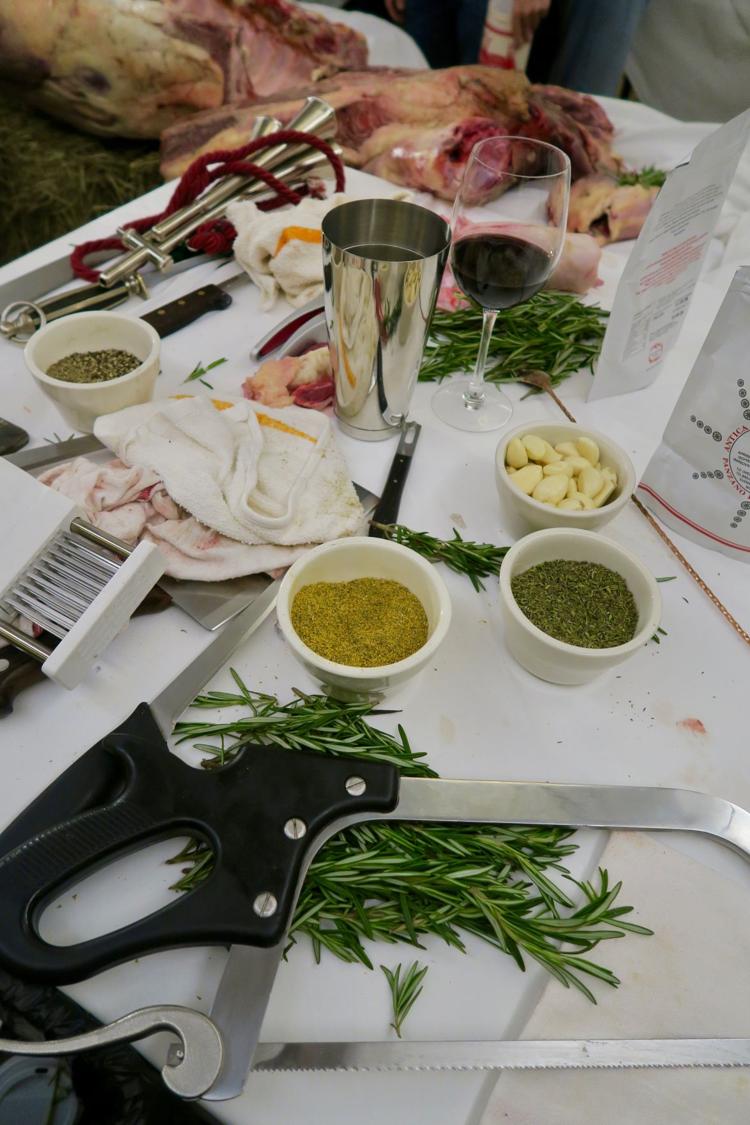 Cecchini has achieved fame in the food world not as the face of a restaurant empire or the star of a cooking show but as impresario for preserving Old World artisan ways and adding new chapters  through their intentional pursuit.
The particulars are rooted in his homeland, like the huge bistecca Fiorentina, the regal Tuscan T-bone he cleaved in front of the crowd. But his approach, the guiding spirit behind it, should resonate for people who recognize and value their own food heritage.
What he said, quoted above, about carrying a legacy of food in his heart and on his palate could have come from the mouth of any Louisiana food lover mindful of the journey that created what they enjoy every day.
"I grew up around humble people who carried with them the experience of centuries," Cecchini said. "I feel comfortable in this world. But what I really feel is that it has fallen on my shoulders to tell the stories of people who are no longer with us ... stories that have nearly been lost."
It's hard not to envy Italians when they speak of the centuries fueling their incomparably rich food heritage. But then, it's hard to think of anywhere else so rich in New World food heritage as our own home in New Orleans and Louisiana.
What else can people rediscover, revive and reinterpret here with such an approach? If this generation brings its vitality to the stories of the past here, what else can we bring to the plate? 
If you love New Orleans food, thank a New Orleans mother.
The carrots and radishes and rapini that William Champagne now sells through the New Orleans Food Co-Op are harvested a few miles away and del…
New Orleans lost a legend this year with the death of Arthur "Mr. Okra" Robinson, the roving produce vendor beloved across the city.