Early on the second Friday of the New Orleans Jazz and Heritage Festival, Orlando Vega will dash from his Congreso Cubano food booth to the Jazz & Heritage Stage, play guitar with the Afrobeat orchestra Kumasi and then run back to start serving ropa vieja to the festival crowds.
The first weekend of the New Orleans Jazz and Heritage Festival packed in more top-notch musical performances than many towns see in a year.
It's a rare double billing of Jazz Fest food vendor and Jazz Fest musician, and it will take some hustle to pull off both gigs.
That's fine with Vega. He knows the chance to ply his twin passions of food and music at Jazz Fest, of all places, is huge.
And if he has to count on help from friends and some improvisation to make it happen, well, that's what got him and his bootstrap food business to this point anyway.
"It's this beautiful intersection of my goals," said Vega, a Miami native who runs Congreso Cubano with his friends Charlie Miller and Rick Ostry. "Jazz Fest is what first drew me to New Orleans. Being here now, it feels like acceptance in my new home."
Congreso Cubano is a new food vendor at Jazz Fest, and new vendors there don't come along too often. This one came up from the ranks of New Orleans pop-up eateries. Now it has a booth between the cochon de lait po-boy and the crawfish sacks.
That's a little like street buskers one day seeing their names in the festival's music cubes.
For many years, Thursday at the Fair Grounds during the New Orleans Jazz and Heritage Festival has been known colloquially as "Locals' Thursday."
"It was amazing to be in the planning meetings. You see the people who have been doing this forever, and they're giving you pats on the back," said Ostry. "Every one of them has told us, if we need anything they want to help."
Congreso Cubano starts with Vega's own Cuban family roots, but its food is not a straight tribute to the traditional. To Vega, Cuban history is too complicated for that. Instead, the food draws on influences from the Cuban diaspora and from the tension between authenticity and interpretation.
"I am the son of immigrants," said Vega. "I'm not here to speak for my grandparents' generation. People in Cuba would not always recognize what we cook as Cuban today."
Congreso Cubano's festival menu has ropa vieja, the braised beef classic, and frijoles negros (black beans) next to vinegar-marinated fried redfish based on adobo Andaluz, a dish from southern Spain. You can get an ice pop made with espresso that has a kick like a cup of coffee.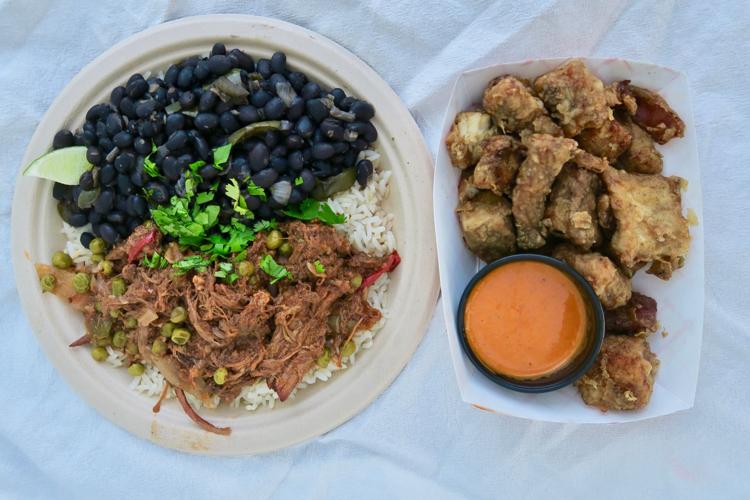 In its early days, Congreso Cubano was essentially based in the back of a Honda. Early pop-up gigs relied on friends spreading the word and showing up to lend support. But it soon gained a bigger following, built a track record and started picking up more catering jobs, like weddings and small conferences.
It developed a circuit of regular appearances at bars, like Barrel Proof, and at the Music Box Village performance venue in Bywater.
"We never would have made it without our friends," said Miller. "At least two people working our booth this year, we catered their weddings."
Congreso Cubano got a trial run at Jazz Fest in 2017 when it was invited to serve food as part of a special showcase on Cuba at the Cultural Exchange Pavilion. This year, when the longtime vendor behind the Guil's gator dish dropped out, Congreso Cubano got the nod to join the food program full time.
"We expected that the first thrill would be gone," said Vega. "But now we're all too excited about the potential to learn from our mistakes last year and see where this can go."
The three partners hope the exposure gets them closer to their goal of opening a brick-and-mortar restaurant. They want a permanent location not just to have their own space but also to develop the idea of a Cuban experience in New Orleans. They envision a place where people can convene around music, drinks, food and that sense of hospitality they feel connects that island nation and this island of a city.
Early childhood exposure to New Orleans can have permanent consequences. Just ask Old Crow Medicine Show frontman Ketch Secor.
"Everyone thinks about Miami and Cuba, but New Orleans' history with Cuba has a 100-year headstart," Vega said. "We're not introducing anything here that shouldn't have been celebrated in New Orleans a long time ago."
Find Congreso Cubano everyday at Jazz Fest's food area 1.
The Afrobeat orchestra Kumasi performs Friday at 11:20 a.m. on the Jazz & Heritage Stage.
Any way you cut it, you're going to enjoy Jazz Fest food. Standards are high, many recipes are classics and there's a reason this edible line-…
New Orleans lost a legend this year with the death of Arthur "Mr. Okra" Robinson, the roving produce vendor beloved across the city.
Scott Williams knows why people are drawn to his catered spreads of smoked boudin, cracklin'-topped deviled eggs and andouille croutons with c…
Mike Gowland, known to countless Jazz Fest fans and food TV followers as Fireman Mike, is taking over the Lakeview location of Pizza Nola.