The teams that convene at Hogs for the Cause each spring cook for a festival crowd and raise money for families battling pediatric brain cancer. Now, one team has found a way to raise funds while other people cook, and to keep it going year round.
Silence of da Hams, a team led by four New Orleans chefs, has developed a new smoked sausage that serves as an ever-ready, pre-packaged fundraiser, with proceeds from its sale benefiting Hogs for the Cause. The sausage is now making its way onto restaurant menus and it's slated to hit grocery store cases in November.
The sausage will make a public debut of sorts at the Oak Street Po-Boy Festival (which has been rescheduled to Nov. 12), where the Silence of the da Hams team has a booth. It will be served on a po-boy loaf with spicy mirliton sauerkraut.
As in past years, the team's Po-Boy Fest proceeds also go toward their overall Hogs for the Cause fundraising haul. The packaged sausage will extend that tally beyond events.
"The beauty of it is that it's out there raising money all the time, every time someone buys it," said Michael Brewer, founder of the cook-off team.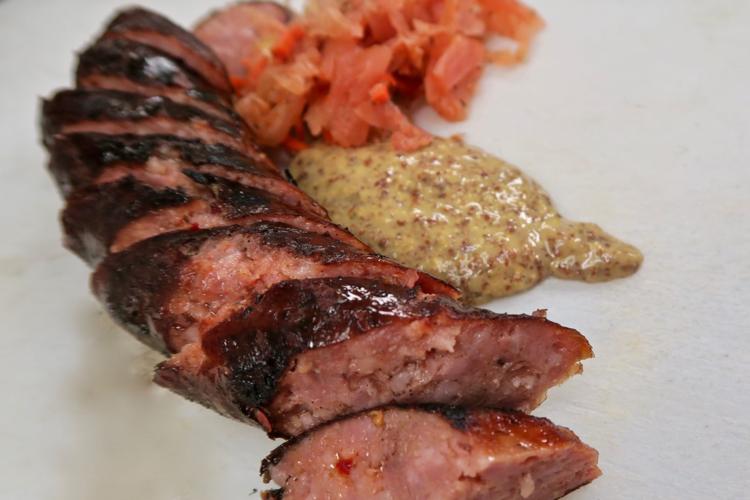 How this special link came about is a story of partnerships, pals and pork.
The recipe was developed by the four chefs behind Silence of the da Hams — Brewer, newly-appointed corporate executive chef for the Baton Rouge restaurant group City Pork Hospitality; Tory McPhail, executive chef of Garden District landmark Commander's Palace; Chris Montero, chef at the historic Napoleon House; and Jared Ralls, chef of the Argentine steakhouse La Boca.
They all leave their restaurant brands at the door when its time for Silence of da Hams events, coming together for something like the Traveling Wilburys of New Orleans chefs, and sometimes taking their show on the road for dinners and events benefiting Hogs for the Cause.  
The sausage itself is produced by Chisesi Bros. Meats, which supplies restaurants and groceries. Nicholas Chisesi, a manager of his family's company, was at Hogs for the Cause last year when the idea of a dedicated sausage dawned on him. When he saw the chefs working the Silence of da Hams booth, it all clicked.
"Working with them, it's like a comedy and a chef show at the same time, there's never a dull moment with them," said Chisesi. "They're fully committed to this though. It's been a lot of fun, and it's for a great cause, so that always works."
The chefs each did their part to develop the sausage, testing out batches and shuttling samples through each others' kitchen doors to evaluate along the way. The end product has a mild smoke flavor, a blend of five peppers, a hint of sweetness and the versatility to work with all kinds of New Orleans pot cooking or grilling.
"This is our signature dish now for the team," said McPhail. "We used to try to come up with something new each time, but now we want this to be right out in front."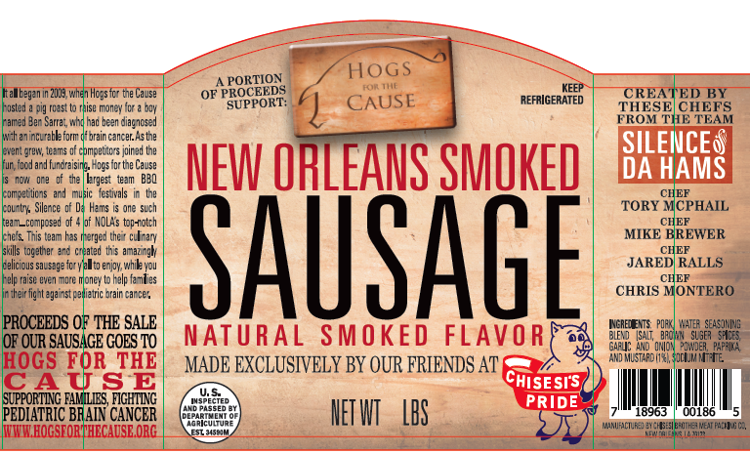 Other local brands have created Hogs-related products to help raise money.
Local clothier NOLA Couture has a Hogs for the Cause necktie, for instance, and NOLA Brewing last year made a seasonal wheat beer called Hog Tied in partnership with the organization.
The new sausage is a first for a retail food product for Hogs for the Cause, and event co-founder Becker Hall said he's impressed by the way it came together.
"Chefs have really good relationships with their products and their vendors," Hall said. "So when they said (they) wanted to develop it, we said roll it."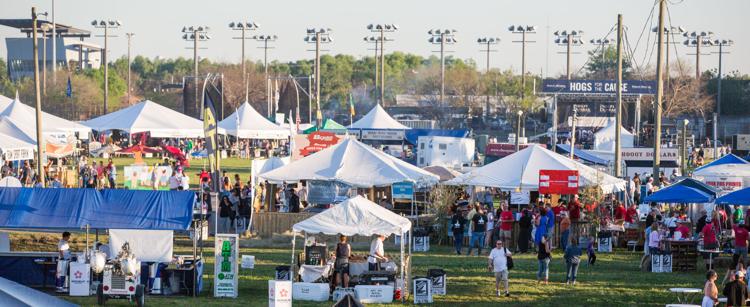 Hogs for the Cause is held each spring, gathering more than 90 teams to compete with whole hog barbecue and other porcine creations. It's grown into one of the city's most popular food events and a leading source nationally of support for families dealing with pediatric brain cancer. The organization has made grants to more than 400 families, and grant requests now come from around the country.
In addition to food awards, teams compete for fundraising totals too and some of these teams have grown increasingly sophisticated and far-reaching in these efforts. Some host their own spin-off events through the year, and a few have become independent nonprofits.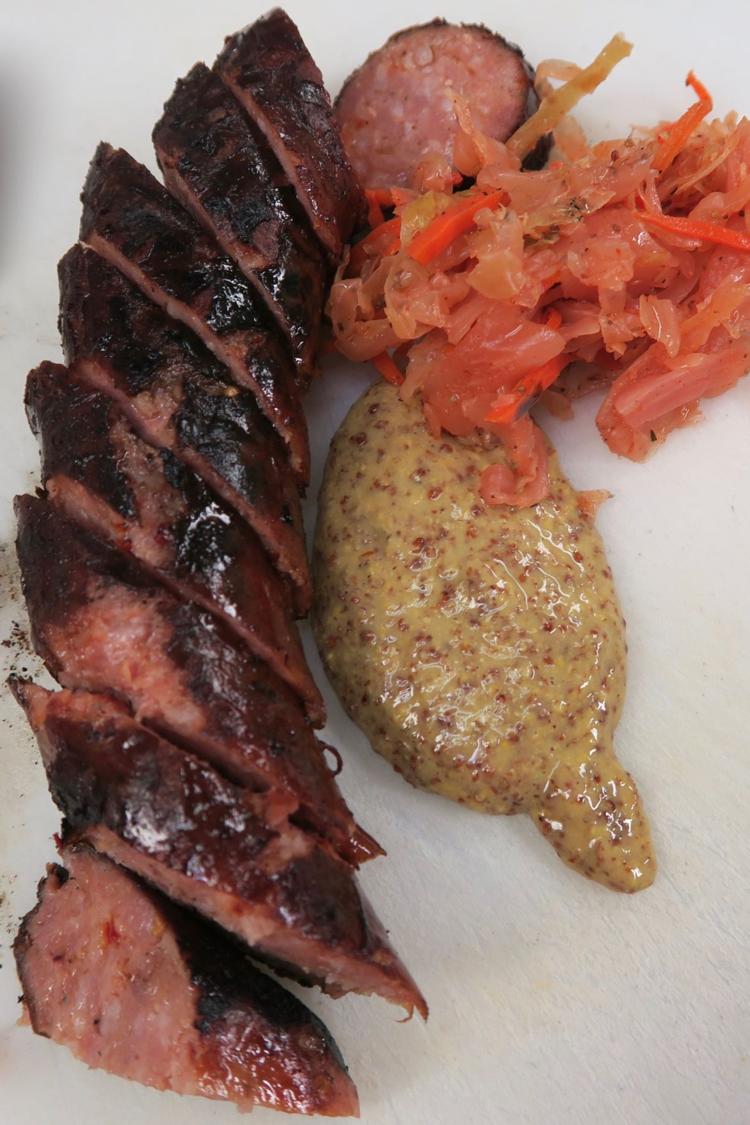 The top team for fundraising for the past three years, Team Fluer de Lis, singlehandedly brought in $225,000 in 2017. Two other teams topped the $100,000 mark this year.
The four-member Silence of the da Hams is much smaller than these top teams, but the chefs have tapped into their own networks and expertise in the food world to find a different angle.
"People have been really interested in getting involved with this," said Montero. "That's the thing about Hogs, we're just having so much fun out there that people see it and want to be part of it."
Montero's kitchen at Napoleon House has been using the sausage in some of its recipes, and and the chefs are lining up more restaurants around town too, including Parkway Bakery & Tavern, which will begin serving it in the weeks ahead.
By late November, Chisesi should begin distributing the sausage at grocery stores around Louisiana and as far as east Texas.
Note: this story has been updated with a rescheduled date for the Oak Street Po-Boy Festival, a new position for chef Michael Brewer and a projection on retail distribution of the sausage.  
For one weekend, Hogs for the Cause transforms a green glade in City Park into something lik…
Hogs for the Cause has inspired another spin-off business, and this time it's a neighborhood…
Each spring, the charity cook-off teams behind Hogs for the Cause build a temporary town of …
The charity cook-off Hogs for the Cause has helped fan the flames of barbecue appreciation i…