After a racially charged social media post and the widely criticized response to it, an important annual New Orleans event and an organization pivotal in city's role in the modern cocktail world is now in flux.
Tales of the Cocktail has a new president — the group's longtime operations manager, Melissa Young. The company that produces it, MOJO911 LLC, is up for sale as its founders, Ann and Paul Tuennerman — the sources of the original controversy — remove themselves from the equation.
"Ann and Paul are moving as quickly as possible and would like to complete the transfer of ownership before the end of the year," Young wrote in an "open letter to the bar and spirits community" released late last week.
No buyer has yet been publicly identified, but Young wrote that Tales of the Cocktail was moving forward with plans for its next edition. It will be held July 17 to July 22, she wrote; it will be based, as usual, at the Hotel Monteleone.
Still, the shake-up has many in the New Orleans drinks industry and cocktail community predicting that Tales of the Cocktail will change, and some advocating that it must.
"Tales could stop; there's genuine concern in the industry that this event could go away, which could have far-reaching consequences," said Cole Newton, proprietor of the Mid-City bar Twelve Mile Limit and a frequent participant in Tales of the Cocktail events.
If the Tales brand proves tarnished, there's worry that it could shrink in size and prominence as similar events in other cities step up. There's also the prospect of Tales pulling up stakes if a new owner decides to relocate to another city.
"Of all the outcomes, I think one where the event is unaffected is highly unlikely," said Neal Bodenheimer, co-owner of the cocktail destinations Cure and Cane & Table.
What's at stake is not just an event that draws visitors but also an organization that has recast the city's role in the evolving, global drinks business and cocktail culture. The event helped change the city's image in the drinks world from Bourbon Street debauchery to a more sophisticated blend of historic roots and modern trends.
But as it has become a more prominent platform for the spirits industry and the bartender community, it has also become a focal point for issues within them. That includes questions of inclusion and minority representation, and that helped fuel the impassioned response to the Tuennermans' online incident.
"I think we'll see participation of industry people dwindling, and I think that's directly tied to the creators' decisions," said Ashtin Berry, a bartender, now working in New York, who has been critical of Tales of the Cocktail's leadership. "When you continually ignore minority groups and think they'll take it, they'll eventually show you they matter when they take their dollars somewhere else."
A post, and an outpouring
The imbroglio emerged on Mardi Gras morning in February. Before riding in the Zulu parade, Ann Tuennerman posted a Facebook Live video of her wearing Zulu's traditional costume, which includes blackface makeup. While the costume and Zulu's role as the city's premier African-American krewe are widely understood in New Orleans, the image of Tuennerman, who is white, dressed in blackface was bound to be an issue as the social media post spread.
New Orleans is proud of the traditions that exist and flourish only here. But when one of th…
What proved more inflammatory was the post's caption. It read: "Paul G Tuennerman interviewing me on Mardi Gras Morning from the Zulu Den. As he said 'Throw a little Black Face on and you lose all your media skills.' He did his best as the interviewer."
Official apologies soon followed, along with Paul Tuennerman's resignation. But as anger grew, the incident became an entry point for broader complaints about Tales of the Cocktail, the Tuennermans' management style and social issues within the industry and how they play out at the event.
As part of her mea culpa, Ann Tuennerman sat for a public discussion of racial disparities and inclusion, led by Berry, which was shared on Facebook. Tales of the Cocktail then established a diversity council of industry professionals, charging it to "make sure that both the external and internal aspects of Tales of the Cocktail are designed to reflect diversity and progressive attitudes in regards to race, sexuality and gender."
But in September, the newly launched (and New Orleans-based) drinks industry site Neat Pour reported that Paul Tuennerman was returning to the organization. The news prompted some diversity council members to resign in protest and the derision of Tales, and in particular of the Tuennermans, flared again on social media.
A day later, the Tuennermans issued a statement announcing their resignation and naming Young as their successor. Ann Tuennerman did not respond to an interview request for this story.
Industry backing, community questions
Tuennerman founded Tales of the Cocktail in 2002 as a walking tour of New Orleans bars. It evolved into a conference, which, for the first few years, was very small, based largely around the Carousel Bar at the Hotel Monteleone. As it grew, however, Tales became a global gathering of the bar and spirits industry just as craft cocktails went mainstream and career opportunities for their practitioners expanded.
Behind the bar at the Uptown bistro La Petite Grocery, Julia Wineski mixes a six-ingredient …
The event attracts bartenders and entrepreneurs from around the world to learn and network, while companies travel here to market their brands.
Throughout its growth, Ann Tuennerman was the face of Tales of the Cocktail, and she was known both for keeping a hand on its many moving parts and keeping tight control over any events that developed around it. This has fueled complaints through the years about who can afford access to it.
"I want it to stay and grow, but I want what's best for all people, too," said Mark Schettler, president of the local chapter of the U.S Bartenders Guild, who has often criticized Tales of the Cocktail. 
As Schettler sees it, the future of Tales of the Cocktail rests with whoever owns the event and its brands, with its remaining staff and also with "the community at large."
"There's pressure that needs to be kept on as a community so that it's not just this top-down thing," he said. "Tales has a lot of influence, but that influence has to be wielded better than it has been."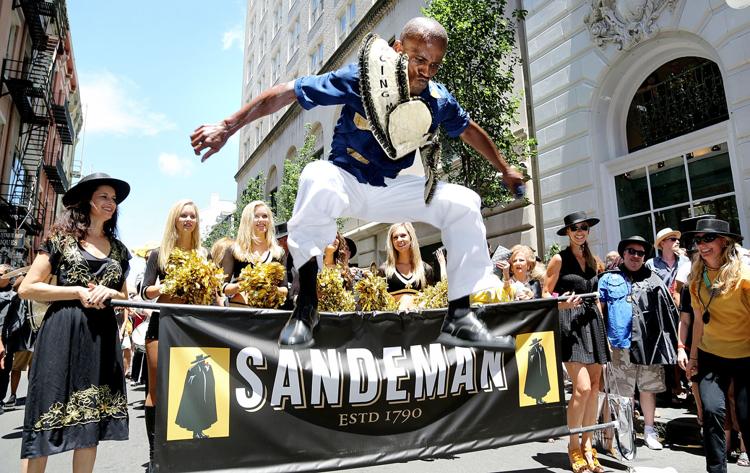 From a tourism perspective, however, Tales of the Cocktail is seen as an unvarnished blessing. It functions as a self-contained event that requires little in the way of city resources, and it has delivered precisely what the city wants: more summertime visitors.
"It was something they brought to the table, and it created a reason for people from around the world to come here when we need visitors," said Kristian Sonnier, spokesman for the New Orleans Convention & Visitors Bureau. "When we travel around, we hear about Tales from people all the time."
Locally, Sonnier said his agency has heard from hospitality industry leaders who are concerned about the event's future and are eager to express support for it. He predicts that a new owner for the event will find the local industry behind them.
That includes the Hotel Monteleone, which has served as a hub for the event as it has grown.
"We're as committed today as we were from the first day," said Kent Wasmuth, director of sales and marketing for the French Quarter hotel.
Bartenders don't have to work very long on Bourbon Street before they may confidently say th…
New Orleans has seen other important events evolve beyond their founder. Stephen Rehage created the Voodoo festival in 1999 and directed the event closely for years before selling it in 2013. Today, it's run by a company that is part of the entertainment giant Live Nation, and it has remained an important fixture of the New Orleans calendar.
In this case, however, some in the cocktail community believe that a moment of change at the drinks industry conference should be a catalyst for more inclusion and a broader picture of who makes the bar and spirits community.
One is Brandy Trepagnier, a longtime bartender who now is director of events for Calcasieu. She recognizes the event's importance for summertime income in her field, but she also believes addressing issues at the source of the shake-up is key to what comes next.
"There should be more space for the great local talent we have here, and make that as diverse as the city — that means more women, more people of color — make it more reflective of what the city is that's hosting this," Trepagnier said. "It's important to me because I'm from New Orleans, I'm a woman, a woman of color, and being in the service industry has shaped who I am today. "
Sam Perez, food and beverage manager for the Catahoula, a CBD hotel and bar, shared a similar read on the future of Tales of the Cocktail.
"In a city that's majority black, (Tales of the Cocktail) doesn't do much in the way of celebrating the culture and diversity that makes New Orleans what it is," Perez wrote in an email. "I'd like to see more recognition of black and (people of color) owned businesses from Tales, and more inclusive spaces for the growing number of queer and (people of color) folks in our industry. New Orleans is one of the most inclusive cities in that regard, and Tales drops the ball in giving people that aren't your typical mustachioed bartender a reason to be here."
In her open letter last week, Young wrote, in part, that "(a) number of mistakes were made, which will take great effort to overcome."
"We have heard from many of you with questions you have about our future and questions about how Tales will be different moving forward. We have also spent time working through a great deal of gossip and misinformation that we have tried to correct," she wrote. "We know there is work for us to do in learning from this situation. I assure you that our team is committed to doing this work. "
"The future of Tales of the Cocktail cannot be what we envision without an inclusive group."
Scott Williams knows why people are drawn to his catered spreads of smoked boudin, cracklin'…
Get people talking about Nick's Original Big Train Bar on Tulane Avenue, and the recollectio…