Great food is the gift that New Orleans gives to itself, to its visitors, to anyone with an appreciative appetite. We should pursue it with a critical eye to maintain high standards and also with gratitude for the fulfillment it brings, the doors it opens and the connections it weaves between us.
In this spirit, today I thank the people I connected with on the New Orleans food beat in 2017. Some I met for the first time. Others I got to know little better. I am grateful for the time they gave me, for the stories they trusted me to share and for their contributions to our city's magnificent food culture.
These are stories of redemption and resilience, character and characters, new beginnings, emerging talent and also, because this is life, loss.
After an especially busy, sometimes contentious year in New Orleans food, their stories have stayed with me more vividly than any meal. Here are some I will never forget.
Spreading his wings
Greg Tillery has a lean build, a thick beard and tattoos that proclaim his faith in humility, service and gratitude. It's not for show. The 30-year-old Seventh Ward native exudes positivity and possibility in a way that's not just convincing but also contagious.
He has a remarkable success story in the making at We Dats Chicken & Shrimp. Two years ago, he was slinging wings from a food truck, following a circuit of second lines and night clubs. Today he toggles between two brick-and-mortar locations of We Dats, downtown and in Gentilly. He's counting his blessings, and he's not taking a single order for granted.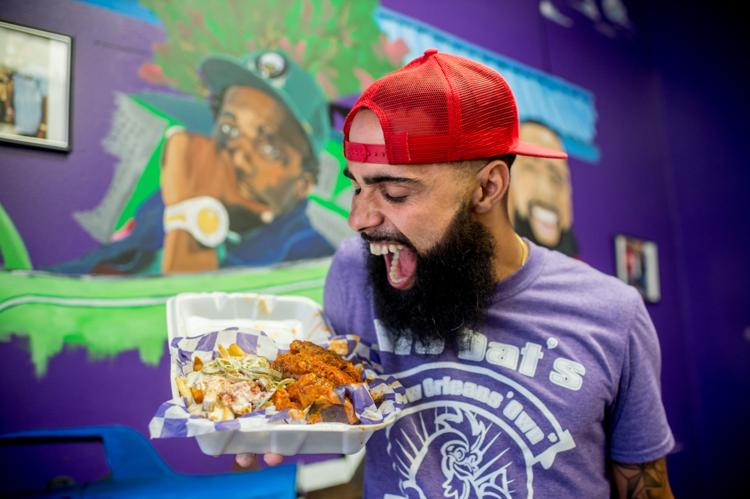 Tillery treats everyone who walks in like a big shot, practically leaping from his chair to thank newcomers for their business. He knows his product is one of those straightforward staples that can bring the world to his door, and he's ready to greet them all.
"When you think about fried chicken, you're thinking about parties, sports, parades, togetherness, good times, celebrations," Tillery said. "That appeals to everyone."
I met Tillery while writing about the return of the National Fried Chicken Festival, which has opened a different opportunity for food entrepreneurs who often go unheralded in the city's busy food scene. Tillery is one I predict you'll be hearing more from soon.
Inspiration from "the Irish side"
As the green beads and boozy smooches of another St. Patrick's Day reigned, Robert LeBlanc showed me how a more personal expression of Irish heritage guides him in business.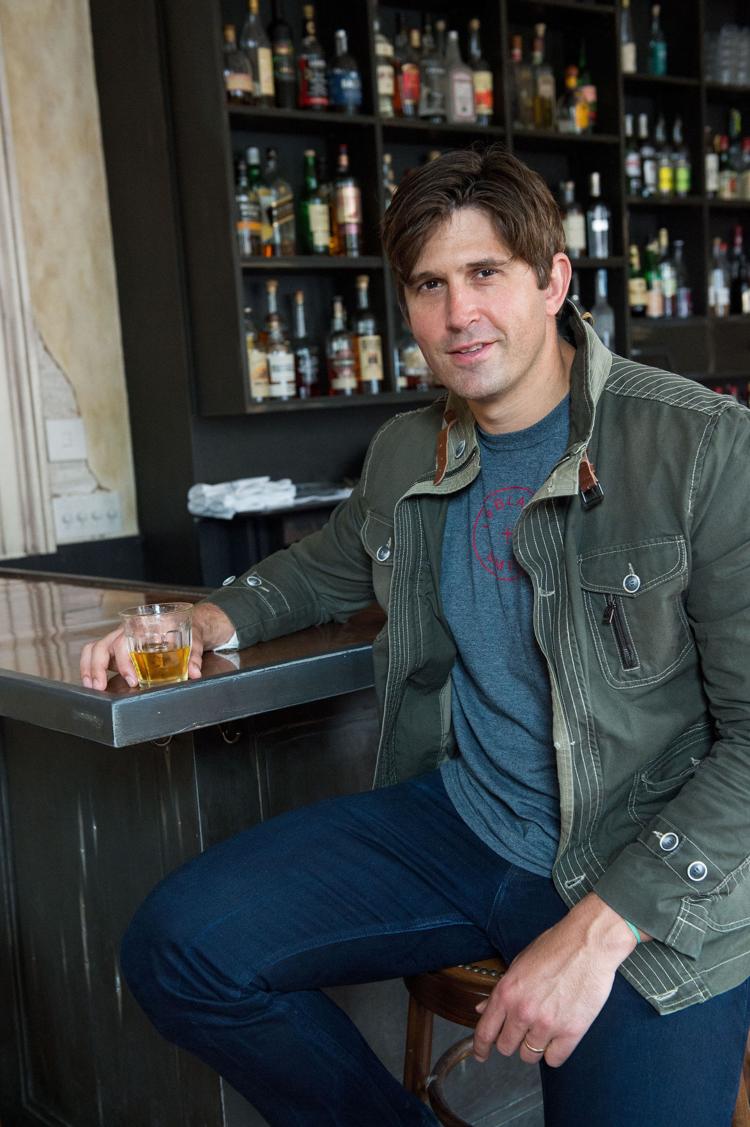 LeBlanc, 40, is one of the leaders of the New Orleans hospitality field to emerge in the post-Hurricane Katrina era. He runs the restaurants Cavan, Sylvain and Meauxbar and the bar Barrel Proof, which share a contemporary sense of style and an intrinsically New Orleans sense of place. Next up is next Longway Tavern, set to open early in 2018 in an old French Quarter cottage.
They are all part of his company LeBlanc + Smith. When I first asked about the company name, I expected to hear about a business partner named Smith. Instead, I learned that it is a tribute to both sides of his family. LeBlanc comes from his father's side, the French side. Smith is from his mother's side, and that's the Irish side.
"All these detail-oriented parts of what we try to do in our restaurants — the music, the interiors, the drinks and food — it always has an aesthetic that I learned from the LeBlanc side," he said.
"From the Irish side, I learned that expressing a love of life was everything, that fostering a sense of optimism and enthusiasm was important, and about a sense of self-sufficiency, a feeling that anything was possible if you worked at it."
Cavan is named for the county in Ireland where LeBlanc's Irish side started out. It's had some ups and downs, but this year, with chef Nathan Richard at the helm, it found a compelling new direction with modern Louisiana flavor.
Behind the scenes, LeBlanc taps his family heritage in ways you can't write on a menu or frame on the wall. It's about memory and bearing and attitude.
"I think the Irish, wherever they are in the world, live with a sense of self and levity and people and community, and that's what I try to bring here," LeBlanc told me over a round of, naturally, whiskey.
Of tacos, triumph and tragedy
I first met David Montes de Oca when he was on his own and New Orleans was on its knees, in that first, fraught year after Hurricane Katrina. This year, I connected with him again in his moment of triumph. This proved tragically fleeting, but his story stays with me as an example of the opportunities for people who make great food in a city obsessed with it.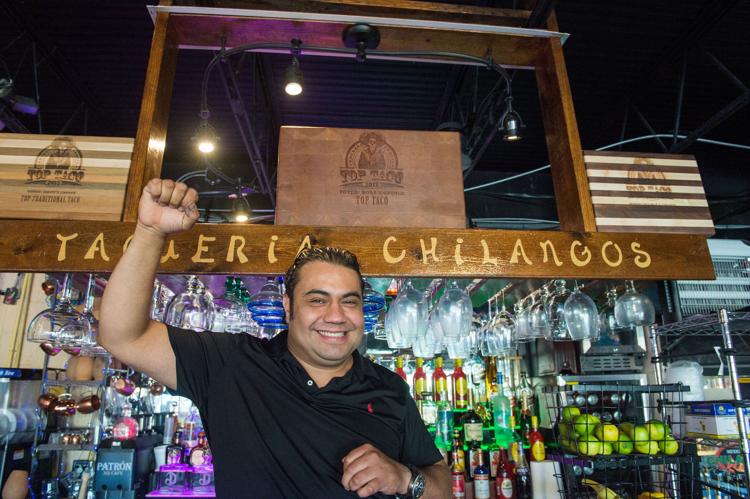 Montes de Oca left Mexico as a teenager. He was an undocumented immigrant who later got legal. He worked his way through chain restaurants before starting a taco truck in Houston. He booked it to New Orleans after Katrina and joined the many mobile vendors feeding the army of Latino laborers who rebuilt New Orleans in its darkest hour. Back then he lived in his truck.
"I came to New Orleans with the will of God and no money in my pocket," Montes de Oca told me last spring. "This is my home now, but to make it, I had to adapt. I came here to work, and I have been working hard. But I had to learn a lot, too."
He eventually built his own restaurant in Kenner, and in March his Taqueria Chilangos swept the inaugural Top Taco competition and festival, besting star chefs and restaurants with far greater resources. The win was celebrated across the local Latino community, and Montes de Oca's self-made star was rising.
But in August he died at age 36. His family continues to run Taqueria Chilangos, once his triumph, now his tribute.
A gumbo back from limbo
One bright Friday morning in April, a week before Easter, Celestine "Tina" Dunbar and her family prepped the gumbo, gathered for prayers and, at long last, opened the doors to their new restaurant, Dunbar's Creole Cuisine.
It marked the return of a beloved New Orleans restaurant after more than decade in limbo since Hurricane Katrina.
"We've been waiting a long time for this," Dunbar told me between the hugs and kisses of a receiving line of well wishers. "It has been a long road, but I have a lot of faith and my family and I knew people were wanting us to come back."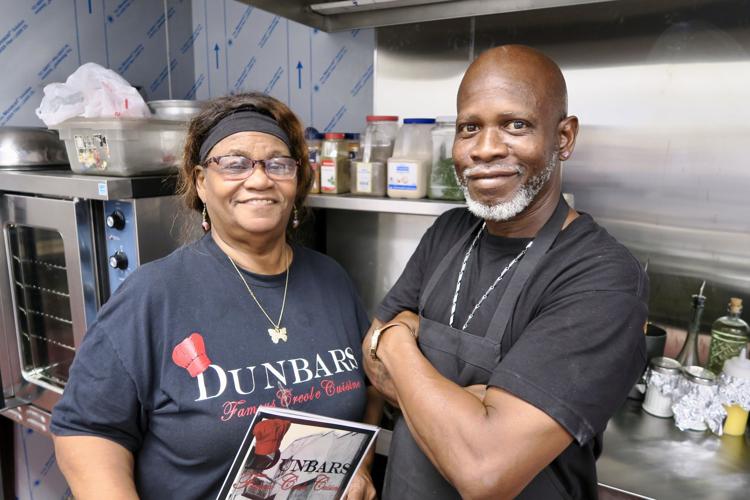 Dunbar's was a pre-Katrina fixture on Freret Street before that Uptown corridor became a booming restaurant row. Now her restaurant is a few miles away in a more affordable area in Gert Town.
But the setting was always less important at Dunbar's than the hospitality and the food. Dunbar's longtime chef Frank Jones is back now too, and so are many of her regulars from the old days.
"Dunbar's was home," said Jones. "That's what we're building again here."
Antoine's "Constant" waiter
Chefs can win acclaim and maybe get famous. But in New Orleans these aren't the only stars of the dining world.
Some waiters have followings that span generations, and they can forge connections between people, place and food that go way beyond getting a meal to the table.
Sterling Constant embodies this at Antoine's Restaurant. He has spent 50 years on the job here, making him the longest-serving employee at the city's oldest restaurant.
Over the summer, Antoine's threw a party for Constant that filled its ground floor labyrinth of rooms with the waiter's regulars and admirers.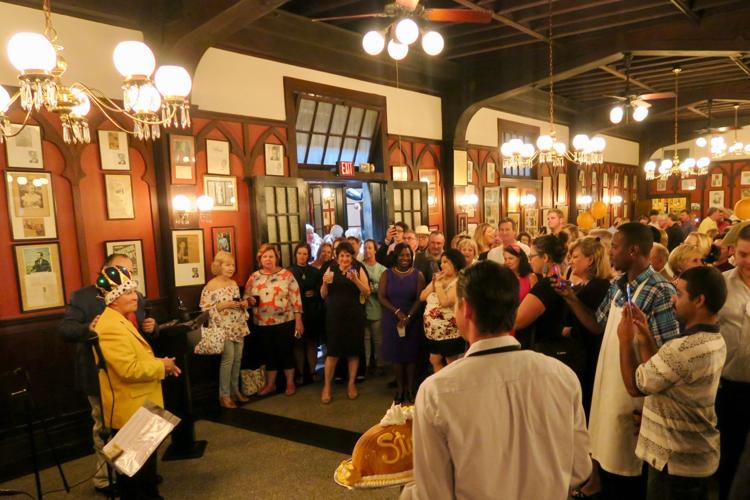 Constant was 16 when he started at Antonie's. At 66, he's a grandfather and a widower who rides the bus to work from Chalmette and often pulls double shifts, whenever "his" customers are on the books and need him.
"Being a waiter at Antoine's, you just go on," said Constant.
His tenure is a testament to the role of the professional waiter in a unique niche of New Orleans food culture.
"Sterling makes Antoine's for me," said Melissa Steiner, one of those multi-generational regulars. "When I think of Antoine's, I think of Sterling,"
Tamales to the rescue
Some New Orleans food traditions are enshrined in restaurants. Others remain in the realm of street food, and hot tamales might be the epitome. For Bernie Jolet, they also became a lifeline and a career reboot.
After he was laid off from a restaurant job a few years ago, Jolet remembered hot tamales. They are part of a family tradition begun in the 1920s by his grandparents, who sold them first on the street, later at their restaurants (including El Ranchito, open from 1946 to 1973) and finally through his grandmother's front door in Arabi.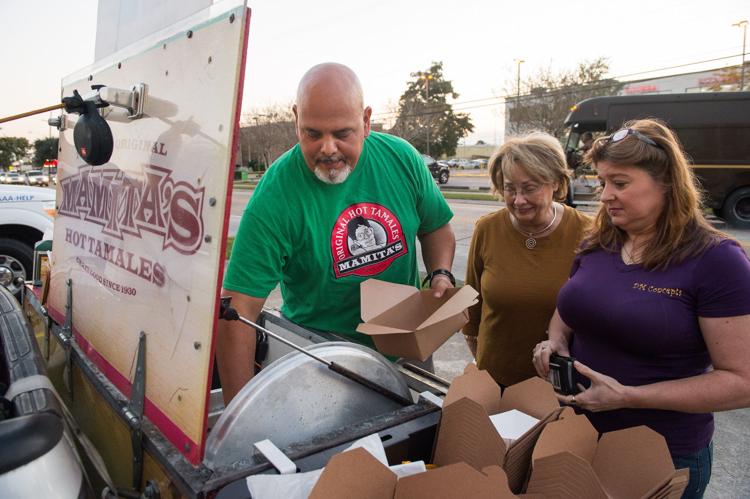 Jolet and his sister Lisa started Mamita's Hot Tamales, based on the family recipe. They're customizing a food truck to deploy in 2018, though for now their family tradition travels from stop to stop in the back of Bernie Jolet's pickup. Wherever they set up shop, New Orleans "tamale hounds" soon sniff them out.
"When you're talking about hot tamales, you're talking about dyed-in-the-wool locals; they're the ones who know this," Jolet said. "There's a lot of love for hot tamales."
Comrades in claws have each others' backs
To one way of thinking, the crawfish game should be cutthroat competitive. The season is finite, access to supplies can change and profit margins can run thinner than a mudbug's flipper. Some even analyze the edge between different purveyors by the fluctuating pennies of price per pound.
But not everyone sees the business as a strict rivalry.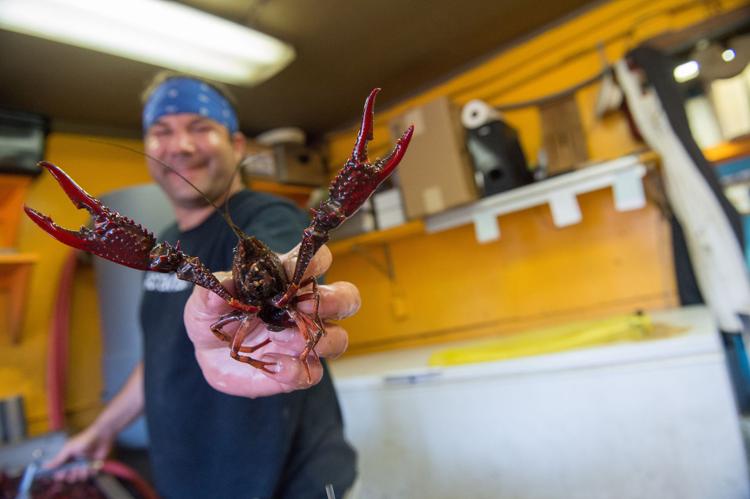 That goes for Jason Seither of Seither's Seafood in Harahan, Justin LeBlanc of Bevi Seafood Co. in Metairie and Mid-City, James Clesi of Clesi's Restaurant & Catering in Mid-City and Clint St. Philip at Captain Sid's Seafood in Bucktown. As crawfish season hit high gear last spring, these erstwhile competitors shared stories of mutual assistance, and mutual respect, they maintain across their corner of the industry.
"Some guys you meet in this business, they won't talk to each other, they keep things close," said Seither. "The way I see it, it's better for all of us if we're helping each other out. This way you have someone else in the business you can turn to."
Crawfish pros may share supplies when a cross-town friend is in a bind. They compare technical tips and trade notes on what they're hearing or what they're getting from their own distributors. They'll even refer each other to customers and catering clients when their dining rooms or their gig schedules are full.
With all the possible travails of the boil business, they've found it good to have friends when the pressure boils over.
"It's a short season, it's a crazy season and you have people who support each other," St. Philip said. "It's a beautiful thing to find people like that in this business."
New school po-boys, old school heart
Old school po-boy shops are part of the firmament of New Orleans, rooted as deep as the oaks. But what if all the city had left were the old guard? How long could this part of our food culture persist on the classics alone?
Avery's on Tulane, around since 2012, is one of the places making we won't have to find out anytime soon, though the story its founders shared this year shows the tenacity it can take to keep going.
Christy and Justin Pitard didn't open Avery's to change the sandwich game. They just wanted to work for themselves for once, and saw an avenue in a lunchroom serving local staples on a changing, if still-edgy, stretch of Tulane.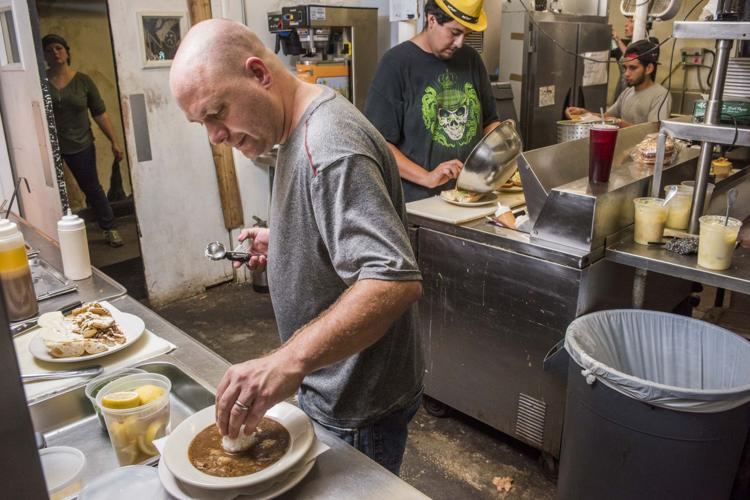 Buffalo shrimp po-boys, roast beef with horseradish sauce and fried pickles and two legit versions of gumbo have become calling cards. They are popular with regulars, and the regulars have sustained the couple even when they had every reason to hang it up.
The one-day-at-a-time mantra of running a new independent business assumed different gravity after Christy Pitard was diagnosed with cancer. She has battled it for years now, through repeated rounds of chemotherapy and surgery. It has pushed them to the brink.
"There have been times where we were sure we'd close the door, at the end of the month, the end of the year," Christy said. "It was to the point where you'd have a good cry and get ready for it. But then something would change.
"Someone you haven't seen in a while comes in. Someone gives you a hug. Someone tells you a story about their kids. It's all the relationships we've forged here that make it worth it, even when we weren't able to pay the mortgage on time. It's going from the lowest of the lows to having one great day and then you're back."
Avery's is still there. The po-boys are still wonderful. And the circle of people who crave, supply and sustain local flavors continues under its low-slung roof. Stories like this are why I love New Orleans food.
Any given year will bring a tally of restaurants that made their debut and a list of those that closed. But there's always more happening in a…
An ongoing legal fight between two big-name New Orleans chefs boils down to who gets to use one of those names – Shaya.
You promised you'd catch up, if not before Christmas then definitely before the end of the year. But just look at the calendar. The days are s…